Are you looking to get an emergency cash loan sanctioned within a short duration of 1-2 hours online? Then read on.
Many of us face an emergency where we require an instant cash loan on the same day. Such a situation can arise in the case of a medical emergency, financial opportunity, or urgent loan repayment. Getting a loan within a short time of 24-48 hours is very difficult, especially from banks that require several weeks to process your personal loan application.
In such a situation, most people be forced to go to a pawnbroker or money lender in the informal market who provides loans at very high-interest rates of 3-4% per month. Moreover, you need to provide collateral in the form of gold jewelry to get this type of loan, which can turn out to be a humiliating and degrading experience.
Need Money? – Opt for Online Lending
With the Internet revolution now all products and services are available online. You can purchase any product online and pay for it when it reaches your doorstep by using the cash on delivery (COD) option. It is no different for online cash loans, you need to apply online with all the scanned documents and the loan amount will be delivered to your doorstep or transferred to your bank account.
However, if you are unemployed and do not have a credit history with credit bureaus such as CIBIL, it is very difficult to get a loan online as most websites do a credit check and approve your application on the basis of your credit score. If you have a credit score of more than 700 on CIBIL, it becomes very easy to get a short term loan online.
In India, payday loans are a new concept, this type of loan is also known as a salary loan or cash advance loan and are short term unsecured loans usually given in cash for meeting short term financial requirements.
Get Instant Cash Loans 24/7 at the websites given below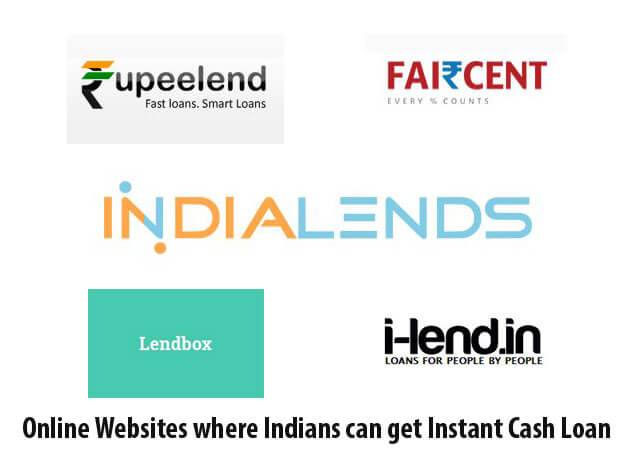 This company is based in the Delhi NCR region and disburses loans only in the national capital region. Hence, if you are based in Bangalore, Mumbai, or Chennai you will not be eligible to apply. Rupee Lend charges a very high-interest rate of 1% a day, this means if you borrow Rs 10,000 on Monday and use the money for 3 days, you will need to repay Rs 10,300 on Thursday to close the loan. The maximum loan amount given by them is Rs 1 Lakh and you will need to repay it within a month of borrowing. They are one of the few online companies that disburse loans instantaneously and this facility is convenient for those who are facing an emergency requirement of money.
The interest rates at India Lends are more affordable than Rupee Lend and start from as low as 11.99% per annum, but the company takes at least 2 days to process your loan application. India lends has disbursed loans to more than 5500 individuals over the past one year and is expanding its branch network to new Tier-1 and Tier 2 cities of India. Applying for an instant personal loan on their website takes only 2 minutes and applications are approved instantaneously. The company has no hidden charges and you can opt to borrow from multiple loan providers.
This is a peer to peer lending platform that connects borrowers to prospective investors who are willing to provide loans. Any Indian above the age of 21 can register online on their website and once registered he can contact prospective lenders and negotiate the amount and interest rates. Lend box provides a transparent platform to connect borrowers and investors. Repayments are done through auto-debits where the loan amount is deducted from your bank accounts, you can also opt to repay loans through Bank Cheques, NEFT and IMPS fund transfers.
This company process more than 15,000 loan requests every month and determines the eligibility for same day cash loans by evaluating your credit score. If you are a salaried employee with a good credit history, it is easy for you to get a loan at this portal. Faircent evaluates your eligibility based on your repayment track record, amount of debt outstanding, recent loans take, or applied for and the number of years you have successfully serviced any debt. The company disbursed more than 1.5 Crore in personal debt last year and hopes to ramp up its disbursement this year. To borrow on Faircent you must be above 25 years of age and you must have a PAN number. The company has been funded by Mohandas Pai of Infosys Technologies.
This loan company acts as a facilitator connecting prospective lenders and borrowers through it's automated online platform called i-lend. You can borrow from this marketplace if you are a Chennai resident, sorry north Indians looking for a loan, can't apply! The entire KYC norms take place online and you are required to furnish copies of your Driving License, Aadhaar Card, PAN number, and Bank Statements. These are verified and if approved your application is sent to multiple lenders who will decide if you are eligible for a personal loan.
If you need money urgently and are trying to get a fast cash loan, you can apply at any of the 5 websites we have listed above. Please note we cannot guarantee that your loan will be approved within 24 hours, as some of them might take 2 days or more to process your loan, kindly check with the service provider before applying.
Do you know of any other company that provides quick, collateral-free loans in India?