Several African nations have been struggling with poverty and hunger for decades. World Bank has adopted numerous programs to aid these countries and their citizens. A five-year initiative introduced by United Nations World Food Programme (WFP) in collaboration with the Government of the Republic of Zambia aims at assisting nearly 650,000 individuals.
Despite facing challenges such as the COVID-19 pandemic, climate change, and economic contraction, Zambia has shown steady progress in working towards achieving Sustainable Development Goals 2 and 17. In an effort to reach Sustainable Development Goal 2, the government has expanded the coverage of safety net programs, aiming to provide food access to over 3 million extremely impoverished individuals.
However, despite these improvements, Zambia continues to struggle with high rates of stunting, particularly affecting 17 percent of girls aged 10-14, making it one of the highest rates in sub-Saharan Africa. This highlights the urgent need for comprehensive initiatives that address food and nutrition security, protect livelihoods, and enhance the resilience of individuals, communities, and food systems.
To align with Sustainable Development Goal 17, Zambia has adopted a hybrid financing model that incorporates domestic revenue, domestic and foreign borrowing, and private sector involvement through public-private partnerships, foreign direct investment, and collaboration with cooperating partners. Nevertheless, the government faces fiscal constraints due to stagnant revenue growth and high levels of public sector debt, which hinder its capacity to invest in social sectors.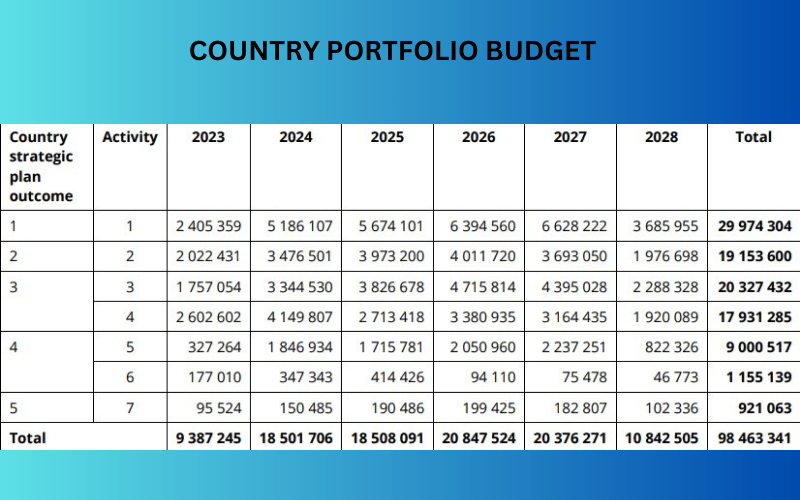 The primary objectives of this plan are to eradicate hunger, enhance nutrition, and bolster the resilience of vulnerable communities in the face of food-related challenges. Known as the WFP Country Strategic Plan (2023-2028), this comprehensive roadmap positions the WFP as a key contributor to the development of small-scale farmers' resilience. The WFP's aim is to strengthen social protection systems in Zambia by improving social registries and community feedback mechanisms. This support includes various initiatives such as training, development of guidelines, and enhancement of information management systems that integrate anticipatory actions, preparedness, and risk reduction interventions within the broader social protection landscape.
The WFP country office in Zambia will prioritize strengthening and revitalizing local and national food systems, enabling them to withstand shocks and pressures. Emphasis will be placed on developing resilient, diverse, sustainable, and economically viable food value chains, including within urban areas, while also focusing on nutrition and building resilience. By leveraging existing and new partnerships with the government, private sector, Food and Agriculture Organization of the United Nations, other UN agencies, non-governmental organizations, and research centers, the country office aims to undertake innovative, climate-conscious, and evidence-based initiatives that contribute to the government's socioeconomic transformation agenda and progress towards achieving zero hunger.
With a budget of US$ 98,463,341, the plan was formulated through extensive consultations involving the WFP, government officials, donors, United Nations agencies, International Financial Institutions like the International Finance Corporation, World Bank, and Africa Development Bank, Non-Governmental Organizations (NGOs), academic institutions, youth organizations, and the private sector.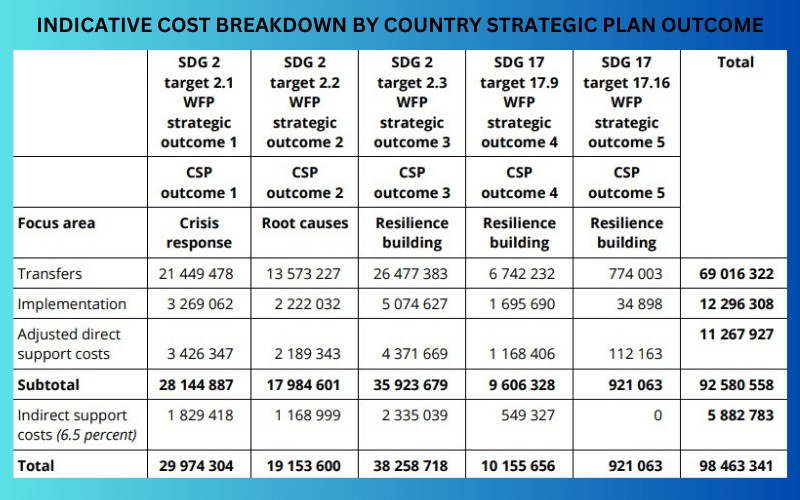 Also Read: How Many Jobs Are Available In Packaged Foods (2023)
Outcomes of World Food Programme in Zambia
1. Enhancing Food Security in Zambia: Ensuring food-insecure individuals in Zambia, including refugees, can effectively address their essential food security and nutrition needs during and after crises.
2. Promoting Nutrient-Dense Diets in Zambia: Improving year-round access to and consumption of safe and diverse nutrient-rich food for populations at risk of malnutrition in Zambia.
3. Building Resilience in Zambian Farming Communities: Empowering food-insecure smallholder farming populations, particularly women, youth, and people with disabilities, in both rural and urban areas to withstand climate change and other shocks. This includes increasing their incomes, improving nutrition and food diversity, and expanding economic and livelihood opportunities by 2030.
4. Strengthening National Food System Policies in Zambia: Enhancing the capacity of national institutions in Zambia to develop policies and programs that enhance the country's food systems. This involves promoting national emergency preparedness, anticipatory and responsive programs, nutrition-sensitive initiatives, shock-responsive social protection, sustainable supply chain systems, and overall food security programs by 2030.
5. Enhancing Supply Chain Capacity in Zambia: Improving the accessibility of on-demand services for humanitarian and development actors in Zambia and providing them with innovative, effective, and cost-efficient supply chain capabilities by 2030.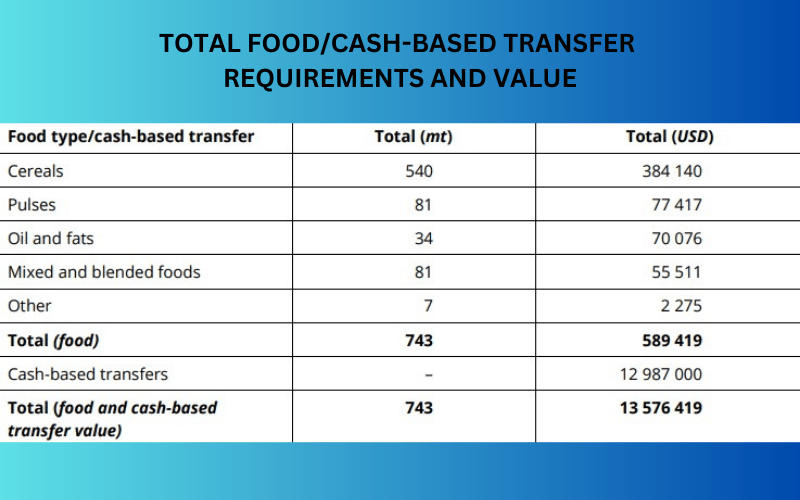 The Government of Zambia is fully committed to supporting the WFP in achieving the strategic objectives outlined in its new five-year country strategic plan. Hon. Rueben Phiri, Minister of Agriculture, expressed confidence that, with the assistance of the initiative introduced by United Nations World Food Programme, Zambia can progress towards its goal of ensuring access to sufficient and nutritious food for every citizen.
The Comprehensive Country Strategic Plan (CSP) is in line with the objectives set forth in Zambia's Eighth National Development Plan (8NDP) and the United Nations Sustainable Development Cooperation Framework. Its primary goal is to assist Zambia in achieving its development targets and contributing to the 2030 agenda by prioritizing investment in human capital and promoting sustainable economic growth.
The launch of this five-year plan is a significant milestone in the collective efforts to eradicate hunger and malnutrition in Zambia. The main focus is on achieving food and nutrition security by 2030, with an emphasis on procuring food from smallholder farmers located near schools through the decentralization of the Home-Grown School Meals (HGSM) procurement system, supported by the initiative introduced by United Nations World Food Programme.
Having been involved in providing food assistance and enhancing the government's capacity to address food and nutrition needs since 1967, the WFP now aims to replicate and scale up achievements in building sustainable and resilient food systems. This shift allows national institutions to take the lead and reduces the reliance on humanitarian interventions.
Source: Zambia Country Strategic Plan