India yet to fully tap into Japan's market potential, which remains one of the least explored markets within the G-7 group of nations, says WTC Mumbai. PM Narendra Modi recently concluded his visit to the 2023 Hiroshima G-7 summit. Despite being a prominent ally, India has not fully capitalized on the economic opportunities offered by Japan. There is significant untapped potential for increased trade and investment between the two countries, making it a promising area for further exploration and engagement.
During the G-7 summit in Hiroshima, Prime Minister Narendra Modi had a bilateral meeting with Japanese Prime Minister Fumio Kishida. They discussed the concerns and priorities of the global south and agreed on ways to further strengthen the bilateral special strategic and global partnership.
The discussions encompassed various areas such as education, skill development, tourism, Lifestyle for Environment (LiFE), green hydrogen, high technology, semiconductors, and digital public infrastructure.
India signed a trade agreement with Japan in 2011, making it the only G7 country with such an agreement. However, the share of India's exports in Japan's merchandise imports has seen only a slight improvement, rising from more than 0.70% in 2011 to 0.85% currently. Among the G7 nations, Japan remains the third least explored export destination for India, following Germany and Canada.
According to a research report by World Trade Center Mumbai, Indian merchandise exporters have explored the Japanese market less compared to other G7 countries. The share of India's exports in Japan's total import is only 0.85%, whereas countries like Italy, France, the UK, and the USA have higher shares at 1.35%, 0.87%, 1.50%, and 2.47%, respectively.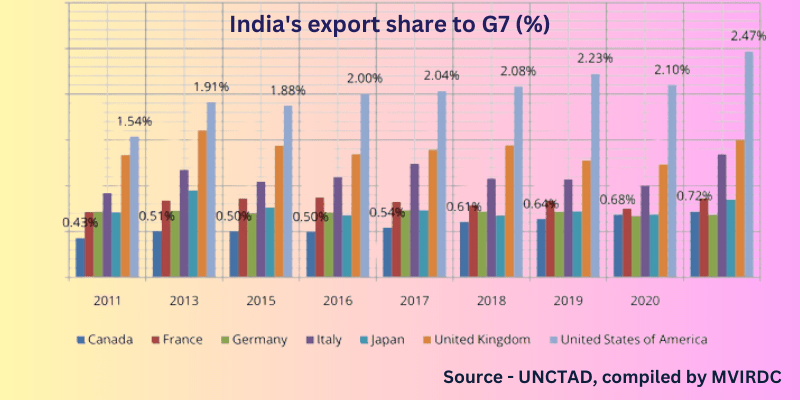 The analysis of bilateral trade data indicates that there is a need to expand the scope and coverage of the India-Japan Comprehensive Economic Partnership Agreement (CEPA). Currently, the agreement only includes a small portion of Japan's total imports.
To enhance their economic relationship, India and Japan should consider exploring strategic cooperation in high-tech sectors like semiconductor and electronic equipment manufacturing. India is investing in infrastructure while Japan possesses the necessary technological expertise in these areas.
There is significant untapped export potential for India in its trade with Japan. The current trade agreement suggests that India could potentially export goods worth USD 119 billion to Japan, which represents the gap between Japan's imports from other countries and what India currently supplies. However, a more realistic estimate of India's untapped export potential to Japan is around USD 20.5 billion for 474 specific commodities.
These commodities, identified by their HS code six-digit classification, have proven global competitiveness, with India holding a global market share of over 5% for each of them.
Among these commodities, the textile, clothing, and apparel sector shows the highest untapped export potential, estimated at USD 7.2 billion. This is followed by the chemicals and pharmaceuticals sector with USD 4.6 billion, and the energy sector with USD 3.4 billion of untapped export potential.
In terms of export growth, India's exports to Japan experienced the slowest rate among all G7 countries, with a modest increase of just more than 8.5% from USD 5.6 billion in 2011 to 6 billion in 2021, resulting in a compound annual growth rate (CAGR) of a little over 0.75% over the past decade.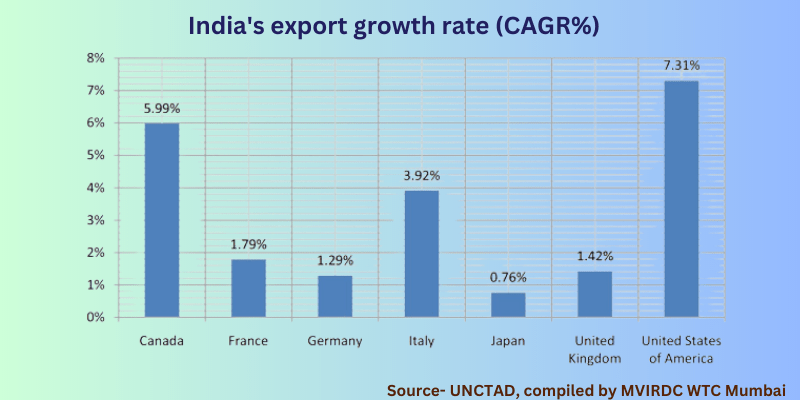 India's exports to Japan, specifically for commodities covered by the Free Trade Agreement (FTA), have experienced a significant decline of more than 42.5%. This decline is primarily attributed to a massive 94% reduction in the shipment of petroleum products covered by the FTA, dropping from USD 1.8 billion to USD 114.3 million.
In 2021, India did not have any presence in Japan's import market for 1142 out of 2218 tariff lines covered by the trade agreement. However, India exported these commodities globally, amounting to USD 10.2 billion, while Japan's global import for these commodities was valued at USD 22.6 billion.
Also Read: Sri Lanka Economic Crisis Explained
Among these commodities, there are 94 items in sectors such as textiles, clothing & apparels, chemicals & pharmaceuticals, and agriculture, food processing & allied sectors, where India has a competitive edge with over 4.5-5% global export share. Japan imported commodities worth USD 401 million from the rest of the world in 2021, presenting immediate untapped export potential that India may consider exploring.
India yet to fully tap into Japan's market potential. However, the data suggests that over the past decade, bilateral trade between the two nations has expanded into different market segments. It might be mutually beneficial for both countries to explore and negotiate fresh cooperation strategies in order to enhance trade.
Source: WTC Mumbai Report