ICICI Bank gives credit cards with top-notch exciting offers, and coral credit card is one of the premium products offered by ICICI Bank. It is the option people want to grab at the earliest. Top-class security features like an embedded microchip in the card help to strengthen the customer's confidence. On the other side, interesting offers on dining, health, lounges, cashback, and heavy discounts gives an exclusive experience to its customers.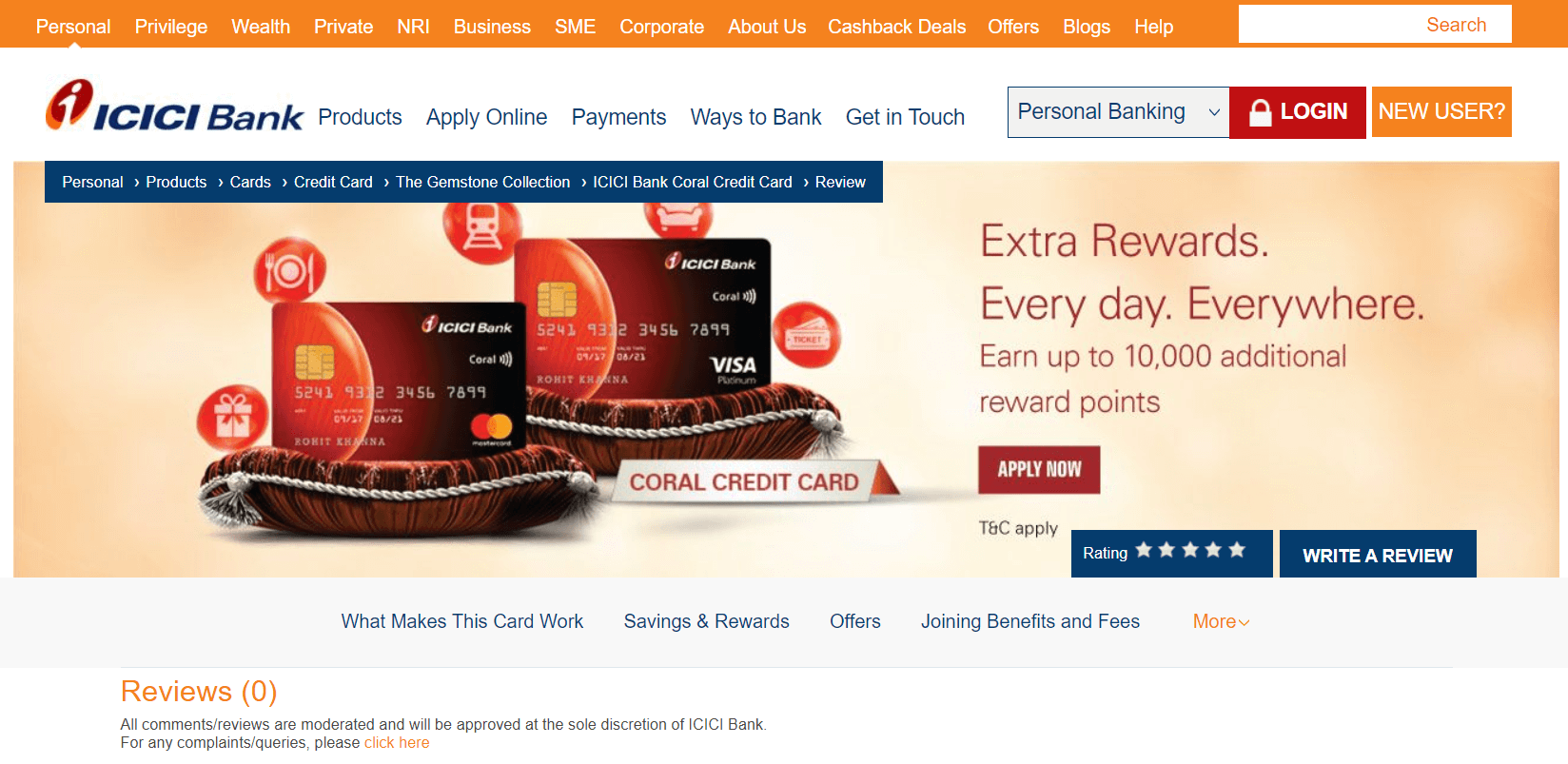 ICICI Bank Coral Credit Card Review (2020)
So without wasting any time let's begin this review of ICICI Bank Coral Credit Card:
Features
The PAYBACK facility is one of the amazing reward program this card offers. Users can get PAYBACK points on utilizing the coral credit card and get additional PAYBACK from associate merchants when they make payment with a Coral credit card. By spending INR 100 on all retail purchases (except fuel), you can gain 2 PAYBACK points.
By spending INR 100 on utilities and insurance categories, you can gain 1 PAYBACK point.
On maximum fuel transactions of INR 4000, you can get 1% of fuel surcharge waiver with coral card payment on HPCL filling stations, ICICI merchant services, and swipe machines.
Milestone rewards feature of ICICI Bank enables you to receive 2000 PAYBACK points on every INR 2,00,000 spent and 1000 PAYBACK points on every INR 1,00,000 spent.
This card is popular for the ultra-protection it provides with the feature of an embedded chip. This chip helps you to avoid duplication and counterfeiting. The chip has an additional level of protection in the form of a personal identification number.
By utilizing the Easy Bill Pay facility, you can easily pay your electricity, telephone, and other utility bills.
1 Free visit to any Domestic Airport Lounge quarterly, and for extra visits, they get the facility of unlimited paid access to the lounge (for individual and accompanying fellows).
 You can get 2 free movie tickets under Buy 1 Get 1 offer in a month on Bookmyshow or INOX website. The maximum discount for the movie tickets is Rs. 250 for each ticket. If the price is more than Rs. 250, they will need to pay the additional charges.
The Culinary Treats Program gives a minimum of 15% off on dining bills at 2100+ restaurants spread across 12 major cities in India.
You can get a reduction on the annual charges of the subsequent year if the spending amount is ₹1,50,000 and above.
You can purchase globally at any outlet that accepts Visa or MasterCard.
Avail a lower rate of interest and payback in EMIs by transferring the outstanding balance of other banks' credit cards to your ICICI Bank Coral Credit Card.
Your spouse, children, parents, and siblings can get the facility of add-on cards.
On some coral credit cards, holders get the facility to use the domestic railway lounges without any cost quarterly.
Visit Now
Processing Charges
The following are the charges that the applicant needs to pay.
ICICI Bank imposes an applying fee of ₹1,000 + GST charges to give access to the Coral Credit Card.
In the first year of membership, there are no annual charges for the Coral Credit Card.
After one year, the yearly charges will be ₹500 + GST.
There are no additional card charges on this Credit Card.
Monthly cash advances of 3.40% and annual cash advances of 40.80% will be there.
Eligibility Criteria 
The eligibility criteria for getting ICICI Bank coral credit card are as follows:
Age Criteria: The age criteria is between 18-60 years for every candidate. The age criteria for add-on cardholders is that he/she must be 15 years or above
Income Assurance: A steady source of earnings (minimum salary of 300,000 per annum) is necessary to have this card.
The nationality of the candidate should be Indian.
A good credit score without any records of default is necessary to get this card.
Necessary Documents 
Below are the necessary documents required to get this Coral Credit Card:
Identity Proof: PAN Card/Voter ID/Passport/Driving License/Aadhaar Card
Address Proof: Voter ID/Passport/Driving License/Aadhaar Card/Utility Bill
ITR or salary slips of the last 2 or 3 months
Passport-sized photographs
Terms & Conditions
The terms and conditions are as follows:
The late payment fees structure-
₹100 if the due amount is between ₹100-₹500
₹500 if the due amount is between ₹501- ₹10,000
₹750, if the due amount is more than ₹10,000
For over limit amount, the bank charges 2.50% (a minimum of ₹500) if the cardholder surpasses the prescribed limit.
Bank gives an interest-free grace period of 18-48 days.
The credit and cash limit will be there in the monthly statement, and the cardholder will also get this notice at the time of receiving the card.
Status of the application
You can review your credit card application status on the official website of ICICI Bank. The following steps you need to follow to check your application status:
Tap on 'Track Your Application Status'
Enter your application number, registered mobile number, and date of birth
Tap on 'Send OTP'
Type the OTP you receive at the respective space
Tap on 'Continue'
Credit Limit
Your income and credit score will decide your credit limit. If you have a high income with a good credit score of more than 750, ICICI Bank can provide you with the facility of the greater credit limit on your Coral credit card. But you should avoid late payments as Defaulting on the card payment can adversely affect your credit score.
Bill Payment
If you don't know how to pay your bills? No issues, you just need to access your ICICI Bank net banking, click the credit card column and pay the bill. You can also pay your bills by using payment gateway and setting Electronic Clearance Service (ECS) for automatic payment from your selected bank account. You should pay your bills on time to avoid additional late payment charges, interest, or taxes.
Customer Care Number
ICICI Bank is famous for its active and efficient Customer Care facility to resolve grievances and concerns of the customers. By following means, you can get the benefit of their Customer Care:
Select the 'Complaint Form' option on the official website of ICICI Bank.
Using the 24X7 Helpline number 1800-102-4242 (between 9 am to 6 pm from Monday to Friday).
Write the complaint and send it to the Nodal Officer at the address provided on the website.
Why is this card better than other cards?
ICICI Bank Coral credit card offers many facilities to its customers. In addition to the above features, the cardholder will also get the following benefits:
The cardholders need to pay a low yearly charge of Rs. 500 + GST for the facilities.
The cardholders get additional discounts, and cashback offers on various e-commerce sites.
No-cost EMI on the payment of products on selected portals
Also Read: How to Pay ICICI Credit Card Bill Payment Online
Who can and can't opt for this Credit Card?
This credit card gives various facilities to its customers at almost minimum cost. This card is best for individuals with a common middle-class background and average income. It will help them to save money on utility bills, fuel payments, and others.
The benefit of 2 Free movie tickets every month assures entertainment with family and friends.
If you love to hang out with your loved one, you can utilize the ICICI Bank Culinary Treats Program, which gives you exciting offers at more than 2500 participating restaurants.
If you travel a lot, you can use your credit card to book your stay at premium lodges and availing concierge facilities.
Even after availing several benefits and features, this card may not be satisfactory for you in some situations, or it may be more than enough for you if you do not use your credit card regularly.
If you check-in airport lounges frequently, book flight tickets and stay at premium hotels, you can opt for the credit card as per your interests for a better experience.
If you love shopping and usually make online or offline payments, you can choose a better credit card to get amazing discounts, offers, and cashback.
There are situations where people want to get credit cards without paying any fee for it. You can access this credit card with an annual charge of Rs. 500 + GST, but if you don't want to spend your money on annual charges, you can opt for a 'zero annual charge' credit card with some facilities. In case you want premium or elite services, you can opt for a premium credit card that suits your needs and interests.
I hope this review of the ICICI Bank Coral Credit Card was worth it, but if you still have any questions then feel free to ask them in the comment section.