ICICI Bank announced yesterday that it had opened one lakh savings accounts under Pradhan Mantri Jan Dhan Yojana (PMJDY). ICICI Bank is India's largest private sector bank with a branch network of more than 3700 branches around the country.
The bank conducted more than 1100 camps across its various branches in cities and towns to promote PMJDY. ICICI bank also roped in its Business Correspondents who opened accounts for it in Villages across India.
The basic savings bank account opening procedure was simplified for PMJDY and made paperless. Bank accounts opened were linked to Aadhaar Unique Id and account holders were issued passbooks and a Rupay Debit Card with accident insurance.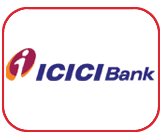 Financial Literacy Campaign by ICICI
To educate new customers, the bank distributed comic books and displayed messages through audio/visual mediums at all it's branches. This financial literacy campaign introduced basic banking concepts to customers such as the benefits of regular savings, features of fixed deposits, transfer of money through mobile banking, etc.
10 Facts about ICICI Bank's Financial Inclusion Drive
ICICI bank reaches out to more than 15,600 villages through its bank network in India.
It has in the past decade brought in more than 18.5 million unbanked people in the banking system.
It plans to open 2.5 million accounts under Pradhan Mantri Jan Dhan Yojana, which will increase its share of bank accounts under India's financial inclusion program to 20 million.
ICICI Bank opened more than 75% of its new branches in FY2014 in rural and semi-urban areas.
Out of the more than 3,700 branches that it currently has, more than 50% are in rural and semi-urban areas of India.
Last year, the bank also launched "Branch on Wheels" which is a mobile branch that travels to un-banked villages at a fixed schedule.
The Bank is a leader in Direct Benefit Transfers (DBT) and has a 40% share of the total banking transactions under DBT.
Last year ICICI bank processed more than 5 million domestic migrant remittances.
The bank has tied up with Vodafone, Tata Telecom and Aircel for mobile banking.
It has conducted hundreds of financial literacy workshops called "Gram Samvad" in villages across India that promote the use of financial products.