Do your children watch their preferred things on YouTube for a long time or follow their favourite content creator passionately? Then it wouldn't be long before they ask for a channel of their own. In this article, we will answer your queries like – how to start a YouTube channel for your kids, and other related doubts. Help your children chase their dreams and become popular among their friends!
How to Start a YouTube Channel for Your Kids?
YouTube is a trendy and powerful free video-sharing platform that allows registered users to share and upload video clips online. YouTube launched in the year 2005 and became quite popular, it's one of the most popular sites on the web, and people spend around 6 billion hours every month watching videos. YouTube became one of the biggest promoting platforms. If you have a business, it's a great tool for getting your product out, if you're a musician and create music this is the way to reach the public.
If you're a parent and you want to create a YouTube channel for your child, then this article will help you. Below are the steps to start a YouTube Channel for your kids:
Step 1: Create a Google Account
To create a Google account for a child under the age of 13, only adults are allowed. Once the child reaches the age threshold, they can follow the setup process on their own, but parental control needs to be enabled to protect them from harmful content.
You can use your computer, smartphone, or the Family Link app for this purpose. Depending on the level of restriction you want to apply to your child's online activities, these platforms offer supervised account options, although not all of them allow the creation of YouTube channels.
To create a YouTube channel for your child, it is best to use an adult's account. Sign in with your existing account or create a new one. If you're using an existing account, click on your profile image, then select Switch Accounts and Add Account.

While you have the option to create a specific child account, this mode does not allow the creation of YouTube channels. Proceed with the setup process using an adult account, keeping in mind that this account will serve as the foundation for your child's YouTube channel.
There are various options available to start a YouTube channel for your Kids and supervise their viewing through additional considerations. However, there are safeguards you can implement to protect your child while encouraging their creativity and thirst for knowledge.
Step 2. Set Up Kid's YouTube Channel
After setting up your Google account, your child can become a YouTube creator. To create a channel, visit YouTube's website or app, switch to the newly created account, click on the profile image, and choose the option to Create a channel.

When naming the channel and selecting a picture, ensure you avoid using your child's real name or face. Instead, come up with a fictional name and image to safeguard their identity. Once these steps are complete, the channel is ready to thrive as an enjoyable and educational endeavor for your young YouTuber and their audience.
NOTE: To keep your child safe avoid using their picture or name to start a YouTube channel for your kids.
Step 3: Decide Privacy Settings
Depending on how public you want your channel to be, it's best to decide which privacy setting you should use before uploading your first video. You have the option to customize various aspects of your YouTube account, such as privacy settings, notifications, and payment preferences. By configuring these settings, you can create a safer environment for your child to use. Similar customization options are available for your YouTube channel as well.
Taking advantage of parental controls, you can actively participate in creating and managing content with them when you start a YouTube channel for your kids. You can also maintain oversight and control over their activities. Privacy settings can be easily changed, all you have to do is:
A. Click the Customize Channel on your main profile.

B. Go to the Settings tab and explore all the features.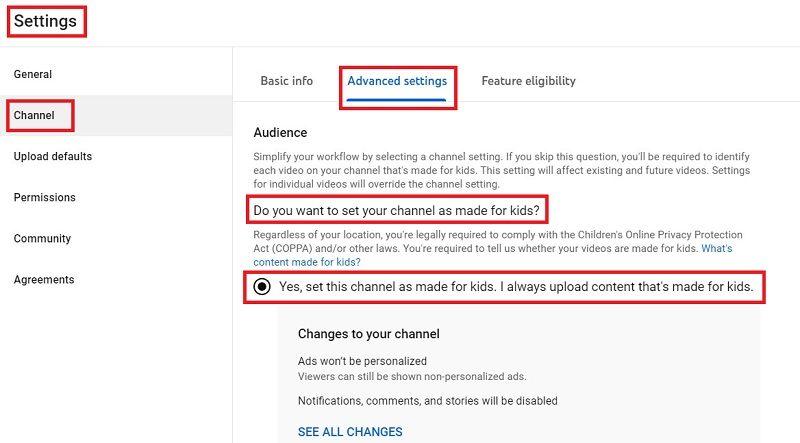 One way to ensure a child-friendly experience is by utilizing a security measure found in the profile image's dropdown menu. By accessing the Restricted Mode tab and enabling it, you can limit the exposure to mature content. To further enhance safety, you can also lock this setting on your browser, preventing your child from disabling it and accessing inappropriate material.
If you set the whole channel as made for kids, it will automatically disable comments, ads, notifications, and more. You can also manually toggle the elements mentioned above.
Once you're done with all the steps mentioned above, you're all set. Your channel for your kid is ready and you can upload your very first YouTube video.
Also Read: 11 Best Ways to Earn Money from YouTube in India (2023)
YouTube's Regulations for Kids
It takes time to start a YouTube channel for kids and the related research, planning, and regulations. An important step in the creation process is to understand YouTube's regulations for kids.
YouTube's official policy prohibits individuals under the age of 13 from creating their own accounts, and those between the ages of 13 and 17 can only do so with parental consent. However, the rules do not explicitly address the scenario in which parents create an account on behalf of their child, which is permissible.
YouTube Kids does not permit videos with paid product sponsorships or endorsements. If a creator discloses any such arrangements in their video through YouTube Studio, the videos will be removed from the YouTube Kids app. Content that is excessively commercial or promotional is also not allowed on YouTube Kids.
The platform prohibits videos that are deceptive, sensational, or clickbait, including low-quality kids and family content that employs deceptive tactics, sensationalism, or manipulation to attract children's attention and generate clicks or views.
How to Monetize Your Kid's YouTube Channel?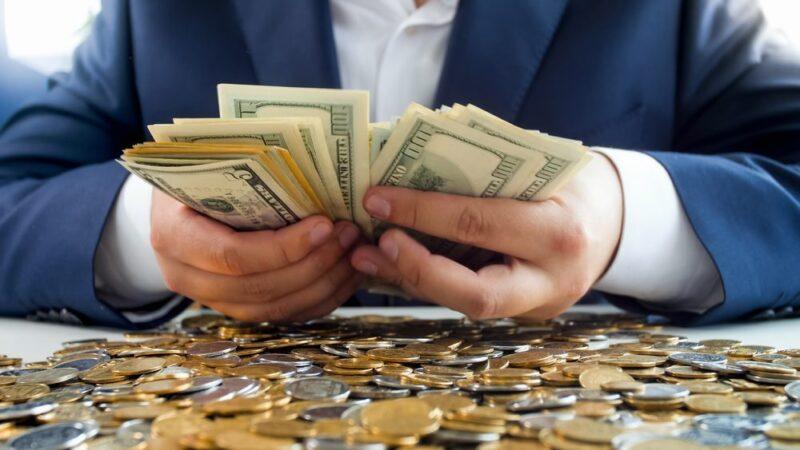 While you create a YouTube channel for your child, you must also think how to earn money through it. Though YouTube has prohibited sponsored content, there are still ways to make a kid's YouTube channel.
The first thing you have to do is to choose the niche for your kid's YouTube wisely. Try to pick topics that are popular among kids these days, and the ones your kid is passionate about. This will help your kid's YouTube channel to grow faster and become popular and successful. Some of the popular niches for kids are gaming reviews, electronic gadget reviews, kid challenges, dance videos, vlogging, traveling, cooking, cosplays.
To optimize your child's YouTube content and increase its visibility, it's important to focus on keyword optimization. Since YouTube is the second-largest search engine in the world, using relevant keywords in video titles and descriptions will help users find your content. For instance, if someone searches for try not to laugh, ensure that these words appear in the video descriptions and titles of your child's content.
Another effective strategy is cross-channel marketing. Encourage your child to promote their YouTube channel on their social media accounts, or you can do it on their behalf. Add a YouTube link to their bio and share YouTube videos as Reels on Instagram or as videos on TikTok, directing users to watch more on YouTube.
Monitoring performance is crucial. Take note of the number of comments, likes, and shares your child's videos receive. By identifying what resonates with their audience, encourage them to create more of that content. This approach will help improve the channel's overall success.
Engaging with users is highly valued by YouTube. Although you may have concerns about your child interacting with strangers, simple actions like liking comments or pinning top comments can contribute positively to their channel. These interactions only take a few seconds but send a strong signal to YouTube's algorithm.
A great strategy for monetizing your kids' video content is to create your own dedicated video-on-demand (VOD) platform. This platform would serve as a centralized hub where both kids and parents can discover, watch, and interact with your online videos at their convenience, from any location.
As a kid's content creator, including live streaming into your platform can be an effective way to host special shows and events. By using the TVOD model, you can charge for one-time access to these exclusive experiences. This allows non-subscribers to engage with your content without making a long-term commitment. Once they've enjoyed your live stream, they may be more inclined to become subscribers for ongoing access to your content.
Another avenue to boost your revenue is through the sale of branded merchandise. This can encompass a range of both digital and physical goods, including ebooks, apparel, toys, coasters, and stickers. By offering these items, you can tap into your audience's enthusiasm and extend their engagement beyond video consumption.
Also Read: 50 YouTube channel ideas without showing your face (2023)
Things to Remember to Start a YouTube Channel for Your Kids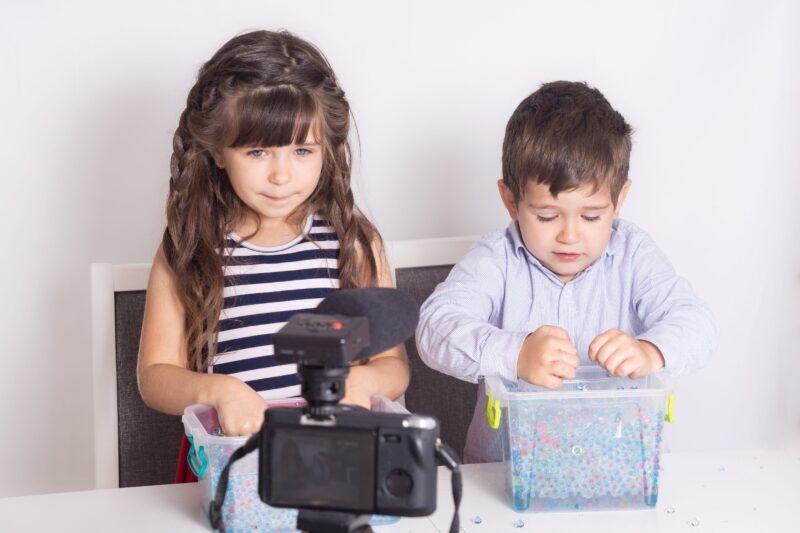 Several factors should be considered to create a YouTube channel for your child, especially when targeting a young audience. Here are some key points to keep in mind:
1. Determine the Channel's Direction: Before starting, it's essential to understand the responsibilities and risks associated with being a YouTuber. Choose a direction for your channel based on topics you are passionate about and that people would enjoy watching. Look for popular videos in similar genres for inspiration and ideas. Decide on the type of content you want to create, such as videos, slideshows, podcasts, etc., and be prepared to manage the specific challenges that come with each format. Create a realistic schedule and brainstorm ideas for videos.
2. Monitor Your Child's Activities: Ensure you are their primary viewer. Make it a point to watch all the videos your child uploads to their channel. Although it may seem tedious, it's essential to ensure they are not inadvertently sharing personal information such as their school or home address.
Set time limits for recording. Similar to any other screen time activity, it's advisable to restrict your child's recording sessions to 30-60 minutes. This helps maintain a healthy balance and prevents excessive screen time.
Create videos together. Engaging in video creation as a family can be a delightful activity. Assist your children in producing videos to publish online. They will appreciate the opportunity to have their own YouTube time, while you can contribute your expertise to enhance the quality of the project.
3. Invest in Video Production Tools: You don't need to invest in expensive equipment right away. Assess the tools you already have, such as a smartphone with a camera and microphone, as they may be sufficient for starting out. Explore free video editing software and audio production options. Consider the ease of use, especially if you are working with a child. The process of creating content for YouTube can help develop valuable technological skills.
4. Practice the Video Upload Process: Uploading videos to YouTube can be complex, but with practice, it becomes more natural. Learn the steps involved, such as selecting appropriate settings, ticking the Made for Kids box if applicable, writing descriptive keywords, and choosing the video's visibility. Supervise your child during the upload process to ensure they follow the guidelines and don't include sensitive information.
5. Choose Privacy Settings: Protect your child's privacy by setting the YouTube channel to private and disabling comments. This way, only invited individuals can view the content, reducing the chances of negative responses. If desired, you can manually adjust specific elements for more freedom. Additionally, consider implementing measures to prevent YouTube from tracking your or your child's activity.
6. Establish Rules: Establish rules to maintain a healthy balance between creating content and other aspects of life. Limit the types of content shared and set boundaries for the amount of time spent recording and being in front of screens. Teach your child to be vigilant about suspicious users and not to change settings without your permission. Implementing a structured plan, daily schedule, and security measures can contribute to a successful YouTube channel for kids.
It's important to adapt and evolve your approach based on your audience's feedback and interests while ensuring the safety and well-being of your child or yourself as a creator.
7. Consistency is Key: YouTube channels that upload videos more frequently tend to perform better. If possible, aim to post three or more videos per week, especially when starting out and aiming to build an audience. Regular uploads help maintain viewers' interest and attract new subscribers.
Also Read: How Much Money do YouTubers Make in India? Full Guide
It is quite easy to start a YouTube channel for your kids. However, you need to monitor their activities to ensure that that they are not diverting towards any wrong path. With the correct guidance, your children can become the next social media influencer!