Amazon welcomes thousands of new vendors every single day. As Amazon's user and sales bases expand, it creates room for additional customers to enter and enjoy the full benefits of the marketplace. And, while establishing an original brand that offers unique things is one of the most popular up-and-coming Amazon seller methods, did you know that millions of individuals buy and resell products on Amazon? In this article, we will inform you how to resell items on Amazon and where to buy items to resell on Amazon.
How to Resell Items on Amazon? A Complete Guide
Amazon marketplace experienced a surge of 1,000,000 new vendors joining the already sizable 6-million seller group in 2020. Additionally increasing throughout time, the number of visitors accessing Amazon.com reached a record high in December 2021. As a result, some people have even successfully built companies based on reselling stuff. Before we learn where to buy items to resell on Amazon, let us understand the concept of the reseller.
Who is an Amazon Reseller?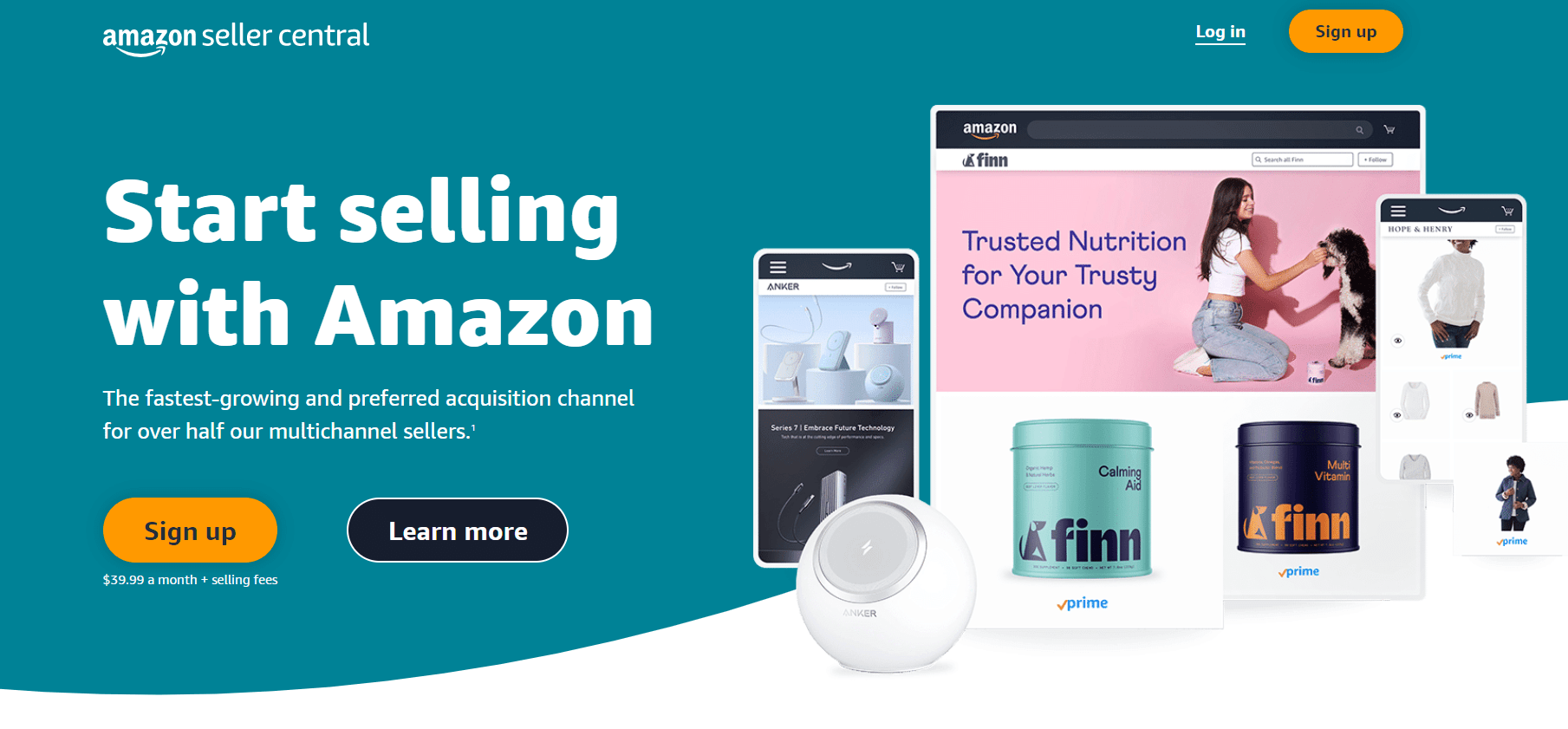 Amazon's domination in the world of online marketplaces is legendary, but as the platform has developed, so has how things are sold on the site. Inevitably, this has resulted in some misunderstanding. With allusions to Amazon'sellers,' Amazon'resellers,' FBA sellers, and FBM sellers, it's easy to become confused.
Here's a straightforward explanation: Amazon resellers are persons (or businesses) that purchase goods at the lowest price feasible and then resell them on the marketplace, making money from the price differential between their purchase and selling prices. Unlike brands and private label retailers, resellers often buy ready-made goods in bulk from a wholesaler or manufacturer.
It may not be a long-term strategy for brand development (resellers' business models are rarely product-focused), but it could be a lucrative source of revenue. Because, unlike distributors, resellers just enjoy the earnings without having to develop a strong relationship with the manufacturer or engage in marketing, branding, labeling, and other tasks. Read on to learn more about how to resell items on Amazon.
Reseller versus Seller
The only merchants on the Amazon marketplace in 2010 were resellers. In addition to employing the Amazon dropshipping model, these businesses frequently already had a physical store or a personal website. To quickly reach more customers, many companies began to use Amazon. They were "reselling" on the website, which is where the word "reseller" got coined.
But as the number of resellers increased, they were compelled to cut prices—and with it, their margins—to remain competitive. However, prices couldn't stay low indefinitely, so there wasn't much else that could be done to differentiate oneself from the competitors. Due to Amazon's policy of allowing an unlimited number of resellers to offer a single item, this heavy competitiveness remains a significant problem for resellers.
Even though a seller is often seen as being in a more sustainable business, if you're just getting started on Amazon and don't want to spend in building a distinctive brand, reselling might be the way to go. Read further to learn where to buy items to resell on Amazon.
Is it Profitable?
It's a difficult path that will demand time and patience, especially when you may find yourself competing with well-established resellers who have perfected their selling methods over many years. With the introduction of additional private label companies to the market, 'reselling' has evolved into much more than merely selling previously established brands. Indeed, resellers are realizing that by creating their brands, they may become the 'exclusive reseller' of that brand. Nevertheless, a sizable percentage of Amazon resellers continue to generate respectable earnings.
Therefore, there is still plenty of scope for money to be made after you learn how to resell items on Amazon. However, how much depends on your plan, your offerings, and the amount of work you put in. The first step in becoming a successful reseller is to locate products that are being sold for much cheaper than they would be on Amazon.com.
Is it Legal?
The simple answer is yes. Purchasing and selling things on Amazon is perfectly acceptable whether you get them from a store or a wholesaler, so long as it's not second-hand or fake items. However, be aware of some particular brand restrictions, such as not selling Nike or Adidas, as well as other companies that forbid the sale of their items on Amazon.
You may also not violate any trademark or copyright laws. In all other circumstances, you have the freedom to resale whatever you choose. If you want to engage in Amazon FBA, you must also consider local legislation and Amazon's limited items list, as well as the FBA forbidden products list. Learn more on how to resell on Amazon for profit.
Also Read: Selling Printables on Etsy: A Complete Guide

How to Earn Money via Amazon?
Finding the right products is the first step in how to resell items on Amazon for generating money. Remember that Amazon deducts a percentage from each transaction you make and that selling through FBA entails additional costs. So, while choosing things, be sure that there is enough of a price gap between the purchasing price and the final selling price for you to still turn a profit. Here is a step-by-step procedure you may use to begin your quest to resale products on Amazon and earn money:
1. Browse Amazon to Get Product Ideas
Search for a specialty on Amazon as the first stage in how to resell items on Amazon. They can be-
Products that are popular on other marketplaces or in brick-and-mortar shops
Products of categories or niches that interest you
Partnered with dropshipping or wholesale vendors' products
2. Sort Your Product Ideas into Categories
Simply navigate through the Amazon search results, reviewing the details beneath each product. You may prioritize items that appear intriguing and then mark them to investigate them further later on.
3. Look at the Product's Past Performance Statistics
Examine further product details once you've narrowed your selection of options using the app's filters. To assist you to create the best repricing plan that satisfies market demands, price history, and Buy Box history show price changes. Review these details before making the final purchase selection.
4. Analyze the Possible Profit It Brings
Amazon also offers a profit calculator addon. Enter your product costs in the calculator. Depending on your business style, the expenses might be as follows:
Cost of advertising
Shipment charges
Other (subscription expenses for automated services, third-party tools, etc.)
Based on your data, the app will instantly compute your sales margins. Output values will appear in the boxes for ROI, Minimum Net, and Profit Margin. Check them out to see whether selling the item will be lucrative.
How to Start Reselling?
Now that you've learned everything about how to resell items on Amazon, it's time to learn how to set yourself up for resale on the platform.
Step 1: Create an Amazon Seller Account
Amazon has two types of seller accounts: Individual and Professional. A monthly cost is payable for a professional account, whereas a transaction fee is levied for each selling transaction for an individual account.
Further analyses demonstrate that a professional account is significantly less expensive than an individual account. Furthermore, an individual account restricts you to 50 sales each month, which is a low quantity for a reseller. Furthermore, the professional account has several benefits and extra features.
Step 2: Locate the Ideal Product
Now, the effectiveness of your resale attempts will frequently depend on the choice of merchandise. So be prepared to put some effort into your search for the right product. You should take into consideration these three main aspects:
Choosing High-Quality Products: Although you might believe that pricing is the only factor in a resale, quality is also crucial if you want to establish a successful reselling enterprise on Amazon. Therefore, everything you choose to buy must be of high quality.
Find Items with Less Competition: Another important element to think about is the amount of competition. When you first enter the market, choose products with little to no competitive pricing. As your customer base grows, move on to those with more competition.
Higher Profit Margins: Well, it should go without saying that selling a product with high-profit margins is preferable to having one with low margins. But for a reseller, this is particularly crucial since it's likely that you'll need to engage in a price war where you should have the upper hand by selling at a lower rate. The scalability of your Amazon business will be ensured by having a premium product with high-profit margins. Read further to understand how to resell items on Amazon.
Step 3: Improve Your Product Listing
You'll need to establish a brand-new product listing if you opted for the low-competitive items and choose a product that isn't even listed on Amazon yet. And make it better! If your product listing is disorganized, confusing, or unpleasant, you will not be able to attract people from your online storefront where your product is displayed.
Step 4: Use FBA
Although you might not want to, you will have to use Amazon's fulfillment (FBA) service since successful Amazon resale is directly related to your seller rating. Amazon FBA handles everything from storage to picking up, packing, and shipping to complete customer support and even returns. Furthermore, since Amazon itself supports this service, it may assist to raise your seller rating, increasing your chances of landing the Buy Box. Therefore, you will need to use FBA unless you are reselling a unique item to maintain your position in the marketplace versus other resellers.
Step 5: Win the Buy Box On Amazon
You may be wondering what the Buy Box is. The Buy Box is the white box that appears on a listing and allows you to buy an item. It relies on the experience (speed of delivery, shipping options, customer care, etc.) you can give a consumer that determines whether or not you qualify for it or have a chance of winning. The better your customer service, the closer you are to earning the buy box.
Also Read: How to Sell on Amazon for Beginners: A Guide

How to Succeed in Reselling?
There are numerous crucial things that you should think about optimizing to assure your success while reselling on Amazon:
1. Start Small and Expand
While it may be tempting to want to grow your Amazon reseller business rapidly, it is preferable to start small, move slowly, and genuinely learn from your failures. Start by reselling only one item, and then try something else. Understanding Amazon's algorithm and its peculiarities can help you improve your approaches and plans in preparation for adding more products to the listing.
2. Create Your Brand
As soon as your client base is sizable, you should begin to concentrate on creating your brand (and private label), which will help you succeed as an Amazon reseller by eradicating at least part of the immediate competition. Many Amazon resellers make the mistake of basing their business on a single product. This makes scaling your business difficult. Consider your brand as a complete catalog of products rather than just one.
3. Practice Inventory Planning
Any inventory is the foundation of your resale business, yet it is sometimes disregarded. If you have heaps of excess merchandise taking up space and tying up funds, it's a needless expenditure that will reduce your earnings. And if you don't have enough inventories, you can be sailing against the wind and not be able to fulfill orders from clients.
Knowing your demand figures is an important responsibility when reselling on Amazon. Run your calculations extensively and anticipate what quantities of inventory you will require and when. Read on to know where to buy items to resell on Amazon.
How to Buy Products?
Now that you know to strategize reselling, let's learn where to buy items to resell on Amazon. There are two ways buy items for resale on Amazon:
1. Online and Retail Arbitrage
Arbitrage in retail or online is one option. It refers to the practice of purchasing goods from retail establishments, flea markets, or other online marketplaces (such as eBay, Walmart, Etsy, etc.) and then reselling them on Amazon for a greater price. The secret is to locate goods that are being offered for cheaper than they are on Amazon so you can benefit from the price discrepancy.
2. Wholesale
The second strategy is to acquire products in bulk and resell them. Because you're buying in large quantities, each product costs significantly less than it would if you were to purchase it from a store. This implies that you may sell them again for a profitable price on Amazon. Both approaches have their advantages and disadvantages.
The arbitrage approach is often not particularly profitable but is also devoid of any restrictions on the number of orders that may be made, whereas the wholesale items to resell on Amazon are constrained by minimum order sizes. Now you know where to buy items to resell on Amazon.
Best Products Category
Looking for ideas for Amazon resale? Although there are many excellent choices, the profitable categories and goods listed below are excellent starting points:
Jewelry: Although these items are typically thought to be exclusively for ladies, there is also a rising demand for jewelry for guys. Therefore, finding consumers won't be a problem for you. The fact that jewelry is often quite compact and light, which lowers your shipping expenses, is probably its largest benefit.
Books: Many people have created entire Amazon businesses for reselling books. If you discover the correct books, the profit margins may be extremely high, and many old books are regarded as collector's goods. Non-fiction publications, particularly textbooks, are frequently the most profitable due to their high resale value.
Sports Gear: Sports are a terrific way to keep active and have fun. As a result, it's not surprising that there are usually a lot of individuals shopping for sports equipment. These goods are available new or secondhand. Because Amazon enables you to sell secondhand sporting equipment, these are excellent things to hunt for at thrift stores.
Electronics: This is Amazon's best-selling category when it comes to wholesale items to resell on amazon. So, while it might be competitive at times, there is usually a lot of demand. Computer accessories, smartphone accessories, and chargers for numerous gadgets are among the ideal items for resale.
Cameras: Because photography is one of the most popular hobbies, it is always a fantastic niche to enter. You may sell accessories in addition to cameras, which will help you broaden your products. Cameras are pricey, most people prefer to buy secondhand.
Games and Toys: Toys are a perennial favorite, particularly during the holidays. This is another area that has witnessed a surge in sales in the previous year, as individuals hunt for things to keep them entertained at home. Toys for babies, cultured pencils, board games, and card games are a few products to consider for this product segment.
Also Read: How to Make and Sell Stickers Online: Ultimate Guide

Reselling on Amazon doesn't have to be tough, and it's surprising when done right, it may be quite rewarding, but it will always have a competitiveness attached to it. Instead of trying to resell items that have plenty of competition and ending up in a race to the bottom, think about bringing new products to Amazon instead.
Learning how to resell items on Amazon and where to buy items to resell on Amazon can be a game-changer and one of the most important factors in your success when reselling on Amazon. Nothing is preventing you from employing the "Build your brand" technique to develop a prosperous company if you are prepared to invest the needed time to conduct your research. The decision to go that far to generate a second income, though, is ultimately yours.