Every startup and business in India has to register to initiate their operations and a lot of us are unaware of how to do it. Find out how to register a company in India?
India is in a developing stage and full of youth power. People are coming up with new ideas and are opening their own companies. But before opening it, the foremost thing is to get your company registered.
Here is all the information you need to know about the registration of a company.
As any other business-related activity is important, choosing your company structure also matters. It is significant because the right decision can make you earn profits and reach your ultimate goals. Types of business structures that are available in India are listed below. You can go for anyone one of them, based upon the availability of resources.
A Beginner's Guide to Register a Company in India
One person company (OPC)
The concept of OPC is a new one that was introduced in 2013. A single person who wishes to start a company, he or she being the only promoter and owner, OPC is the best option for you. It has a dual benefit. You, as a sole-proprietor, have control over your business, and you are also able to be part of the corporate framework. It is an ideal business for people who are service-oriented and requires low investment.
Limited Liability Partnership (LLP)
In an LLP, many partners come together and form a partnership firm. The only difference in an LLP is that each partner is only liable to pay the debts of the business only to the extent of their agreed contribution. In other words, it is a separate legal entity, for the debt payments, the personal assets of the partners cannot be used to pay the debt. It is an ideal business for owners who wish to limit their liability.
Private limited company (PLC)
A PLC is a corporate form that is a separate legal entity according to the law. Its shareholders and directors are different from the company, only considered as an employee of the firm. It is an ideal business for having high turnover.
Public limited company (PLC)
A Public Limited Company is considered to be a voluntary association. Members of it come together and form a company recognizable under the law. The liabilities of the members are limited to the extent of their shareholdings, as it is a separate legal entity. It is an ideal business for having high turnover.
Importance of choosing the right business structure
Your income tax return is dependent upon the business structure you wish to choose. Different business structure has a different relationship with all of the stakeholders. You need to compliance at different levels for different business structures. For example – a sole proprietor needs to file only his or her income tax return. In contrast, a company's employees have to file their income tax returns and also file annual returns with the registrar of the companies.
Also, a company needs to get its accounts audited every year. These procedures and legal compliances ask for money, which is different for different business structures. That's why it is imperative to know what the requirements for any company registration are.
On what basis you can choose a business structure while applying?
Number of owners/partners of the business
A person who wants to act all by himself or herself can go for One Person Company. Whereas, when two or more owners form a business, then you can consider forming a Limited Liability Partnership or a Private Limited Company.
The initial investment of the business
The initial investment in a business is one of the important factors affecting your choice for choosing any of the business structure. If you have low access to invest money, then a sole-proprietor or a HUF or a partnership is the ideal choice for you. And if you are sure that you have enough to set up your business and can pay all the compliance costs, then One Person Company, Limited Liability Company or a Private Limited company is the ideal choice for you.
Willingness to accept the legal responsibility
There are business structures that come with an unlimited liability like HUF, sole-proprietorship, a partnership firm. Therefore, it means that any default in the liability payment, your assets can also be at risk. On the other hand, LLP, public limited companies, and private limited companies have limited liability. It means that they are liable to pay their debts only up to the value of the share they hold.
Payment of income tax 
A sole-proprietor and a HUF only have to pay income tax in the normal slab rates. They just have t pay their individual income tax, based upon their earnings from the business. Whereas, partnerships and companies have to pay tax under 30% slab, with many additional taxes as well.
Attracting investors
Businesses that are not registered do not attract investors as well. Therefore, LLP and companies find it easier to get investors to invest in their firm because they are registered. You may seek help from experts for choosing the right business structure and also for getting yourself registered properly.
Also Read: 10 Ways to Improve your Credit Score
How can you Register a Company in India?
For getting your company registered, you need to acquire 4 documents. They are-
A Director Identification Number (DIN)
A Digital Signature Certificate(DSC)
New user registration or registration on an MCA portal
Incorporation certificate
Many of us might think that our individual or private business, if a startup, doesn't need legal consultancy and registration. Although it might just be a startup, the existence of your company completely changes after this crucial step in business.
The registration is an exhausting procedure, but the sole purpose of your startup depends upon it. Now there might be disadvantages and side effects involved, too, but the advantages make it worth your efforts.
4 Steps To Register Your Company/Startup in India
1.Apply online for DIN and DSC
It is a simple one day process. For Indian Resident, PAN details are a must, and for foreign nationals, the passport is a must.
Follow these steps to apply for DIN and DSC online.
Visit: http://www.mca.gov.in and create your account by filling the details.
once you are logged into your account, then visit Apply for DIN.
From there, download the DIN forms. (It will be in a PDF format), after downloading the form, get it printed.
You can fill out the physical form and get it scanned and converted into a PDF.
After scanning the form, attach the required documents along with it.
Documents you need for this step: 
Passport Size photograph (High Resolution)
Proof of Identity
Proof of residence
Proof of Date of Birth
Copy of Passport if you are living outside India
Affidavit in case of a single name as per the guidelines
Now once you have filled the form and have gathered all these documents, log in to your account and select the "eForms."
Upload the filled form and documents here, and then you'll be redirected to the payment page. Make the payment of INR 100 via Net Banking/Credit Card/Debit Card.
After the payment is made, DIN will be generated instantly.
2. Get the name of your company approved and get Certificate of Incorporation
Website: http://www.mca.gov.in/
In order to get these two, you will have to file 4 different forms;
Firstly, apply for the company name on Form 1A and wait for it to be approved by the Registrar of Company (ROC).
After approval, fill out FORM 1, FORM 18, and FORM 32 to get the certificate of incorporation.
Payment:
Name approval: INR 500
Certificate: INR 4000 to INR 10000
Time For Approval:
Name approval: 2 Days
Certificate: 7 Days
3. Submit the documents offline by attaching them to the Form 1. (Offline step to complete step 2)
You will have to attach the scanned copies of the following documents along with form 1.
The consent letters of Directors of the Company, along with a copy of Form 32.
Stamped and signed copies of MoA (Memorandum of Association) (Charge: INR 200)
Stamped and signed copies of AoA (Articles of Association) (Charge: INR 1000-4000)
Power of Attorney from Subscribers on Judicial stamp paper of INR 100
The identification of subscribers must be added to Form 1.
4. Apply for PAN and TAN for your registered company
To apply for TAN and PAN visit https://www.tin-nsdl.com/
Amount:
For PAN: INR 94
For TAN: INR 62
Time: 7 Days
However, the whole process may take 30-40 days.
Why do you need to Register a Company?
Protection for your company
You might be amped up for your field-tested strategy and contribute all that you have and take some more from companion and family and attempt to take shape your Idea. Be that as it may, envision a case if some unusual stuff occurs, any mishap, anyone sued your organization, or a monetary misfortune happens, you, however, your family likewise will be in a terrible circumstance. There are numerous different reasons, however, to ensure yourself and your family, this is the most significant one.
Product validation 
Do you sell a Product/Service, envision a case your Product/Service cause harm to your client or your accomplice caused trouble which you are not responsible but would rather be considered liable for. Suppose your organization fails in claims and due installments. So, it's in every case better to safeguard your organization by enlisting it.
Carrying your startup's legacy
The mark of an organization stays on, regardless of which executive or part of it goes back and forth. But to ensure that you start up is established into a company and that your legacy continues, you need to register it.
Rules For Private limited company
A minimum of two directors and two shareholders are required.
Shareholders/directors cannot transfer their shares as per the Articles of Association.
The maximum number of shareholders is limited to fifty.
The general public cannot buy shares or debentures of a private limited company.
Deposits are allowed only from the members and directors.
Best Websites to Register a Company Online in India
VAKILSEARCH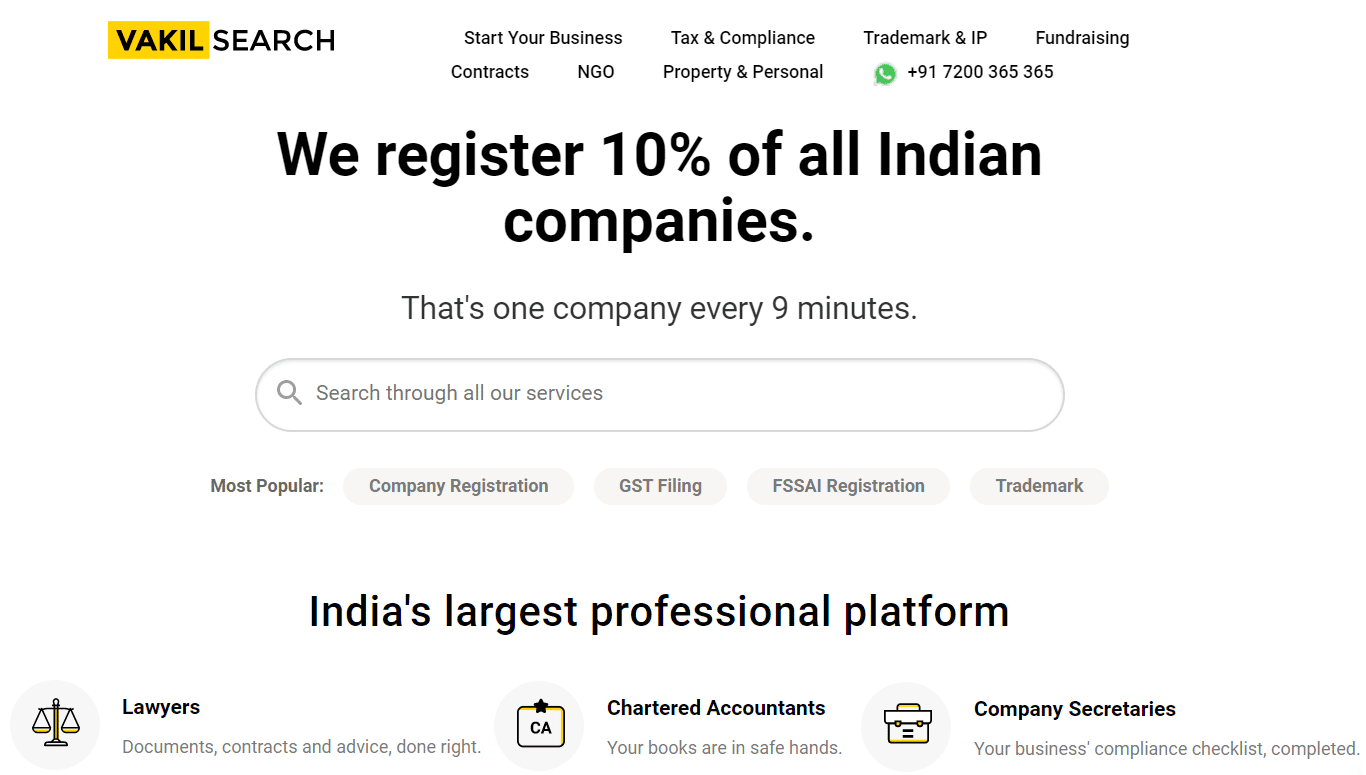 It is probably one of the best and leading legal service providers. This company was founded in 2011. The company takes care of several of your issues, like business registration, tax registration, and compliance.
Pros: The company has a user-friendly interface, even with an option of the Live Chat portal. They respond to the users through emails and provide them solutions.
Also Read: 10 Best Current Bank Account For Small Business In India
Cons: Although they have provided the portal to find remedies to your problems, the company fails to give instant solutions. They also SPAM you with newsletters and promotions. Also, if you are on a tight budget, this might not be the perfect registration website for your startup.
Visit  VakilSearch Now
MYOLINECA

It's a website that specializes in its niche. The most significant things which you would like are the data system: arranged in a sleek manner. For example, a comparison between each sort of business arrangement is rearranged rather than the complex lawful terms.
Pro: It is just a 1.5-year-old company, but they have managed to impress the customers well. They even upload videos on the web pages of their website to give you all the details needed. They provide services like business registration and tax registration.
They also offer services at better prices than the other portals. They are a trustworthy company. They even accept large payments in installments over a period of time.
CONS: Since the website is only 1.5 years old, they still have a small team and take time to manage orders. They are also not very quick with returning calls.
Visit  MyOnlineCA Now
INDIAFILINGS
It's a similar sort of portal like Vakilsearch, which takes care of tasks like business enrollment to tax enlistment. It's a 3- 4-year-old organization with a large in-house group.
Pros: The website has a good user interface platform. They have live chat portals. They have an excellent team with a large client base.
CONS: The company doesn't accept installments, and wants full upfront payments, even for large payments. Also, customer care services are not satisfactory.
Visit  IndiaFilings Now
QUICKCOMPANY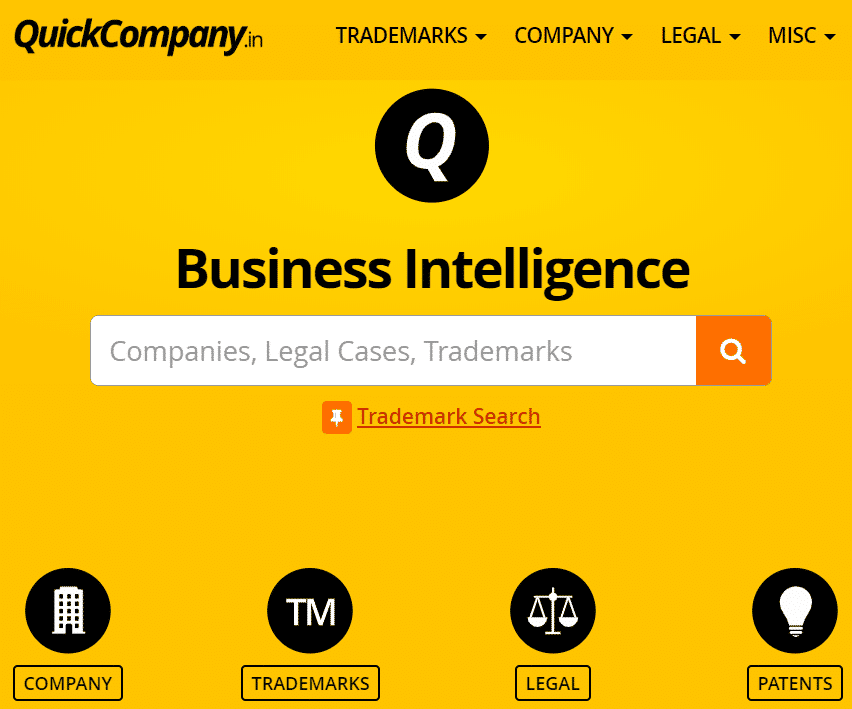 Just like Myonlineca, Quickcompany is a Delhi based 1.5-year-old organization. They are centered on business registration, task enlistment, and trademarks. They have a decent number of data and information in their 'about us' page.
Pros: The website has a great user interface. You can easily search the website for the information you need. They have a knowledge-based portal for FAQs and the frequent technical issues.
CONS: The website company provides no service for a sole proprietorship or partnership firm. They basically force you to register a proper private limited or OPC or LLP Company. Their database is not updated, so you cannot search thoroughly. They take a lot of time to follow up orders after payment.
Visit QuickCompany Now
LEGALRAASTA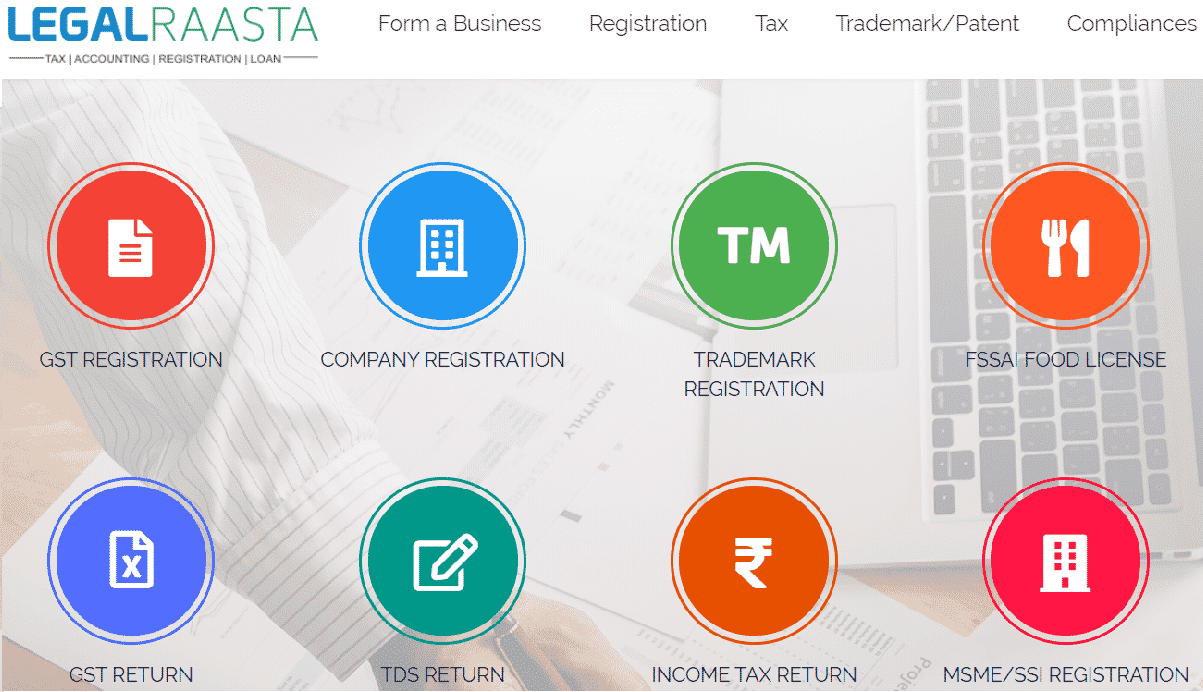 This is a new startup. It is a Delhi based company, similar to Myonlineca and Quickcompany. The company started just a year ago. They offer services like business and tax registration, trademarks, and legal documentation.
The customer reviews of the website are quite impressive.
Pros: User-friendly interface. They have competitive prices with other portals. They have great funding because they are very popular with news portals.
CONS: The company demands high prices for even small tasks. There is no follow up on the work.
Visit LegalRaasta Now
STARTUPWALA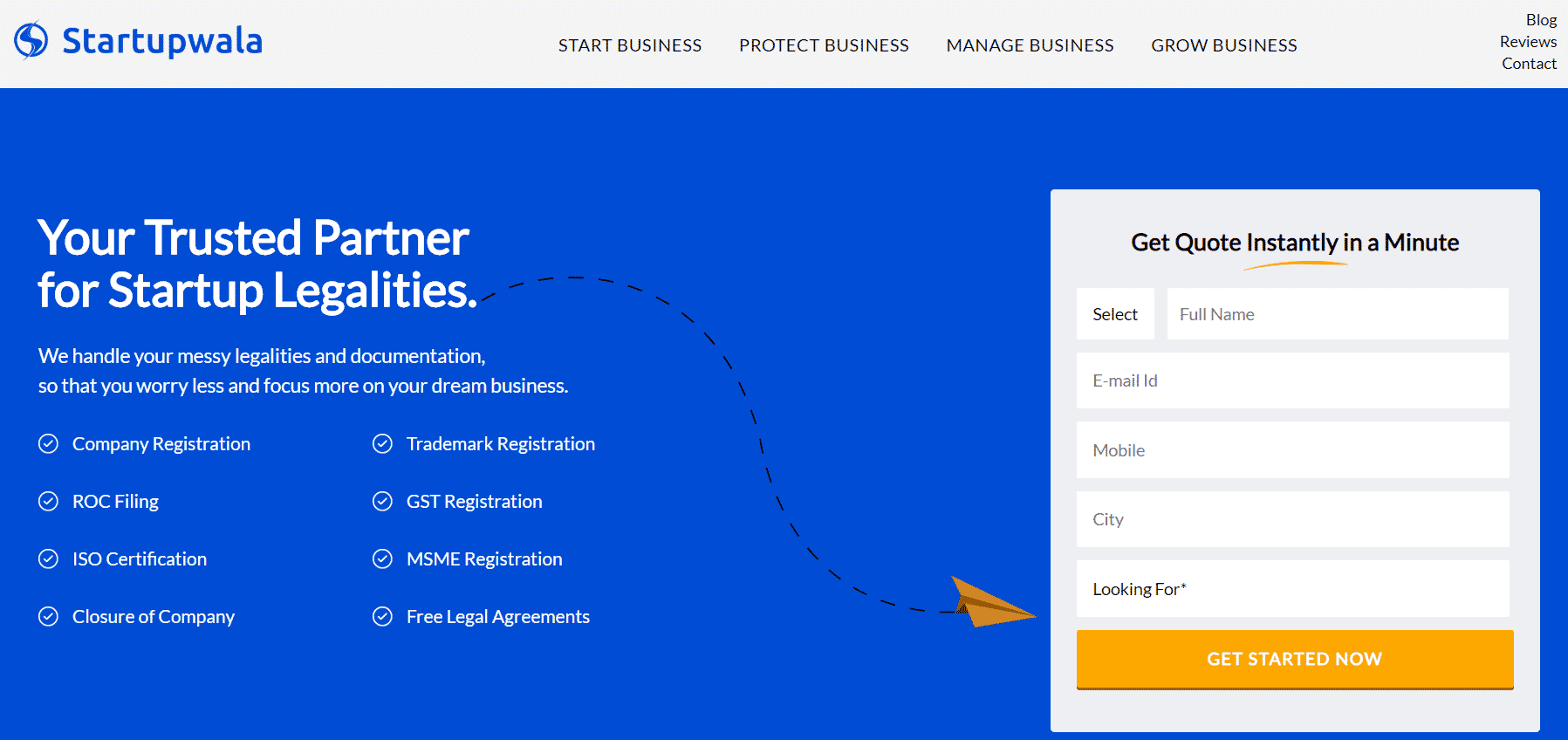 This is a 7-year-old and has done fantastic work. Startupwala has its clients in a large portion of the urban areas in India. Startupwala's app has got a 4.2 rating on the Google Play store. They have a large number of employees too. Currently, they have more than 1.5 lakh clients.
The services they provide:
Roc filing
Gst registration
Iso certification
Trademark registration
Company registration
Visit StartupWala Now
COMPANY 360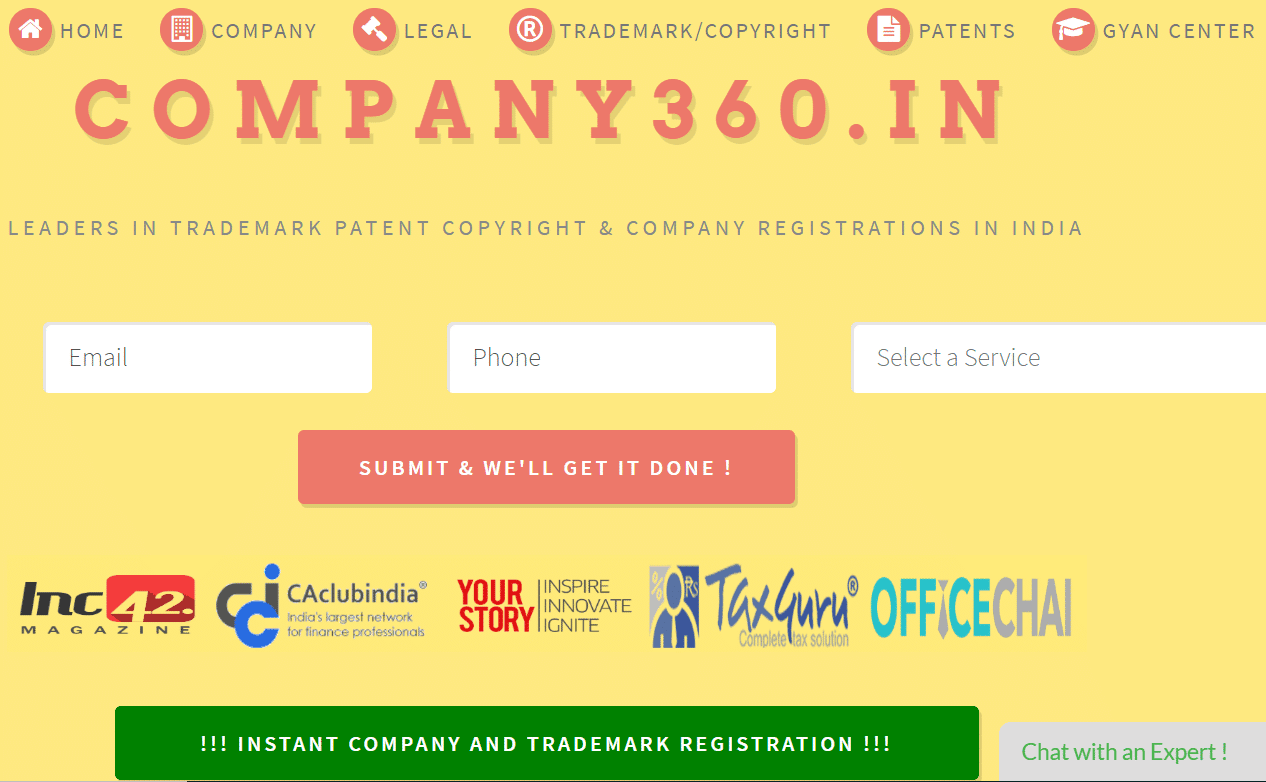 They are performing well overall. There is nothing of the sort like delay. Company360 is contributing money like water on advertising. You can confide in the company. They are right around a few years old. You can think about it as a great entrance for online registration and enrollment.
The services they provide:
Company registration
Legal-Contracts
Trademark
Copyright Patents
Visit Company360 Now
ENTERSLICE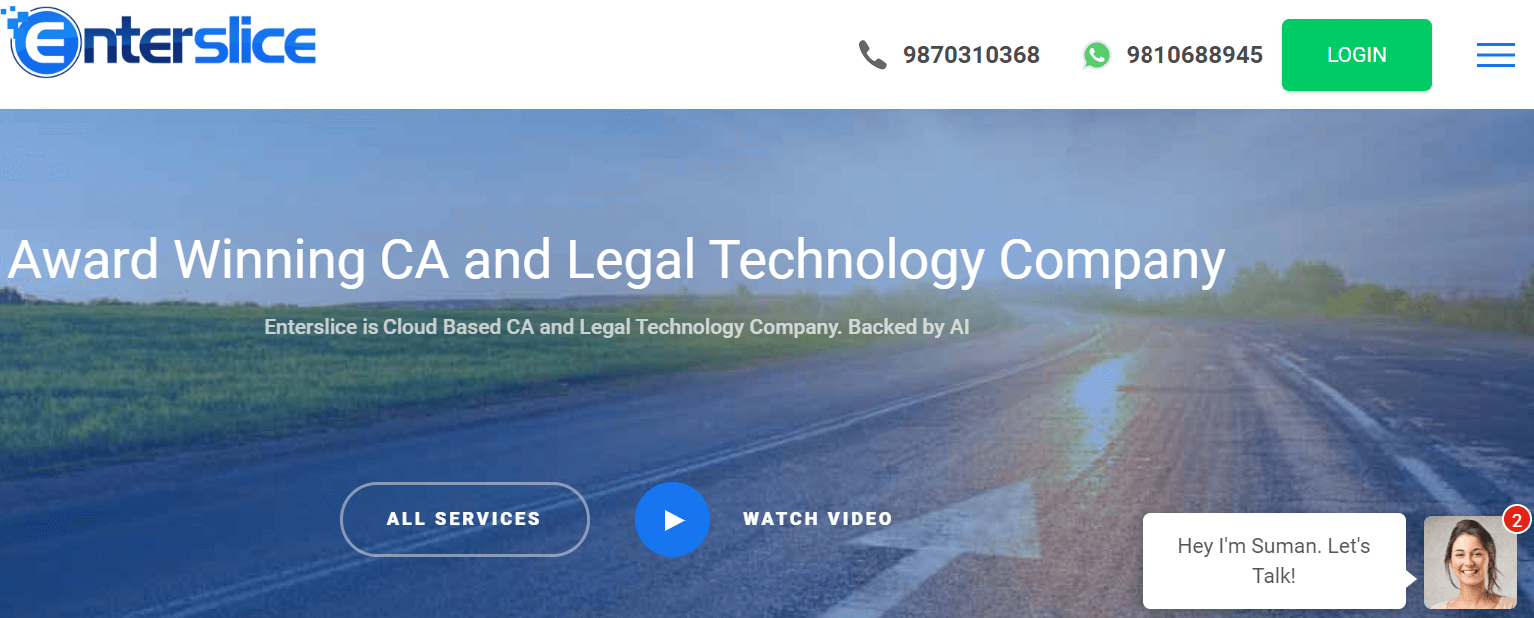 It is quite popular on different mainstream news sites like CNBC, Huff post, ABP News, Business Standard News, and Outlook Magazine. It is trusted by Finstar, Financial FashionTV, Bioworld, Acme, Solar, Opera Software, BANK OF AMERICA, and Razorpay. Their presentation is exceptional. It got 4.8/5 on Google with 193 surveys. It's enormous.
The services they provide:
Company registration
Trademark
Copyright Patents
Visit EnterSlice Now
CLEARTAX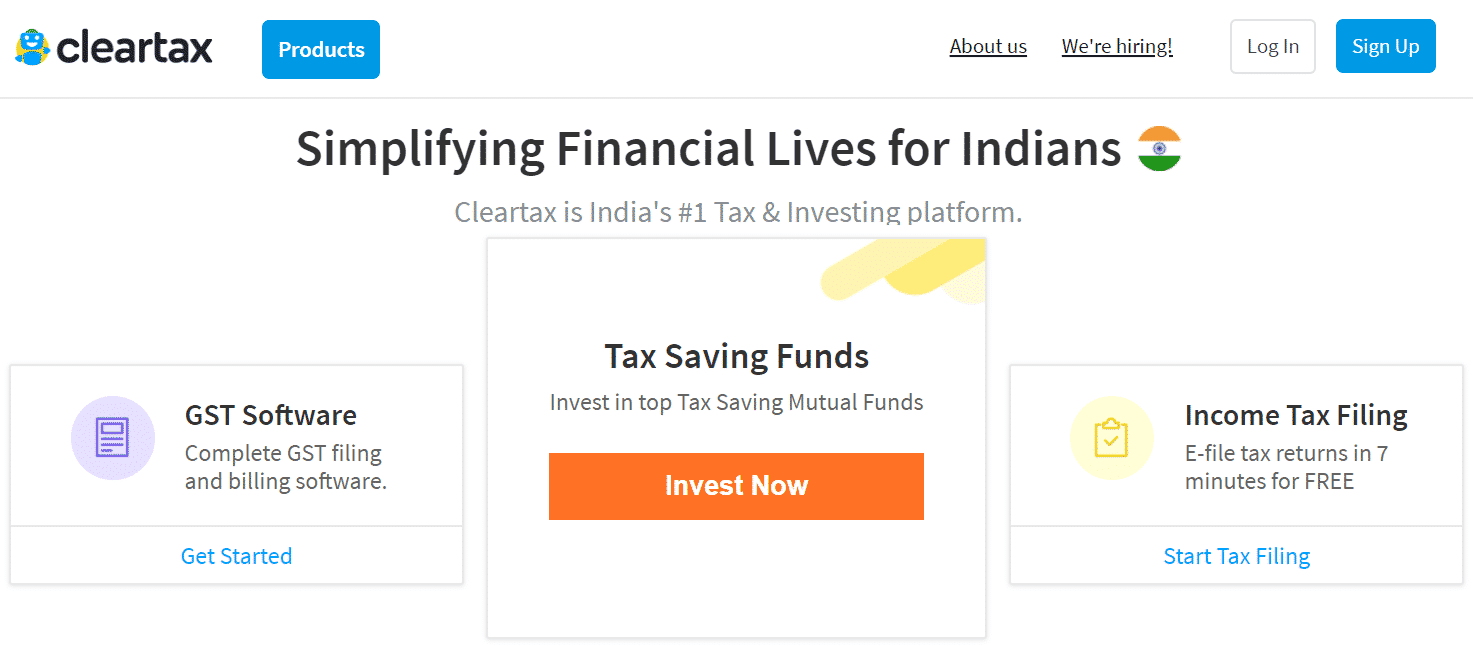 With over 2.5 million clients, Cleartax is India's biggest outflow recording site. It has begun in 2011 and does astounding work. No delays and wonderful administration. As far as management is concerned, nobody can beat them. You can peruse its audit on quora.com. Pretty much everyone has given positive audits. It's the no. 1 and the best organization enlistment sites in India.
The services they provide:
company registration
GST SERVICE
Startup services
Visit ClearTax Now
If you are looking forward to getting your company registered, then you can definitely go for any of these websites, but always choose wisely and read the customer reviews of each website carefully.
And that's it, now you can use the above guide on How to Register a Company in India. But if you still have any questions regarding the company registration process then feel free to ask them in the comment section.