In a world where advertising is omnipresent, individuals are constantly seeking innovative ways to generate extra income. One such avenue gaining popularity is the method to get paid to advertise on your car. Imagine turning your daily commute into a lucrative opportunity by transforming your vehicle into a moving billboard. This article will provide you with valuable insights into the world of car advertising to understand the various options available, find reputable advertising companies, negotiate contracts, and maximize your earning potential. Get ready to hit the road and turn your ordinary vehicle into a rolling advertisement that brings in extra cash.
How To Get Paid to Advertise on Your Car? A Guide
Many advertising options seem to be more popular than the other ones. The main aim is visibility. You can display your product or your car to get paid for your advertisement and easy money. Frankly speaking, a car is a liability. If you own a car, you can easily generate income through ads, which will cover your expenses related to the car and pay bills easily.
Advertising on your car is great for turning it and gaining more passive income. A considerable income is gained through paid car advertising on your car. It is just putting on some stickers and making it work perfectly for the company or brand. Such effortless passive incomes are highly appreciable.
What is Car Wrap?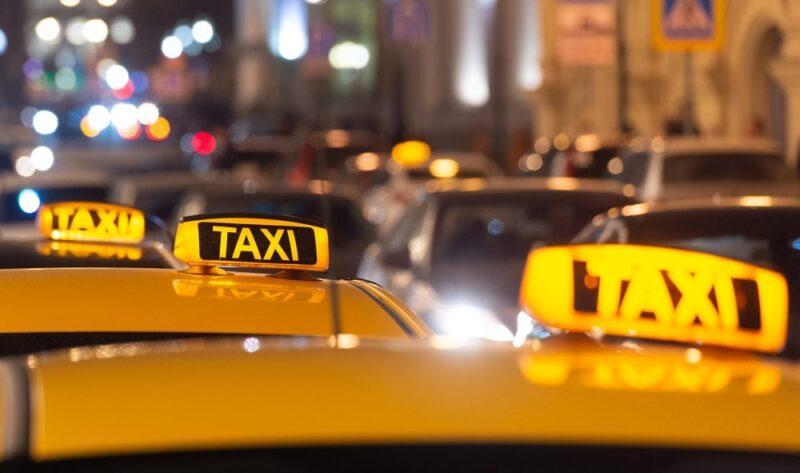 Cars are much smaller in size compared to buses. The car wraps fetch good business, both local or high class commercial. If you have a fleet of cars moving on the street every day, then the visual representation of your brand or company is promoted through that too!
Similarly, a vehicle or a car wrap is nothing but a graphical vinyl or a decal applied to the vehicle for promotion purposes. These changes to the look and feel of the car make it much more vibrant, noticeable, and unique in all respects. These are available in matte finish or gloss as well. It is a good option for using it in your car. Best part? You can completely remove it as well whenever you are done with it.
Why does Car Wrapping Make it Look Unique?
Car wraps are used to spread messages and promote a particular product or service. In fact, Car Wrap Advertising is an attractive way to promote business uniquely. Realizing this opportunity, the car owner can make decent money by getting paid for advertising on their car.
If your vehicle having the wrap goes to any neighborhood, it is gaining exposure to advertisements towards potential customers. It is a great way to get paid to advertise on your car and promote the messages accurately, targeting the mass audiences or locale. Cars are much more integrated into everyday travel. It will allow your message to circulate to urban and rural areas.
Benefits of Car Wrapping Advertising
While you choose car wrap advertisement, there are so many benefits that you can explore are all listed below:
It offers the ability to provide you with a much more flexible and cost-effective advertisement tool that makes the ad promotions spread vastly.
It creates an extensive mass presence.
Car wraps are easy to remove quickly. Your car can return to its original condition without much effort.
It is much more cost-effective or less expensive than the other car painting methods.
How Much Money can You Make from Paid Car Advertising?
How about $100- $700 monthly make sense to you? Is it good money for you? Well, a small decal or full car advertisement can get you a lump sum of money. Some organizations or companies offer a flat rate of income. They pay you monthly, and some companies will pay you per mile. These all depend on the miles you drive and make more money.
The amount that you are going to make depends on the type of car wrap advertising that you are going to choose! There are typically 2 types of it that can be used on the car.
A Full Wrap: In the case of full car wrap ads, some highlighting factors are used. The entire car is covered with this type of decal from the front bumper to the back and the top of the car. Your car will be very noticeable for rolling billboards. It gains a lot of clarity.
A Partial Wrap: In the case of a partial wrap, you can get paid to advertise on your car. It is done in some smaller portions of your car at one side or a quarter of your car. Small organizations who wish to advertise their products on paid car wrap ads will offer these types of wraps.
The paid car advertising price highly depends on the miles your car has gone in a month. The more miles it covers the increased passive income you make on it! The full car wrap pays more, whereas the partial wraps pay you a decent amount for displaying the ads perfectly.
Why should You Use Car Wrap Advertisements on Your Car?
The answer is simple, to generate a greater amount of passive income. Well, if putting stickers on your car can be a great source of income, then why not!
It will help you pay for your other car-related bills and insurance. You don't need to invest a good amount of money to get a modest income out of these ads. However, before you finalize which car wrapping brand you choose, here are certain points that need to be kept in mind.
Firstly, you need to check that the company you will be promoting is not a scam. There are plenty of such issues; all you have to do is research before finalizing the brand.
The car ads are not a scam but check the deductions they are planning if certain parameters of the driving things are not met!
There are numerous implications based on your car insurance. Figure out which one can lead to cars being classified for business or commercialized usage.
Check out the user reviews who have already worked with such brands to get a fair idea of the payment process.
Top Places to Get Paid to Advertise on Your Car
There are numerous top places that you can use to get paid to advertise on your car. This car wrap advertising will help you earn some good passive income. The list of the paid car advertising legit companies below will pay you a good amount every month-

Listed as one of the Inc. Magazine's top 500 fastest-growing private companies, Wrapify was launched in 2015. It is recently reported that they have a driver base of over 250,000.
Wrapify has helped numerous companies to advertise in specific parts of the country. They spend 25% more commuting time in the targeted company promotion areas.
It is very easy to sign up for Wrapify and the best part is that it is a free app. You need to download the app from Playstore and follow its instructions. Once all the requirements are met, you can access it for further usage. Qualifying to the eligibility criteria is necessary. You will start getting notifications based on partnerships made available for you.
There are various campaigns that happen; all you need is to take advantage of those. Just click some photos of your vehicle, follow the instructions, and get your vehicle wrapped. The payment process is transparent and gets deposited every week.
Qualifying Parameters for Wrapify
You need to pass the basic background check for the eligibility test.
Whether you drive a new or old vehicle, there should not be any significant damage to it.
You must be at least 21 years of age.
There should not be any major driving violation cases under your name or license within five years.
There should be a maximum of 2 accidents in the last three years.
There should not be any cases on the vehicle name within the last three years.
Having less than one accident or moving isolation combined for getting qualified to the Wrapify.
Earnings through Wrapify
Wrapify pays well on car wrap advertisements. It depends on how much car wrap is used. There are four different types of car wrap advertising offered by this company.
Full Car wrap: $264 to $264 to $452 per month.
Partial Car wrap: $196 to $280 per month.
Lite Car wrap: $181 to $280 per month.
Topper Car wrap: $174 to $280 per month.
Wrapify charges an early termination fee as a paid car advertising brand if you end the campaign early or choose to walk away from it.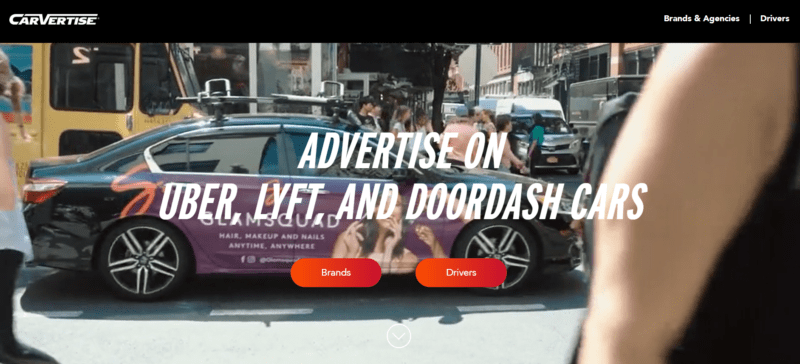 Carvertise is a popular car wrap advertising company. It was launched in 2012 by college students who wished to do something out of the box. They are pretty similar to the other car wrapping platforms like Wrapify. The company's payment method is robust, and reliable, and the best part is that it does not involve any hidden charges.
It starts with signing in to the Carvertise and filling in the details like name, email, phone number, and many related details. You need to answer various questions, like where you drive and for how many hours. What are the times of your driving and related deals?
As you qualify for the Carvertise, you can see the advertisers who have liked your driving habits and related details. They will choose to wrap your car, and then the work begins. Once the campaign is over, the paid car advertising wrap will be removed. The amount will be deposited each month based on the time traveled and chosen car wrap types.
Qualifying Parameters for Carvertise
Your car must not be older than 2008. The newer, the better.
A good quality matte paint wraps are provided.
You are required to drive a minimum of 30 miles per day.
The record of the driver and the car must be clean.
Earnings through Carvertise
The earnings are between $300 to $1200 per month based on the campaigns, type of car wraps, and even time traveled. Before you finalize any campaign, you will learn about the parameters of every campaign and payout commitment from Carvertise's end.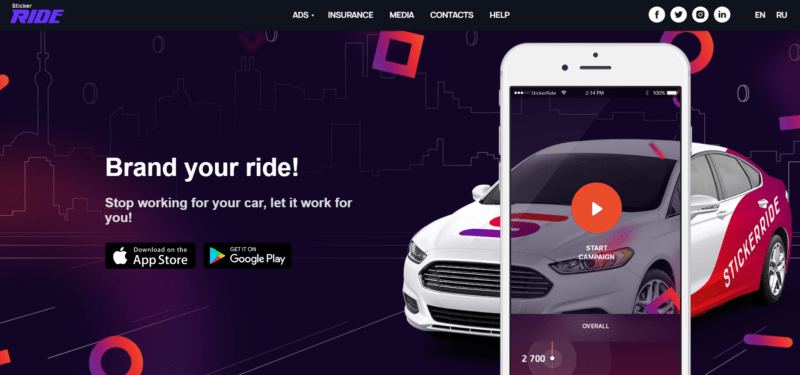 A notable brand to get paid to advertise on your car is StickerRide. The journey started in the year 2013. The company has grown significantly as a car advertisment company and their unique set them apart from their competitors.
StickerRide works smoothly, so you must register by downloading the app on your Android smartphone or iOS device. Data confidentiality is maintained. So whatever details you include, keep in mind that it is all secured.
As you have completed the downloading process of the app, the next thing is to search for the campaigns that suit your choices. As you choose one campaign or more, you'll be contacted by the StickerRide to schedule the installation of the car wrap advertising.
Once you start driving your car, the money will be credited based on the type of car wrap you choose. The earnings are based on how much you drive your car. There are ample opportunities for you to choose campaigns like flash mob drives or other quests. As you take advantage of these bonus tasks, you can get more passive income.
Qualifying Parameters for StickerRide
Each campaign has separate parameters; you need to meet those!
You will get qualified based on the details you have included in the detail list!
You might expect similar campaigns as you get chosen for one!
There should be no driver's or vehicle accident or damage records.
No minimal damage to the car is appreciated.
Earnings through StickerRide
The earnings here are a bit different from the other companies. You must turn on the mobile app every time you drive your car. You won't earn anything if you are not logging in! They track the live location and travel distances. They pay on a point basis. For every campaign, you need to have an equal number of miles covered, as mentioned while beginning the campaign. The number of tariffs is based on the miles travelled in your car.
The tariff amount is based on a few variables. It includes;
Several car wrap displays.
The driving location for each day.
The time zones.
The type of car that you drive.
The amount to be credited depends on the campaign rules & tariff. The app will track everything and estimate the amount at the end of the campaign before you sign in to another campaign.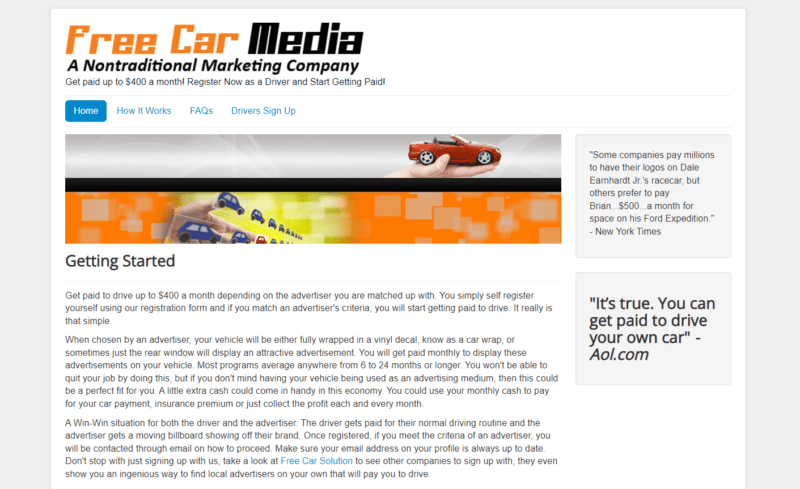 To get paid to advertise on your car, this company, FreeCarMedia, will pay you the desired amount. The back window decals are installed in the campaigns used by this brand. The decals are accompanied by installation directions that can be applied similarly.
It is very easy to sign up for FreeCarMedia. You just need to log in to the company website to fill in your details. It should include various driving habits of yours and personal details. As you share the details, a person from FreeCarMedia will contact you for the other campaign process.
Depending on the campaign type, you need to place decals on your car's back window for months or years. Based on the number of days, you will be paid every month.
Qualifying Parameters for FreeCarMedia
You need to log in to the website to share your contact details.
Your background check will be done; you need to pass it.
A decent driving record is required.
There should be zero to minimal damage in the car.
Earnings through FreeCarMedia
You can earn around $50 to $400 per month. It depends on the campaign. The back window car wraps pay less compared to other kinds of decals used for advertisements. In this company, the type of car wrap is limited to the back window only.

It is a Tampa-based best car ad company that is perfect to get paid to advertise on your car. Nickelytics has limited space for car wrap advertising. It includes light wraps, full body wraps, and even Window wraps.
Nickelytics is an app-based paid car advertising company. Once you have downloaded the app, you can access it on Android and iOS. The necessary information should be covered along with driving habits so that it matches as per ad campaigns. The app tracks your driving routes and your habits in real-time tracking.
It is quite similar to the other types of car wrap ad apps. It would help to keep it open every time you drive to track the time.
Qualifying Parameters for Nickelytics
As a driver, you need to have a valid license and documents for your car.
You need to drive at least 900 miles monthly for a good return.
It would help if you drove in the metropolitan cities.
It is a good advantage if you are a driver of brands like Uber, Lyft, Postmates, or Doordash.
Earnings through Nickelytics
The entire earning is based on the campaigns you're choosing. You will earn around $500 monthly and an average of $250 minimum. The more you try out the routes and full-body decals, the payment will be on the higher side.
How much does this car wrap legitimately work?
A legitimate car wrap advertising company will pay you around $100 minimum every month. There is no promise of a huge sum or easy cash. These companies are upfront about the pay and what their requirements are. If you fail to meet one requirement, then there are chances that the pay will be less or deducted.
Certain things a popular legitimate company will NEVER do:
They will ask you to send money via any unauthorized account or app.
They will ask you to pay for your car decals.
They will promise a hundred dollars every week.
Staying away from scams for these car wrap ads is crucial for your safety and security.
Also Read: 15 Most Expensive Ford Cars You Should Know About

How to Identify Authorized and Genuine Car Wrap Advertisement Company?
It is crucial to find a genuine paid car advertising company to get paid to advertise on your car. Often there are difficulties in these processes as you have to opt for some research to avoid scams and fraud websites. We have figured out certain notable pointers for choosing a perfect car wrap ad company-
Application Methodology: Any genuine paid car advertising company will have a proper application channel to submit the details. It follows the process of looking into the driver's history, car's condition, riding history, accident history, and clean chit. A good organization will acquire all these details and eliminate fake ones.
No Fee for Application Submission: To get paid to advertise your car, you need to fill in the details and submit your application. A genuine company will never charge any amount for your application. If there is any charge which is not refundable, then there is a problem.
Car Insurance is Must!: A genuine car wrap advertising company will never select a car without car insurance. It is very important and one of the most critical criteria for advertisement companies hiring good cars for ads.
Good Customer Services : As you are contacting the companies, that doesn't mean the company won't have any responsibility. The company will offer good service to their clients like you! They will ensure that the decals are placed properly and that everything is set for regular travel.
In conclusion, getting paid to advertise on your car can be a lucrative way to earn extra income while going about your daily routine. By following the steps outlined in this article, you can successfully connect with advertising companies and turn your vehicle into a mobile billboard, making money while you drive.