The year 2023 saw a large number of layoffs done by organizations all over the world. Now that the situation is improving due to growing economic stability, still there are some problems cropping up regarding new recruitments. A recent survey highlights the reluctance of businesses to hire freshers from Gen Z due to lack of essential skills and mindset.
Gen Z is frequently characterized as a generation that displays heightened sensitivity and is deemed challenging to collaborate with in professional settings. Despite contrasting opinions on this matter, many individuals commend this generation for their unwillingness to tolerate detrimental work environments and their active advocacy for social justice causes. Conversely, there are those who assert that Gen Z lacks necessary preparation to engage in professional workforce effectively.
A recent survey conducted by Intelligent.com in July involved 1,243 business executives who were queried about their encounters with recent university graduates as they entered the job market.
In terms of the readiness of recent college graduates for the workforce, business leaders express a mixture of opinions, consisting mostly of a negative perception about recent graduates from Gen Z.

A total of 40% believe that these graduates are not adequately prepared.
27% of respondents stated they are somewhat unprepared and 13% indicating they are very unprepared.
Conversely, 33% of business leaders consider them somewhat prepared, while 20% credit them as being very prepared.
A minor 7% are uncertain about their stance on this matter.
Amongst the cohort of business executives who hold reservations about the readiness of recent graduates for the professional realm:
88% express the belief that individuals who have graduated from college within the last three years exhibit lesser preparedness compared to those who completed their education earlier.
In terms of hiring practices, a significant 94% of these business leaders who hold the view of recent graduates' unpreparedness admit to occasionally avoiding their recruitment.
This sentiment is further broken down as follows:
7% indicate this avoidance is a consistent practice.
27% state it occurs most of the time.
40% acknowledge it happens on occasion.
20% affirm it is a rare occurrence.
Merely 6% of the business leaders claim to never engage in this avoidance.
Also Read: 26 Worst Colleges in America
Reflecting on the past three years, it is evident that:
39% of the aforementioned business leaders, who maintain reservations about the preparedness of recent college graduates, have terminated the employment of at least one individual falling within this category.
Within this subset, a substantial 83% have proceeded to terminate the employment of multiple recent graduates.
A smaller 5% have undertaken such terminations for more than ten individuals.

Reasons Why Gen Z Students are Unprepared
Reluctance of businesses to hire freshers from Gen Z stems from various factors that contribute to certain stereotypes about work ethic of this group. Let us look at them in details:
Among business leaders who hold the view that recent college graduates are ill-prepared, an overwhelming 70% attribute this to perceived shortcomings in work ethic.
An equal percentage also highlight deficiencies in communication skills as a contributing factor.
Furthermore, aspects such as a sense of entitlement (51%) and a lack of technological skills (43%) are cited as additional factors leading to the perceived lack of readiness.
The prevailing cause for the perceived unpreparedness of recent college graduates, as indicated by the largest group of respondents (62%), is attributed to culture.
Additionally, half of business leaders attribute this unpreparedness to parents (50%), while 46% point towards educators.
48% associate the lack of readiness of recent grads with the impact of the pandemic.
A significant majority (88%) of respondents believe that incorporating office etiquette classes into college curricula would yield valuable results, with an even split between finding it very helpful (44%) and somewhat helpful (44%).
Among those who believe that recent graduates lack preparedness, 57% reported instances of such graduates making unreasonably high salary demands.
Notably, half of these cases involved candidates requesting $100,000 or more. It's noteworthy that for positions where candidates demanded salaries exceeding $100,000, around two-thirds of those positions actually offered salaries of $70,000 or less.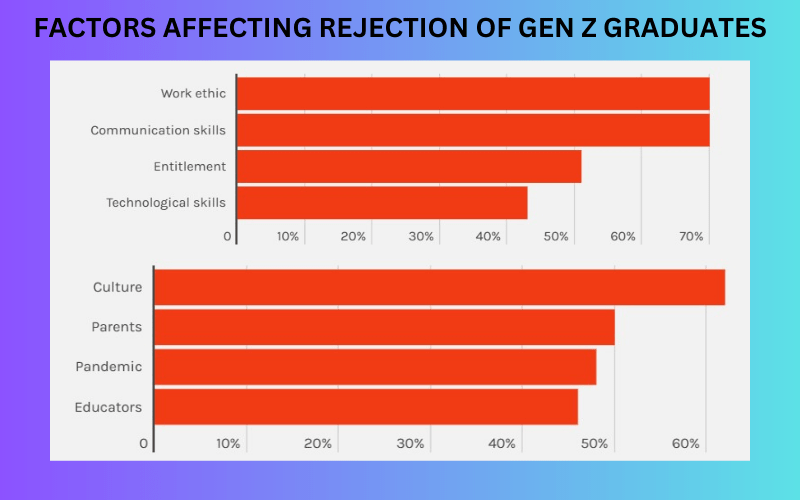 What do the Experts Say?
Diane Gayeski, Ph.D., a renowned figure in the field of Strategic Communication at Ithaca College and the Principal of Gayeski Analytics, emphasizes that the workplace of 2023 has taken everyone by surprise. The profound transformations driven by digital advancements and the evolution of hybrid work structures, initiated a decade ago, have experienced an unprecedented acceleration due to the COVID-19 pandemic's impact. Consequently, both work methodologies and attitudes have undergone substantial shifts.
Young professionals fresh out of college are adopting distinctive communication methods compared to their senior counterparts. While they might not adhere to the communication norms of executives in their 50s, they excel at effective collaboration through contemporary tools like social media, text messaging, Slack, and Google Docs.
Challenging stereotypes about work ethic and resilience of Gen Zers, Gayeski points out that it's essential to recognize that certain segments of the workforce, including mid-career individuals in professions such as nursing, hospitality, and education, are leaving their roles in significant numbers due to burnout. Meanwhile, the departure of numerous women, who were on the verge of breaking into executive positions, can be attributed to their desire to escape workplace harassment and to achieve improved work-life balance for family and personal pursuits.
The familiar pattern of older generations critiquing the newer ones persists, yet history demonstrates that each emerging cohort eventually integrates into the workforce and assumes leadership roles. Notably, the abrupt shift to remote learning, spanning two years, has had a notable impact on college students. These students missed out on crucial opportunities for personal growth, such as participation in class debates, engagement in clubs, and the experience of dormitory life. They were also deprived of valuable interactions with people beyond their immediate families. These are the factors contributing to the reluctance of businesses to hire freshers from Gen Z.
Gayeski emphasizes that progressive organizations must grasp the values of the upcoming generation. Adapting to this evolving scenario requires leaders to craft ethical, productive workplaces, prioritizing employee well-being and customer contentment. The new wave of skilled professionals has the capacity to bring innovative viewpoints, fostering personal and organizational advancement.
Source: Intelligent.com Survey