Out of this 21.78 million or 88.14% pertains to Economically Weaker Sections (EWS) including the Below Poverty Line (BPL) households. State-wise details indicating the breakup of the housing shortage of 24.71 million is given below.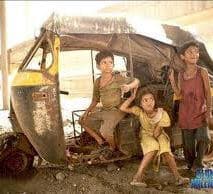 The Government of India is currently implementing various new schemes for providing affordable housing to India's urban poor. A new scheme – Interest Subsidy Scheme for Housing the Urban Poor (ISHUP) has been launched for providing interest subsidy on housing urban poor to make the housing affordable and within the repaying capacity of Economically Weaker Sections (EWS)/ Low Income Group (LIG).
The scheme encourages poor sections to avail of loan facilities through Commercial Banks/Housing Finance Companies for the purposes of construction/acquisition of houses and avails a 5% subsidy in interest payment for loans up to Rs. 1 lakh.
Another scheme called the Affordable Housing in Partnership launched in 2009 with an outlay of Rs. 5000 crores, seeks the construction of 1 million houses for EWS, LIG, Middle Income Group (MIG) with at least 25% for EWS Category.
Furthermore, the Government has announced a new scheme called Rajiv Awas Yojana (RAY) for providing support to States that are willing to provide property rights to slum dwellers. The Government Of India hopes to make India slum-free through the implementation of RAY.
Urban Housing Shortage at the end of the 10th Five Year Plan (dwelling units in million)
| | |
| --- | --- |
| State/UTs | HOUSING SHORTAGE |
| ANDHRA PRADESH | 1.95 |
| ARUNACHAL PRADESH | 0.02 |
| ASSAM | 0.31 |
| BIHAR | 0.59 |
| CHHATISGARH | 0.36 |
| GOA | 0.07 |
| GUJARAT | 1.66 |
| HARYANA | 0.52 |
| HIMACHAL PRADESH | 0.06 |
| JAMMU & KASHMIR | 0.18 |
| JHARKHAND | 0.47 |
| KARNATAKA | 1.63 |
| KERALA | 0.76 |
| MADHYA PRADESH | 1.29 |
| MAHARASHTRA | 3.72 |
| MANIPUR | 0.05 |
| MEGHALAYA | 0.04 |
| MIZORAM | 0.04 |
| NAGALAND | 0.03 |
| ORISSA | 0.50 |
| PUNJAB | 0.69 |
| RAJASTHAN | 1.00 |
| SIKKIM | 0.01 |
| TAMIL NADU | 2.82 |
| TRIPURA | 0.06 |
| UTTARANCHAL | 0.18 |
| UTTAR PRADESH | 2.38 |
| WEST BENGAL | 2.04 |
| A&N ISLANDS | 0.01 |
| CHANDIGARH | 0.08 |
| DADRA & NAGAR HAVELI | 0.01 |
| DAMAN & DIU | 0.01 |
| DELHI | 1.13 |
| LAKSHADWEEP | 0.00 |
| PONDICHERRY | 0.06 |
| ALL INDIA | 24.71 |