Recession has left a negative impact on all economies of the world, and the small African nation of Morocco is no exception to it. According to a recent survey, household confidence in Morocco reached its lowest point since Great Recession of 2008.
The decline in household confidence reflects an increasing economic pessimism in Morocco regarding their financial situations and the overall state of the national economy. The Permanent Household Survey conducted by the High Commission for Planning (HCP) analyzed various indicators of household well-being, such as standard of living, unemployment, the ability to purchase durable goods and their financial situation. It presents a grim outlook for the country's economy in the second quarter of 2023, highlighting a deteriorating perception of several crucial factors impacting household well-being.
The report indicates that the Household Confidence Index (HCI) in Morocco has fallen to 45.4 points, compared to 46.3 points in the previous quarter and 50.1 points in the same quarter of the previous year.
Nearly all households (98.1%) experienced an increase in food prices over the past year, further straining the savings propensity of Moroccan households.
A substantial majority of over 70% of households expect this trend to persist in the coming year, with only 4.8% anticipating a decrease in food prices.
Moreover, concerns about unemployment persist in the country, with households expressing bleak views regarding their own financial situations and concerns regarding the ability to save.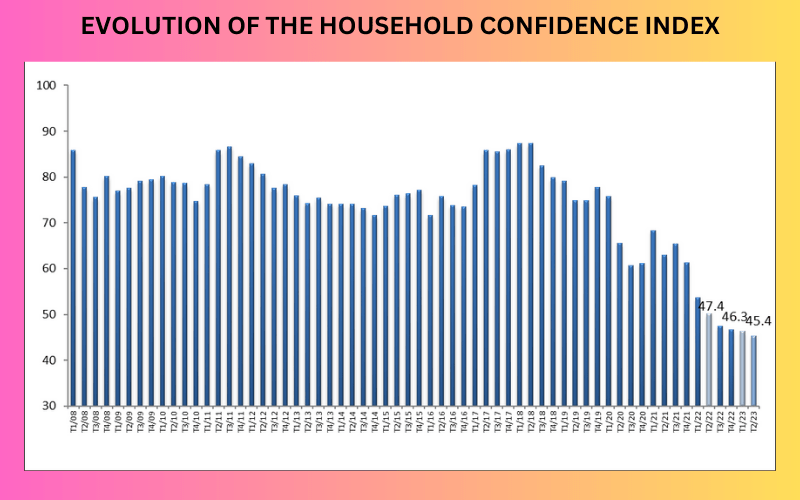 Trends in Unemployment and Consumer Demand
An overwhelming 85.3% of households expecting an increase in the number of unemployed individuals over the next 12 months.
The negative net opinion balance of -80.4 points indicates a significant lack of confidence in Morocco's labor market, as revealed in the survey published today.
The majority of households (78.8%) perceive the current economic situation as unfavorable for purchasing durable goods, leading to a hesitancy in making significant purchases.
This sentiment is reflected in a negative net opinion balance of -68.9 points, indicating the prevailing cautiousness among households amidst the current economic environment.
Only 53.4% believe that their current income is sufficient to meet their needs.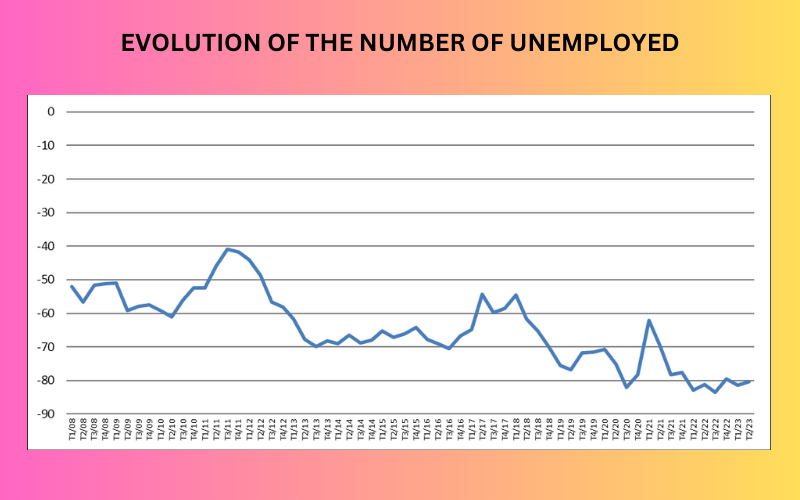 Trends in Household Savings, Debt and Standard of Living
More than 44% of households reported relying on debt or depleting their savings to cover expenses.
A significant majority of 89.7% of households not expecting to save money in the next 12 months.
An alarming 87.3% of households reported a significant decline in their living standards over the past 12 months.
On the other hand, only 2.7% of Moroccan households experienced an improvement, while 10.0% reported no change.
This negative sentiment is reflected in the net opinion balance, which currently stands at -84.6 points, the lowest level recorded since 2008.
In terms of the anticipated changes in the standard of living over the next year:
53.4% of households predict a decline, while 36.9% expect it to remain stable, and 9.7% anticipate an improvement.
The overall sentiment regarding this indicator is negative, with a balance of -43.7 points.
This indicates a worsened outlook compared to the previous quarter and the same quarter of the previous year, which recorded balances of -38.8 points and -34.3 points, respectively.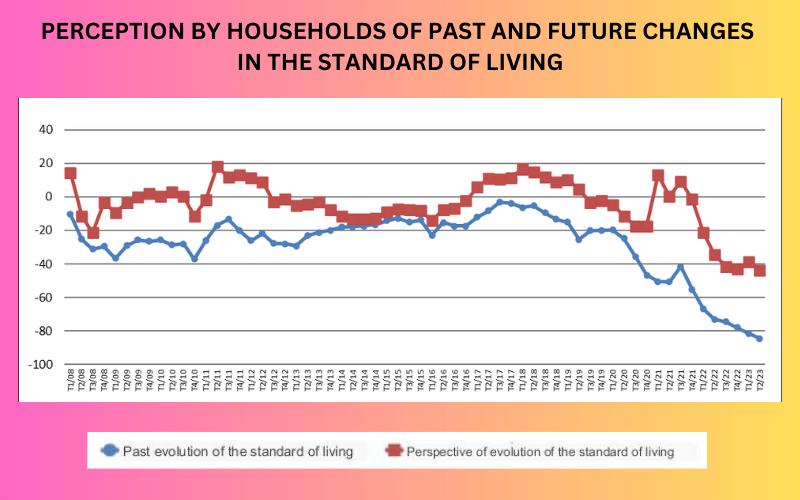 Trends in Financial Situation of Morocco
Among households, 60.6% believe that the indicator of financial situation has worsened, while only 3.3% think it has improved.
Consequently, the overall opinion on this matter remains negative, with a balance of -57.3 points.
This is slightly lower than the previous quarter's -57.2 points and significantly lower than the -48.7 points recorded a year ago.
In terms of the future trajectory of their financial situation of Morocco:
18.5% of households anticipate an improvement over the next 12 months.
56.9% expect it to remain stable and 24.6% anticipate a decline.
The overall sentiment regarding this indicator is negative, with a decrease of 6.1 points.
This signifies a deterioration compared to the previous quarter and the same quarter of the previous year, where the decreases were 5.2 points and 0.1 points, respectively.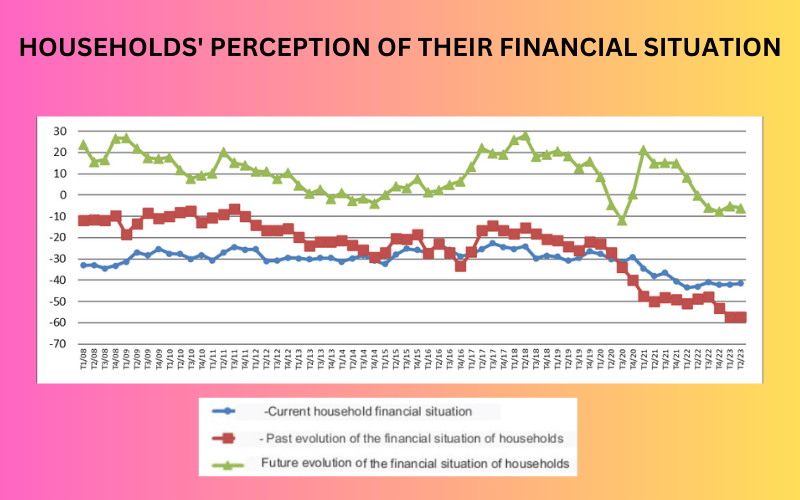 Also Read: Initiative Introduced by United Nations World Food Programme to Fight Hunger in Zambia
Overall, the findings of the survey paint a bleak picture of the economic situation and household confidence in Morocco, reflecting the numerous challenges faced by households in terms of their financial security.
It should be noted that the questions being discussed are qualitative in nature and offer three possibilities: improvement, stagnation, and deterioration. These questions pertain to changes that occur over a span of 12 months. The outcomes are presented as balances, which are the differences between the percentages of responses indicating improvement and those indicating deterioration. It's important to note that the absolute values of these balances do not hold direct meaning; rather, it is their changes or trends that are analyzed.