Many organizations, big and small, have been facing issues like low profitability and high expenditure for long. To manage costs, mass layoffs have been done by such businesses for some months. Now, as per the latest Quarterly Economic survey, it has been found that high wage expectations is the primary cause for inflationary pressure for majority of businesses.
The survey by Business West involved nearly 300 businesses from across the Southwest region, and it highlighted that more than a quarter of them have concerns regarding the labor market. Businesses are currently dealing with recruitment difficulties and also grappling with increased costs for new energy contracts while facing reduced government support. This is happening alongside a decline in consumer spending and rising operational expenses. As a result, firms are finding it more challenging to protect their profit margins and retain cash for reinvestment.
Although 47% of respondents expect their turnover to increase in Q3, only 36% predict an increase in profits compared to Q2.
Staff costs continue to be the primary factor contributing to price pressures for 68% of the respondents. This represents a 4% increase compared to the same period last year, with manufacturing-based businesses experiencing even higher pressures at 74%.
However, the survey indicates a significant decline in the number of respondents planning to raise their prices in the next three months. Currently, 40% of businesses are expecting price increases, down from 45% in Q1 2023. This may suggest a potential easing of inflationary pressures.
When asked about the main challenges related to their current workforce, 62% of respondents expressed worries about meeting staff expectations regarding pay and benefits increases.
Workforce retention was identified as a challenge by 37% of businesses, while 36% cited the importance of supporting staff morale and well-being.
While the proportion of firms facing recruitment difficulties has decreased (now 72% compared to 81% in Q1 2023), workforce expansion remains low in Q2, with only 15% of respondents reporting an increase in personnel compared to three months ago. This is 4% lower than the same period last year.
Respondents generally express more confidence in their own businesses than in the wider UK economy. However, in Q2, both confidence measures declined compared to the previous quarter, as businesses continue to confront challenges such as inflation, workforce issues, and decreasing consumer spending.
Despite the decline in confidence in the UK economy in recent quarters, a closer analysis reveals that a growing percentage of respondents now hold neutral expectations. This is a shift from their previous tendencies to feel positively, with the number of individuals moving from a previously neutral outlook into negative categories being outweighed.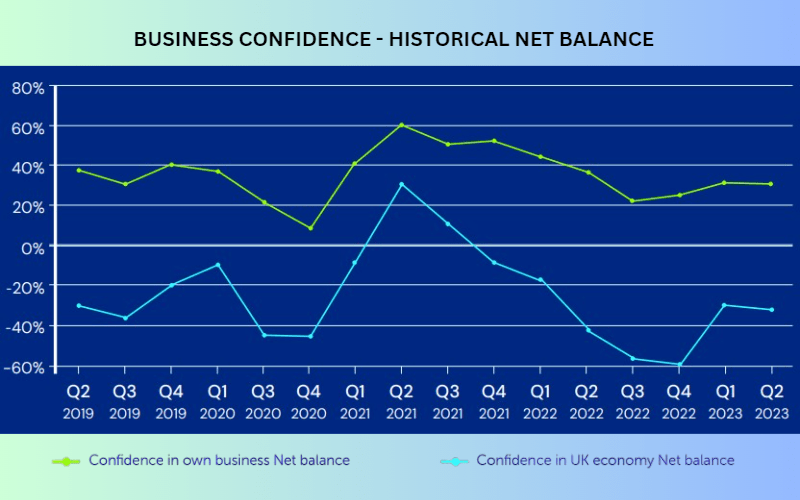 What do the Experts Suggest?
Chris Payne, a Senior Programme Manager at CT Engineering Group, an engineering consultancy in South Gloucestershire, noted that the industry is currently facing high demand for staff but a limited pool of resources. This situation is driving up wages and impacting profit margins.
Alan Broadway, owner of Oval Estates Group, a property company in Bath, mentioned that two staff members had completed degree courses while employed full-time. He also mentioned their current recruitment of apprentices and their practice of providing internal training and external courses for their staff as needed.
Michelle Graham, the Director of Niche Recruitment, a recruitment consultancy based in Wiltshire, expressed the positive impact of a team member undergoing a partially government-funded Digital Skills Bootcamp.
Pete Hickerton, the Director of PH Sports, a sports coaching company in Wiltshire, mentioned that they are considering pay raises for staff, which will lead to overall cost increases.
Richard Davis, the Owner of DBM Wines, a wine shop in Bristol, stated that costs of goods, staff expenses, and overheads are rising, necessitating price increases to maintain profitability.
Matt Griffith, the Director of Policy at Business West, pointed out that businesses are grappling with persistent labor market tightness. Although it is positive to see a decrease in recruitment struggles compared to the previous quarter, the percentage is nearly 10 points higher compared to the same period in 2021, during the peak of the pandemic.
Other Economic Indicators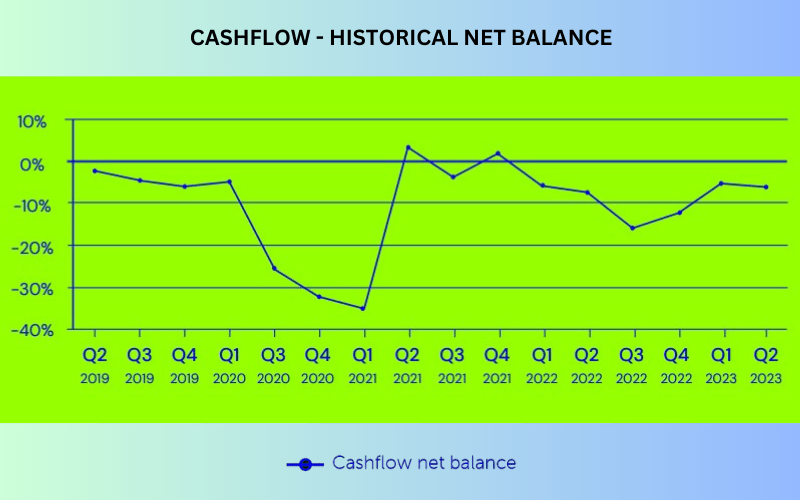 Changes in business cashflow are often a reliable indication of the overall well-being of firms in a particular area. They also play a crucial role in ensuring resilience during periods of uncertainty.
Notably, the net balance of cashflow for the second quarter has remained nearly the same as it was three months ago, with a minor deviation of -7 percentage points. However, it is worth mentioning that there has been an intriguing increase in the number of businesses reporting both positive and negative changes in their cashflow, while the proportion of those reporting stable cashflows has decreased.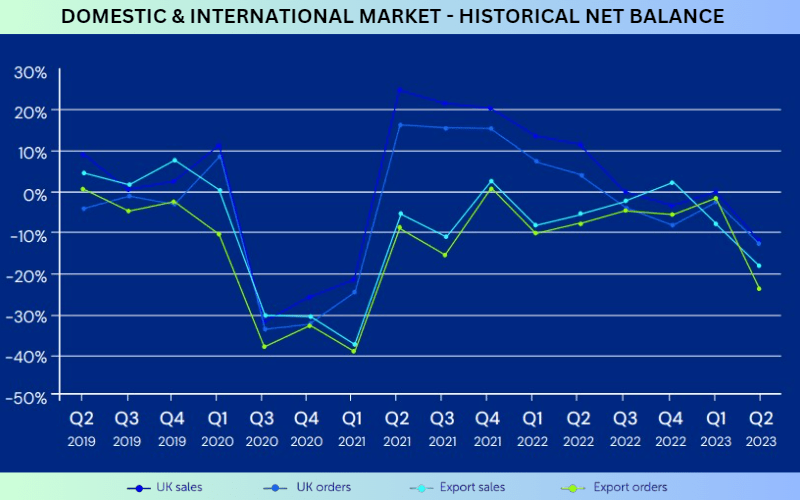 Both net UK sales and net UK orders have experienced a sharp decline of -12 percentage points, suggesting that the relatively stable results seen in Q1 were merely a temporary anomaly. This demonstrates that larger businesses with substantial operations are faring better in the current economic climate, as they are better equipped to maintain consistent sales volumes compared to smaller enterprises. Both manufacturers and service businesses have witnessed a significant decrease in the net balance of domestic sales, with manufacturers reporting a negative figure of -16% and service businesses performing slightly better at -10%.
Also Read: All About the Latest Daily Job Cuts
Many businesses are struggling to find suitable candidates for their job vacancies due to intense competition for skilled workers, wage inflation, and high expectations from candidates. This indicates that there is still a significant gap to be bridged in the UK labor market in order to provide the necessary skills and workforce for sustained economic growth.
High wage expectations is the primary cause for inflationary pressure for majority of businesses. On a positive note, there is a glimmer of hope as the broader inflationary pressures stemming from shipping costs and supply chain issues seem to be alleviating. This offers some relief from the financial challenges faced in other areas.
Businesses are currently dealing with recruitment difficulties and also grappling with increased costs. Respondents expressed worries about meeting staff expectations regarding pay and benefits increases. To address these issues, it is crucial for the government to facilitate the reintegration of more individuals into the workforce while creating an environment that encourages employers to invest in skills development. This approach would help close the existing gap in the labor market and enable businesses to thrive and expand.
Source: Business West Survey