Cashback is one of the rewards that everyone searches for when they shop online. Everybody appreciates when they spend money and then receive rewards in the form of real cash. With cashback, you receive a portion of your expenditure back in your account instead of vouchers and discount coupons. One of the best cashback credit cards available today is HDFC Millennia and it offers consumers a wide range of advantages and perks. In this article, we will provide you with a detailed Millennia Credit Card review, HDFC Millennia Credit Card benefits and Millennia Credit Card limit.
HDFC Bank Millennia Credit Card Review: Rewards, Benefits, Eligibility and More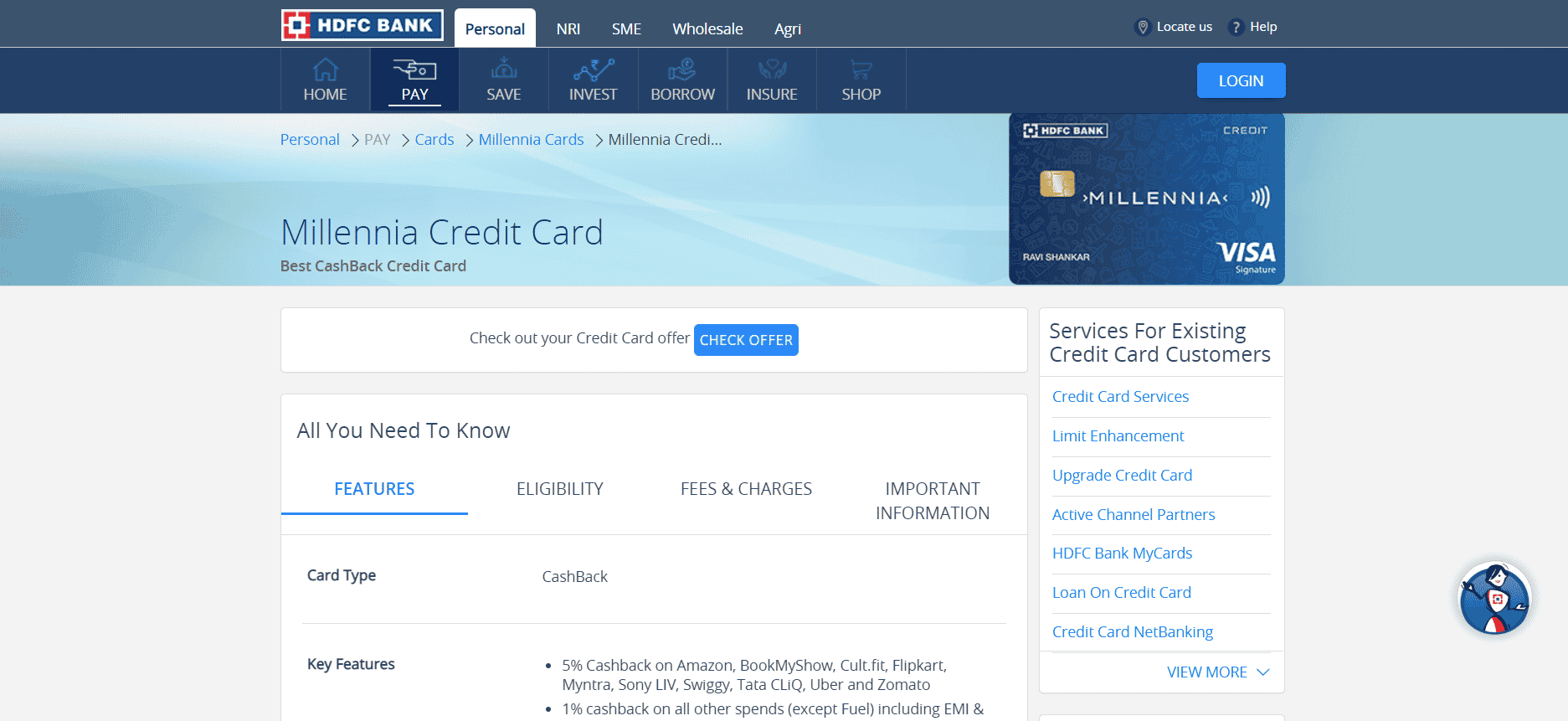 HDFC is one of the largest and most trusted private sector banks in India. They have catered to more than 49 million customers with their customer-oriented and tech-driven products and services. HDFC credit cards are highly reputed for being trustworthy, rich in terms of benefits and rewards, and having lower rates of interest. Millennia credit card was relaunched in October 2021.
Millennia Credit Card is aimed at millennials. Four variations of the HDFC Millennium card are available: a Visa variant, a MasterCard variant, a Diners Club variant, and a RuPay card.
The card has an annual fee of Rs. 1,000 and is an entry-level credit card (taxes extra). The card provides cashback in the form of CashPoints. When one makes expenditures using credit card, they get CashPoints. These points then can be used to redeem balance statements, and make purchases from the product catalog of HDFC or for hotel and flight reservations.
Benefits of Millennia Credit Card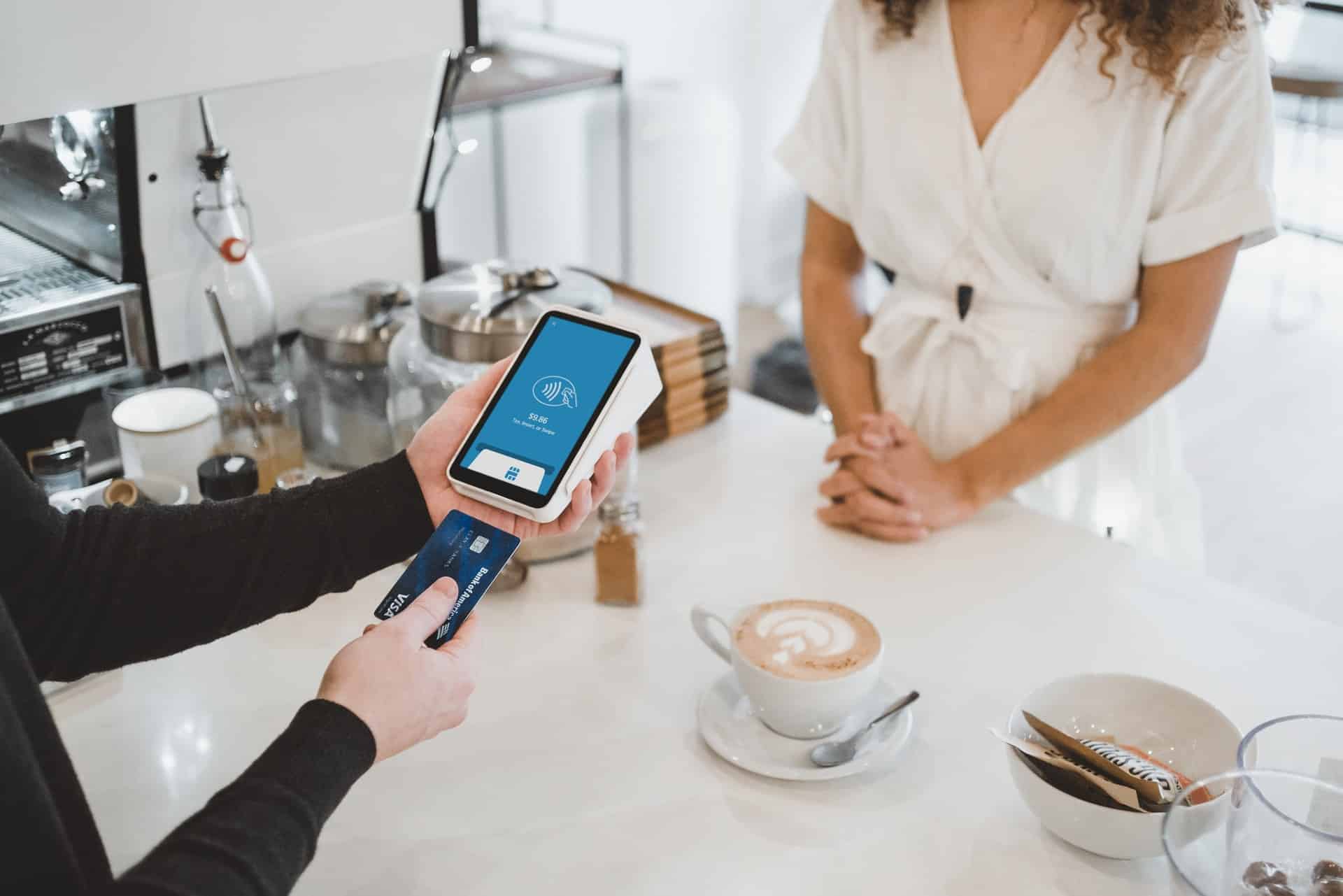 In this Millennia credit card review, let us check out some benefits you get from Millennia Credit Card and Millennia Credit Card limit:
1. Welcome Bonus: As soon as you get your credit card approved by HDFC, you will be rewarded with 1000 cashback points as a welcome bonus.
2. Dining Discount: You can get a 20% discount with their dineout passport which is provided to new members of the card for the first 3 months. This discount is applicable to select restaurants across the country. Another program that you can get access to is the Good Food Trail benefits for premium restaurants. You will get a 1+1 buffet and drinks at select restaurants. Also, you can get a 25% of assured discount at 2000+ premium restaurants.
3. Travel offers: With the HDFC Millennia credit card, users will get 8 complimentary domestic air lounge benefits. You can access this benefit twice every quarter. If you have the Diners club credit card variant, then you get 2 complimentary international lounge visits as a benefit every quarter.
4. Make Your Card Free: You can make your credit card free for a lifetime by activating one of these within the first 3 months of activating the card –
One assist
Balance transfer
General insurance
SmartPay
5. Fuel Surcharge Waiver: You can get a maximum of RS. 250 or 1% of the fuel bill waived on purchase of more than Rs. 400.
6. Benefits of Zero Liability: In case the card gets damaged, lost, stolen, etc., then if informed within 24 hours the company will make the liability zero on the card.
Rewards
The next thing that we will cover in this Millennia credit card review is its reward feature. You can access a huge range of rewards in the form of CashPoints.
The idea here is pretty simple, for every usage of the credit card, the user is given CashPoints, which can be redeemed. CashPoints can be redeemed during purchases by availing cashback in the card statement or can be used to get discounts at air lounges, hotel and flight bookings, etc.
You can earn up to 2000 CashPoints in each credit cycle i.e. in a month. There are categories of purchases that give different reward points. Any online merchant payments like Amazon, Flipkart, Myntra, BookMyShow, Sony LIV, etc. give cashback points of 5%. Other offline payments except fuel bills give cashback points of 1%.
The CashPoints have a different value when it comes to redemption:
Flight and hotel bookings: 1 cashpoint = 30 paisa or Rs. 0.30
Air miles: 1 cashpoint = 0.30 airmiles
Product catalogue purchases: 1 cashpoint = 30 paisa or Rs. 0.30
Credit statement cashback: 1 cashpoint = 1 Rupee
Things to remember
The CashPoints under the HDFC millennia credit card benefits are valid for 2 years after which they will expire.
You need to have a minimum of 500 points for redemption.
HDFC charges a redemption fee of Rs.99 on every request.
Eligibility Criteria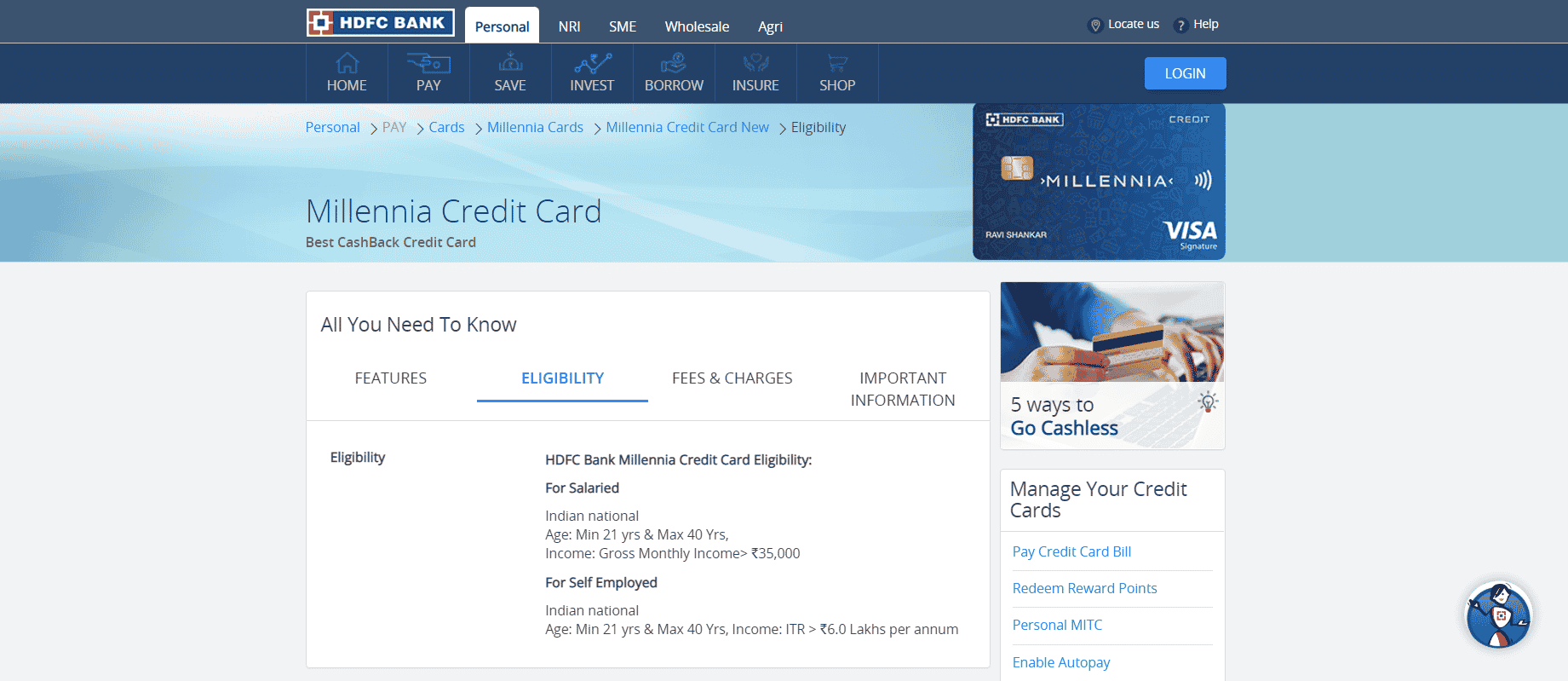 This Millennia credit card review will be incomplete if we don't mention its eligibility criteria. This card has fixed requirements. Here are the following requirements that you need to meet:
Employment Type: A person should be either salaried or self-employed. You will have to provide your employment proof during the application process.
Income: If the applicant is salaried then their monthly salary should exceed the mark of Rs. 35,000. And, if the person is self-employed then their ITR should be more than Rs, 6,00,000 per annum.
Age: The applicant must be in the age group of 21 years to 40 years.
Document Required: Applicant needs to provide government ID proof (Aadhaar, PAN, Passport, voter's ID, etc.), address proof (ration card, utility bills, driver's license, etc.), and income proof (latest form 16, salary slip of 3 months, bank statements, etc.) during the application process.
Also Read: HDFC Millennia credit card Vs Regalia First Which Is Better?
Fees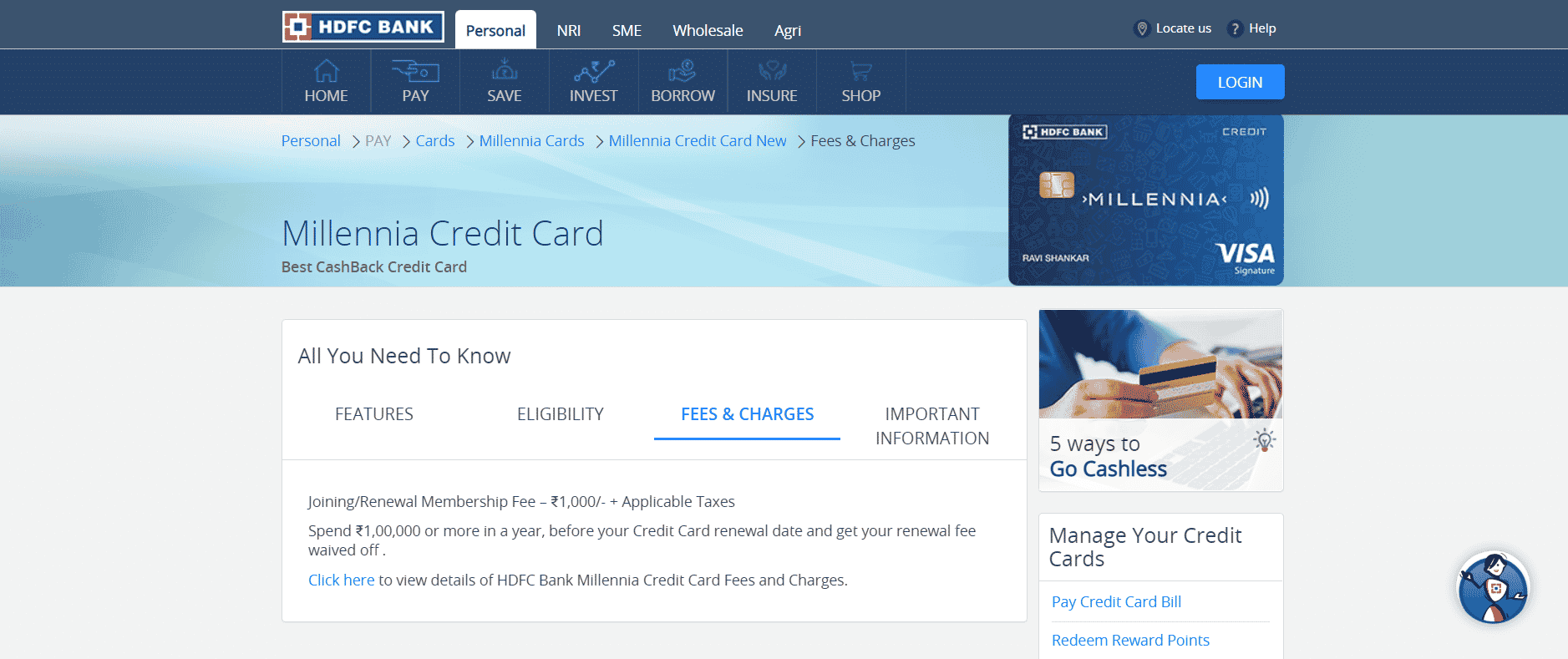 Following are the fees that you will have to pay throughout your ownership of the HDFC Millennia credit card:
Joining Fees: Rs. 1,000 – You will have to pay this fee once you are approved for the Millennia credit card by HDFC.
Renewal Fee: Rs. 1,000 – You will have to renew your cashback card every year by paying the renewal fee. However, if you have spent above 1,00,000 in the previous year of usage, then the renewal fee is waived off.
Rate of Interest: 3.6% per month – The rate of interest is levied if you fail to pay the due amount by the due date on your statement.
Cash Withdrawal Fee: 5% – This fee is to be paid on every single cash withdrawal from ATMs using a credit card.
Foreign Currency charges: 3.5% on each transaction- For foreign currency transactions using the HDFC Millennia credit card, you will have to pay a mark-up fee on the amount of the transaction.
Late Fees on Payments
| | |
| --- | --- |
| Balance | Late fees |
| Less than Rs. 100 | Nil |
| Rs. 100 to Rs. 500 | Rs. 100 |
| Rs. 501 to Rs. 5000 | Rs. 500 |
| Rs. 5001 to Rs. 10,000 | Rs. 600 |
| Rs. 10,001 to Rs. 25,000 | Rs. 800 |
| Rs. 25,001 to Rs. 50,000 | Rs. 1,100 |
| Above Rs. 50,000 | Rs. 1,300 |
Pros and Cons
Every card has its benefits and drawbacks. We have compiled few pros and cons for HDFC Millennia credit card and they are as follows:
Pros
You get multiple benefits like a fuel surcharge waiver, dining benefits, welcome bonus, etc.
On online merchant payments, you will be availed of 5% of cashback points.
Every card holder will get 8 complimentary lounge visits every year for all the millennia credit card limit categories.
Cons
You can earn only 1% cashback on offline payments.
The cashback points are capped at 1000 points for the 5% category and 1000 points for the 1% category every cycle.
How to Apply?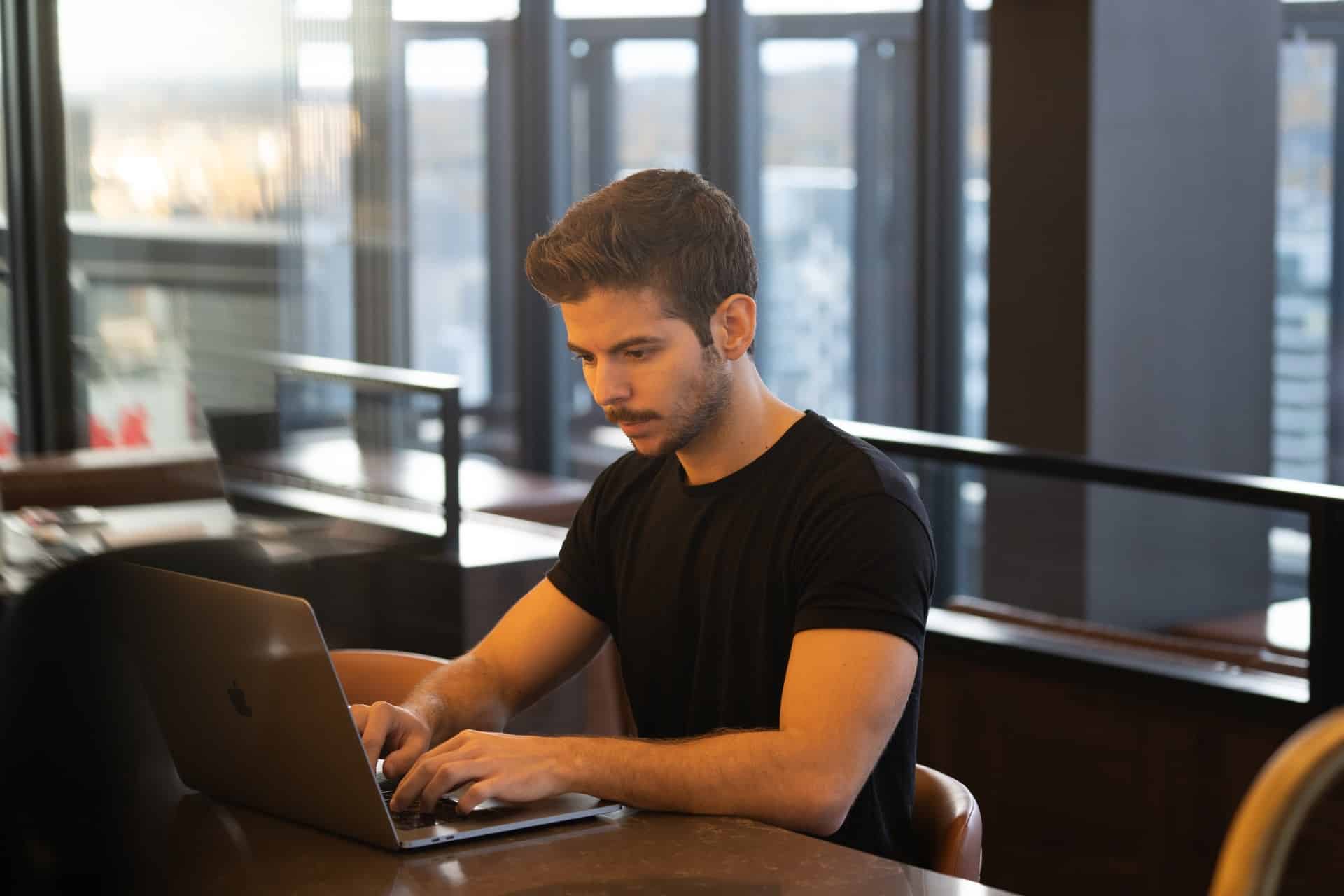 Let us continue our Millennia credit card review by showing you how you can apply for this card. Follow the steps below:
1. Visit the official page of HDFC Millenia Credit Card.
2. Apply for a Millennia credit card by clicking on the Apply Online option as shown.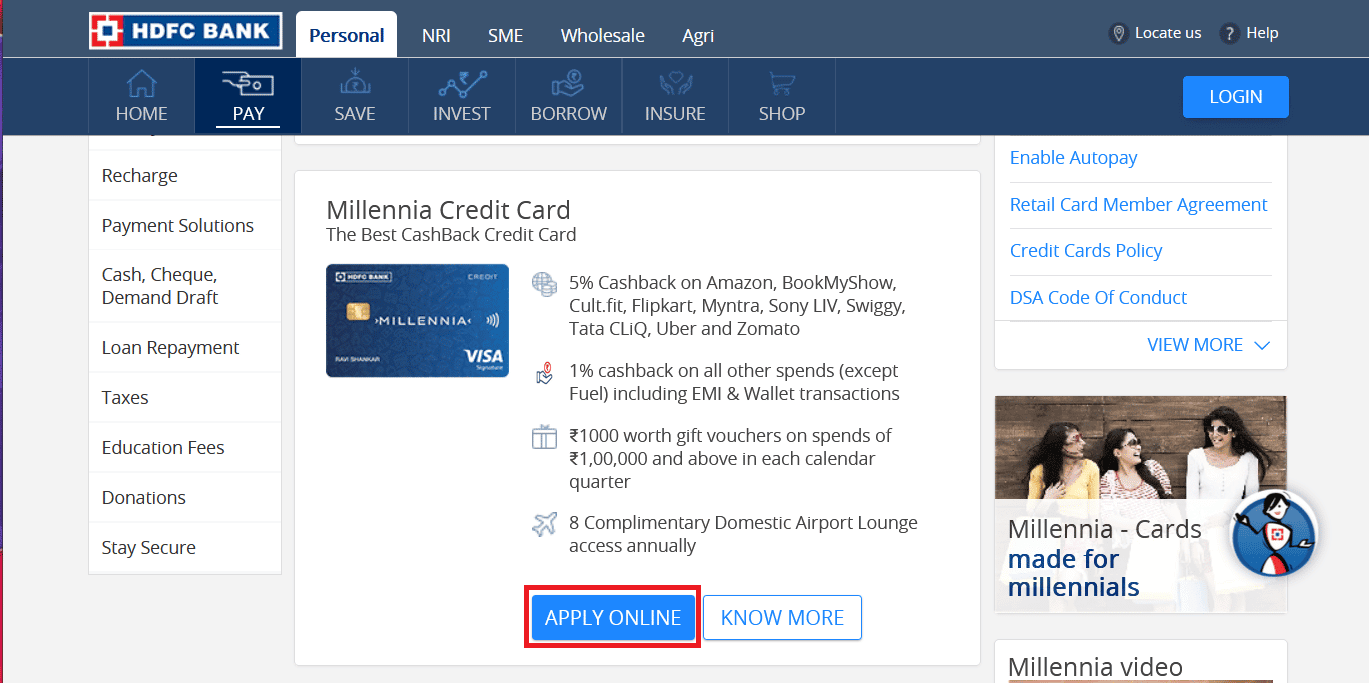 3. Now, you will be directed to the sign-up page. Here, you will need to provide your mobile number & date of birth to get an OTP.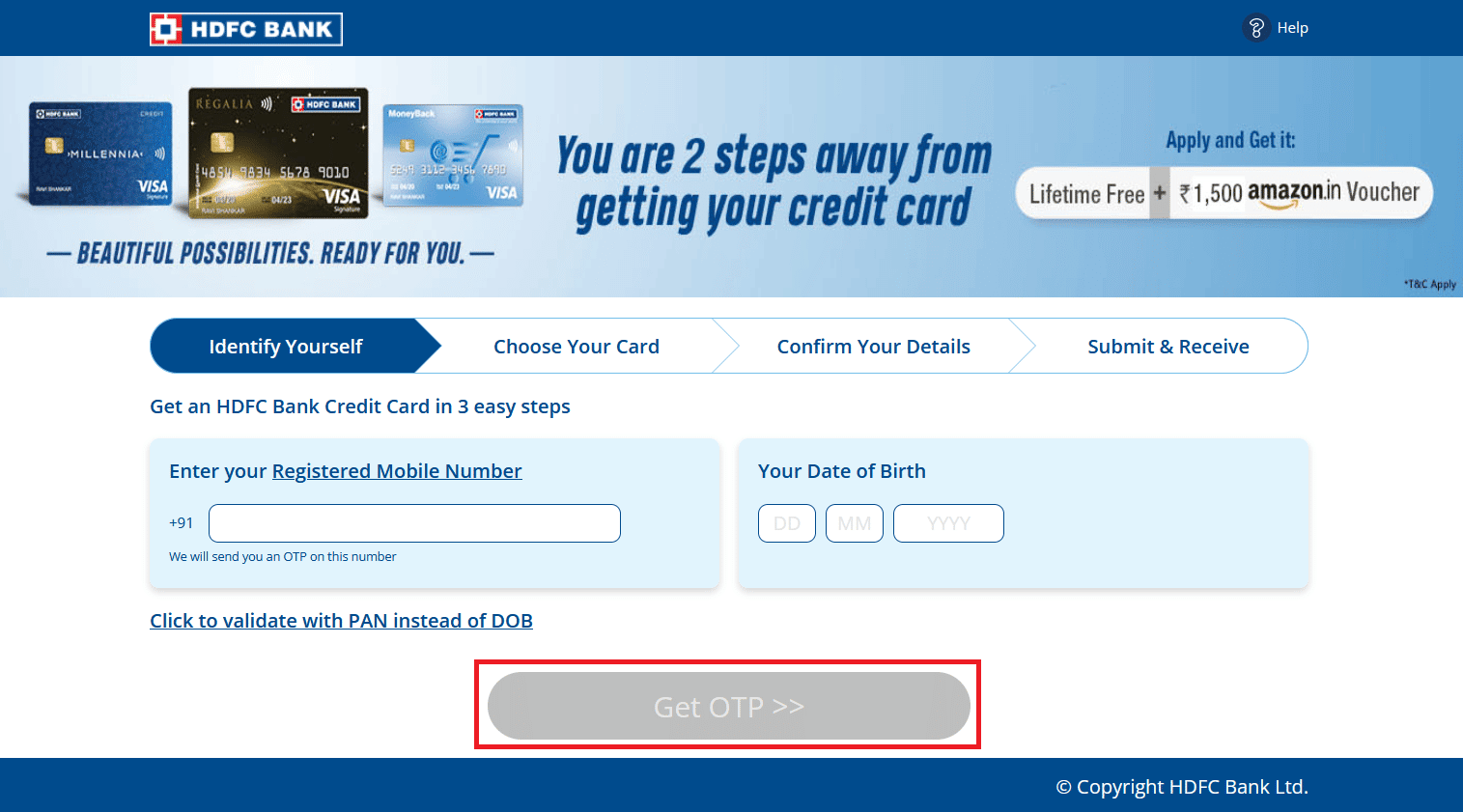 4. After entering the OTP,
Choose the type of card you want
Enter personal details & KYC info as prompted
5. Wait for the application to get approved after clearing the Submit & Receive section. Your card will be delivered to your address after being approved.
The HDFC Millennia credit card is ideal for you if you are a frequent shopper who is always looking for rewards and cashback. You can acquire many benefits from dining establishments, travel arrangements, hotel reservations, online and offline shopping, etc. after choosing the Millennia Credit Card limit.
Low-interest rates and a simple cash withdrawal system are some additional HDFC Millennia Credit Card benefits. Hopefully, you found this Millennia Credit Card review informative about its eligibility, charges and features.