Hardik Pandya, a prominent figure in the world of cricket, has garnered significant attention throughout his career. As a celebrated player, he has made remarkable achievements throughout his career, establishing himself as a valuable asset to his team. Alongside his exceptional skills and contributions to the sport, Pandya's financial standing has also piqued interest. With his involvement in the Indian Premier League (IPL), his earnings have been subject to much speculation and discussion. In this article, we will throw light on Hardik Pandya net worth and IPL salary.
Hardik Pandya Net Worth, IPL Salary, Controversies
Last year, it wasn't anyone else but all-rounder Hardik Pandya who displayed his skill in batting and gave everyone the cause to celebrate in a nail-biting contest in the T20 World Cup semifinals against England. Since then, Indians have only spoken about Hardik Pandya, the man of the moment. Let us learn more about him.
About Hardik Pandya
On October 11th, 1993, in the city of Surat, Gujarat, Hardik Pandya was born. His family was in dire need of money, and his father managed a modest auto lending company. When Hardik was five years old, his father closed the business and relocated to Vadodara to provide his boys access to superior cricket training facilities. In Vadodara, Himanshu Pandya held a position as a loan agent. He put his two boys in the cricket academy run by Kiran More in Vadodara.
Hardik attended MK High School until the ninth grade, at which point he quit to concentrate on cricket. The Pandya family resided in a leased flat in Gorwa, with the boys traveling to the cricket field in a second-hand automobile. Hardik advanced steadily in youth cricket.
As he is currently known, he has a very outspoken demeanor that has caused problems for others and resulted in his expulsion from his state team. But was later included because of his outstanding performance. Before turning to fast bowling at the age of 18, Hardik was a leg spinner, but Baroda coach Sanath Kumar insisted that he switch.
Since 2013, Pandya has competed for the Baroda cricket team. He scored 86 runs not out during his innings in January 2016 to lead the Baroda cricket team to a six-wicket victory over the Vidarbha cricket team in the Syed Mushtaq Ali Trophy match. He hit eight sixes during that period.
From 2015 to 2021, Pandya participated in the IPL with the Mumbai Indians. He struck 61 runs off 31 balls to help Mumbai Indians defeat Kolkata Knight Riders in a game they had to win to stay in the playoff hunt, giving him his team's second man of the match award of the year. Read on to know more about Hardik Pandya net worth.
International Career
At the age of 22, Pandya earned his Twenty20 International debut for India on January 27, 2016, taking 2 wickets against Australia. On July 8, 2018, in the third and final Twenty20 International match against England, he had his best bowling stats of 4 for 38 while scoring 33 Not Out in just 14 balls and scored the winning run with a six off Jordan.
He was selected for the Indian team to compete in the ICC Men's T20 World Cup in September 2021. He was also selected as India's captain for their T20 International matches against Ireland in June 2022. Pandya scored 51 runs on 33 balls against England at Southampton's Rose Bowl on July 7 to record his maiden T20 international half-century. On October 16, 2016, at Dharamshala, Pandya played in his first One Day International (ODI) for India against New Zealand. Read on to know more about Hardik Pandya salary.
The Mumbai Indians released Pandya before the IPL 2022 super auction. He was later chosen as the team's captain by the Gujarat Titans, a new Ahmedabad franchise. In 2022, he captained Gujarat to their first IPL championship, making him the first captain since Shane Warne to do so. Read more to know about Hardik Pandya IPL salary.
Personal Life
Krunal Pandya, his brother, has also represented both India and the Mumbai Indians. On January 1st, 2020, Pandya became engaged to Serbian actress and dancer Natasa Stankovic, who currently resides in India. Agastya Pandya, their first child, was born not long after that, on July 30, 2020. In January 2021, Himanshu Pandya, his father, passed away after a heart attack. Read more to know about Hardik Pandya monthly income.
Hardik Pandya Net Worth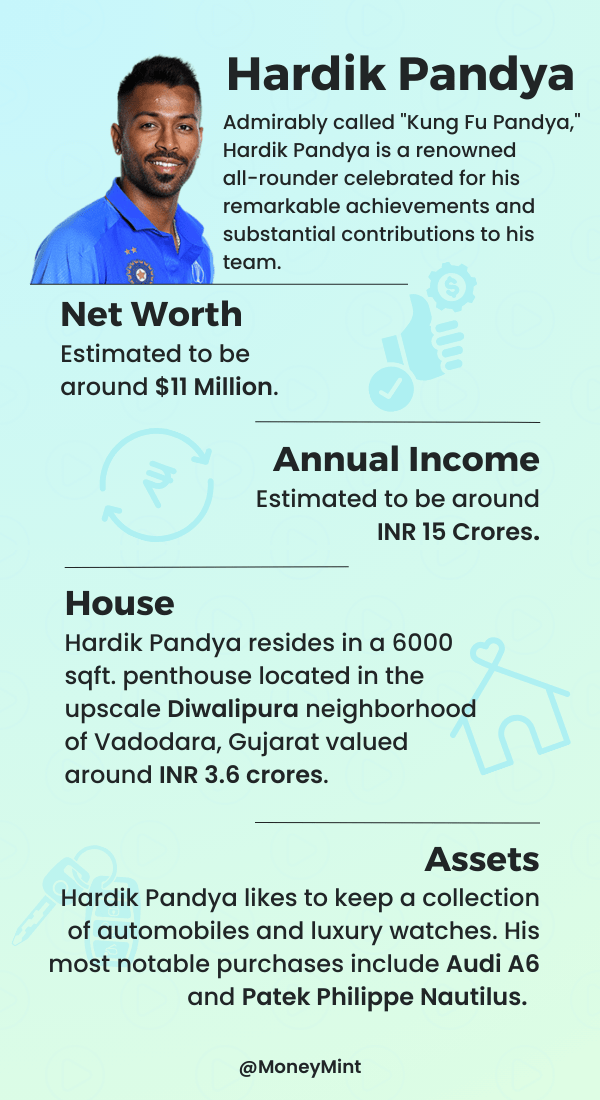 Hardik Pandya net worth is $11 million (Rs. 91 crores). Normally, he makes the most of his money from domestic and international cricket competitions as well as the Indian Premier League, or IPL. Pandya also promotes several brands, including Monster Energy, Sin Denim, boAt, Gulf Oil India, and D: FY.
Salary and Income
Gujarat Titans' biggest acquisition for the IPL 2022 season was Hardik Pandya, who cost an incredible INR 15 crore. After winning the championship in their inaugural season, the organization decided to keep him on at the same salary for IPL 2023. It is anticipated that he makes about INR 1.2 crore every month as Hardik Pandya salary, a significant increase from the earlier estimate of INR 25 lakhs. Hardik Pandya is covered by a Grade A contract worth INR 5 crores per year, under the most recent contracts the BCCI stayed in the sport.
Property and Assets
Hardik began residing in a 6000-square-foot penthouse in Vadodra, Gujarat, alongside his brother Krunal Pandya and their family after becoming famous for his performances in IPL and international cricket. Diwalipura, a posh neighborhood in Vadodara, is the location of Hardik's lavish home.
According to reports, the residence costs about INR 3.6 crores. Olives Cre's Creative Director, Anuradha Aggarwal, designed and furnished the four-bedroom penthouse. In addition, Hardik has made several real estate investments that will significantly increase his net worth in the future.
Hardik Pandya has acquired a wide variety of automobile collections throughout his long and arduous career. It consists of the Audi A6, Lamborghini Huracan EVO, Toyota Etios, Range Rover Vogue, Jeep Compass, Mercedes G-wagon, and Rolls Royce.
Pandya enjoys flaunting his extensive collection of pricey luxury watches on several occasions. His collection includes timepieces like the Rolex Oyster Perpetual Daytona Cosmograph, Patek Philippe Nautilus Perpetual Calendar 18K White Gold, Rolex Daytona Stainless Steel, and Patek Philippe Nautilus, etc. Read more to get a better picture of Hardik Pandya IPL salary and income.
| | |
| --- | --- |
| NAME | Hardik Pandya |
| Net worth | $11 million |
| Monthly Income | INR 1.2 crore |
| Yearly Income | INR 15 crore |
| Wealth | INR 91 crore |
| Properties owned and their valuation | INR 3.6 crore |
| Miscellaneous assets and their valuation | INR 15.5 crore |
Achievements
Pandya has shown to be a match-winner in the ranks and a valuable asset for Team India over the last several years thanks to his accomplishments. The record for the highest runs scored by an Indian off one over belongs to Pandya. In a Test match in 2017, he scored 26 runs against Sri Lanka's PM Pushpakumara.
He has so far taken 17 wickets. He has claimed 54 victories in ODIs. Pandya ranks sixth among MI's IPL run scorers. With a strike rate of 155.22, he now has the highest of any MI player. Additionally, he has taken the seventh-most wickets for MI.
The Indian Premier League has benefited from having Pandya play there. The only Indian to score more than 400 runs and take more than 10 wickets in a single IPL season is Pandya, who still holds that distinction. In 16 games, he scored 402 runs at an average of 44.66 and a strike rate of 91.42.
Pandya has been a standout player for the Mumbai Indians in each of the three areas. The three-time IPL champion has 1,203 runs in 72 games with three fifty-plus scores. This article will help you understand Hardik Pandya salary and income.
Also Read: Rohit Sharma Net Worth, Monthly Income, IPL Salary

Controversies
Let's look at some Hardik Pandya issues that have occurred off the cricket pitch. Hardik Pandya cited issues at the well-known TV program "Koffee with Karan" in 2019.
KL Rahul, a teammate of Hardik, too had his name associated with this controversy, as both of them passed some inappropriate comments about women. Due to the massive outcry caused by his interview, Hardik had to issue an apology on social media. In addition to Hardik, KL Rahul was suspended for two games. Additionally, both of them were given a fine of Rs. 20 lakhs each.
The T20 World Cup that has ended in the UAE saw virtually little from Hardik Pandya. Hardik was unable to shine in the second round of the IPL 2021 as well as the T20 World Cup. As a member of the Mumbai Indians, Hardik was unable to bat particularly well and was unable to bowl owing to an injury.
Since his international debut for the nation in 2016, Pandya has been able to create headlines frequently – whether it be due to his obnoxious hitting on the field or his open and extravagant lifestyle on many social media sites. While his journey has been accompanied by occasional controversies, they have not overshadowed his overall contributions to the sport. Love him or hate him, but you can never overlook Hardik Pandya.