India's lucrative handicrafts industry is in distress amid perennial labour crunch and exodus of the skilled workforce due to irregular and low wages, steep and steady rise in input costs and the current slowdown in the United States (US) and European economies, according to an industry-specific analysis of apex industry body ASSOCHAM.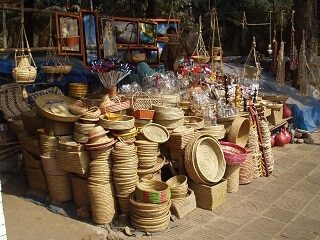 Handicrafts Industry in India
The Associated Chambers of Commerce and Industry of India (ASSOCHAM) interacted with 200 handicraft entrepreneurs, exporters during August and September at major handicrafts centres of Moradabad, Saharanpur, Ferozabad (Uttar Pradesh), Bagru, Jaipur, Jodhpur and Sanganer (Rajasthan) and Ahmedabad, Bhuj, Kutch and Mandvi (Gujarat) and Narsapur in Andhara Pradesh to ascertain the impact of rising labour wages, labour shortages and the recent slump in the global economy on profits of the industry.
"Intense competition from countries like China and South Korea producing machine-made cheap stuff together with labour pangs are eroding the profit margins of handicrafts industry which employs over 12 lakh craftsmen across India," said Mr D.S. Rawat, secretary-general of ASSOCHAM while releasing the findings of the chamber's analysis.
"Successful implementation of government programs like Mahatma Gandhi National Rural Employment Guarantee Scheme (MNREGS) and Jawaharlal Nehru National Urban Renewal Mission (JNNURM) are also contributing to deficient labour force besides, passive artisans take up handicrafts work during the slack season and remain engaged in agricultural and allied activities during most of the time, said Mr Rawat.
But with over 20 per cent rise in handicrafts exports in August as compared to last year owing to orders flowing in from markets like Australia, Denmark, Holland, Latin American Countries (LACs), Africa, Caribbean, Central and South-East Asia, Germany, Switzerland and other regions has surely cheered up the handicrafts exporters as they anticipate huge orders as the festive season of Christmas and New Year approaches, highlights the ASSOCHAM survey.
During 2010-11, India exported handicrafts worth Rs 10,350 crore, up about 26 per cent year-on-year.
Apart from a rampant labour shortage, lack of promotion, the volatility of exchange rates, usage of primitive technology are other serious issues hurting the industry, said nearly 55 per cent of respondents.
Almost all the handicrafts produced in India with raw materials like jute, metal, pottery, stone and wood are handmade which makes them more expensive and resultantly there is lack of demand in the domestic sector.
But this aspect also places Indian handicrafts at an advantage with foreign buyers who acknowledge the painstaking efforts and value the artisanal touch over machine-made goods, said the majority of respondents.
Art metalware, embroidered, crocheted goods, woodware, hand-printed textiles, imitation jewellery rank as top exported items.