The Government, under Bharat Nirman II Programme, has envisaged providing broadband coverage to all 2,50,000 Gram Panchayats by 2012. For the aforesaid broadband provisioning, the funds from Universal Service Obligation Fund (USOF) are being provided wherever required.
For rural and remote areas, the following "Rural Broadband Schemes (on-going as well as planned)" has been undertaken by USOF which would progressively provide broadband coverage to all villages including Gram Panchayats. For the implementation of these schemes, USOF provides financial assistance by way of subsidy to the Universal Service Provider, implementing the scheme.
The Indian Telegraph Rules have been amended, and stream IV has been added under the title "Provision of broadband connectivity to villages in a phased manner" to bring provisioning of broadband connectivity to the rural areas under the purview of the USOF.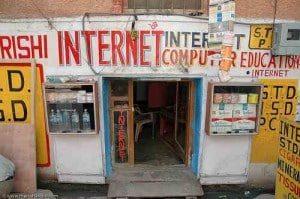 RURAL BROADBAND SCHEMES UNDERTAKEN/PLANNED BY USOF:
Ongoing Scheme:
RURAL WIRELINE BROADBAND SCHEME
For providing broadband connectivity to rural & remote areas, USOF has signed an Agreement with BSNL on January 20, 2009, under the Rural Wireline Broadband Scheme to provide wire-line broadband connectivity to rural & remote areas by leveraging the existing rural exchanges infrastructure and copper wire-line network. The speed of each of the broadband connections shall be at least 512 kbps always on.
Under this scheme, BSNL will provide 8, 88,832 wire-line Broadband connections to individual users and Government Institutions over a period of 5-years i.e., by 2014. The subsidy disbursement is for broadband connections, Customer Premises Equipment (CPE) and Computer/Computing devices. The estimated subsidy outflow is Rs. 1500 crore in 5 years' time that includes a subsidy for 9 lakh broadband connections, CPEs, computers/computing devices and Kiosks.
As of September 2010, a total of 2,10,902 broadband connections and 430 kiosks have been provided in rural and remote areas and Rs. 80.87 crore has been disbursed as a financial subsidy under this scheme.
Planned Schemes:
RURAL WIRELESS BROADBAND SCHEME – PHASE I
The USOF is working on a scheme for providing financial assistance by way of subsidy for the wireless broadband active infrastructure such as BTS, by utilizing the existing passive infrastructure available with the Telecom Service Providers.
This scheme would provide broadband coverage to a majority of villages at a speed of 512 kbps. With the completion of the BWA & 3G spectrum auction, the stage is set of the launch of the scheme. The scheme has been submitted for approval of the competent authority.
SATELLITE BROADBAND CONNECTIVITY FOR RURAL & REMOTE AREAS
The Satellite Broadband Connectivity is proposed for those rural & remote villages where terrestrial connectivity i.e. wireline/wireless network, is not feasible. The USOF has identified 5000 such villages, which do not have any terrestrial connectivity. Initially, about 1,200 such villages are envisaged to be provided broadband on this media.
The scheme is under approval from the competent authority and would be launched shortly. It is envisaged to be rolled out during the current Five Year Plan (2007-2012).
The government is actively working on the formulation of a National Broadband Plan. TRAI consultation with stakeholders on the subject is underway. The National Broadband Plan would address Broadband connectivity to all the Villages, including through Optical Fibre Cable, as required. However, no final decision has been taken on the matter so far.
As of October 2010, a total of 97,476 Gram Panchayats have been broadband-enabled. In Karnataka 3423 Gram Panchayats have been broadband enabled as of September 2010.