Anyone can suffer from medical and financial emergencies. It is inevitable, just like we have hospitals for medical emergencies, now we have all the financial ventures and apps that help you get instant cash loan online in India. Read the article to find the best app to help you in your need.
It's unfortunate but a truth that sometimes or another every one of us faces a situation like financial crisis, an emergency or financial disbalance, where we require the support of an instant cash loan quickly (In very short span like an hour or two). Such instant cash urgencies can't be solved by bank loans as it is well known that the common bank loan option available in the market takes at least a week or two to get processed, and you further need to wait for the money to come into your account. So, it's a very bad idea to opt for them when you need some quick cash in your hand for your rescue out of this unwanted situation of emergency.
In such an unfavorable situation, many of us are forced to contact the local moneylender to get the informal loan and knowingly fall into their trap of high interest. They also ask you for some collateral in the form of any assets like jewelry, property papers, etc. and this will lead you not so happening situation of loan borrowing.
We live in the age of the internet, where you can do everything online. And it no longer a wish to get loans online. Their working patterns are the same as the online shopping system work. You need to go to the official website of the lender and then fill the loan application with all the scanned copies of the required documents. They process your loan quickly, and you got the cash delivered to your doorstep or in your bank account in a small span of an hour or two.
What is a Personal Loan?
It is a credit service available in the loan market given by the banks and non-banking financial organizations, to meet the personal financing needs of the borrower. It is a type of unsecured loan in which you need not produce any security or collateral to avail of the loan facility. You need not commit anything to the creditor of the loan; just fulfill their terms and condition and submit the required documents.
Once your loan is approved, the lender will give you the loan at some fixed rate for a definite duration. You will get the amount in your account or maybe in the form of cash, and now you can use that money for any of your personal use. You are not answerable to the creditors about the use of the money you got through your personal loan.
Get Instant Cash Loan Online: A Completely Different Banking Experience.
With all the changes occurring across the globe, the banking sector has also made some crucial changes to serve all the needs of its modernized customers, who prefer to do almost everything online.
Accounting the demand of the time they come up with the concept of instant online personal loan. Everything has been pacified since the last decade, so it becomes crucial to add the required speed in the processing of loans to meet up the demand.
From the very beginning of the banking sector, the loan application process was considered the lengthiest among all their functions, which is full of stress, had the highest time consumption, and a lot of pressure and tension. Due to all these complexities, it was so much needed to introduce a lending system that makes the loan availing process simpler for the borrower.
The instant online personal loan truly proves to be a solution to all these problems and complexities.
How is an online personal loan different from a conventional personal loan?
For taking an online personal loan, no physical documentation is needed while it required at several places for verification in conventional form.
The online form of taking a personal loan is much more convenient and faster to take than the conventional one. The online form takes 2-4 hrs for the whole processing and loan credit while the conventional one takes about a week to complete the whole processing and credit the loan.
The rate of interest is high, and the tenure period is a little less in the online personal loan as compared to the conventional method of taking a personal loan.
In the online form, you need not visit anywhere in person for verification and clarification. All that is need from is to visit the official website, fill the application form, upload all the required document and wait for disbursement of the loan while in conventional form you need to visit the nearest office of the provider with all the required documentation to apply for the loan and after application is processed you need to visit them in person for document verification.
Highlighting the features and benefits of Instant Online Loan in India are:
You can take a loan ranging between ₹ 50,000 to ₹ 5,000,000.
These loans are short-termed, which has a maximum duration of up to 5 years. The duration is kept this long to keep the EMIs easy and bearable.
These loans require no collateral or security and lengthy paperwork in the name of security.
The processing of the instant online loan is very quick, and the disbursement of the loan is a game of hours only.
The amount borrowed through instant online personal loan gets credited instantly to the bank account of the applicant as soon as the information you gave is verified, and the processing is completed.
Lending in the case of instant online loan is driven by Data & Algorithm
This loan is the best solution for getting a personalized loan.
This lending process gives you a streamlined and seamless digital borrowing experience.
You aren't required to pay an origination fee.
They provide a 24*7 customer support system for a better lending experience.
Eligibility criteria to apply for these loans
Age of the applicant should be ranging from 25 years to 60 years
The income of the borrower is required to be minimum ₹400,000 p.a.
The applicant should necessarily be employed fulltime for a minimum of 2 years.
The eligibility criteria differ for salaried and self-employed applicants. Here is a table showing the difference.
| | | |
| --- | --- | --- |
| Eligibility Criteria | Self-employed applicants | Salaried applicant |
| Age (Min-Max) | 25-60 years | 25-60 years |
| Income (min) | ₹600,000 p.a. | ₹400,000 p.a. |
| City | More than 180 Cities across India | More than 180 Cities across India |
| Job Experience | At least 5 years of earning turnover | Fulltime with at least 2 years of experience |
| Credit score | Required (750-900) | Required (750-900) |
​ Documents required while applying for an instant online personal loan.
Need to give identity Proof (which can be any one of these PAN Card / Passport / Driving License / Aadhaar Card / Voter ID / Govt. issued ID-card)
Certificate and Proof of Business Existence in case of self-employed professionals
Address Proof (which can be any one of these your latest Electricity/Telephone/Credit Card Bill or a Valid Passport/House Lease Agreement).
For their safety need to give your income Proof, salaried individuals can give bank statements of the last three months and payslips. However, self-employed professionals need to give bank statements for the previous 6 months and ITR of the previous 2 years.
Some quick tips about the instant loan
To have a hassle-free loan processing and have a better banking experience of getting a loan online, please consider these tips and improve the chances of getting approved in a single go.
Read between the lines as all the financial business comes with a lot of terms and conditions to which the borrower is obligated. To save from any kind of future shock, it is your foremost responsibility to read all the terms and conditions.
Be very wise at the time of choosing the personal loan amount wisely as these loans come with a high rate of interest. Excess amount as online personal loan can result in a burden, disturb your budget further and result in bad credit score and further lead to rejection of loans.
Always be document proof. Keep all the required documents ready in advance to avoid last-minute hassles and mistakes. Ready documents can bring you loan very quickly and swiftly.
Always be genuine at providing documents and details about yourself while applying for a loan because if your fraud is caught, it will land you in a huge problem, and you can be declared defaulter, or you can even go to jail.
Check the EMIs of the loan you are availing and plan it in advance so that you can keep yourself balanced in the future.
Top NBFC and P2P lending apps offering instant online loans
Here we are providing you the list of best NBFC and P2P lending apps offering instant online personal loans in India.
1.PaySense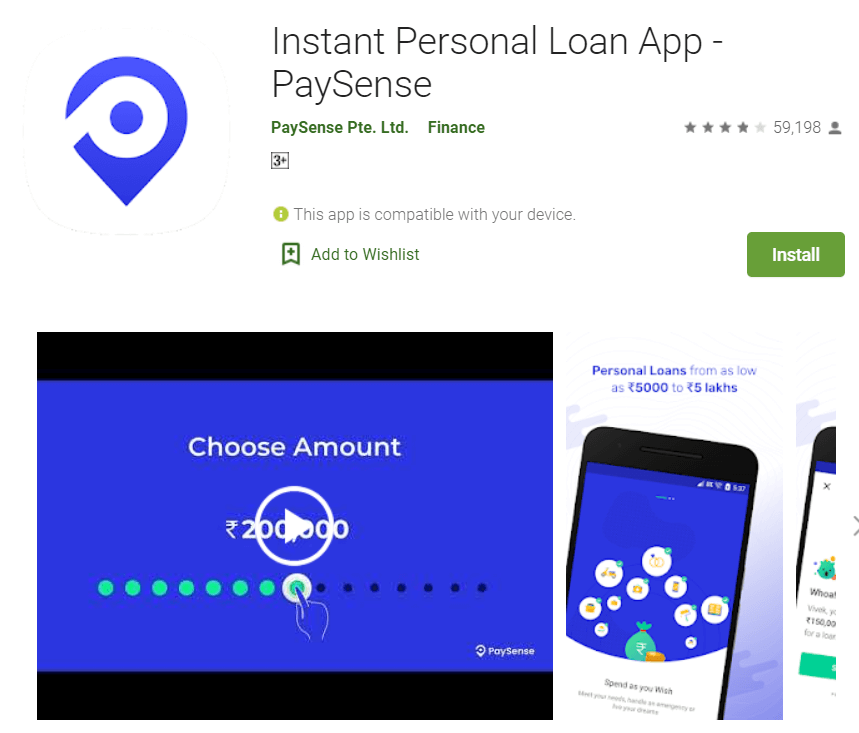 It is an app that offers instant loans. The applicants applying for the loan through this app is not required to produce any physical document and visit anywhere for verification. It provides a complete online loan borrowing platform.
Also Read: How to Apply for MUDRA Loan in India (2020)
To use this app and avail the loan, the applicant should be of 21-60 years in age. He should have a permanent and continuous source of income. He should earn 12,000 per month if he is salaried and 15,000 per month if he self-employed.
Lenders through this app offer easy loan repayment and auto debit facility for EMIs of the loan. This app is beneficial to those also who don't have any credit history at all.
Download PaySense
2.RupeeLend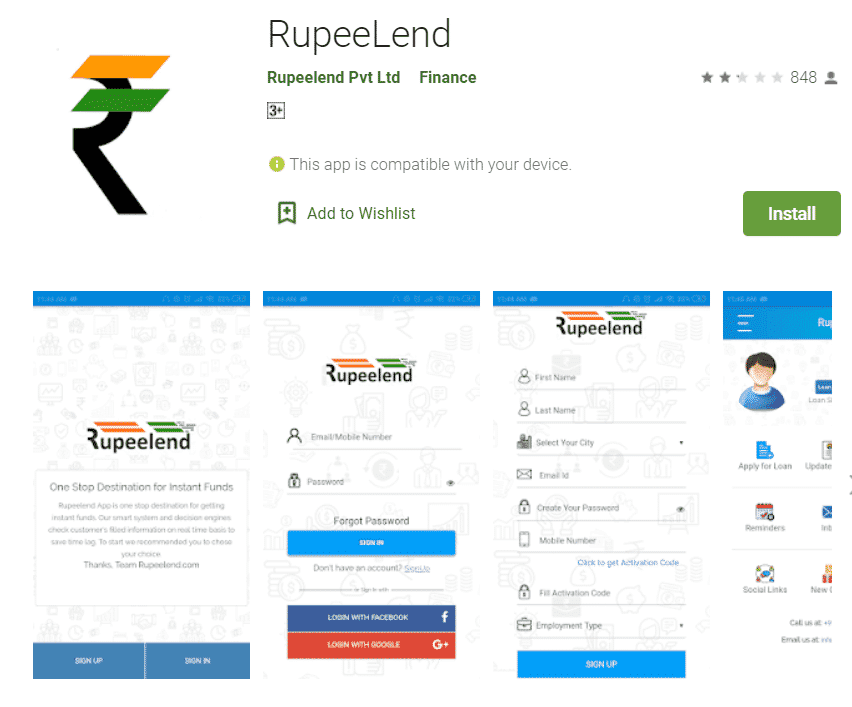 This app is popular for giving short term online personal loans to the borrowers. It provides a trusted platform to the borrowers at the time of need.
Subscribe to Moneymint Weekly
Every Sunday we email people like you with top tips, insights and opportunities to manage your finances and build your online business. No hype, no scams, no fake gurus. Sign up below to get the next one.
You should be Indian of more than 18 years of age as this is the eligibility criteria for this app. You should either be a salaried or self-employed individual with a permanent and continuous earning source.
You can get a loan up to 1 lakh, the application process takes only 3 minutes to complete, and the applicant doesn't need to visit anywhere in person.
It doesn't levy any extra fees on the borrower, and you need to pay interest for the exact number of days for which you have taken a loan.
Download Rupeelend
3.Cashe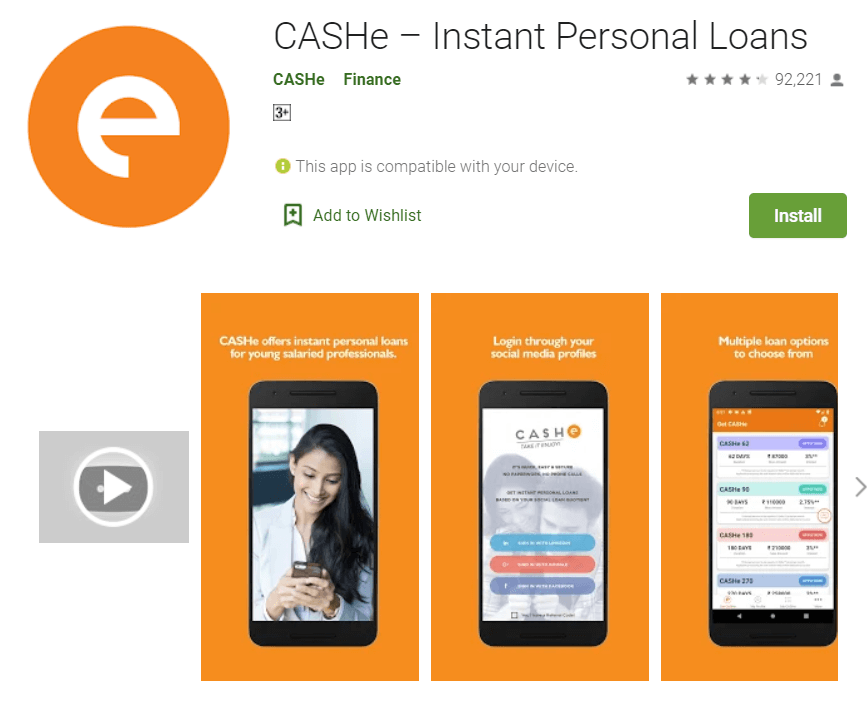 This app provides a platform to get short term loans using a predictive algorithm, which is also known as SLQ (social loan quotient). This app targets young salaried professionals. The SLQ used in the app has assessed the credit profile of the customer; it is a completely different system from what the leading banks and NBFCs traditionally used. SLQ considers all the social media presence, career, salary, and the education of the borrower.
The customer can get loans ranging from 10,000 to 2 lakhs.
Loan repayment can be made through NEFT only, and the timely repayment of loan raises the SLQ of the individual.
It has a facility of crown reward program which gives special benefits to privileged customers. They provide an EMI M-card, which lets you shop up to the bill of 10,000 at the merchant with M-swipe terminal, and the purchase will be converted into 3 easy EMIs.
Download CASHe
4.Money View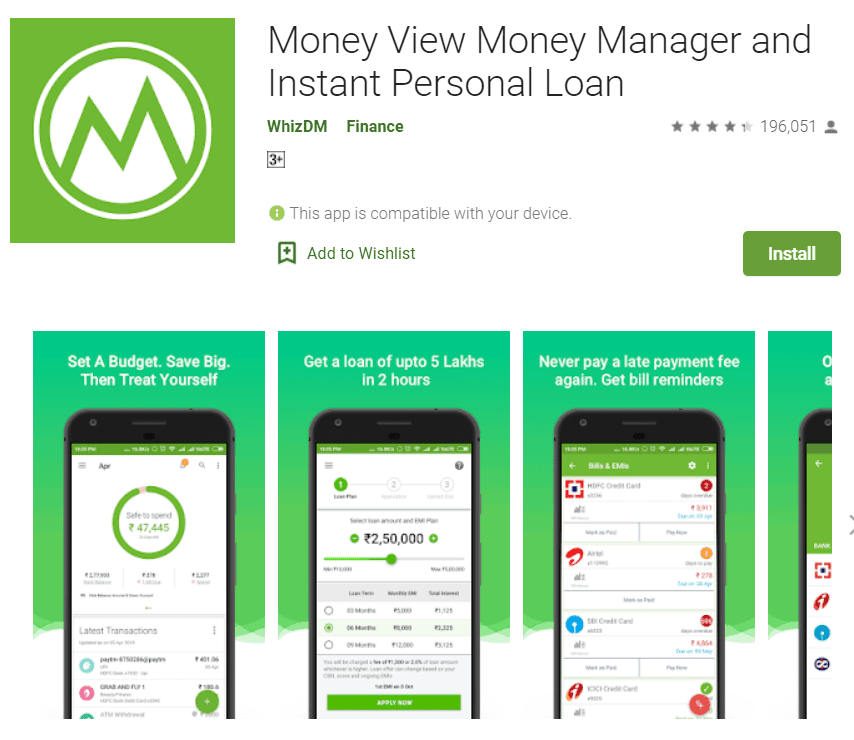 It offers instant online personal loans to Indian borrowers, and their loan process is entirely paperless. People with low credits can also get a loan through this app as the credit model the app follows is completely different from the conventional method.
The applicant should be a minimum of 21 years and a maximum of 57 years. He/she should have a definite and continuous source of income. His/her credit score should be a minimum of 650, and the Experian score should be at least 750.
Also Read: Top 10 Banks For Car Loan In India (2020)
A person can get a loan up to 5 lakhs through this app, and the application process is very simple and convenient. You need to upload the required document in PDF format, and the borrower can customize his loan tenure through this app. Their customer support system is comparatively very good.
Download Money View
5.LazyPay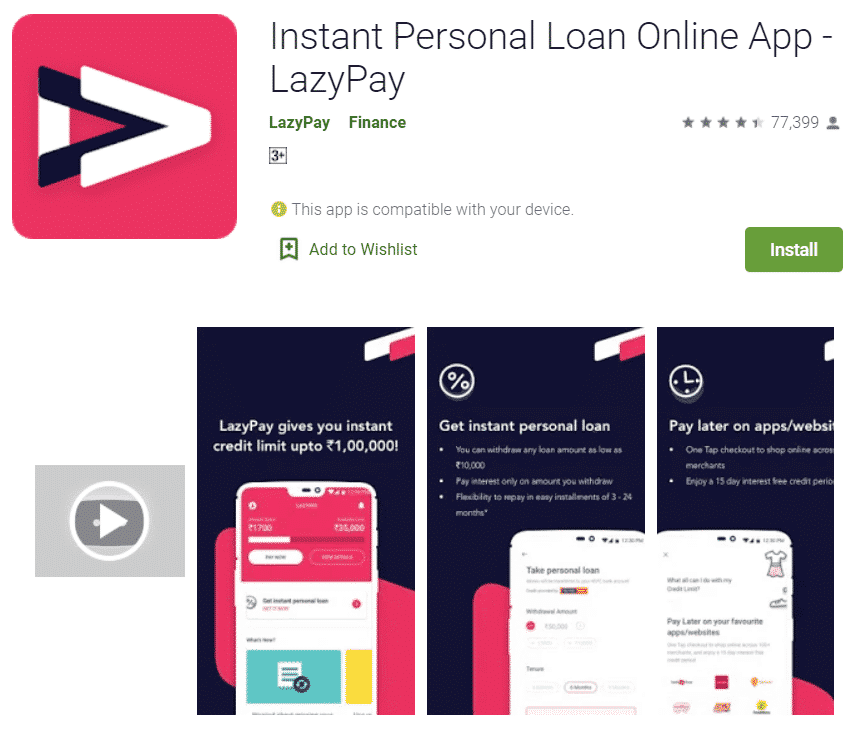 It provides a platform to get an instant loan in quick and easy steps. Their loan repayment option is very flexible, and the borrower needs to pay the interest of that much only what he had borrowed.
To get a loan from this platform, the borrower needs to be of 22 to 55 years of age. The individual should be Indian and should reside in any of the tiers in Indian society. He should have a definite and continuous income source. He should either be a salaried or self-employed individual.
A person can borrow from 10,000 t0 1 lakh through this app.
Download LazyPay
As these loans are very high on interest rates hence be very wise and calculative while heading towards then. An unplanned and a huge instant online personal loan can cost you so much if not repaid on time and will affect the credit score as well.