GENERAL PUBLIC UTILITY DEFINITION
In order to make a purpose charitable it is not necessary that is should be beneficial to the poor only. What is required is benefit to a section of the public as distinguished from specified individuals. An object of general public utility includes benefit to a section of the public and it is not necessary that the object should benefit the whole of mankind or all persons of that country or state. It would be sufficient if the intention is to benefit a definite and identifiable section of the public having a common quality as distinguished from a specified individual (Ahmedabad Rana Caste Association v. CIT [1071] 82 ITR 704, SC).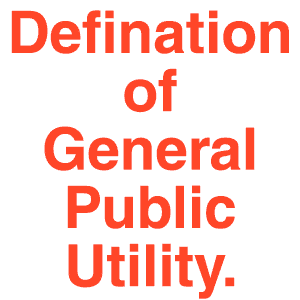 Based on various court decisions, following are the purposes of general public utility. The list is, however, not exhaustive.
i. Establishing chambers of commerce and industry, federations, registered societies and trade associations established with object of promoting trade, commerce and industry.
ii. All institutions incorporated without a profit motive, for any of the following objects:
a) For the improvement and promotion of agriculture and agriculturists.
b) For the improvement and advancement of scheduled caste and tribes (tribals).
c) For the welfare of the members of the police force and their families.
d) For promoting road safety.
e) For imparting technical education, setting up model industries and reducing unemployment in poor village folk.
iii. Institutions for promoting cottage/village industries, handicraftsman and teaching unemployed men arts, handicrafts, etc.
iv. Institutions to promote artistic principles, literature, fine arts, music, dance, etc.
v. Institutions owing auditoriums, memorial halls for culture activities, 'wadis', dharamshalas, gaushalas and sanatoriums which are let out for rent while their primary objects are charitable.
vi. Foundation for the development of a botanical garden or natural beauty and for carrying on literary and cultural activities.
vii. Institutions for preservation of places of historic interest, like setting up and maintenance of museum, library, etc.
viii. Research institutions
ix. Institutions for the promotion of cricket or other sports amongst the public.