Fusion Microfinance Pvt Ltd (Fusion) entered the microfinance business in January 2010 by acquiring the Rs.63 lakh loan portfolio of Aajeevika, a non-governmental organization operating in Delhi and Madhya Pradesh. Fusion extends loans to women using the joint liability group model.
The company also offers small-ticket vehicle loans to truck operators. Fusion is headquartered in New Delhi and is operational in the less penetrated northern and central parts of India (New Delhi, Madhya Pradesh, Uttarakhand, and Uttar Pradesh).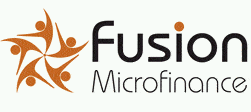 FUSION MICROFINANCE
The company was catering to nearly 1 lakh borrowers through 41 branches and had loan portfolio aggregating Rs.89 crore as on September 30, 2013.
Performance on key parameters
Portfolio outstanding and borrower base have grown at a CAGR of 222 and 214 percent respectively during the 3 years ended March 31, 2013. The operations are predominantly concentrated in Uttar Pradesh, Madhya Pradesh and Uttarakhand.
Delinquencies have reduced during the past 18 months after a sharp rise immediately after the Andhra Pradesh crisis.
Resource profile is average; loans from NBFCs and securitization accounted for 43 and 28 percent of its overall borrowings as on March 31, 2013.
Adequately capitalized for the current scale of operations, with a net worth of Rs.39 crore and gearing of 2.0 times as of September 30, 2013. The company strengthened its capital position by raising Rs.25 crore as capital from the Norwegian Microfinance Initiative and Incofin-Rural Impulse Fund in March 2013.
Profitability is modest, with a return on managed assets of 0.4 percent during 2012-13; the ability to operate profitably while reducing its margin will be critical.
FUSION MICROFINANCE DATA