Are you looking for a simple way to shop for essentials from the comfort of your own home? There are so many apps that allow users to use the 'buy now, pay later' facility. One such platform is Freo Pay. Any location that accepts payments made by scanning a UPI QR code accepts it! Scan the QR code at any location to transact with Freo Pay and take advantage of your free purchase. You will learn all about Freo Pay login, Freo Pay repayment schedule, Freo Pay eligibility, how to make Freo Pay account and other things in this article. After reading this comprehensive Freo Pay Review, you can decide whether you should use it or not.
Freo Pay Review: Features, Eligibility and More
Freo Pay is best for the user who wants to shop online, offline, for fuel recharge, and much more. It allows a lower credit limit, so it is not good for large expenses. It is very useful for students because of its very low-interest rate and because it does not require much maintenance. The fact that there is only one bill to pay is the best part. Let us learn more about Freo Pay.
What is Freo Pay?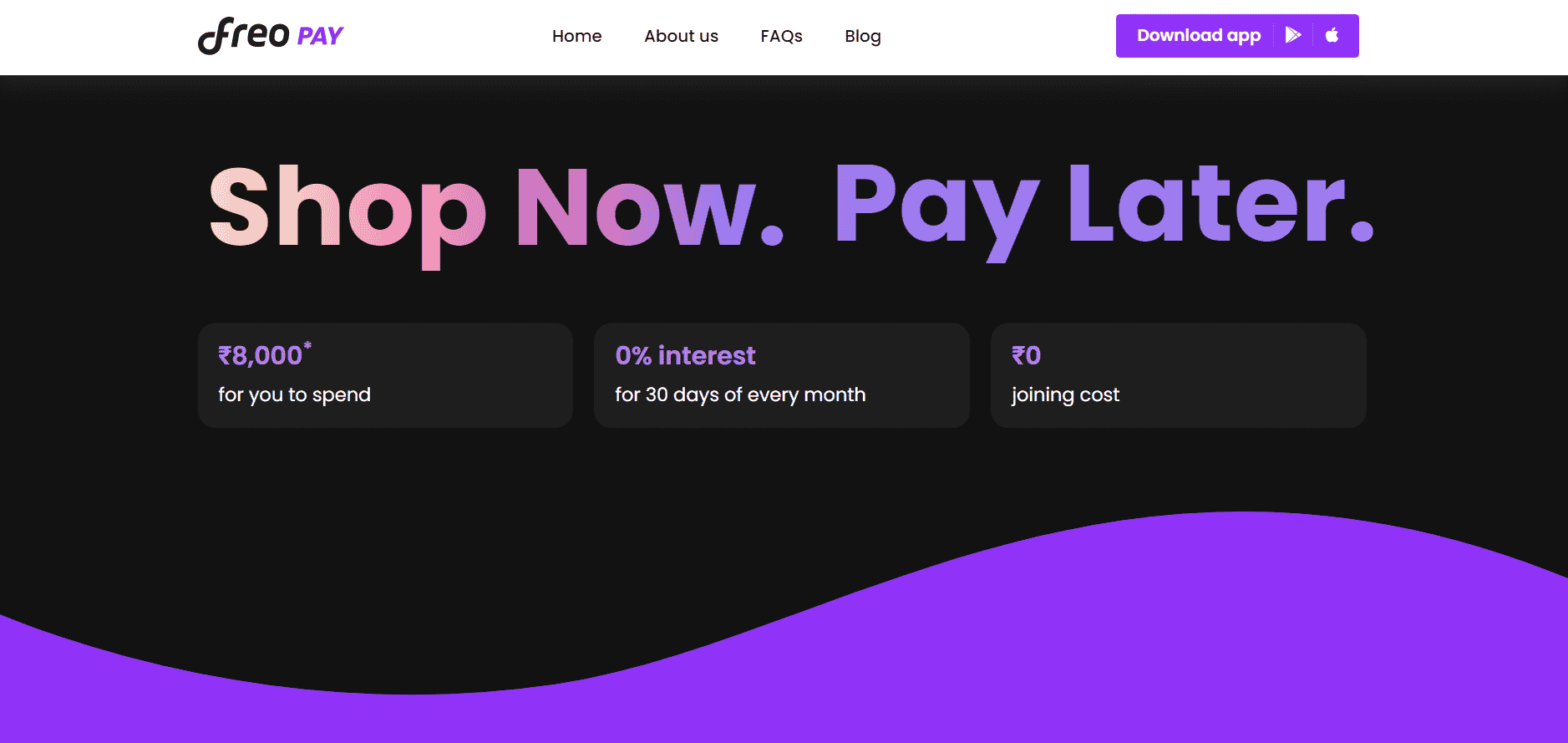 Freo Pay offers a credit of up to INR 8,000 for purchases at any online retailer or online business. Any location that has a merchant UPI ID is able to accept Freo Pay. To pay at the outlet, simply scan the QR code. The consumer can use their particular Freo Pay UPI ID to complete their online purchase. Variables such as income, credit history, and others determine how much credit is granted. Customers may use their approved credit limit for a 30-day period without paying interest.
Freo Pay cannot presently be used for online purchases. You can purchase meals, groceries, etc. at physical businesses that have a registered merchant QR code. To pay at a store, adhere to these instructions:
Select the Scan & Pay function in Freo Pay by opening it.
Scan the QR code of the retailer.
Enter the payment amount.
Make sure to complete your transaction quickly.
Why Should You Use Freo Pay?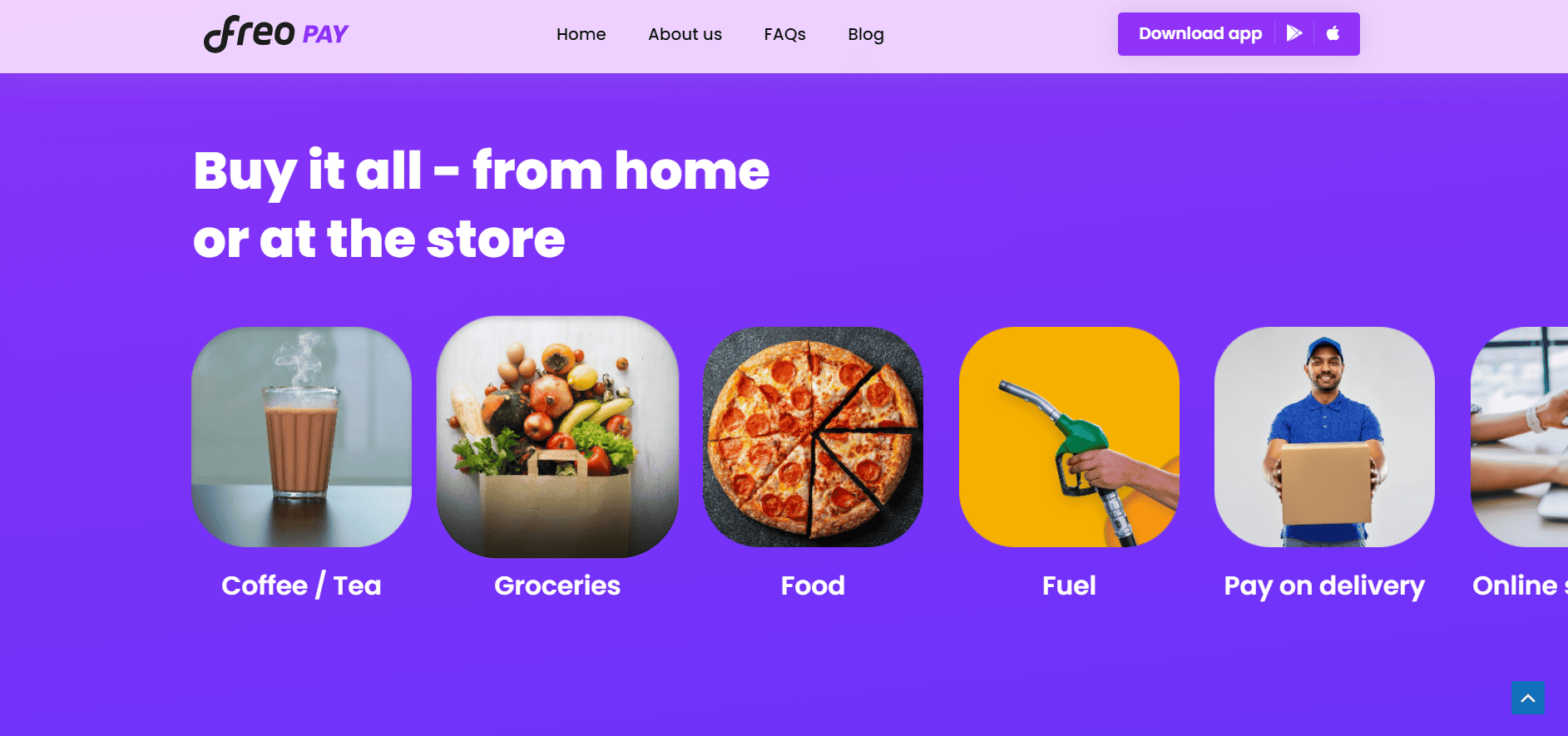 There are various reasons why you should use Freo Pay and some of them are mentioned below in this Freo Pay review:
Money is easily accessible from any place – You don't have to put off buying what you need any longer. Buy what you require or desire.
Interest-free – By purchasing now and paying with Freo Pay after 30 days. For 30 days, there is no interest charged on any purchases you make.
Convenience – You may now shop at your favorite retailer without using a credit card. Use your Freo Pay balance to pay for all of your everyday purchases by repaying and topping it off!
Take control of everything using the Freo Pay app – With a few taps from this app, you can manage your finances and pay your bills.
With Freo Pay, you may buy a variety of things – From the newest technology to clothing, grocery delivery, and cuisine.
Availability of alternatives – Freo Pay gives many credit options even when purchasing vacation packages from online retailers like MakeMyTrip, Yatra, and others.
Benefits of Freo Pay
Freo Pay has several benefits and in this Freo Pay review, we will be covering all of them. They are as follows.
Get 0% interest for 30 days, allowing you to purchase now and pay later. Recycle and repay.
Quick disbursement of funds
No additional costs.
Digital KYC.
Obtain INR 8,000 in five minutes.
Hope you now have enough information about Freo Pay Review and know why to use it.
Repayment Schedule
By the fifth of the month, you must pay back your obligations. Freo Pay will temporarily halt your transactions if you don't pay your bill by the fifth of the month. Additionally, you will be assessed a late fee of Rs. 30 + GST of 18% for each day after the fifth that your payment is missed. This is limited to Rs.900 each billing cycle, plus 18 percent GST on the total amount of your late fees. So, you should make payments by the deadline in order to safeguard against extra charges.
Eligibility
Freo Pay is available to anyone between the ages of 22 and 58. You can easily check your eligibility for Freo Pay by giving the following details:
Your 10-digit PAN number
Your name as per PAN card
Date of birth
Current PIN code
Now you know Freo Pay eligibility requirements.
How To Create a Freo Pay Account?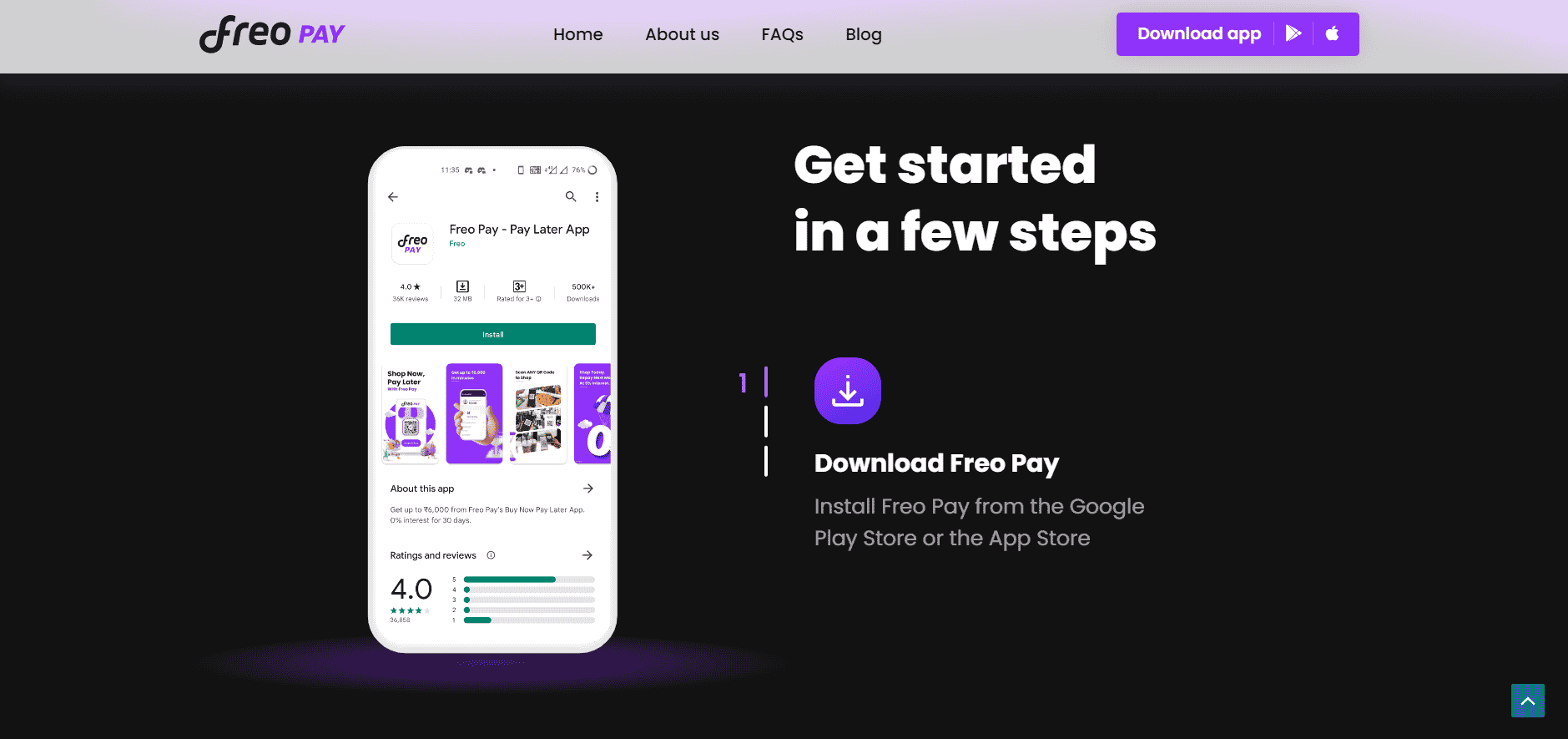 We can't complete a Freo Pay Review without telling you all the steps required to create an account in it. Follow these steps to create an account on Freo Pay.
1. Go to Google Play Store and type 'Freo Pay' in the search bar.
2. Once you find the app tap on 'Install' button.
3. After the app is installed tap on 'Open' button. It will open the app,
4. In the app, tap on 'Get Started' button present at the bottom.
5. You will be asked to submit your mobile number in order to receive OTP. After entering your mobile number tap on Send OTP button.
6. Enter the OTP received and tap on 'Verify and Continue' button at the bottom.
7. After that, enter your email address to link Freo Pay to your account. You can also link your Facebook or Gmail ID.
8. A verification email will be sent to your email for confirmation. Open it and tap on 'Verify Now' button in the mail.
9. Fill in details like PAN card number, Date of birth etc. and tap on Check eligibility button at the bottom.
If you are eligible you will get a message saying the same. After that you can personalize the app the way you want.
Also Read: 15 Buy Now Pay Later Apps in India
Freo Pay Refer and Earn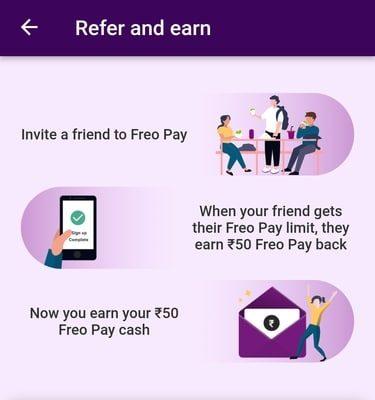 After Freo Pay login, you can earn by referring Freo Pay to your friends and family. You can earn Rs.50 per friend by following these steps:
1. Copy your Freo Pay App Referral Code, then navigate to the Invite Friends option.
2. Both users will receive a flat Rs.50 credit in their wallets after your friend registers up and has their Freo Pay Limit approved.
You may use Freo Pay App to pay it on any transaction. Both users can pay unpaid bills on the Freo Pay App using Freo Pay Cash.
Freo Pay is one of the simplest apps and is very user-friendly. Users can easily shop and can pay that money later. Freo Pay requires very little documentation to avail of its facility as compared to other apps or credit cards. We hope you have got detailed information about Freo Pay in this Freo Pay Review. It is time for you to begin shopping.