When I first started writing creative content for clients back in 2010, I was paid only Rs 300 for an article having a length of 600 words. Today rates have doubled and you can earn Rs 1000 for an article of the same length. This shows that freelance writing can be a source of a regular income for Indians. Now there are hundreds of websites that connect writers and those looking for quality content.
There are a lot of low-quality writers in India who deliver sub-standard work. You do not need to compete with them. Focus on quality and creativity and you will always get work from around the globe. A writer in India can easily earn US$ 1000 or Rs 65,000 per month by writing 30-40 articles every month.
If you are skilled with Desktop Publishing and can edit and create images, then your earnings are bound to be much higher. There is a great demand for Authors with graphic designing skills because nowadays no article is complete without a unique image accompanying it. So if you can write articles and create images to go with them, you are in store for a bonanza.
Before you embark on your writing journey, it is advised to brush up your grammar and diction with the help of free online courses. You can find them easily on Google.com. Also, remember that each client has a different set of requirements, so remember to customize your work and do not use the same template.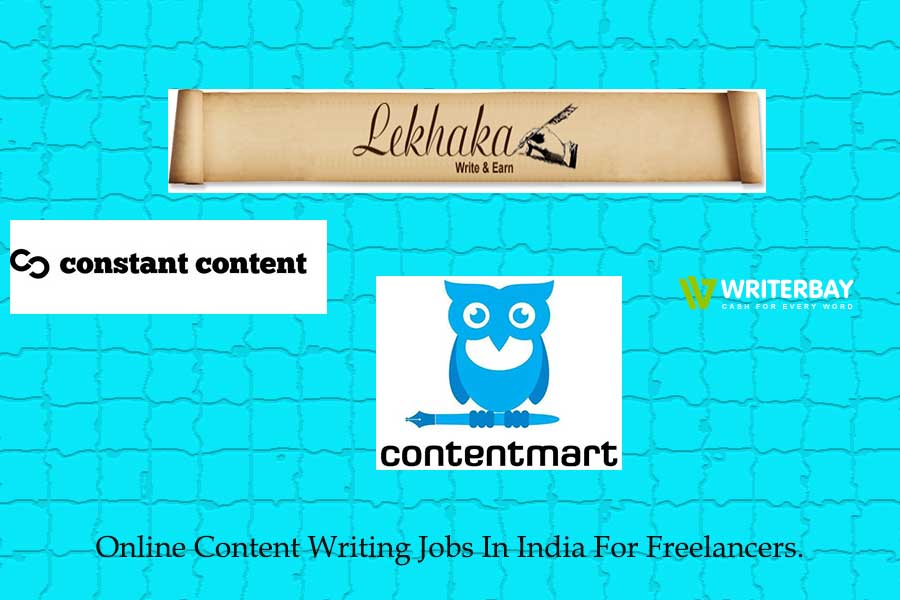 Comes from the house of Greynium Information Technologies Pvt. Ltd who are the publishers of India's largest multilingual online portal OneIndia. OneIndia publishes news and articles in more than ten Indian languages. The company started this portal to train new writers and at the same time attract and retain new talent. The company has hundreds of writers located across the length and breadth of the country. They are also looking to hire translators and bloggers who can produce quality multimedia content.
Boasting of more than 50,000 Writers and 75,000 clients, Content Mart claims to have successfully completed more than 30,000 freelance article writing orders. Started in 2016 the website is fairly new but has already managed to gain a loyal stream of clients who swear by it's quality work. On Content Mart, the payment is done usually on the basis of each article or per word. You can earn a minimum of a Rupee per word for your writing on this portal.
On WriterBay, the rates paid per article are much higher than other Indian content portals. Here you can earn up to US$20 per article if it is of high quality and at least 1000 words in length. To begin earning on WriterBay, you need to first register and pass the grammar and formatting tests. Once you complete this you are required to upload a sample essay or article which will then be evaluated to assess your writing skills. Once approved you can start bidding for writing projects. Your earnings are transferred to your bank account via Payoneer, Wire Transfer and Paypal.
Specializes in web content for catalogs and web-portals. The articles are written by writers trained in SEO, this ensures high visibility in SERP's. Also, every article is vetted with Copyscape to ensure it is original. Nowadays there is a high demand for content in foreign languages like Spanish, French and German. If you are fluent in these languages you can stand to earn hundreds of dollars every day.