Are you looking to enjoy the benefits of a Sam's Club membership without spending anything? In today's competitive market, finding ways to save money is always a priority. Fortunately, there are ways to obtain a Sam's Club membership without paying the regular fees. Whether through limited-time promotions, trial memberships, or special offers, this article will provide valuable insights on how to get a free Sam's Club membership and unlock exclusive deals, discounts, and a wide range of products. Discover the opportunities and start enjoying the perks of membership without breaking the bank.
How to Get Free Sam's Club Membership? A Guide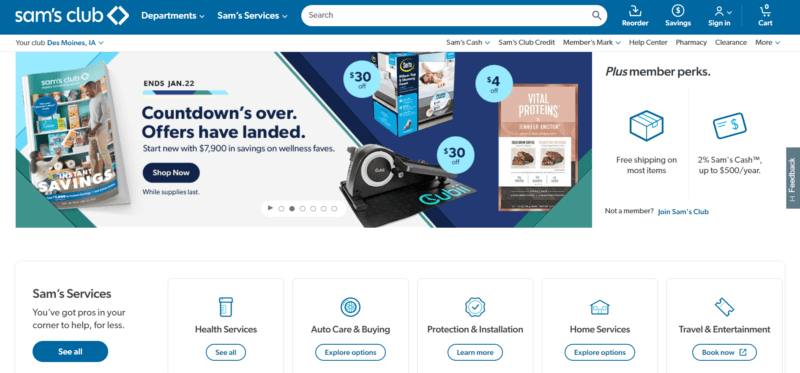 You would be glad to know that Sam's Club has a promotional deal that effectively lets you sign up for regular membership for free. You see, the usual membership price for someone who joins Sam's Club is $45 per year. It allows you to shop all year long at the Club thanks to this. For this $45 cost, you can even split a membership with a family member.
Therefore, for $45, you can purchase two Sam's cards. While many people will find this a good value in and of itself, Sam's is now running a promotion where you can earn $45 off your subsequent in-club transaction of $45 or more if you become a member. Since you saved $45 on your initial transaction, your membership price has already been paid.
There's a catch: you can only utilize your $45 in savings once and only spend this credit in-store, not online. You cannot simply renew your existing free Sam's club membership if you want to take advantage of this offer since you must purchase something within 60 days of joining Sam's Club and be a new member.
Additionally, to register, you must be at least 18 years old. You must also consent to the automatic renewal of your subscription. You can explicitly stop the automatic renewal in your account online or in-store if you decide you no longer want to be Sam's Club membership deal member after the initial year. Even if you satisfy these requirements, you should probably take advantage of the opportunity to receive a free Sam's Club membership.
Some more Information
To sign up for Sam's Club, go to their website. You need to provide some basic information, such as your identity, home, mobile number, as well as payment method.
The $45 immediate offer savings will be applied to your Sam's Club account within 72 hours of membership activation. After registering for a subscription, you will have 60 days to visit the store and spend at least $45. The credit you receive for making that purchase will pay your joining fee.
Now is a fantastic opportunity to check out what Sam's has to offer if you're interested in purchasing in bulk or get exclusive membership savings on a wide range of products, from toys to electronics. So benefit from this offer before it expires.
The biggest cashback credit card we've seen now boasts a zero initial percent APR score till almost 2024. Our professionals love this top choice with a zero percent initial APR that can last nearly until the year 2024, an absurd moneyback charge of approximately five percent, and no annual fee.
Benefits of Sam's Club Membership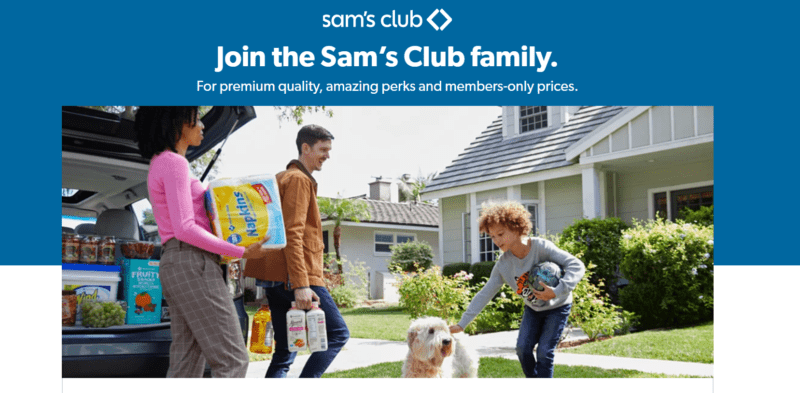 A free Sam's Club membership may offer fantastic discounts on seasonal goods, groceries, bulk purchases, and gas. When new members sign up for a $45.00 yearly membership, the warehouse club will give them a $45 credit on their first Sam's Club membership deal transaction completed within 60 days of joining.
Sam's Club memberships come with unique benefits available only to members, like free tire repairs, access to Sam's Club petrol stations with lower gas prices, and bulk toilet paper. The warehouse club, Sam's Club, gives members fantastic bulk discounts on various goods, including home goods, electronics, tires, and prescription drugs.
Some other benefits
The benefits go beyond that. Members also receive limited-time incentives put on each member's active card, free shipping on a selection of items, free curbside pickup, and free tire repair, in addition to immediate savings on already cheap member rates. Yes, you can have your tires repaired at any Sam's Club regardless of where you bought them, as long as they adhere to U.S. Tire Manufacturers Association standards.
A free Sam's Club card is an obvious choice if you want to save money on gas, particularly if you plan on traveling this fall. The majority of Sam's Club gas stations only sell fuel at discounted prices to Sam's Club members, and you must show your membership card to do so. Members receive a $0.05 discount at the limited stations open to the general public, so you'll save on premium average, premium, and diesel fuel in either case. Remember that the discount varies depending on the Sam's Club area and your city.
However, one of the best benefits of the Sam's Club membership deal is that it alleviates any worry about experiencing buyer's regret. Underneath the retailer's 100% product quality guarantee, you can return most of your purchases for a replacement or a refund. Moreover, Sam's Club takes Amex, MasterCard, Discover, and Visa, whereas Costco is notorious for only accepting Visa. Sam's could be your best bet if you're a credit card point's junkie.
Don't worry if you decide a Sam's Club card isn't for you; you may cancel before your annual membership renews by calling a member care representative, chatting with a representative live online, or stopping by any in-club Member Services Desk. You have absolutely nothing to lose at this pricing.
Sam's Club Yearly Subscription Promotion
Sam's Club memberships could indeed pay for themselves by providing customers with additional discounts on goods like food, beverages, equipment, Television sets, diapers, or even access to less expensive gas (a huge relief in this economy). However, you can increase your savings if you also take advantage of the most recent free Sam's Club membership promotion, which effectively makes a one-year membership free for new members.
One of the most searched offers for anyone just joining Sam's Club is the well-known "free" subscription offer. We are constantly searching for the finest suggestions for Sam's Club members or those considering joining. You may sign up to receive email or text alerts as soon as the next fantastic Sam's Club deal becomes accessible and learn how these "free" subscription packages from Sam's Club operate below.
How the 'Free' Sam's Club Card Deal Operates?
Sam's Club membership deal frequently runs special incentives that can effectively make an annual subscription accessible. While this new offer is in effect, you may become a new Club member for $45 (plus tax in some locations), and you'll get $45 off your initial in-club transaction. Your $45 annual subscription sign-up charge is effectively eliminated by the $45 back to you when you purchase at Sam's, keeping your enrollment in the club "free" for the initial year. Once more, this offer is only valid for a short period, so act now!
Your $45 shop credit will cover your forty-five dollars annual club price (for recruits) as soon as your purchase is made within sixty days of enrolling but be sure to check out the promotion details on Sam's official site.
Points to remember
Here are some things that you should keep in mind before using this offer.
 By selecting this deal, you allow a yearly prorated refund for your Sam's Club card fee(s) + taxes to be made to the card on file.
To ensure that this deal is truly "free" for you, you may stop any auto renewal before the year begins. To do so, go to samsclub.com, a club, or call 1-888-746-7726.
Sam's Plus members are not eligible for this promotion.
To qualify for this deal, you must register online as a brand-new Sam's Club member.
To purchase a subscription, you should be at least 18 years old.
The Plus Membership and other goods are not included in this promotion.
These discounts are not available to people who are now subscribers of the Sam's Club membership deal or to people who joined less than six months before the transaction dates. It is advised to examine your billing statement or your Sam's Club online account to determine your renewal notice and if you are eligible or not, depending on these exclusions. If you currently belong to Sam's Club, renew your free Sam's club membership.
Sam's Club Card Discounts and Deals from the Past
Our users frequently discover and report new subscription offers that appear each year. Many of these bargains are 'free' membership offers after utilizing groceries credit eCards and free meal coupons. You can usually find these specials on Sam's Club's website, Groupon, or Living Social. The 12 million+ members constantly monitor and submit the most fantastic offers for Sam's and all other significant warehouse retailers, like Costco, as well as others.
Sam's Club recently offered Charmin extremely soft tissue paper 32 extra plus roll internet for $23.98 (or spend only $13.98 per when you use your $10 coupon.) This is an excellent example of the savings you can expect from free Sam's Club membership compared to other retailers like Walmart and Target. For only $19.98, Sam's Club offers 32 rolls of Quilted Northern Extremely Soft & Strong Toilet Paper.
The 30-count Massive of Charmin Ultra Soft toilet roll is available at Target for $31.99. In comparison, Walmart has previously sold a 9-count Charmin Ultra Soft toilet roll Mega Rolls (for delivery) for $15.53; thus, purchasing 30 rolls from Walmart would cost you more than $45. And at the moment, Amazon is offering comparable goods for about $31. Slick The Charmin Super Extra rolls (24 ct) have dropped from $52 to $42 on Amazon, making this $30 price the cheapest yet recorded.
Sam's Club Shopping: Proven Strategies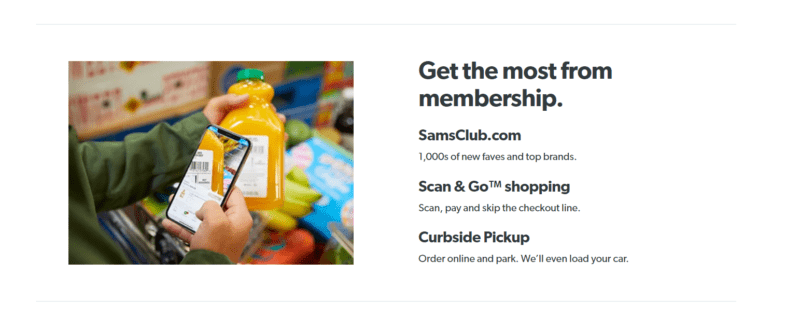 Here are some strategies that can be beneficial when shopping at Sam's Club.
1. Understand the price codes for the shop
It would help if you continually glanced at sticker prices, but at Sam's Club, you'll like to pay close attention to both dollars and cents. A price that ends in a 1 (for instance,.81 or.91) denotes a discounted item, whereas full-price things usually end in. a 99. Additionally, each price tag has a product code that ends in a "C," "N," or "A." "C" indicates that the item has been cancelled or that there isn't enough of it in stock.
In other words, the price may decrease soon. Never-out products are denoted by the letter "N," which means "never out of stock. "However, item numbers that end in the letter "A" indicate that the item is in use and that the store has several similar items in stock, making it unlikely that its price will decrease very soon.
2. Examine the bookcases
Fun fact: Sellers literally "lease" shelf spaces at Sam's Club for a specified period- the retailer may reduce the item's price if sales aren't what they should be to move it off the shelves before the lease's expiration date. You'll need to browse the aisles to discover these exclusive offers because they are not publicized. Managers typically finish shelf inspections on Tuesday, and pricing is revised on Wednesdays to reflect those audits.
Some astute dealers have benefited by purchasing goods at a higher cost while there is low stock. When only a few units remain at a substantial discount, they will return the merchandise. Just ask to conduct a "return and purchase back" at customer service. You are free to repurchase unsealed goods at a lower price if there is still enough stock on the shelves. This tactic, akin to using a credit card with price protection, is beneficial when buying seasonal goods.
3. Avoid checkout
The shop introduced its free 'Scan & Go" app last fall, allowing consumers to bypass the checkouts. Subscribers of free Sam's club membership can employ the application in shops to scan product barcodes, make immediate payments within the application, and then leave the establishment after making their buys.
Internet purchasing instead? Use the "Club Pickup" service to make online purchases of the products you want rather than going to the store. When your buy is prepared, you'll be notified and can pick it up from the front of the shop. Many Sam's Club membership deal customers claim they can save more money by using the store's Club Pickup service because they do not even purchase impulsively.
Additionally, it is simple to believe that you're entirely out of something simple to get it and discover that you previously had it in stock at home. You may confirm that you run out of dish detergent while placing your buy online.
4. Get more
The Sam's Club MasterCard has advantages and disadvantages, like nearly every other shop card. On the bright side, members will receive cashback rates of 5% on gas, 3% on eating and transportation, and 1% on all other purchases. In addition to the 2% cash back offered by plus, members with a free Sam's Club membership plus subscription will also earn 3% money back on in-store transactions. As a result, Sam's Club offers up to 5% cash back on all purchases.
When you establish a new credit card at the shop and use it to make a $100+ purchase on the same day, the business will give you a $45 statement credit, thereby wiping off the cost of your yearly membership. As for the drawbacks? It would help if you never held a balance on the card because the variable APR might reach 23.15%.
Don't want to open a shop card? Simply join the Club and make good use of your present cards. Sam's Club periodically has deals from Amex, which makes membership more alluring.
5. Bring the cost down
You've probably heard the adage "you'd best shop around," which applies to Sam's Club membership deal customers. Most of the store's inventory is consistent from location to location, although 10% of it changes depending on local geography and market trends. It might be a great idea to vary your visits if you live close to several Sam's Club branches. The above-mentioned shelf-space discounts may change in your favor. You might find different things if you visit retail company with clients with other preferences.
6. Buy gift cards to save money.
Sam's Club is an excellent spot to find gift cards at deeply discounted prices. The shop offers cards from numerous well-known stores, and the majority of them are offered at discounts from their face prices. You may frequently start saving 10% to 25% straight away.
7. Quick savings rating
The company's Quick Savings service effectively functions as a massive book of coupons. However, these savings are added to your order immediately and don't need you to clip any coupons. You'll see Instant Savings promoted on various items when you browse a Sam's Club store or shop online. Every member is signed into the program, and the stated discounts are added to the membership fee to reduce your costs further.
The company's website also has daily specials called "Shocking Values" that help customers save money on anything from home decor to shampoo. Observe expiration dates closely. You won't acquire the discount if you place your order online while a promotion is still in effect but pay for the purchase in-person after it has passed.
Also Read: Sam's Club One Day Pass: Shop Without a Membership

8. Learn more about your store
The intriguing thing regarding free Sam's Club membership is that every location runs differently depending on various variables, such as the company's supply timetable and management style. It is always a good idea to speak with a staff member at your neighborhood business to learn the inside scoop on the most important days for sales or when new inventory is anticipated to arrive.
Now is an excellent time to join the warehouse club if you've considered it. To entice recruits, Sam's Club is conducting a money-saving deal. Although you must pay a membership fee upfront, the current promotion allows you to receive a refund against in-store purchases.
Exploring opportunities for free Sam's Club membership can be a worthwhile endeavor for those seeking cost-effective shopping options. However, it is important to stay informed and cautious when pursuing such options, as availability and eligibility criteria may vary. Ultimately, each individual's experience and success in obtaining a free membership may differ based on their circumstances and local offerings.
Note: The free membership offer mentioned above has expired.