Hiring a candidate is a long and daunting process, but it becomes more challenging when you have to spend money on it too. To help you find the right candidate at no extra price, here are 20 free job posting sites for you to hire your desired candidate.
Finding the right person for the right job is the most vital and challenging task for any organization. In today's time, when everything has become digital, recruiters and companies also have changed the trend, they as well post their job requirements through an online job portal.
There is an array of job search engines, job boards and job media sites which has made it easier to promote vacancies and attract loads of potential hires. The good thing is that there are a plethora of websites that enable you to advertise open jobs for free.
There are usually two methods to post jobs one id by advertisement in the newspaper or by posting the vacancy on a renowned website. But, if you post a small ad in the newspaper it would cost you a lot of money, on the other hand, posting it on the free website has a lot of benefits.
Firstly, the ad in the newspaper would just last for a day or two but on the website, it remains for a longer duration. Secondly. There are lots of websites that do not charge you anything for posting the websites.
These free job posting sites let the employers post the job for free and reach a large audience effectively.
Advantages of Free Job Posting sites
The advertisement has become a key for making people aware of the vacancies you have and you should also ensure that you post your job requirements on numerous sites so that it becomes easier for you to reach loads of job seekers. Its other advantages are-
1) Finding the right candidate for the right job– A lot of times, recruiters receive junk resumes which are not fit as per the requirements, which makes the process slow. These free job posting sites makes it quick for you to get the perfect candidate because you can post the job and ask the applicant to answer questions based on your vacancy.
With the ease of the online portal, you can easily filter the applications and download the right candidate for your post
2) Target a wider audience– When you post jobs on these portals it aids you to reach a wider audience as posting the job just on your company's website would not reach a lot of people. This means that it increases the probability of filling the vacancy quickly.
3) Access round the clock– Internet is available 24hrs which means that candidates can access the portal whenever they get time. Same way, you can also close the application as per your convenience.
4) Easy to apply–  Applying for these websites is very simple and straightforward. You are just required to log in, check the job requirements as per your needs and then you just need to hit enter on the apply option if you are interested. Along with that, you should upload your resume and then wait for the company to respond.
Thus, an applicant both can get and apply for numerous jobs in a day and the recruiter can get a lot of applicants
5) Not expensive and time-saving– Ad there are an array of free job posting sites which means that without paying anything you can get thousands of applicants and get the post filled in no time. Also, these websites save a lot of time as the application is simple and quick plus with so many applications, you can choose the best as per your job requirements.
6) Filtration becomes easier– Once you post the job after that you can wait for the applicants to view and apply for the job. As the list will be long, you must be thinking that it would take time to check every application and select. Don't worry, with these websites you can easily apply filter and then choose the best one in a short span of time. It has made the job easier, quicker and more efficient
Disadvantages of Free Job Posting Websites
Everything comes with some drawbacks, the same is with these websites. Its major limitations are:
Receive unwanted applications
It does not ensure filling up of vacancies
People from all over the world can apply
The informal way of interviewing
Now, you very well know about the pros and cons of free job posting websites. It is vital for you to know some of the leading and reliable websites where you can get the best results.
20 Free Job Posting Sites to Help You Hire the Right Candidate
This list has been prepared after doing thorough research and after taking feedbacks from the users. Thus, you can trust them and get the best applicants and job without any hassle.
1) National Career Service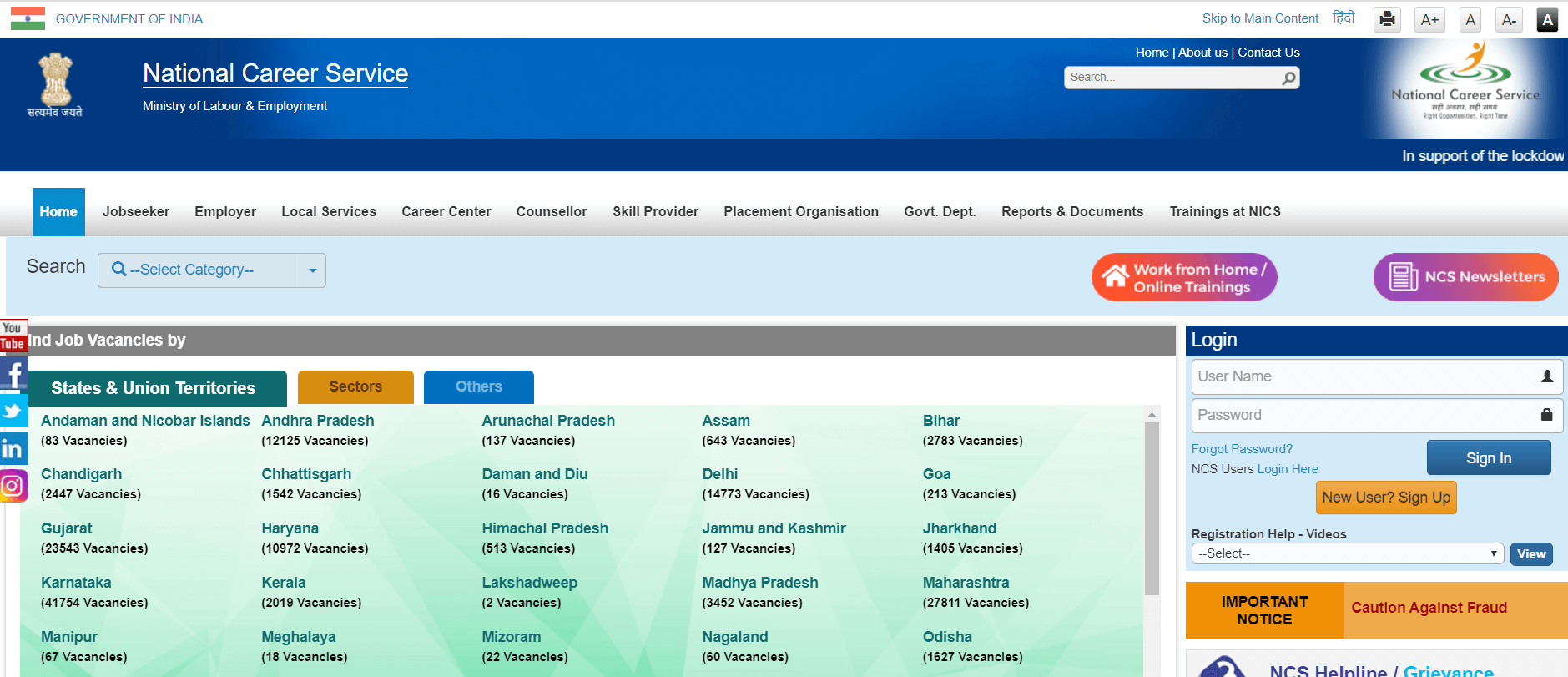 This online recruitment service is run by the Ministry of Labor and Employment, Government of India. This portal provides you with free job postings in India for both small and large businesses, which can easily reach out to individuals. One of the good things about this website is that they offer job matching services in an easy and transparent manner.
This website also provides the candidates with a lot of information on education, career counselling, training and employment which prepares the candidates for interview. They are also starting with a multilingual call center for helping the candidates with their queries.
Also, here on this portal, you can get a lot of information on local service providers that are available to the household such as plumbing, carpentering, etc. In short, because of all these reasons, it sits on number one in the list as it fulfills all the demands of a candidate.
Visit Now
2) Scouted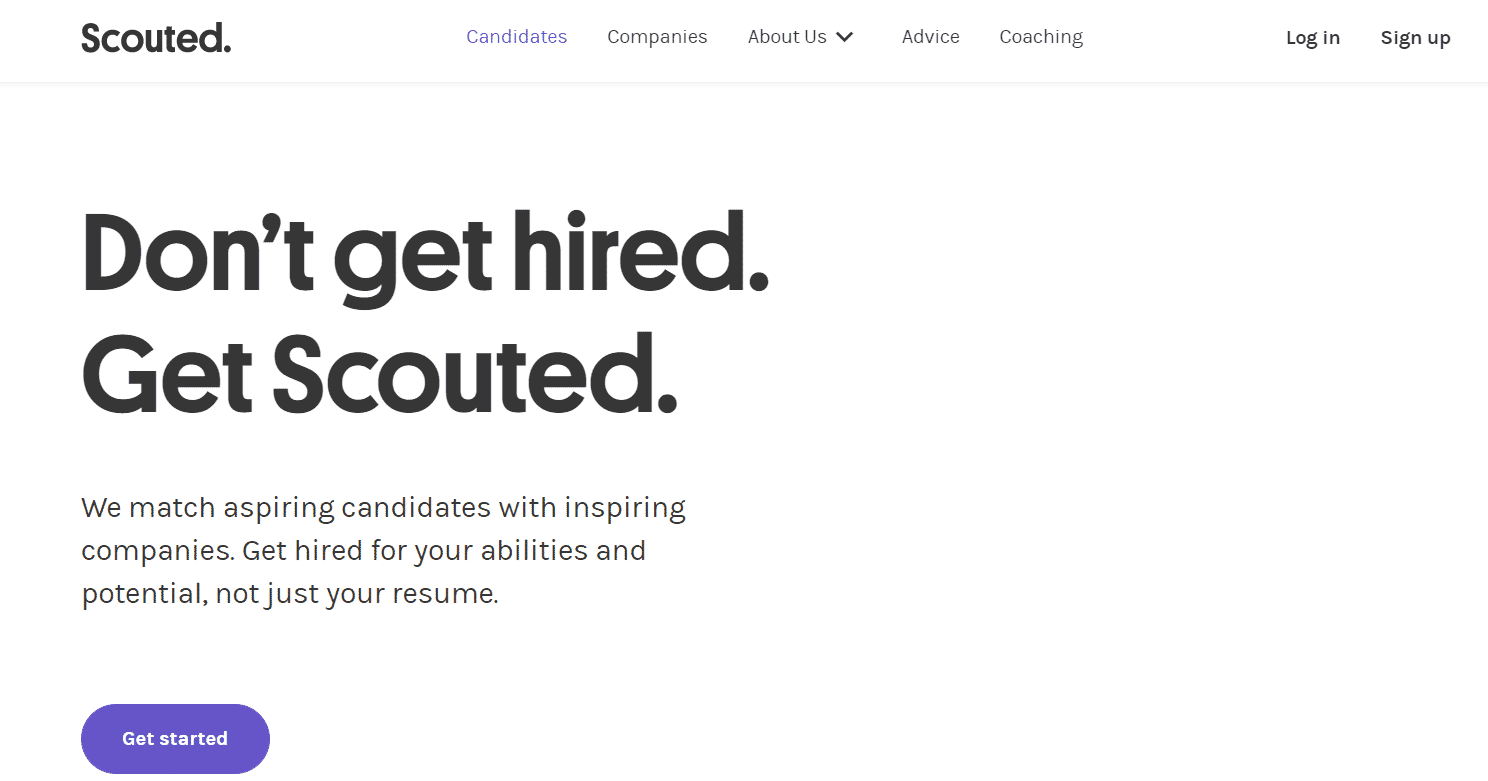 With the help of this website, you would be able to easily find the emerging talent based on the algorithm matches to your job posting. This website was built to make the recruitment process comparatively modernized. The website automatically used the algorithm to find the best-fit candidates as per the role.
It matches the candidates based on their skills and potential instead of just looking at the resume. You would be glad to know that posting jobs on this website is absolutely free but they charge you a small fee if you hire the candidate through their website.
Scouted provides access to all the features which require such as posting jobs, filtration of the candidates and setting the interviews as well. Thus, this is a great website where you can find a lot of efficient and skilled people. So, if you are looking for a website where you can find great talent then this is the best website for you.
Visit Now
3) LinkedIn
Well, it is not exactly a recruitment website. You cannot post a job for free here but it allows you to seek the potential candidates yourself and can contact them for free if you have a big network. The best thing about LinkedIn is that enables professional and business to business networking.
As LinkedIn does not provide you with the option of the free job posting, still you can make use of some of its facilities which can benefit you a lot. If you have a LinkedIn profile, you just need to form a user group and do the job posting without any charge. All the members who are connected to your group would be able to see the job posting.
Posting your job openings on the LinkedIn profile and various groups, shares your vacancy with loads of users at once. Also, LinkedIn offers a free messaging feature, with the help of which you can easily reach out to the desired candidate within the platform. It also has an app that enables people to apply for jobs with their smartphones.
Visit Now
4) Glassdoor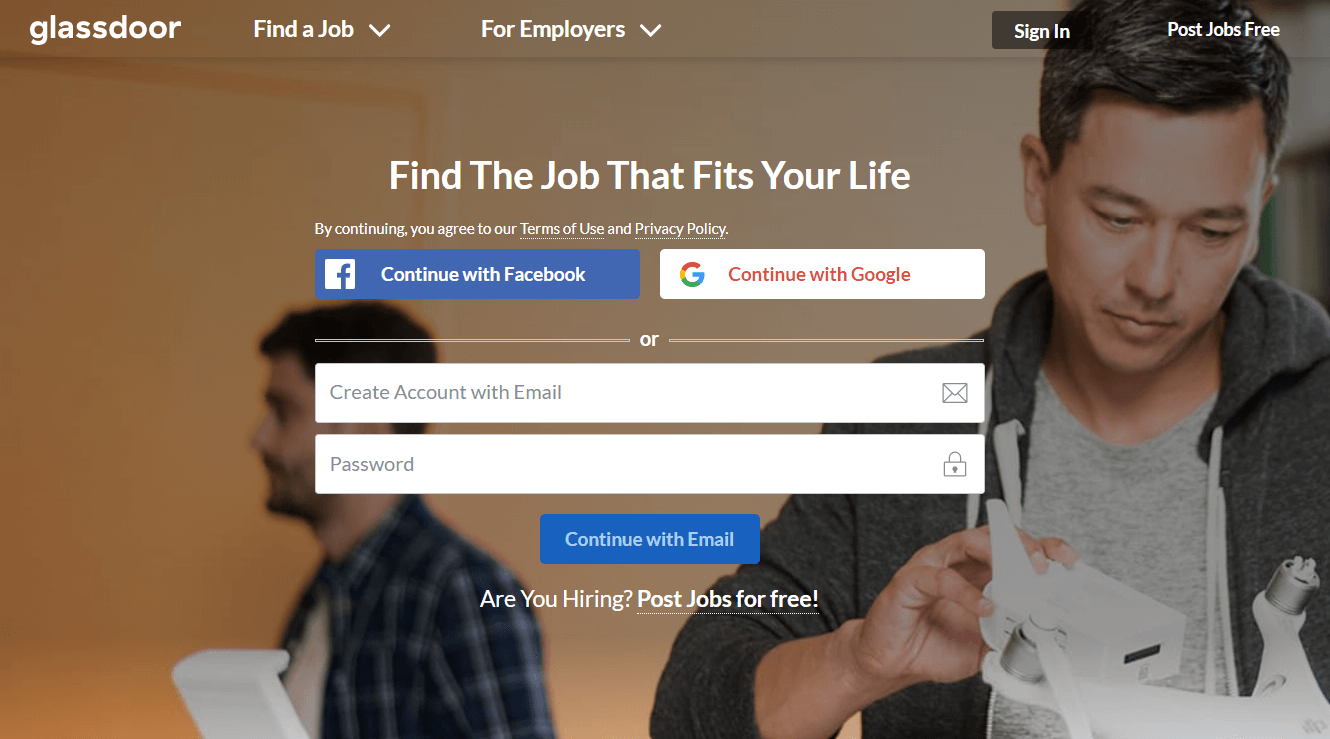 It is a U.S based company which provides recruitment services in India too. This job posting website has huge traffic and attracts a lot of candidates because of its amazing employment rating system. They allow free job posting on its India portal.
This website is considered to be one of the best websites for both employers and employees as it is a powerful hiring tool. It has more than 6o million job seekers who use this website. This website provides a 10 days free trial which lets the recruiters advertise their vacancy plus they also give free recruitment content which might be beneficial for companies who are just starting up with their hiring.
Their database offers millions of companies reviews, salary reports, CEO approval ratings, office photos and much more. Thus, particularly for employers, it provides effective recruiting and branding solutions. They are good in their services because they provide good quality candidates and help loads of people get their dream job.
Visit Now
5) Ladders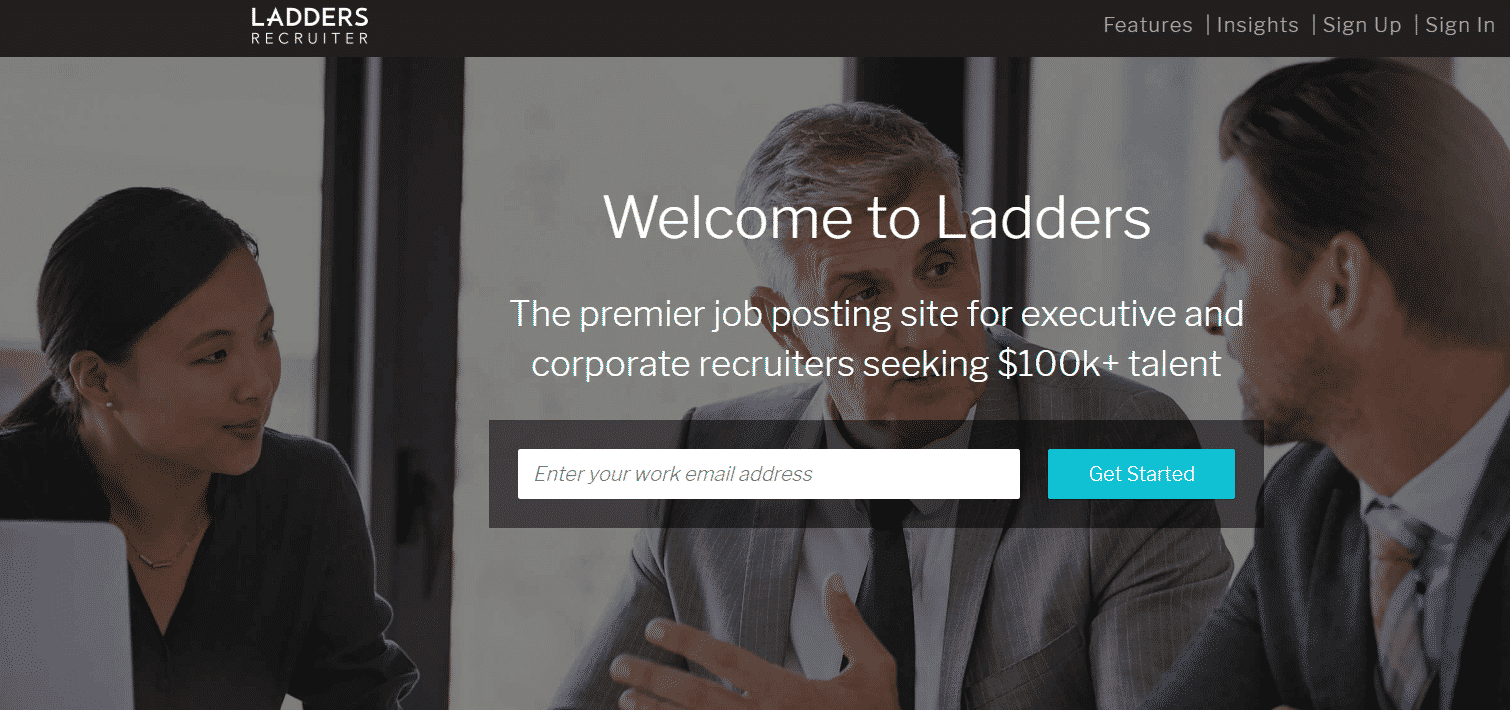 This is one job posting site where you can find highly experienced candidates, it has a lot of people registered on their website. They have both free and premium plans. Its free tier allows the recruiters to search and browse for a limited number of resumes plus they can also post up to 20 full-time vacancies.
Also Read: 10 Highest Paying PTC Sites in 2020
It has good reviews about the candidates that it provides, thus if you want a fresh talent with excellent capabilities then Ladders can be a great option. It makes the search easy as you can apply the filter as per your requirements, which makes the work of recruiters easy.
Visit Now
6) Indeed

It is a global recruitment portal that provides you with both free and premium job postings. It is one of the highest traffic job board websites in the U.S. The major difference between the paid and free versions is that paid ads appear on the top of the search and free on the bottom.
You would be glad to know that this website also offers the opportunity to pay per click ads too. This is usually the first website where the recruiters post a job ad for free. Here, the employers can sponsor job ads without any charges, which makes them more prominent while searching for a candidate.
It is one of the largest websites for job posting which has more than 200 million different visitors every month. This website is a great place for small businesses and startups to post job advertisements for free. It is the best place if you are looking to hire the staff quickly. Also, they have their own app which can be easily operated on your smartphones.
Visit Now
7) PostJobsFree

The name of this website says it all that here you can post the jobs for free, you just need to go to the website and see how to post the job for free. This can be a great platform for small enterprises where they can post their vacancies without any charge and get skilled applicants.
On this job posting site, you can update any kind of job and it gets displayed for 20 to 28 days, depending upon the category. But, in a few sections which are in huge demand, you might have to repost the job after a week for getting full coverage. It is an employment search engine that makes it pretty easier for the recruiters to promote new jobs.
The best thing is that the open vacancies are automatically syndicated to other such websites. If the users want they can opt to be notified if there is any good-fit resume is uploaded to the site as per their requirements.
Visit Now
8) Bayt
This is a wonderful free job posting site where you can get loads of skilled and efficient candidates. In Arabic, Bayt means a house. This is a premier website in the Middle East. This website provides an array of jobs in numerous countries of the Arabian Gulf region, India, North Africa, Levant, and the Indian sub-continent.
It is a renowned website among MNC's which want to hire talent from India or from any other Countries mentioned above. They also post jobs in India as well, for using it for free you just need to register your company on their website.
The major benefit is that people get the opportunity to work in different countries which can help them learn and explore different work culture. So, if you are looking for a job outside India, then this is a great website for you. As a recruiter too, you get to hire fresh talent from across the countries which helps bring new and innovative ideas.
Visit Now
9) Jora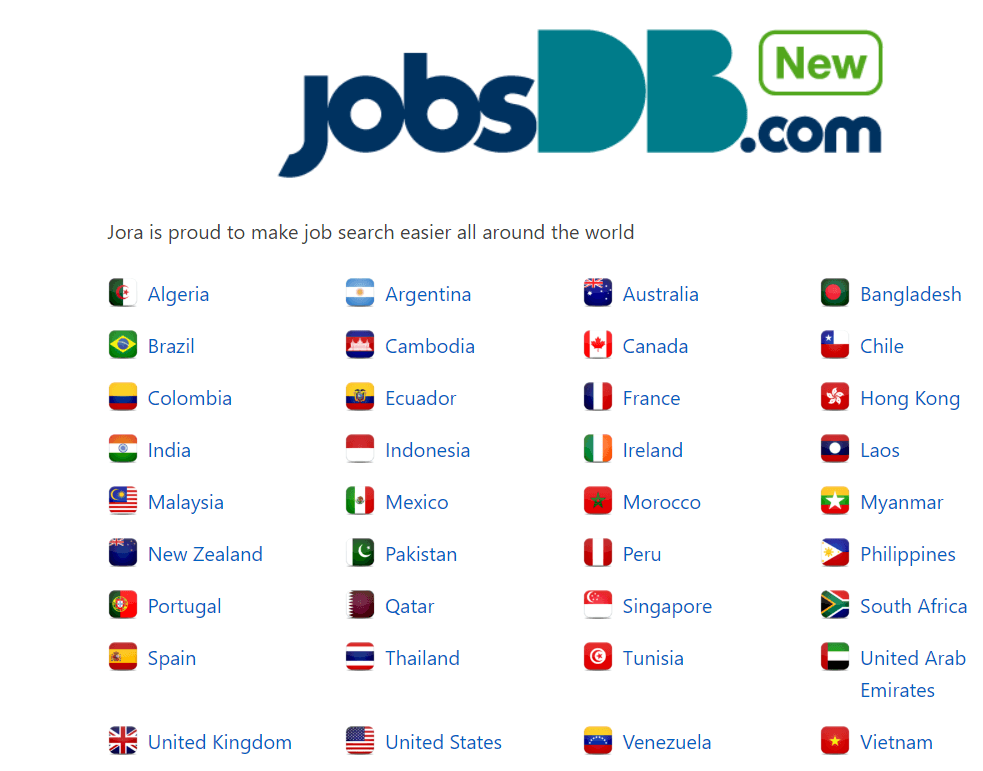 This is relatively a new website yet it has gained a lot of popularity because of the candidates it possesses. This website offers free job posts and can be said truly a global job source. They have candidates from all over the world who search for jobs on this website from multiple sources.
In case, if you aggregate open job positions to other websites through an XML feed, Jora might have already listed the job opening. Perhaps, if the employers want they can also use the website free posting process for adding new vacancies, ensuring that they also appear to searchers in your city.
All in all, this is a great free website where registration is very simple and there are loads of candidates to choose from plus it is free and it posts the job globally. So, if you as well are looking for a free website for posting jobs then this is a great option for you.
Visit Now
10) Aasaanjobs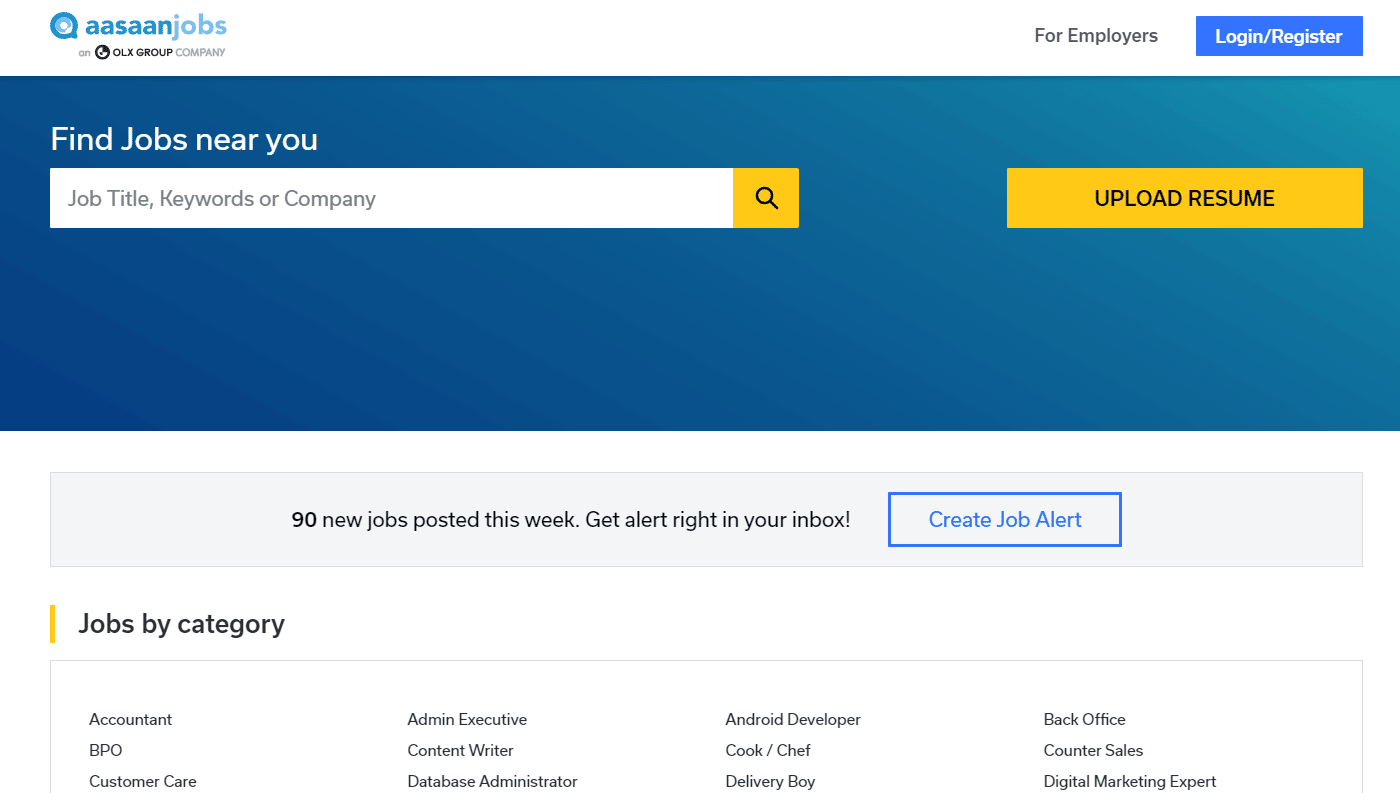 This website has become famous recently, it has become one of the leading job posting websites among freshers and professionals. This website provides the employer's facility of free job posting under some categories, not in all and they provide the free job posting for a limited period.
This website has complete coverage of India, thus it makes easy for recruiters to hunt for right talent from any part of the country. The good part of this website is that they have a lot of candidates registered in all the categories which makes it quick for a recruiter to complete the vacancy.
This is a very effective way to hire employees at minimal cost and that too quickly. Also, if you are a candidate looking for a better job opportunity then you should upload your resume on aasaanjobs as it makes getting jobs easy and as per your requirements.
Visit Now
11) StartUpers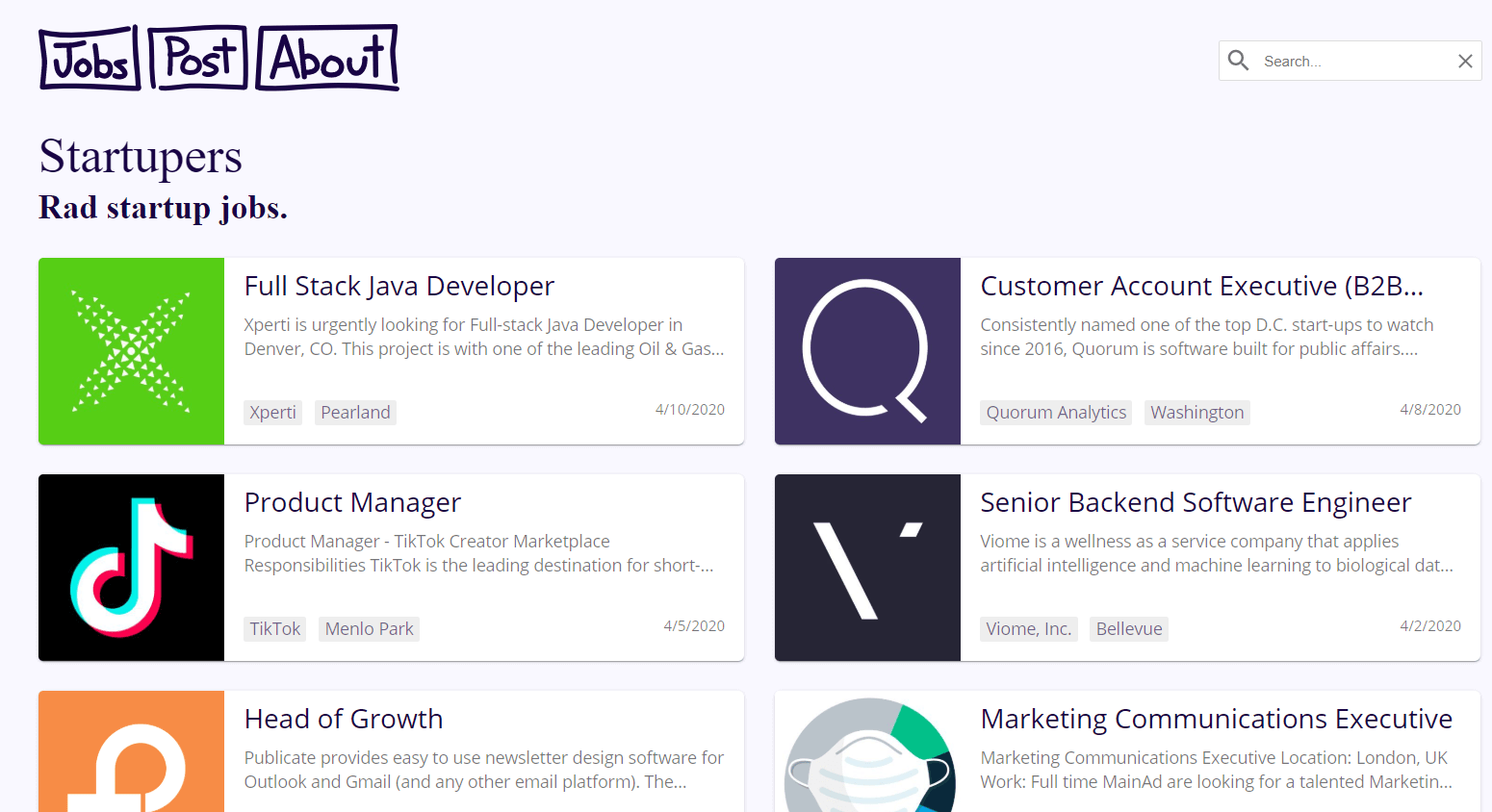 Does its name sound strange to you? Well, it can be said that it is quite unique. This website has been designed in a very simple manner but it is a highly effective tech and start-up focused job platform. This website is particularly known for posting more of technical jobs and there are a lot of technical companies registered with it.
This website has a strong inclination towards developers and technical professionals which boosts a massive network of experienced candidates on this website. This website offers all the benefits you can think of, here you can post any number of post openings.
Posting the jobs is free on this website and the unique thing about this website is that every post is reviewed by a human being to prevent any spam. So, if you are looking for tech-savvies for your organisation then this is one of the best websites for finding the right talent.
Visit Now
12) Craiglist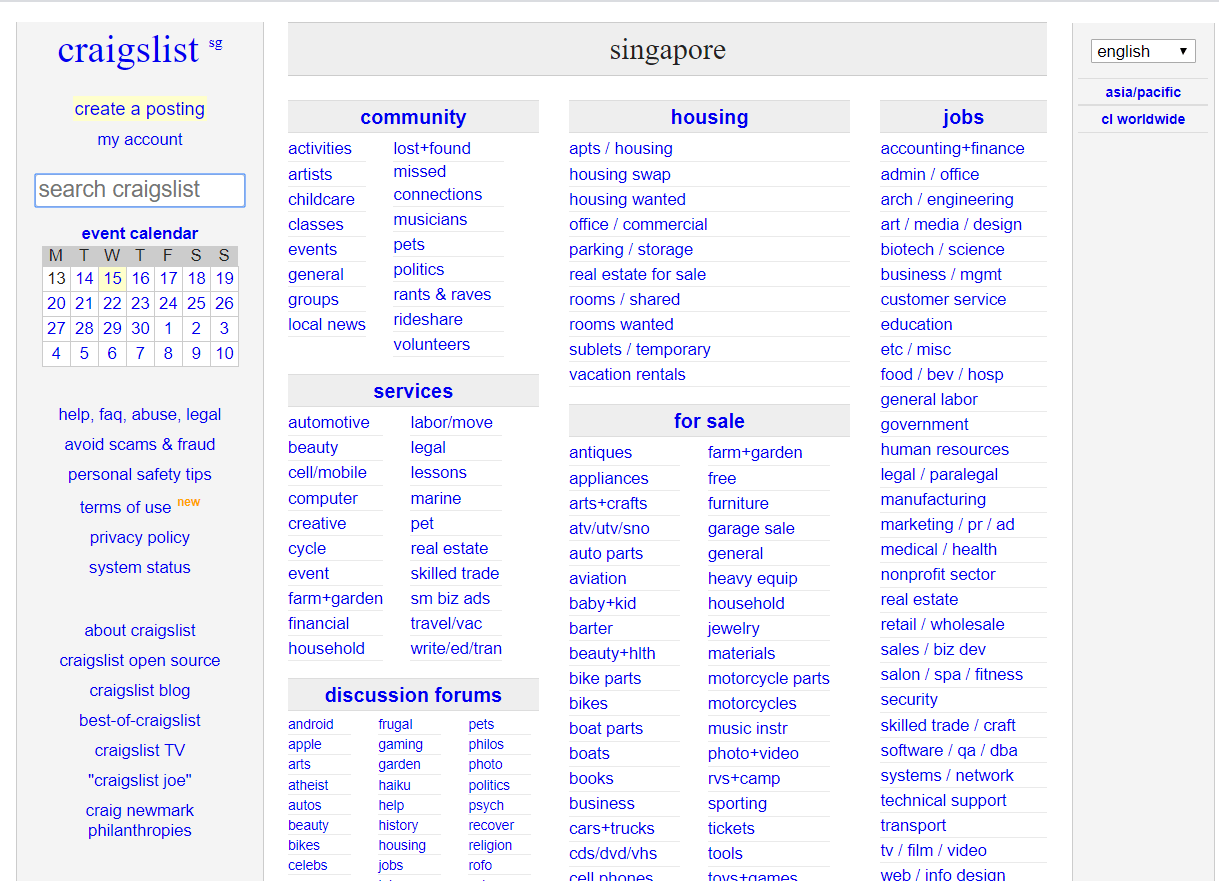 It is an American classified website which lets you post all types of the job plus this website is used globally. This website is immensely used in India and all over the world. Now, you must be thinking that how can you post the job on this website? It is a very simple process and just takes a few steps to get registered on it.
Also Read: 20 Best Freelance Websites to Work From Home
The good and bad part of this website is that as it is free and is used globally, so it receives loads of job postings everyday which can bury your ad in a flurry of other posts. Thus, if you post a job on this website it is important that you use keywords and search words diligently so that it becomes easier for candidates to find the job and apply for it. But, overall it is a great website as you can find numerous job opportunities and candidates both, which means that you can close the vacancy very quickly.
Visit Now
13) Handshake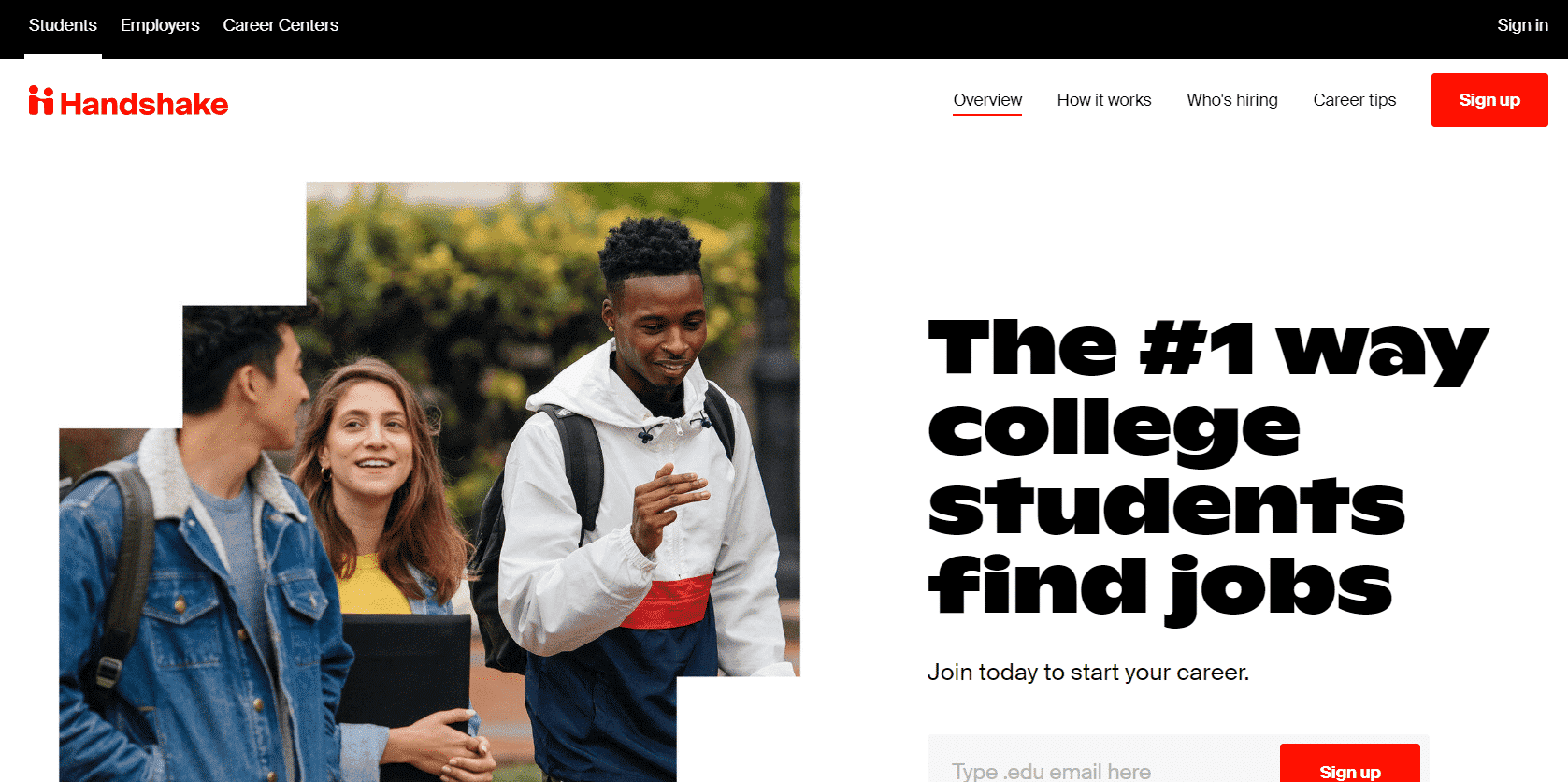 This is an amazing job posting website where you get an opportunity to connect with students and young alumni from more than 700 colleges across the U.S. It provides you with a free job board which is custom made for connecting with talent in the initial phase of their careers. This way they get fresh talent and welcome new ideas in their organization.
You would be amazed to know that it has over 14 million students on their network, employers are free to post the vacancies and can reach out to the candidates who fit the job description. Another thing about Handshake is that recruiters also get access to job fairs and any other local events happening, which provides them with one more option to connect with applicants.
This website works comparatively in a different way from other websites. It provides you with a fresh talent which brings new ideas to your company and also you can hire them for comparatively less prices as they are freshers. So, if you as well are looking for great talent for your company then register here for posting the jobs free of cost.
Visit Now
14) WalkinsIndia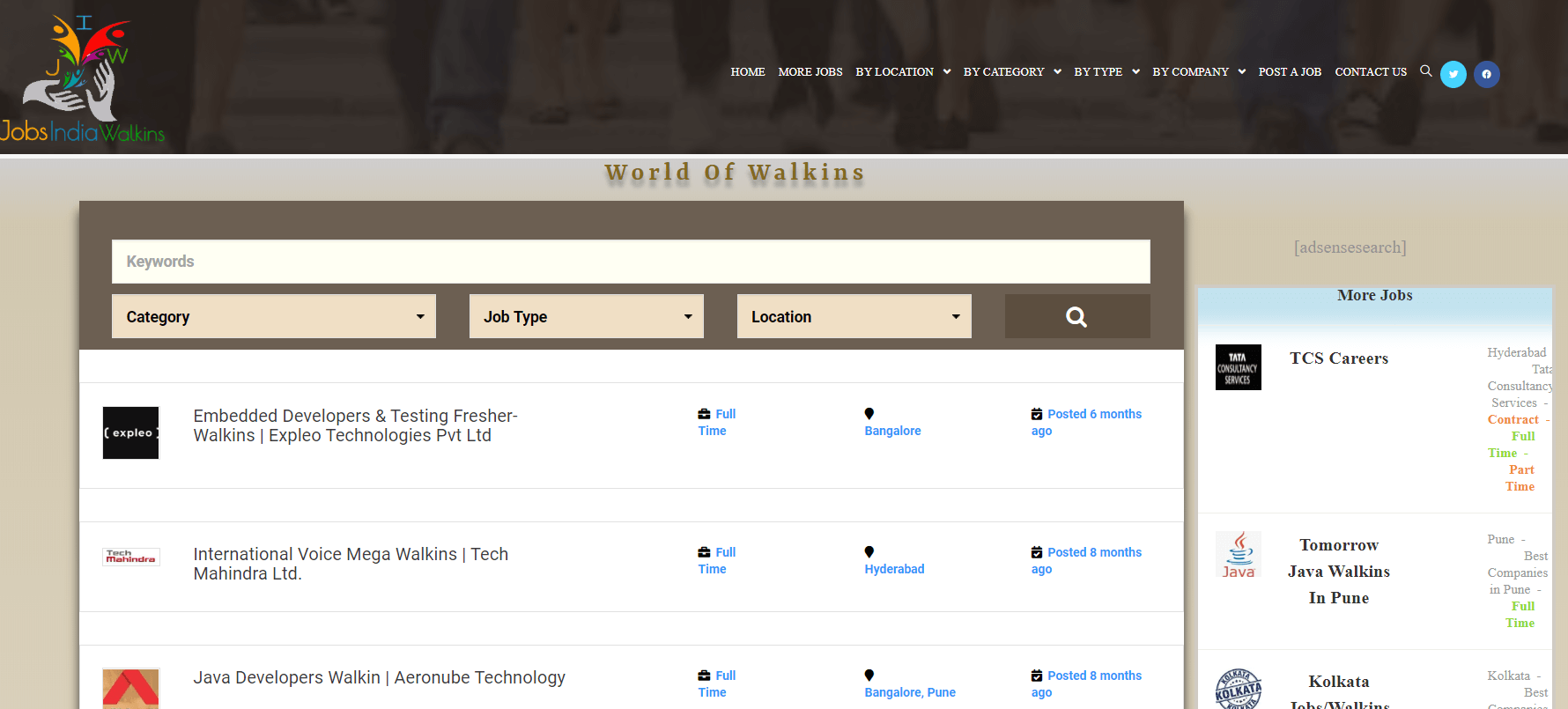 This website is for all size organisations as it provides you with loads of resumes which they might require. This is great for companies who do not have a lot of time to call people for interviews as here they can get what they are looking for in candidates easily.
You can post the jobs for free on this website, usually, the jobs that they offer are for freshers who just need to appear straight away for the interview with their resume. All a recruiter needs is to provide the job description in detail, what are the educational qualifications required, any extra skills required or any such needs.
Also, it is great if you add the location of the interview as it makes it easier for the candidates to reach without any hassle. So, whether it is a new company or a large-sized company, this website is suitable for all as it provides a pool of talent for all kinds of job.
Visit Now
15) Learn4Good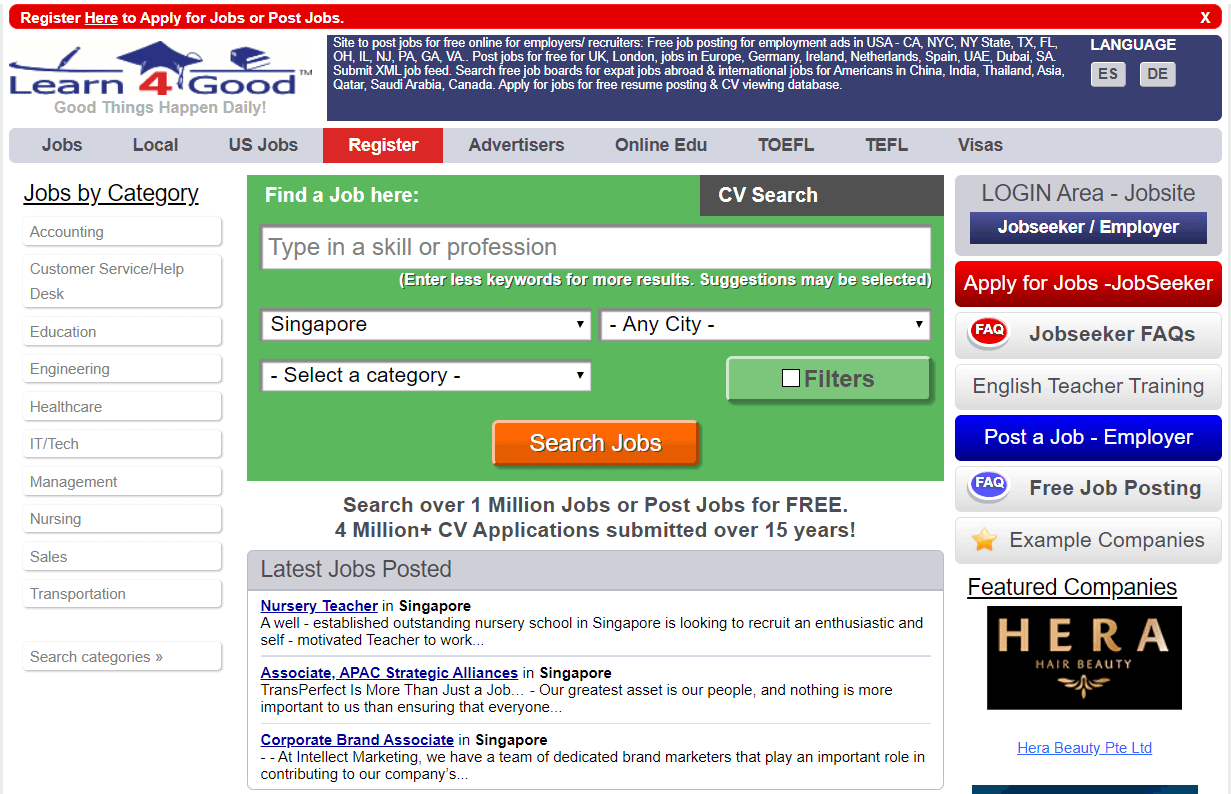 This website is said to be a goldmine among the free websites as it offers you a lot of benefits apart from being free. Here you can post up to 20 jobs without paying anything for 6 months. In fact, if you want you can also post all the 20 jobs in one go if there is a requirement.
They have a very nice tag-line for their website which is, ' good things happen daily', and this is what they want people to believe. They provide massive educational resources and an aggregated search which benefits students, their parents and all the job finders who are looking for new roles.
They generate more than 25 million visitors in a year from all over the world through their free to use the job board. If you as well have job openings and want to search for the right people for your company instantly then Learn4Good is a great platform for you.
Visit Now
16) Freshersworld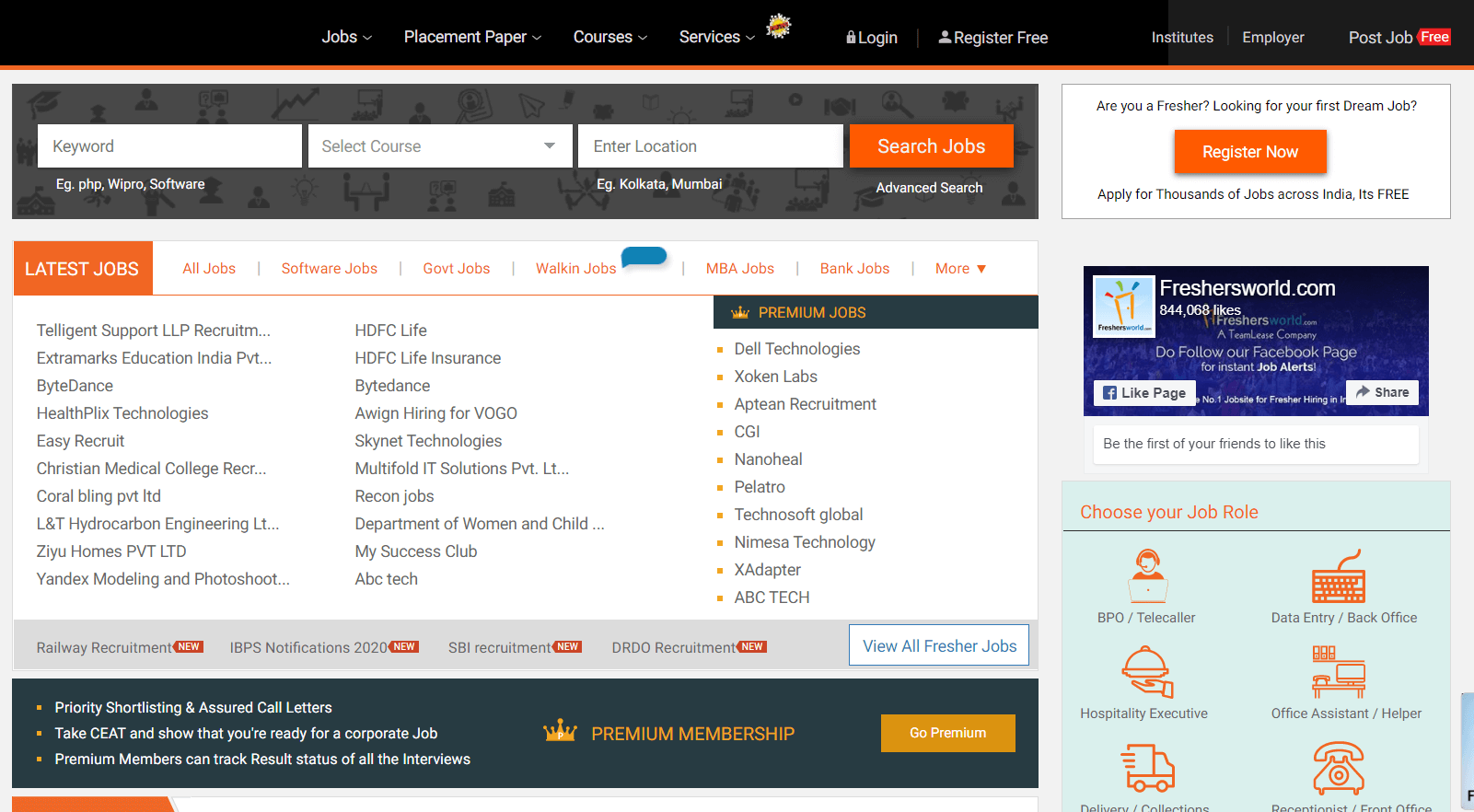 This job posting website has become a favourite of many recruiters and applicants because it offers free job posting plus it has a lot of maiden job opportunities. This website is more renowned among graduates, undergraduates and tradesmen who seek for their maiden jobs.
On the other hand, this is also liked by small business or startups who wish to look for new talent. For posting free ads on this website, recruiters just need to complete the registration with them which is a very simple and straightforward process.
One drawback you might face as a recruiter is that you cannot post the jobs which require a lot of experience as here mostly the applicants are freshers or interns, so you might not get experienced people here. But overall this is a great platform for freshers and start-up companies who have a low budget and want to hire people at a lesser salary.
Visit Now
17) Jobvertise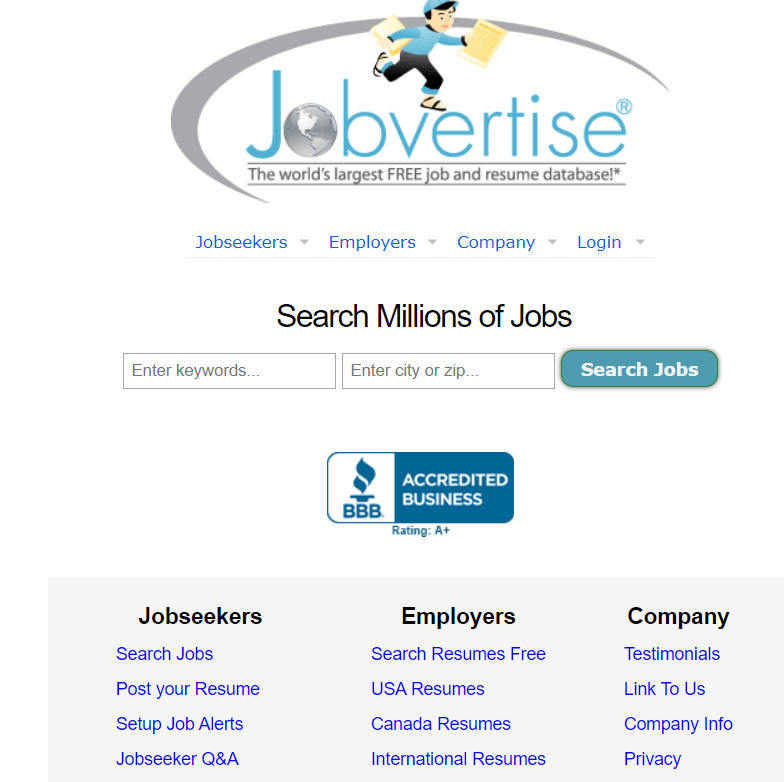 You would be glad to know that Jobvertise provides free job posting to all recruiters but there is a restriction on the count of daily views on vacancies. This website allows you to browse the resumes for free and the limitation is up to 10 every day.
This website receives thousands of resumes for freshers or new job seekers every week. This helps the recruiters to search for the required candidates by just applying the filter which is available on the site's database.
Also Read: How to Make Money from Home in India [The Ultimate Guide]
This website allows you to create talent pools and manage candidates. The filter option makes it pretty facile for recruiters to find the right candidate without any hassle in a short span of time.
This website has a premium version as well which is more beneficial as it enables you to search for more resumes and posting more jobs as in the free version you cannot post a lot of jobs.
Visit Now
18) WorkIndia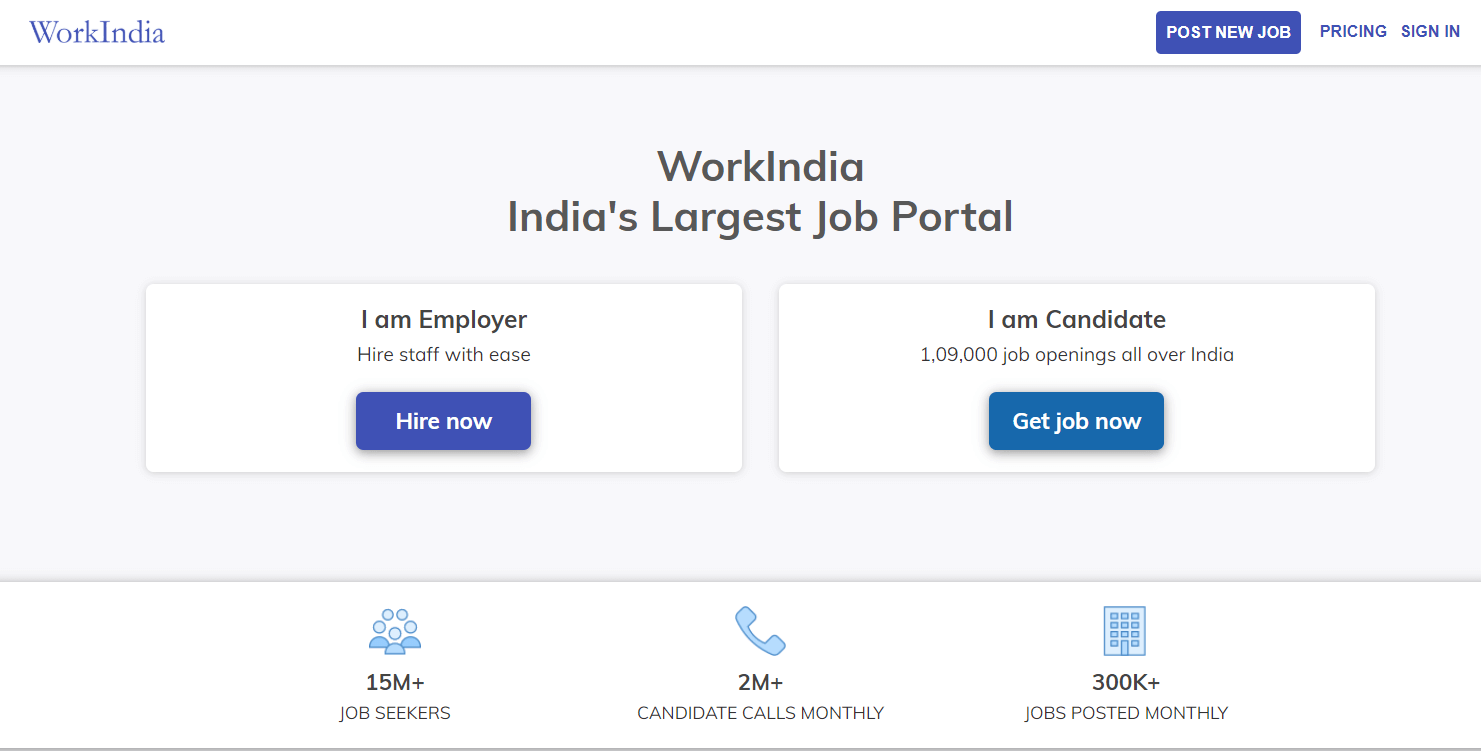 Well, the name of the website is very appealing and so is the website. This free job posting website is very user-friendly
as posting the jobs on this website is very easy. Registering on the website is very simple as you are just required to fill an online form and the registration is done.
Once you complete the registration, thereafter you would get a user name and password, which you would be using for logging in. The unique thing about this website is that they do not receive applications on your behalf, thus, you would have to give a postal address if you want to receive applications by an email ID or mail.
Completing the online job posting is trouble-free and can be done by any person who has basic computer knowledge. Hence, this website helps you in locating the right candidate, no matter where they are as it is very easy to find the right person with the filter option.
Visit Now
19) Wisestep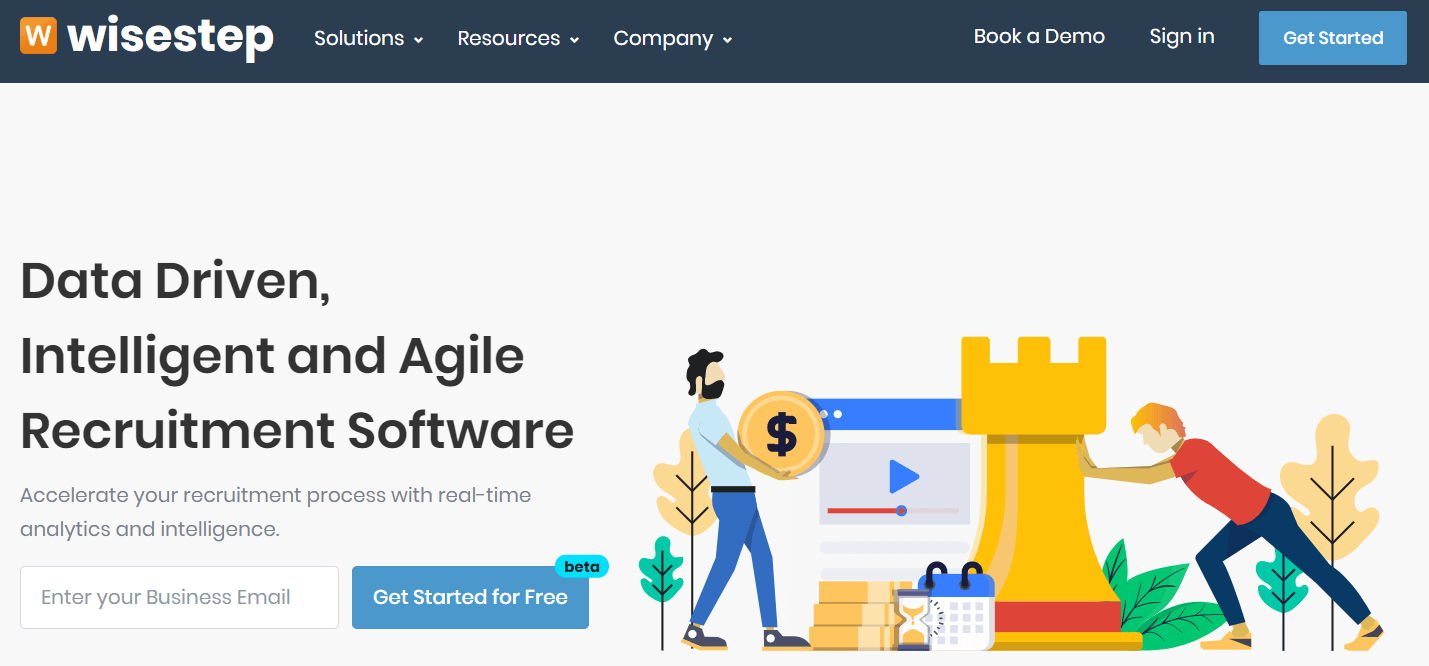 This website is a full recruitment platform that provides free job posting options. Its free plan is really good as it provides recruiters with an opportunity to post an unlimited number of jobs to numerous free hiring websites which include its own community as well.
This is a great platform as it enables the recruiters to easily manage candidates and find the right talent easily. It has numerous resumes uploaded on the website of both freshers and experienced people which means that this website is good for both small and large-sized organizations.
In fact, if the companies want they can also increase the number of application which they receive for an open job by 500%, by providing referral rewards to Wisestep users. All these great points make this website favourite of lots of recruiters and candidates.
Visit Now
20) Jobxoom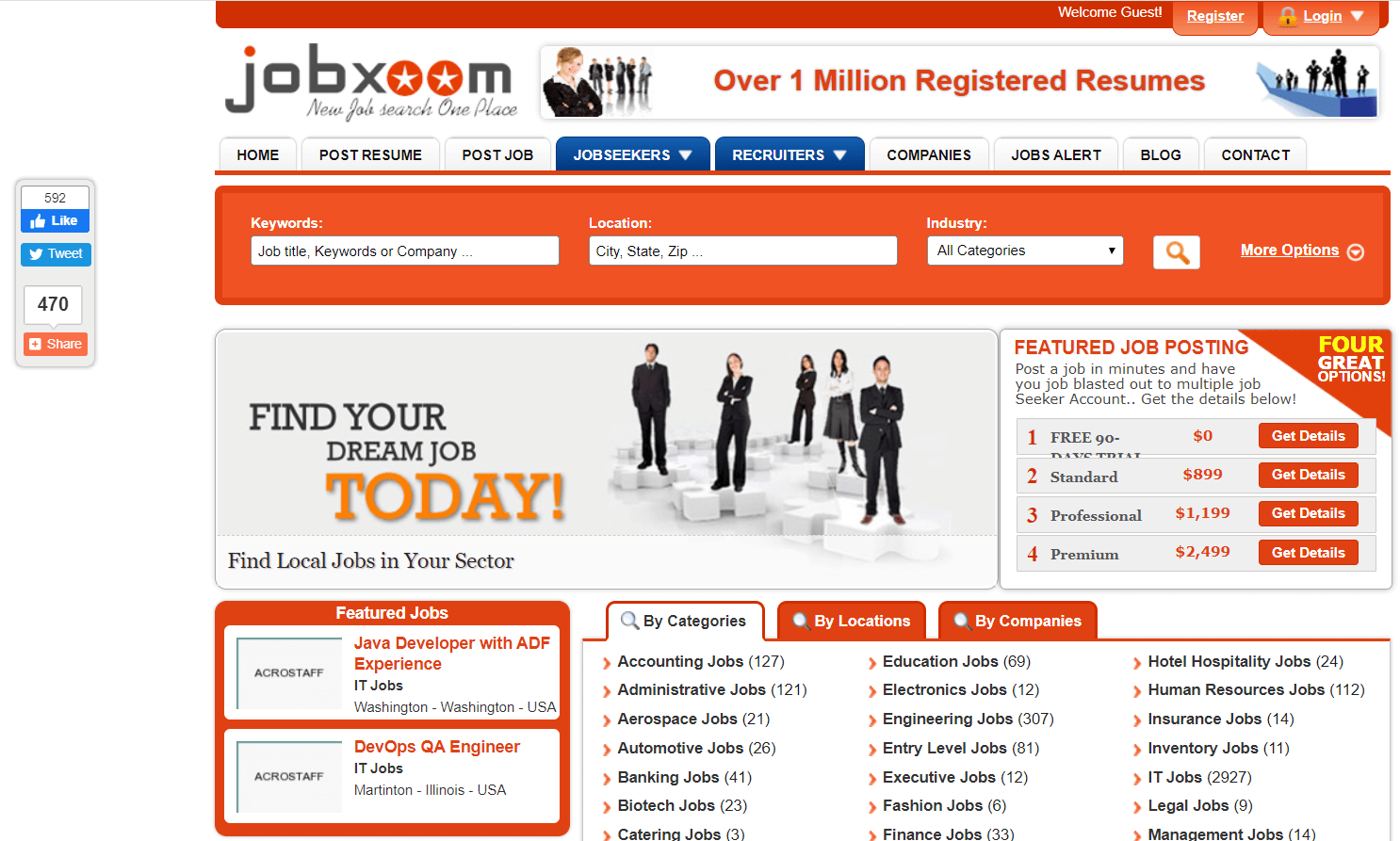 On this free job posting website you can post jobs in any sector across the US and any other country. It provides options for posting jobs one is free and the other one is paid version in which you get a lot more options to post vacancies and search for resumes.
It is a fantastic free job posting website as it benefits from more than 80,000 unique visitors every month and also lets recruiters post one of 60 industry-specific job boards. This site provides you with a three-month free trial in which the recruiters can post around 100 open vacancies during this period.
This website might sit at rank 20 on the list but still, a lot of candidates and recruiters love it because of the number of applicants it has plus it gives a three-month free trial which is enough time to get the post closed and if you love the result then you can also opt for the premium version.
Visit Now
Wrapping Up
India is one of the countries which has a pool of talent and there are numerous job seekers looking for the right opportunity. Thus, there are loads of free job posting websites and you can post vacancies on multiple websites to reach out to a massive audience and getting it closed quickly.
Recommended: 28 Best Online Business Ideas in India 2020
The best thing is that they are free and you can see multiple resumes and choose one as per your requirements. The only thing required is updating the ad frequently so that it remains on top and more people can apply for it. So next time, if you have any job opening then you can post them on these free job posting sites to help you hire the right candidate.