WHAT IS A FOREIGN SOURCE?
Foreign source, as per Section 2 (1) (e) of the Foreign Contribution (Regulation) Act, 1976 means the government of any foreign country or territory or its agency, international agency, a foreign company citizen of a foreign country (for more details see section 2 (1) (e) of the Foreign Contribution (Regulation) Act, 1976.) In other words, the foreign source may be:
1. Government of a foreign country and its agencies
2. Any international agency
3. A foreign company including its subsidiary
4. A foreign corporation
5. A multinational corporation
6. A company with more than 50% foreign equity
7. A trade union in any foreign country
8. A foreign trust or foundation
9. A society, club or other association of individuals formed or
registered outside India.
10. A foreign citizen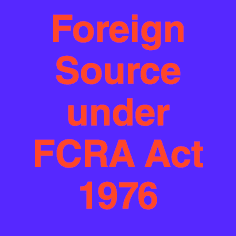 WHAT INSTITUTIONS ARE ELIGIBLE TO RECEIVE FOREIGN CONTRIBUTION?
1. Institutions registered with the Central Governments.
2. Institutions nor registered with the Central Government but which have obtained prior sanction from the central Government for receiving the particular contribution.
3. Organizations of political nature (other than political parties)
INSTITUTIONS AND PERSONS NOT ELIGIBLE TO RECEIVE FOREIGN CONTRIBUTION
1. Candidate for political elections.
2. Correspondent, columnist, cartoonist, editor, owner, printer or publisher of a registered newspaper.
3. Judges.
4. Government servants and employees of Government companies or corporations.
5. MPs and MLA's.
6. Political parties and their office bearers.