The opening of the 1,551st Bandhan branch at Kirnahar was announced on October 14, 2010, through a credit disbursal session by the Honorable Union Finance Minister of India, Shri Pranab Mukherjee. The credit delivery session and the subsequent Permanent Retirement Account Number (PRAN) Card distribution was organized by Bandhan in association with Corporation Bank. The event also coincided with the Durga Puja celebrations in West Bengal.
The event was also attended by Shri Chandra Shekhar Ghosh, Chairman & Managing Director, Bandhan and Shri Ramnath Pradeep, Chairman & Managing Director, Corporation Bank.
Borrowers and beneficiaries from Bandhan Microfinance came in large numbers despite speculations that the ongoing Durga Puja would restrict their attendance. A strong crowd of more than 3,500 people gathered on the occasion.
The Finance Minister complimented Shri Chandra Shekhar Ghosh and the Bandhan team for their ceaseless efforts at poverty alleviation through microfinance. According to him, MFIs have to complement and supplement the Banks in order to cater to a largely rural population of India.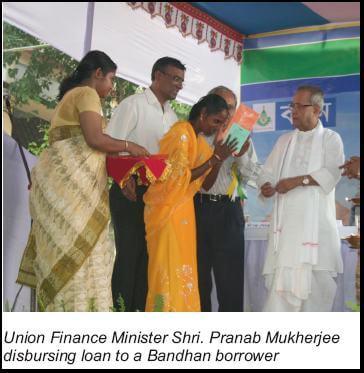 Bandhan borrower Purnima Majhi received a loan of RS 10,000 from the Hon'ble Finance Minister along with several other Bandhan borrowers like Latika Hazra, Noor Nihar Khatun, Altafunnessa Bibi and Adorini Hazra who were looking forward to the event since early morning.
Bandhan Microfinance which was established in 2002, currently has over 1,550 branches that cater to more than 3.1 million poor women clients. Bandhan's staff strength is around 9000 employees. Bandhan Microfinance has an on-time repayment rate of 99.78 %, cumulative loan disbursement of Rs 7,117 crores and a loan book of more than Rs 1,971 crores.