Banks are the biggest and most frequent source of finance when compared to other avenues. There are banks for people, for particular industries, and you even have a World Bank. There are government banks, private banks, and other lesser common types of banks that perform banking functions for the people and one such bank is the Federal bank. It is one of the private commercial banks of India that has its headquarters in Aluva, Kerala. There are more than 1,000 branches and ATMs of the bank present around the country serving the people. In this article, we will inform you about Federal Bank credit card apply process, Federal Bank credit card login, Federal Bank credit card eligibility check, Federal Bank credit card application status and Federal Bank credit card minimum salary.
Federal Bank Credit Card Apply Process
The basic job of banks is to lend money and to store money deposited by people in exchange for interest. Banks over the years have made an entry into lots of fields and perform a lot of functions for the general public and other concerned parties for some extra fee. It is important to be updated about different banks and their policies. Today, let us explore Federal Bank.
About Federal Bank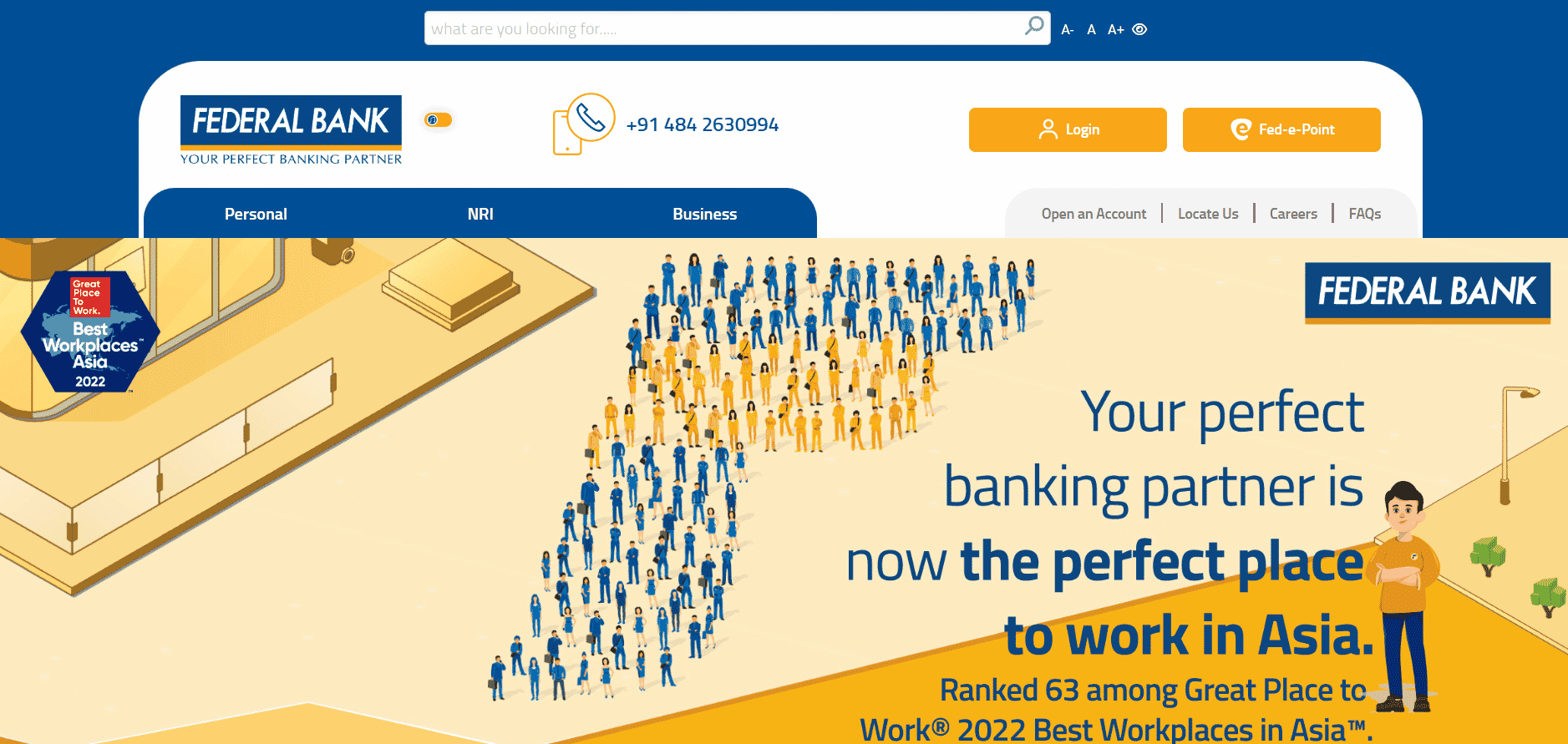 Federal Bank is one of India's top private commercial banks. The bank has 1,323 branches around the country and to go with it the bank has 1,355 ATMs and 515 cash recyclers. The bank came into being all the way back in 1931 on April 23 and initially it was known as Travancore Federal Bank Limited. Originally the bank looked after the finances of the people of Travancore province before it went national. Now it is active in many countries including Dubai, Qatar, Kuwait, Oman, and Abu Dhabi.
K.P Hormis is the person responsible for founding this bank. So far the bank has more than 1 crore happy customers it boasts about. With the Federal bank, you can borrow, pay, invest, and insure your money. The bank also has a 24×7 platform that lets you manage your bank account any time of the day from the comfort of your home and you can also do contactless and paperless banking via their platform.
Federal Bank Credit Card Apply
Like any other bank, Federal bank also offers credit card services to its customers. There are two ways that you can apply for a credit card. One is the online method and the other one is the offline method. If you want to apply by the offline method, then you would have to head to a Federal bank branch and submit the necessary documents that you are asked for. Federal bank credit card apply online method would require you to follow the steps mentioned below.
1. First, you need to head to the Federal bank official website on your device.
2. Click on Personal tab.
3. You will see many options, select Credit Cards from Cards.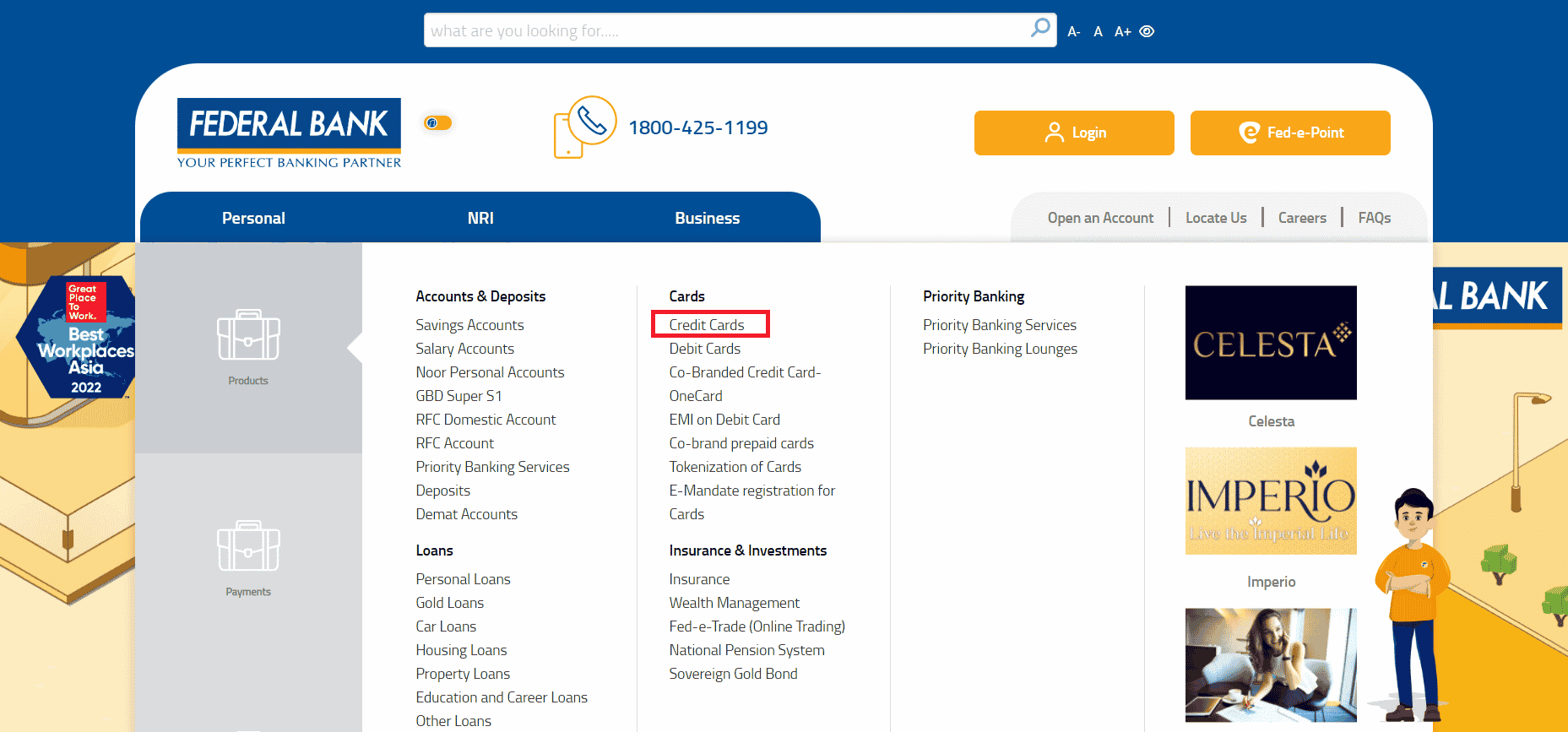 4. You will now see all the credit cards offered by Federal Bank. Choose the card you want to apply for and click on Apply Now option below the card. For example, we have taken Visa Imperio credit card.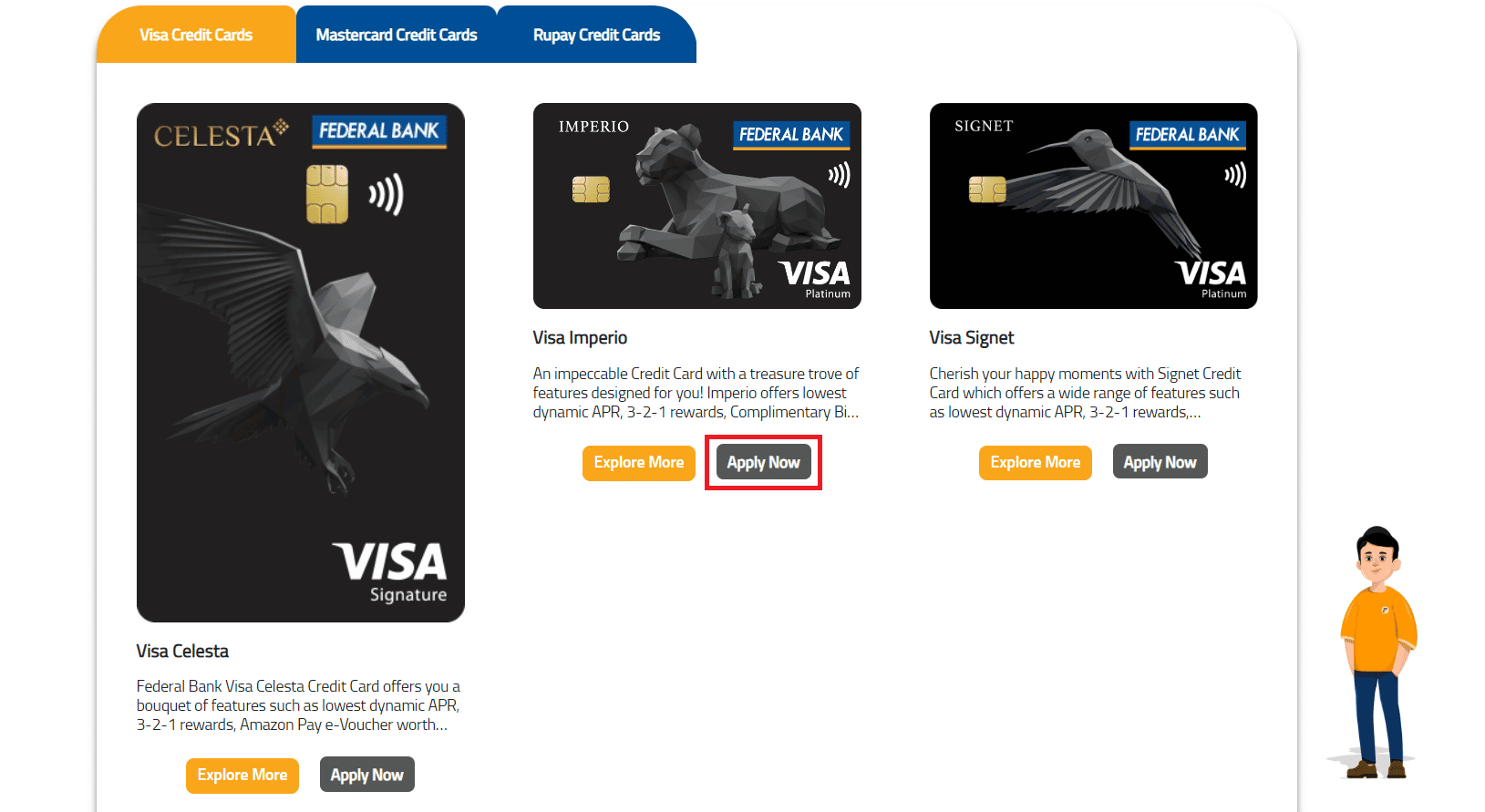 5. Now you enter your mobile number and tick the small box for authorization. Then click on Request OTP.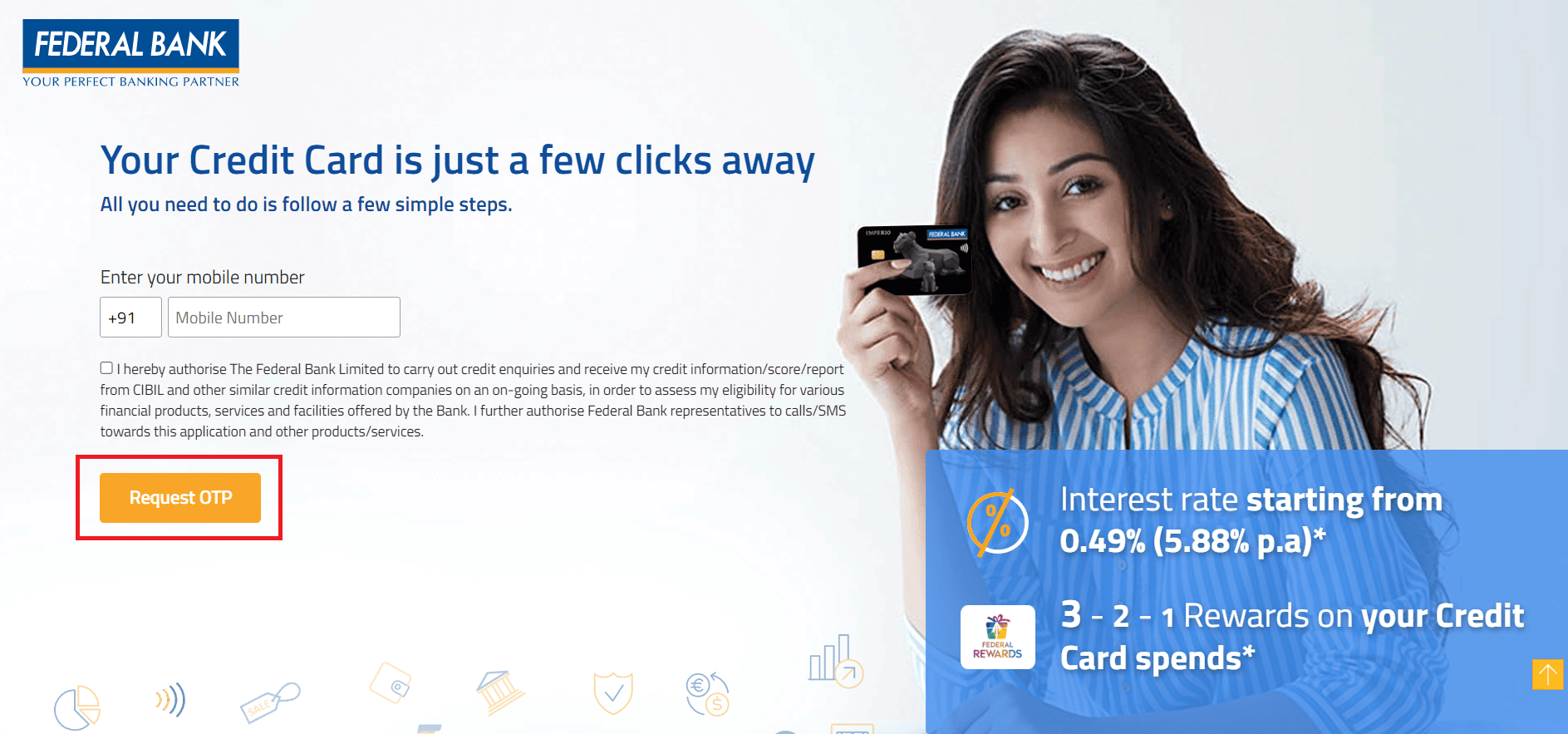 Now, all your credit scores and reports are checked and if you are eligible for a credit card then you will be asked for the necessary documents. Submit the necessary documents and complete the KYC process and once approved the bank sends you the credit card via courier.
In some cases, if you are eligible then completing the simple routine process should be more than enough to get a credit card.
Federal Bank Credit Card Login
Federal bank credit card login is simple like logging in to any other bank, put in your username and password and you are good to go. Today, you don't need to worry much about operating a credit card as there are tons of apps that let you manage your credit card, you can also get help from bank officials in regard to various matters like getting your online payment setup, setting up NEFT, etc.
Federal Bank Credit Card Eligibility Check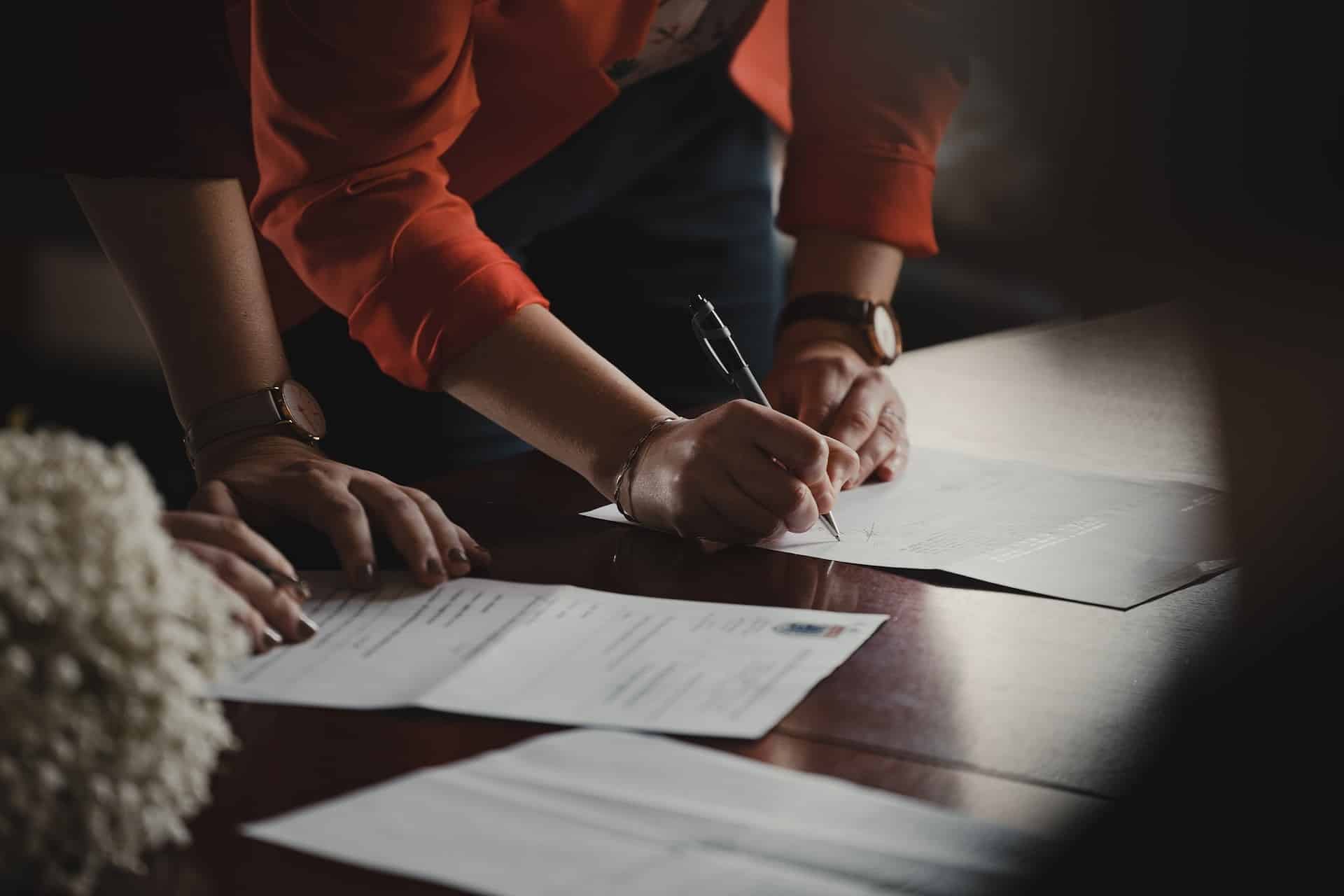 Checking the eligibility of the users is something that the banks do. Your credit score, CIBIL score, and other necessary track records are checked by the bank personnel before you can be given a credit card. However, obtaining a credit card is not that easy, there are a few requirements that you need to meet to even be eligible to apply for credit cards. A federal bank credit card eligibility check is necessary on your part to know beforehand whether or not you fall in the category that can apply for your card.
Different credit cards require different criteria to be met, some need a fixed level of income while others need age requirements to be met, and so on, but the general eligibility criteria for Federal bank credit cards are for the person applying to be between the age of 21 and 65. The second requirement to be met is that the person applying for the card is a salaried person or a self-employed person. If you meet these two basic criteria then you have cleared level one requirements to obtain a Federal bank card.
Federal Bank Credit Card Application Status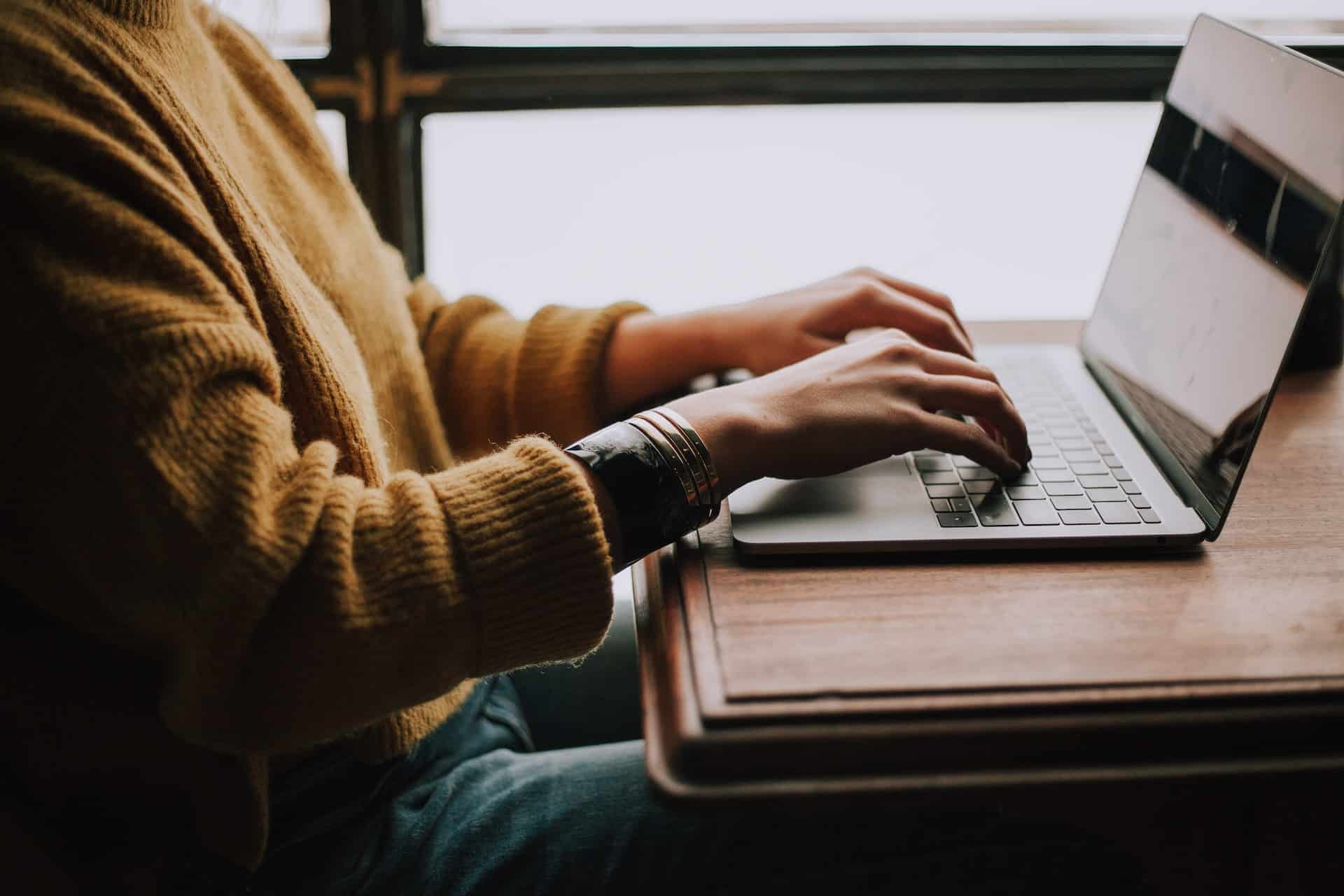 Once you have applied for a credit card the wait for the card begins. There is not much to do but to wait and check the status of the application to receive any update about the possible progression in the process. Federal bank credit card application status check is easy to do and even new users might not encounter any difficulty in doing so.
Once you apply for your Federal bank credit card application, you will be shown the option of checking the application status in the credit card section. However, to be able to check the status using this method you will need to have the bank app downloaded on your device and check the status via it. You can also use the website, but then you would first have to log in using your username and password and then you can check for the application status.
Federal Bank Credit Card Minimum Salary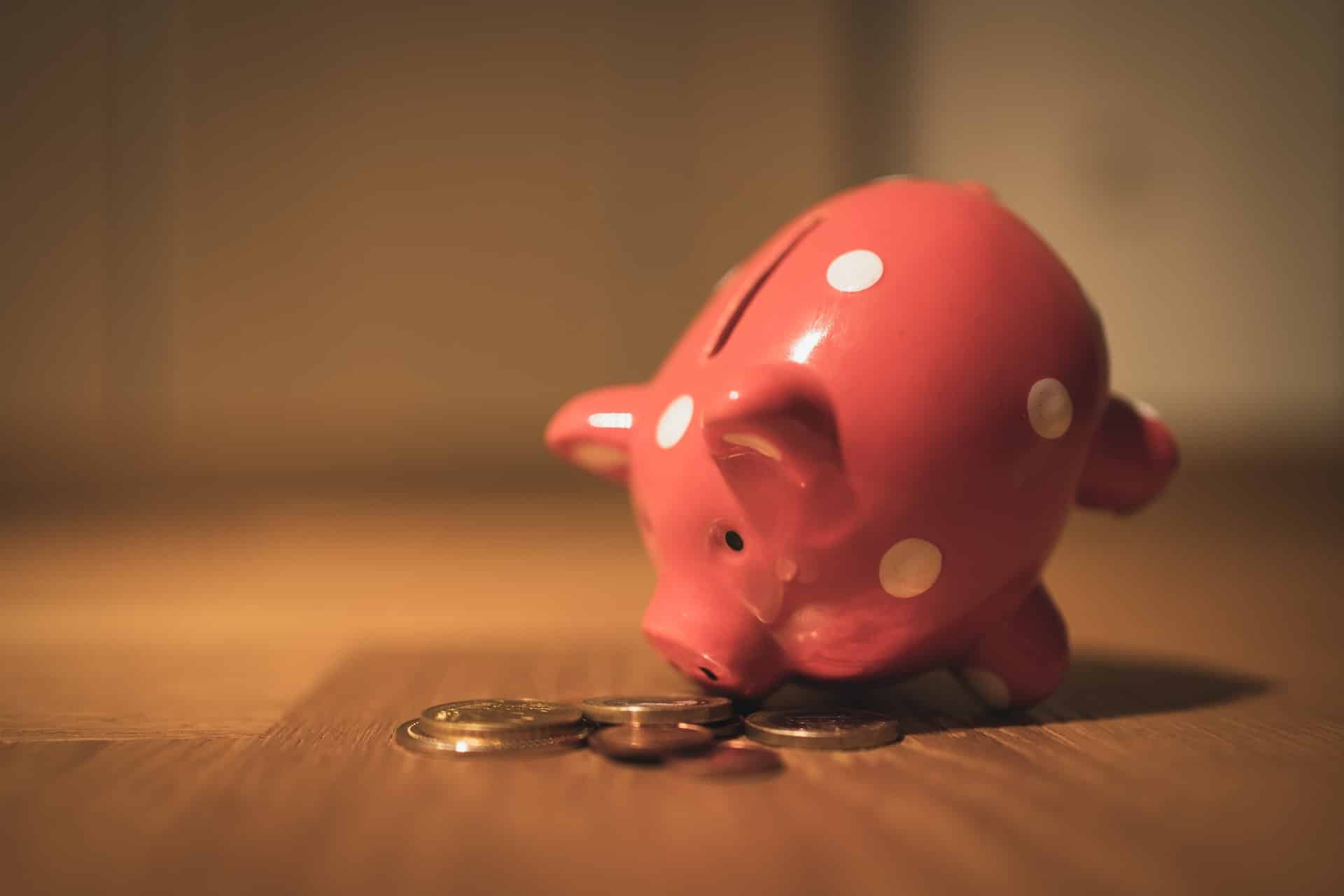 As stated above, each credit card will come with its own restrictions and features. Some cards are premium while others are normal, some credit cards are cashback ones, and the others are for travelers or diners, etc. each card is unique and serves a different purpose, and has a different target audience and so the requirement for each of them might be different. However, if you are a salaried person, then to get a Federal bank credit card minimum salary that you would need to be earning is rupees 18,000 a month.
If you are self-employed, even then the figure is similar for you to match to be eligible to get yourself a Federal bank credit card. If you have that level of income and meet the basic age and occupation criteria then that makes you eligible for a Federal bank credit card.
Also Read: List of Commercial Banks in India
Important points related to Federal Bank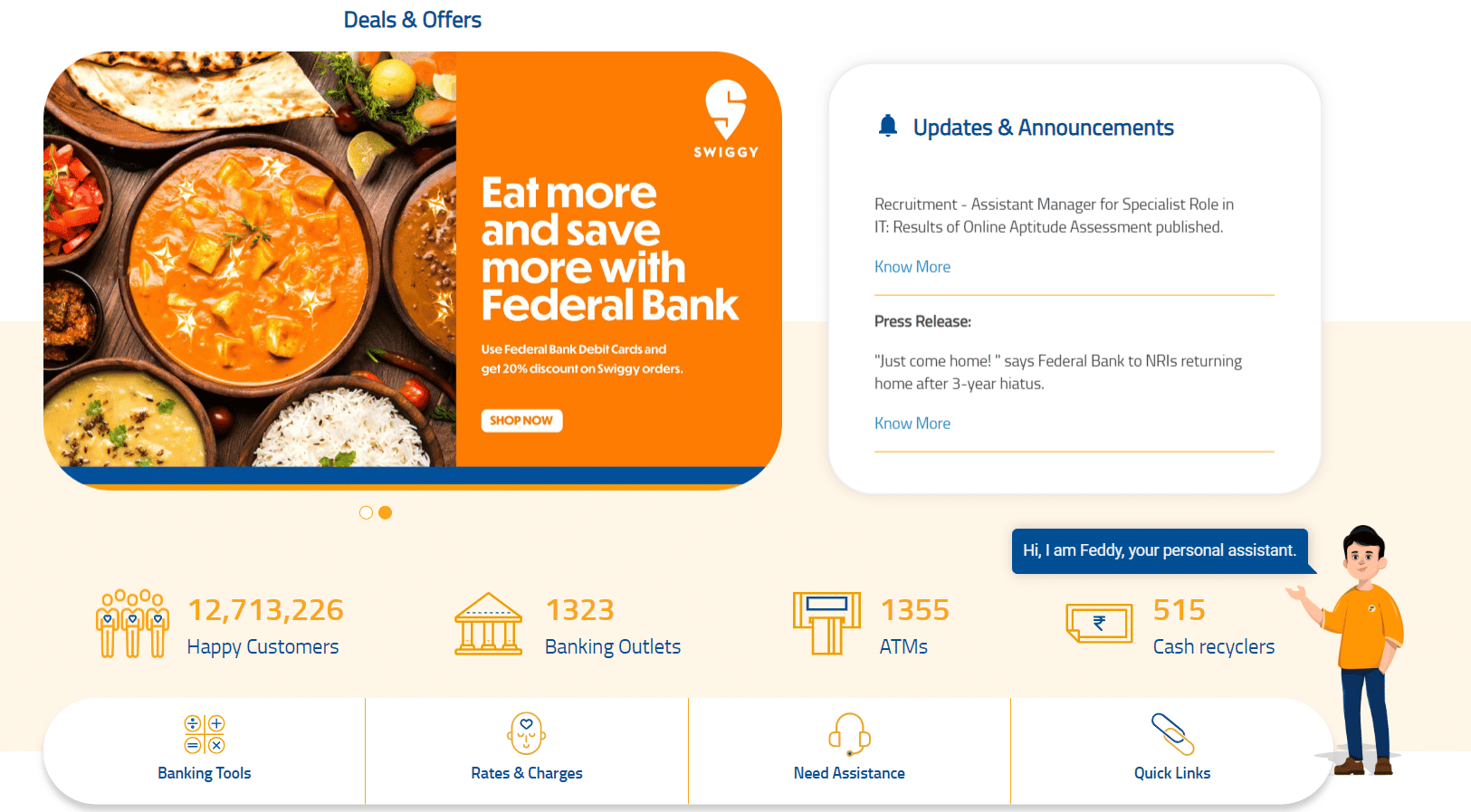 You now know much about credit cards from Federal bank, however, there is still a lot that you don't know about Federal bank and it is about time that we move on from credit cards and look at other important points.
The bank is not just limited to India as it also has representative offices in different countries.
Federal bank provides their customers with various services which include but are not limited to retail banking, wholesale banking, finance and insurance, mortgage loans, wealth management, investment banking, credit cards, and debit cards.
Federal bank has a huge customer base of over 10 million people out of which 1.5 million are NRIs.
In 2018 India saw an inward remittance of 79 billion, 15% of this amount was handled by the Federal bank due to its huge and strong network of remittance partners. The number of its partners that are banks and exchange companies stands at 110.
Federal Bank is not only registered in the NSE and BSE but also has been registered at London Stock Exchange and has a branch in India's first International Financial Services Center at GIFT city.
In terms of capital base, the bank is 4th largest in India. The IPO of the bank came out in 1994. The bank became a scheduled commercial bank in 1970.
Out of its many overseas representative banks, the first representative bank opened in Abu Dhabi in January 2008 and the second one opened in the UAE, Dubai in November 2016.
In the year 2019-20, the Federal bank became the lead sponsor of the Indian Super League team NorthEast United FC.
The share price of Federal bank is currently 113.9 rupees.
The market cap of the company is more than 20,000 crores.
The dividend yield of the company stands at 1.58%.
Pros and Cons of Federal Bank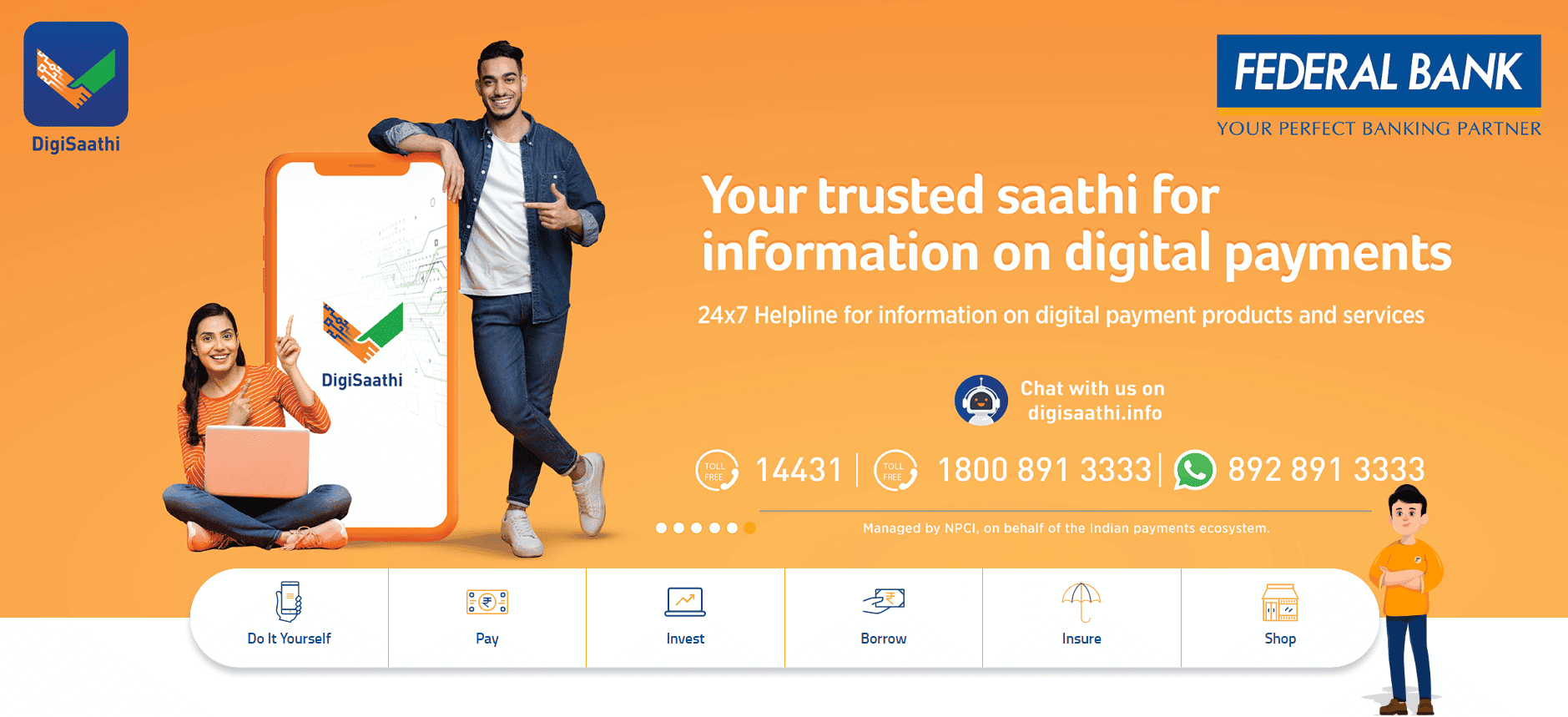 Although a bank cannot be judged much based on pros and cons here are a few points that can or rather should be taken into consideration when choosing to go with the services of a bank, as this is about money and money needs to be treated with the utmost care.
Pros
The net NPA ratio of the bank is low.
The loan-to-deposit ratio of the bank is low.
Cons
The EPS growth rate of the bank is unsatisfactory.
Returns on Equity of the bank are also mediocre.
Now that might not be much to base your decision on, but every small point is a significant point when it comes to money. We hope with this much information, you can understand the scale of the Federal bank and its place as one of India's top banks.
We showed you the entire Federal Bank credit card apply process and informed you about Federal Bank credit card login, Federal Bank credit card eligibility check, Federal Bank credit card application status, Federal Bank credit card minimum salary. It would be a difficult task to go around and find a better bank that makes owning a credit card this easy and operating it even easier.