Equitas Holdings Ltd has fixed the dates when its shares would be offered to the public through an IPO. The Equitas IPO would open on the 5th of April,2016 and close on the 7th of April, 2016. The company received approval from SEBI in January 2016 for its Draft Red Herring Prospectus.
It has fixed a price band of Rs Rs 109-110 per equity share of face value Rs 10 and it hopes to raise Rs 2,176 Crore at the upper end of the price band. Out of this amount raised Rs 720 Crore will accrue to the company through a new issue of shares while the remaining Rs 1456 Crores will go to the foreign investors who are selling their stake in the company. If you are keen to know the allotment status of your Equitas IPO application subscribes to our newsletter in the sidebar to receive regular updates.
History of Equitas Microfinance
The company was set up in 2007 as an NBFC by Mr. P. N Vasudevan and has its head office in Chennai, Tamil Nadu. After the Andra Pradesh Microfinance crisis in 2010, the company started offering vehicle and housing loans to diversify its portfolio. In comparison to it's peers, Equitas is placed in the 8th place with regard to the branch network and it had 361 Branches as of March 2015. This is a fraction of the more than 2000 branches that Bandhan Bank operates through. Equitas also had a loan portfolio outstanding at Rs 2144 Crore at the end of FY2014-15. You can read a detailed report on Indian Microfinance Companies and the state of the Microfinance sector at the link below:
Bharat Microfinance Report 2015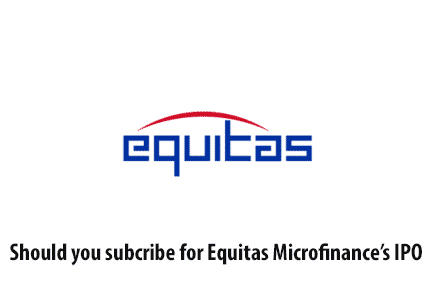 5 Reasons which you should not invest in Equitas Microfinance's IPO
Lack of Promoters Faith in the Company
The promoter P. N Vasudevan holds a meager 3.5% stake in the company, but that is not deterring him from offering more of his shares for sale in the IPO. It represents a complete lack of confidence from the founder and promoter in the future of the company. Most promoters hold on to their stock because they always believe that the company will be worth more in the future, but not Mr. Vasudevan, it seems he is more interested in cashing out when the time is right.
Uncertain future of the Equitas Microfinance Bank
About 10 microfinance companies have been issued small finance bank licenses by the Reserve Bank of India till late last year. Most of these 10 banks are going to begin their operations in 2016. Now the competition is going to heat up among small banks and this will negatively affect profit margins. While the consumer will benefit, investors who invest in such companies may not get an attractive return in the medium term.
Foreign Investors Cashing Out
The current foreign investor shareholding in the company stands at 93% and this will drop down to 35%. The RBI requires microfinance companies to have less than 50% foreign shareholding before it issues the bank license. While Equitas microfinance may get the bank license, retail investors must consider what motivates foreign investors.
Remember when Sequoia sold us an inflated lemon called SKS Microfinance
Yes, this is another of the marquee companies from Sequoia Capital's famed stable. SKS Microfinance in 2010, came out with an IPO with an issue price of Rs 985 and sold a large number of shares to the gullible public who lapped it up. Within 6 months the stock was trading below Rs 500 because of the Andhra Pradesh Microfinance crisis.
Murmurs of another crisis in the Microfinance Sector of India
In January 2016, the Wire magazine published a scathing indictment detailing how the sector was lurching towards another microfinance crisis because of multiple lending. It remains to be seen if this is going to blow up anytime soon.
Who can invest in the Equitas IPO?
Those who have a long term outlook of 5-10 years. India is a growing economy and it's banks no doubt will play an important role in its future.
Those looking for listing gains, as such issues are controlled by FII's and banks, you could expect to make nominal listing gains. Also since the share price is low, one could expect a significant pop in the prices on listing day.
Some FII's could be selling because of RBI guidelines which mandate that banks have less than 49% holding. In such a scenario they could end up buying from the open market after the listing, driving up share prices.
The company's share sale issue might be oversubscribed and the allotment ratio might not be favorable for retail investors. Such investors might then buy when the Equitas share lists and this could lead to a rise in the share price.
You can read the Company's DRHP and take a final call on whether it is worth investing in this company.