In today's competitive market, every organisation wants to stay ahead of its rivals. Thus, they are prioritising open innovation to enhance their business. Such a tool is required to improve existing products, develop new ones, create innovative business models, and optimize expenditure in research and development. Due to so many benefits, many small and big companies are embracing this policy to do better in the corporate world. According to a new research, open innovation is considered essential by organizations to solve problems of sustainability and profitability.
Open innovation is considered crucial by 75% of organizations for addressing complex challenges in today's business landscape, according to a report by the Capgemini Research Institute. The report reveals that:
71% of organizations plan to increase their investment in open innovation practices over the next two years.
28% intend to maintain their current investment levels.
Moreover, 83% of organizations perceive open innovation as a critical success factor in achieving sustainability goals.
Interestingly, 68% of companies have only started focusing on open innovation for sustainability purposes in the last two years.
However, those that have already implemented open innovation initiatives report improvements in environmental sustainability indicators (63%) and social sustainability indicators (55%).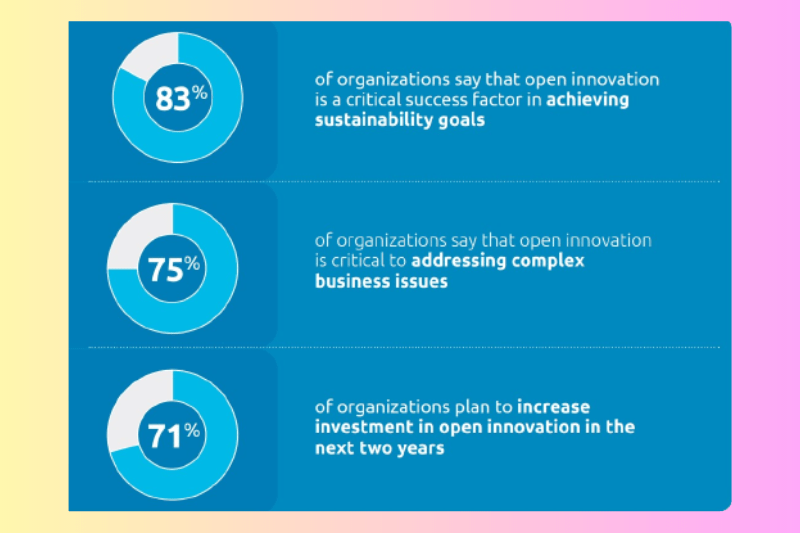 In terms of investment in open innovation labs, New York currently holds the top spot, followed by London. However, Paris is expected to rise to the third spot in the next two years, surpassing San Francisco.
Overall, three out of the top five cities where organizations plan to invest in open innovation labs in the next two years are in Europe (London, Paris, and Berlin). Organizations are also diversifying their geographical approach to open innovation labs, with cities such as Boston, Melbourne, Toronto, Beijing, and the Guangdong-Hong Kong-Macao Greater Bay Area (GBA) rising in the rankings.
The primary factors influencing companies' decisions on where to invest in open innovation labs include quality of life, city infrastructure, access to technology partners, customers, and suppliers.
Benefits of Open Innovation

The benefits of open innovation extend beyond sustainability.
More than 60% of organizations experience improved operational efficiency, increased agility, and stronger revenue as a result of adopting open innovation.
Additionally, over 50% companies report increased speed of innovation.
62% reported greater employee agility and adaptability due to their open innovation efforts.
Large organizations struggle to effectively leverage new sources of innovation and prefer working with traditional partners like customers and suppliers rather than non-traditional partners such as universities, industry consortiums, and non-profits.
These successful organizations are also more inclined to collaborate with non-traditional partners, including startups.
The report highlights that organizations taking a more daring approach to open innovation and applying it to new or riskier business areas are reaping greater benefits.
However, only 22% of organizations describe their open innovation outcomes as good or excellent. 53% have rated the results as above average.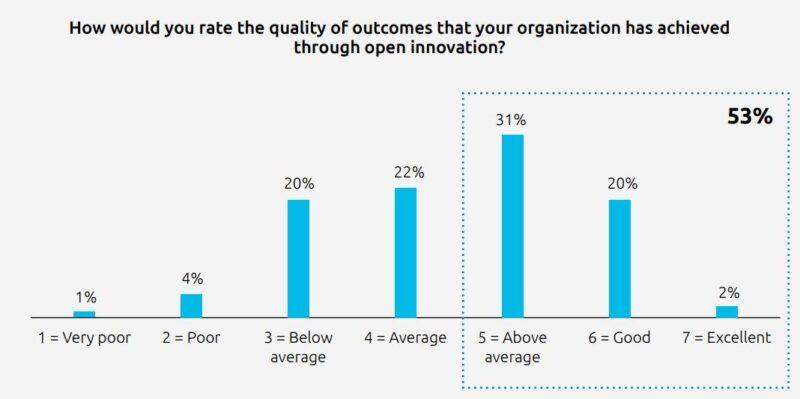 Some Important Facts
While telecom and technology organizations are enthusiastically embracing open innovation, with a remarkable 60% reporting positive outcomes, financial services organizations are slightly more cautious, with only 47% experiencing similar levels of success.
With the exception of crowdsourcing, which is considered effective by 55% of organizations, the majority of open innovation models have not consistently demonstrated their effectiveness for most organizations, open innovation labs being the least productive.
While open innovation yields positive outcomes for startups, academics, and non-profits, only 53% of large organizations view the outcomes as positive.
Leaders are more likely to participate in open innovation in adjacent business domains (70%), while the rest of the individuals involved in this practice account for 56%.
Moreover, leaders exhibit a higher inclination towards engaging in open innovation in long-term and high-risk domains, with a percentage of 16%, in contrast to only 5% among the rest.
Approximately 45% of organizations have reported positive outcomes from working with customers, closely followed by 40% who have experienced favourable results through collaborations with suppliers.

Open innovation is considered essential by organizations to solve problems of sustainability and profitability. The study indicates that expanding the ecosystem to include a diverse set of partners is crucial for achieving better outcomes in open innovation. Pascal Brier, Chief Innovation Officer at Capgemini, emphasizes that nurturing a culture of open innovation is a critical success factor for organizations transitioning to a digital and sustainable economy.
Source: Capgemini Report