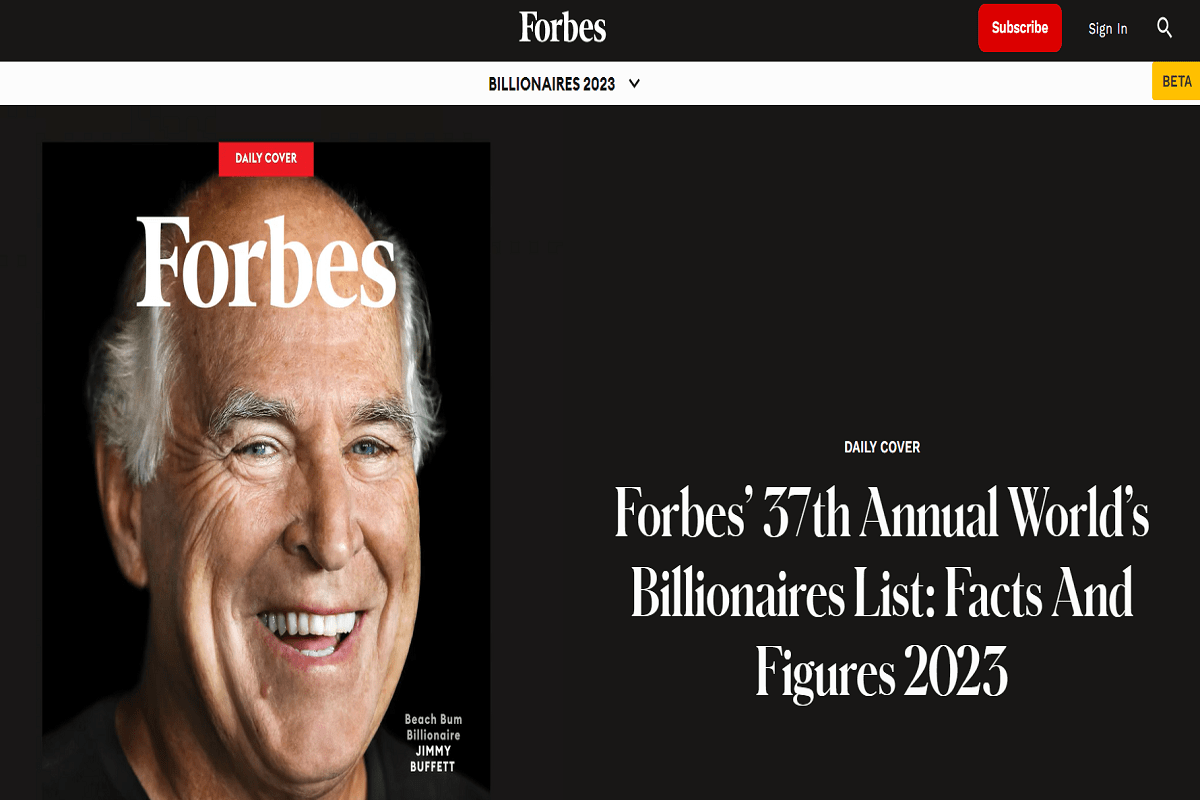 Elon Musk is now 2nd richest billionaire on the Forbes' annual World's Billionaire's List and has officially lost his top spot on the list. As Elon Musk loses his top spot on the Forbes' annual World's Billionaire's List, Bernard Arnault, the head of the French luxury goods conglomerate LVMH, sits at the very top of the list.
Musk's current net worth is projected to be $180 billion, down $39 billion from the previous year. Shares of Musk's electric automobile manufacturer Tesla plunged roughly 50% after the announcement in April 2022 of his $44 billion purchase of Twitter, which was backed by Tesla shares and thus spooked investors.
WATCH: Billionaire Bernard Arnault Is The Richest Person In The World Ahead Of Elon Musk | #ForbesBillionareshttps://t.co/y31RTOiXjG pic.twitter.com/aIAezP4mar

— Forbes (@Forbes) April 5, 2023
Tesla has recovered much of its losses this year, but it is still much lower than it was when Elon Musk purchased Twitter. Despite SpaceX's valuation reaching new highs in the market, Musk's fortune is $39 billion short.
Musk's wealth loss is only second to that of the founder of Amazon, Jeff Bezos, the world's third-richest person, valued at $114 billion. He's $57 billion worse than he was in 2022, due to a 38% drop in the shares of the e-commerce behemoth.
However, nobody had a better year so far than Bernard Arnault, who ascended to the top of the World's Billionaires list for the first time. It is also the very first time a French national has topped the World's Billionaires list.
Arnault, who is believed to be worth $211 billion, has added $53 billion to his wealth in the last year thanks to an 18% increase in LVMH shares, giving him a larger gain than any other billionaire in the world.
Astonishing sales and earnings have propelled his luxury goods behemoth LVMH—which owns brands such as Louis Vuitton, Christian Dior, and Tiffany—to unprecedented heights.
Over half of the world's billionaires are poorer than they were one year earlier. A total of 254 people have lost their billionaire status entirely, including Sam Bankman Fried, Gary Wang, Kanye West, and at least 19 founders of billion-dollar "unicorn" companies, including Alex Atallah and Devin Finzer, and Henrique Dubugras and Pedro Franceschi.
As Elon Musk loses his top spot on the Forbes' annual World's Billionaire's List some huge winners have emerged this year, such as Spanish merchant Amancio Ortega, Chinese e-commerce tycoon Colin Zheng Huang, and Indonesian coal baron Low Tuck Kwong.
Source: Forbes