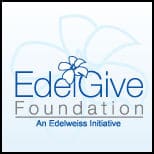 EdelGive Foundation, the philanthropic arm of Edelweiss Capital Ltd. last week announced the winners of the Third EdelGive Social Innovation Honours (ESIH 2011). Following a stringent four-stage evaluation process five outstanding NGOs have been announced winners for their innovative work in the areas of Health and Well-Being, Education, Livelihoods, Governance, and Social and Cultural Rights of women.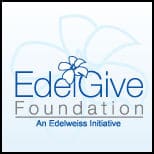 The winning NGOs of this year's award are
Jan Chetna Manch (Health and Well-Being), Jharkhand, for the outstanding work done to empower and improve the lives of the weakest and poorest in the villages of Bokaro district, with a particular aim of improving the overall health and well being of poor rural women.
Foundation to Educate Girls Globally (Education), Rajasthan, an organization that has significantly improved girls' enrolment, retention, and academic performance in Government schools, by leveraging existing community and Government resources in the state.
Prajwala (Economic Security & Livelihoods), Andhra Pradesh, an NGO that has emerged as an anti-trafficking organization, that rescues women and children from prostitution, enabling their psychological recovery, and rehabilitating and reintegrating trafficked victims back into the society.
The Hunger Project (Governance), New Delhi, an organization committed towards gender equality and women's empowerment through political participation.
STEPS Women Development Organisation (Socio-Cultural Rights) Pudukottai, Tamil Nadu, a women's organization that works on issues to do with violence and women's rights, with a sharpened and special focus on the rights of Muslim Women.
According to Ms. Vidya Shah, Executive Director and Head, EdelGive Foundation, "In India, a high number of women and girls remain marginalized and disempowered. Through the ESIH awards, EdelGive Foundation over the last three years has raised the awareness of issues surrounding women and the girl child and has supported organizations with path-breaking approaches to tackle these challenges. Going forward, EdelGive is committed to supporting the distinctive work of these NGOs through both funding and capacity building support."
ESIH 2011 aims to identify and reward organizations that are innovating to empower women in India. The objective is to showcase and support organizations with unique approaches to tackle the challenges that women face in our country. Prize money of Rs. 50 Lakhs is being awarded to the winners across five categories of Health & Well Being, Education, Economic Security & Livelihoods, Social and Cultural Rights, and Governance. Apart from award money, the Foundation has enhanced its focus this year to provide capacity building support to winning NGOs.
The winners have been selected from a pool of 235 participants across India. The selection process involved a four-stage evaluation process supported by Ernst and Young as process advisors and official tabulators and included an initial application, shortlisting by an internal jury, visits by field assessors from the Tata Institute of Social Sciences (TISS) and final selection by an external jury of prominent members from the corporate, media and social sectors.