The war with Ukraine has brought heavy economic sanctions upon Russia from other developed nations. However, the country has so far avoided economic fall-out, instead improving its financial condition through other means. According to the latest June survey conducted by the Central Bank of Russia (CBR), economists have revised their outlook for the Russian economy reflecting improved predictions.
The forecasted ranges provided by analysts for most indicators over the next three years have been progressively narrowing, as indicated by the shaded areas in the charts. However, when it comes to nominal wages, exports, imports, and oil price, the projected ranges remain broad throughout the entire forecast period. Furthermore, the ranges for the exchange rate, exports, imports, and oil price are expected to widen by the conclusion of the forecasted timeframe.
Prediction about the Economic Indicators for Russia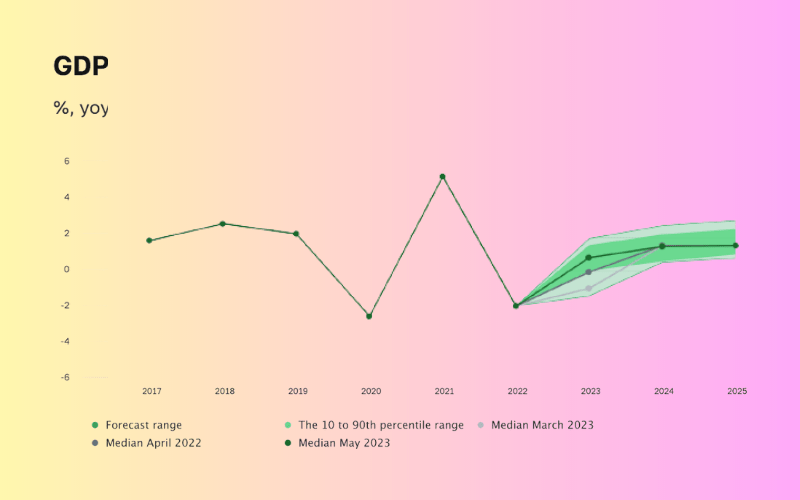 Initially, analysts anticipated a GDP growth rate of -0.1% for this year, but they have now upgraded it to 0.8%. CBR expects the growth rate of GDP to remain at 1.6% in 2025 and in the long term. The central bank's own forecast falls within the range of 1% to 2% for this year.
In terms of inflation, the median forecast for this year has been lowered to 5.5%, a decrease of 0.4 percentage points from the previous April survey. However, this figure still exceeds the target rate of 4%.
The tight labour market will lead to continued growth in nominal wages coupled with declining inflation. This will result in an increase in real wages and contribute to Russia's overall economic growth. The projected increase in nominal wages for 2023 has risen once again, surpassing the previous estimate by 0.8 percentage points to reach 9.7%. By the end of the forecast period, real wages are expected to experience a substantial growth of 8.8% compared to their 2021 levels.
Trade performance remains strong, with $500 billion in exports of goods and services and $375 billion in imports, resulting in a trade surplus of $125 billion. Although this is lower than the record surplus of $275 billion in 2022, it matches the previous record set in 2021 of $120 billion.
The analysts' expectations indicate a slight downward adjustment in the forecasts across the entire horizon. It is predicted that in 2023, the average price of Urals oil will be approximately $56 per barrel, which is $4 lower than the previous April survey. In 2024, the price is expected to increase to $60 per barrel, representing a decrease of $4 from earlier predictions, and this level is anticipated to persist in 2025 with a $2 reduction.
Economists predict a budget deficit of 2.7% of GDP for this year, which is worse than the Ministry of Finance's target of 2%. However, Finance Minister Anton Siluanov has acknowledged the possibility of missing this target.
According to analysts, the Ruble is anticipated to experience a slight depreciation. The forecast for the year 2023 suggests a rate of 76.9 Rubles per dollar, while for 2024, it is projected to be 77.9 Rubles per dollar. Looking further ahead, in 2025, the expected rate is 79.5 Rubles per dollar, indicating a revision of +0.6-1.2% compared to the April survey.
Also Read: Surpassing All Expectations, United States Witnessed a Remarkable Surge in Economic Growth
World Bank's Prediction about Russia's Economy
In 2023, World Bank has improved its outlook for the Russian economy due to stronger-than-expected revenues from energy exports to countries like India and China. In its semi-annual report on the global economy, the bank stated that the Russian economy is now expected to experience only a slight contraction, which is a significant change from its previous prediction of a more pronounced economic decline.
The trade sanctions imposed by the European Union, the United States, and other nations on Russia following its invasion of Ukraine last year led to a significant reduction in Russian oil and gas exports to those countries. However, Russia managed to offset the lost revenue by increasing exports to other countries, including India and China.
Economists have revised their outlook for the Russian economy reflecting improved predictions. This positive revision in Russia's short-term growth forecast aligns with a similar alteration made by the International Monetary Fund in April.