Godfrey Phillips Bravery, a Corporate Social Responsibility initiative of Godfrey Phillips India, today honored twelve persons from across the country with Godfrey Phillips National Bravery Awards.
This year, at the Godfrey Phillips National Bravery Awards, Dr. Jaya Arunachalam, President of, Working Women's Forum India (http://www.workingwomensforum.org) of Tamil Nadu, was honored with Social Lifetime Achievement Award in recognition of her services to support and empower poor women by instilling entrepreneurial skills among them.
The Women's India Trust of Maharastra (http://www.wit.org.in) received the Amodini Award for its charitable work in helping the less fortunate women to secure a better future. The Trust is dedicated to the original aim of its founder, Kamila Tyabji – to help empower women.
The Special Social Achievement Award was given to Dr. Vikram Akula, Founder, and Chairman, SKS Microfinance. Vikram Akula successfully spearheaded a movement to provide poor people access to financial services, such as credit and insurance.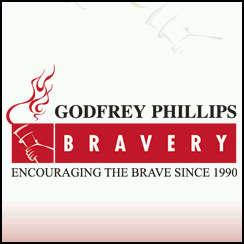 The awards have been instituted to encourage a culture of selfless action and empower the less fortunate. The Godfrey Phillips Bravery Awards have recognized over 1200 persons across the country belonging to different social strata till now for their contributions to making a better society.
The Godfrey Phillips Bravery Awards are held for the states of Himachal Pradesh, Uttaranchal, Punjab, Haryana, Uttar Pradesh, Rajasthan, West Bengal, Orissa, Chhattisgarh, Madhya Pradesh, Delhi, Gujarat, Maharashtra, Goa, Karnataka and Andhra Pradesh.