The last few years have seen the microfinance industry in India grow by extraordinary leaps and bounds. Microfinance Companies have seen their outreach, impact, and sustainability grow exponentially. The Finance Ministry and the Reserve Bank of India have recognized the important role played by MFI's in the economy by granting them banking licenses. MFI's are today leading the financial inclusion drive in the country. MUDRA loan financing now makes it easy for microfinance companies to access funds.
With a large number of policymakers and regulators focused on the sector, it is important to determine who are the real microfinance companies operating in India. Nowadays anybody can claim to be a microfinance company to get benefits from the government and fool the public. There have been numerous instances where fraudulent companies have charged a commission to process loans, only to disappear overnight after collecting the fee.
To overcome these problems, Sa-Dhan the apex organizations of MFI's and NGOs in India has come up with a self-reported MFI directory. The directory is in its second edition and contains the complete list of microfinance companies having operations in India. The information is verified and vetted by industry veterans. The data has also been cross-checked with internal and government databases.
The directory also provides the full contact information including the name of the organizational contact person, email address, office address, and telephone number. The directory also carries information about the number and name of the states that MFI's are operating in, different products and services provided, client outreach, managed portfolio, BC portfolio, and gross loan portfolio. So whether you are a researcher or a marketeer you will the directory below useful.
Validity Of Information
The below directory was released in November 2016 and can be considered to be valid throughout 2017 until November 2018 when the next updated version will be released. If you require a hard copy of the below document you can get it from the Sa-Dhan Offices located across India.
Download Full List Of Microfinance Companies at the link below: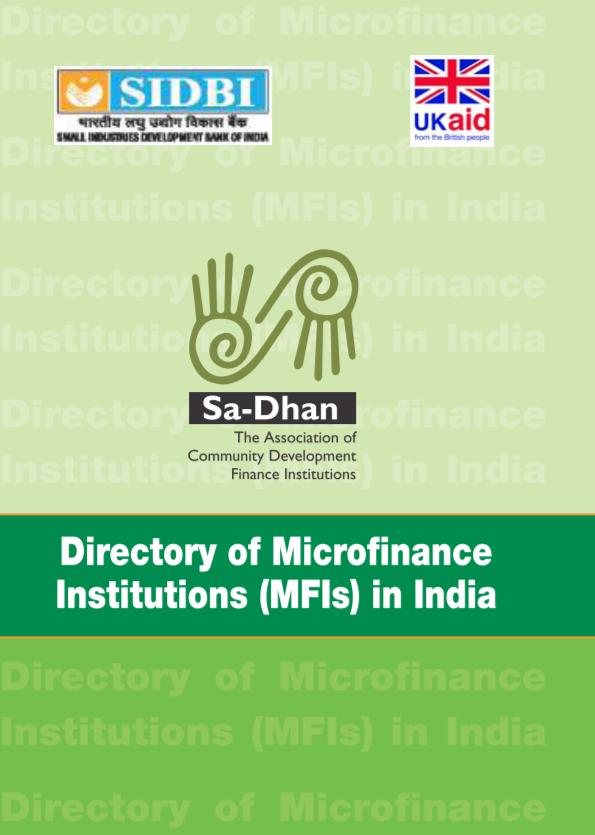 List Of 100 Microfinance Companies in India
Source: Taken from the above directory
| | |
| --- | --- |
| No | Name of the MFIs |
| 1 | ADARSA |
| 2 | Adhikar |
| 3 | Agradut Polly Unnayan Samity |
| 4 | Ajiwika Society |
| 5 | AMBA |
| 6 | AMMACTS (Future Financial Services Ltd) |
| 7 | ANG Resources Ltd |
| 8 | ASA Gram Vidiyal |
| 9 | Bal Mahila Vikas Samiti (VAMA) |
| 10 | Bandhan Financial Services Pvt Ltd |
| 11 | Bandhan Konnagar |
| 12 | Bharat Integrated Social Welfare Agency |
| 13 | Bharat Sevak Samaj |
| 14 | Bharatha Swamukti Samsthe |
| 15 | Bhartiya Samruddhi Finance Ltd (BASIX) |
| 16 | Bhoruka Charitable Trust |
| 17 | BWDA Finance Limited (BFL) |
| 18 | CASHPOR Micro Credit |
| 19 | CHINYARD |
| 20 | Community Development Centre |
| 21 | Community Service Trust |
| 22 | Confederation of Voluntary Associations (COVA) |
| 23 | Cooperation Development Council |
| 24 | Darbar Sahitya Sansad ( DSS) |
| 25 | Deepalaya |
| 26 | DISHA |
| 27 | Disha Social Organization |
| 28 | Ecumenical Church Loan Fund of India |
| 29 | Evangelical Social Action Forum |
| 30 | Glow |
| 31 | Gram Utthan |
| 32 | Grameen Koota |
| 33 | Gramin Vikas Mandal, Bansarola |
| 34 | GUIDE |
| 35 | Hindusthan Cooperative Credit Society Limited |
| 36 | Hope Foundation |
| 37 | Hope Integrated Rural Development Society |
| 38 | Indian Institute of Rural Development |
| 39 | Initiatives For Development Foundation |
| 40 | Institute of Integrated Resource Management |
| 41 | Ishara Foundation for Finance and Rural Development |
| 42 | Kalighat Society for Development facilitation |
| 43 | Khandagiri Madyamika Mahila Samabya Sangh Ltd. |
| 44 | Kotalipara Development Society |
| 45 | Krishna Bhima Samruddhi Local Area Bank Ltd. |
| 46 | KRUSHI |
| 47 | League for Education and Development (LEAD) |
| 48 | Liberal Association for Movement of People (LAMP) |
| 49 | Mahasemam Trust |
| 50 | Mahashakti Foundation |
| 51 | Mahila Arthik Vikas Mahamandal |
| 52 | Mahila Kalyan Samiti, Dhori |
| 53 | Mahila Vikas Prathamika Sanchaya Samabaya Limited |
| 54 | Manab Sewa Sangha |
| 55 | Margadarshak Development Services Pvt Ltd |
| 56 | Mari-Sanghatitha Mahila Macs Federation Ltd |
| 57 | Mimo Finance (Shah Sandhu Finance Company Pvt Ltd) |
| 58 | Nav Bharat Jagriti Kendra |
| 59 | Navachetana Foundation |
| 60 | New Life |
| 61 | NIDAN |
| 62 | Nirantara Community Services |
| 63 | Nirman Bharti Samajik & Arthik Vikas |
| 64 | Opportunity Microfinance India Ltd. |
| 65 | Organization for Rural Survival |
| 66 | Orissa Rural Infrastructure Development Association (ORIDA) |
| 67 | Outreach |
| 68 | People's Action for National Integration (PANI) |
| 69 | Peoples Action for Transformation |
| 70 | Pikepara Kamala Seva Samity |
| 71 | Planned Social Concern (PSC) |
| 72 | Pragati Seva Samiti |
| 73 | PRAYAS (Organization for Sustainable Development) |
| 74 | Priyasakhi Mahila Sangh, Indore |
| 75 | Prochesta |
| 76 | Pustikar Laghu Vyaparik Pratisthan Bachat Evam Sakh Sahakari Samiti Ltd |
| 77 | PWMACs |
| 78 | Raghunath Pathagar (RNP) |
| 79 | Rajapur Seva Niketan |
| 80 | Rashtriya Gramin Vikas Nidhi |
| 81 | Rashtriya Seva Samithi |
| 82 | S E Investments Ltd |
| 83 | Saadhana Microfin Society |
| 84 | Saath Charitable Trust (Ekta) |
| 85 | Saath Charitable Trust (Sakhi) |
| 86 | Sahabhagi Vikash Abhiyan |
| 87 | Samarthan Weakling Development Foundation |
| 88 | Sampada Trust |
| 89 | Samuha |
| 90 | Sangamam Women's Multipurpose Thrift and Credit Co-operative Society Ltd |
| 91 | Sanghamithra Rural Financial Services |
| 92 | Sarala Women Welfare Society |
| 93 | Sarvodaya Nano Finance Limited |
| 94 | Satin Credit Care Network Limited |
| 95 | SEARCH-Kopsa |
| 96 | Serve-Sewa |
| 97 | Sewa Bank |
| 98 | Shalom Trust |
| 99 | Share Microfin Limited |
| 100 | Sonata Finance Pvt Ltd |