Several new websites have emerged in the last few months that claim to offer "Work from Home" opportunities for Indians. In this article, we will review two such websites that operate under the name of Digital Money India and Digital Cash Course. But before we review these websites, we would like you to read about these 5 genuine bloggers who will teach you how to make money online for free.
Digital Money. How they Bait you?
Over the last few months, you might have noticed a few Facebook Advertisements that claim to give an opportunity to work from home. When you click on these ads they take you to a website where you need to fill in your contact information.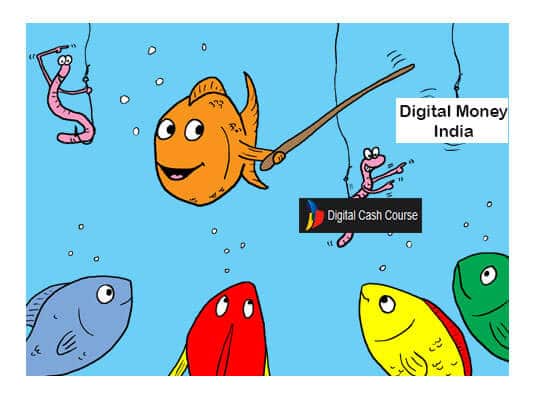 Also Read: 5 Genuine Websites where you can Make Money Online without Investment
Once you have provided them your contact details, you will receive a call usually within the next few days, where a representative of the company will claim that this is an exclusive work from home opportunity and you will need to pass a round of interviews before they deem you eligible to become a part of this program. They will then proceed to the Interview, during which they will ask you trivial and frivolous questions such as :
How much Time Do you Spend on the Internet?
Do you make Payments Online?
Do you know how to build a website?
Have you worked online before?
Do you have a Debit Card?
After conducting the interview for 5 minutes, they will announce that you are now eligible to become a part of the program and must pay an amount ranging from Rs 3500 to Rs 4400 to get a kit, which will be delivered at your home.
The Digital Money India kit will consist of some CDs with videos and tutorials along with some printed material on how to build a website and earn money online through advertisements. The Two Websites through which the company is currently operating are:
http://www.digitalmoneyindia.com/
http://www.digitalcashcourse.com/
So Are these websites a genuine opportunity to make money online or is it a scam?
The answer is simple – It is a scam! Do not pay money for such schemes!
All the information they provide in the CD's and Books is available online for free. I happened to take a look at some of the material and realized that most of the information is outdated and not relevant. Some of the material has been copy-pasted directly from some websites!
Digital Cash Course Review
The questions asked in the Interview are aimed at gauging your awareness of the Internet, if they realize you know a lot about the Internet then they immediately hang up. But if you are a novice, then they try to defraud you with their fake training program about building websites.
Digital India Scam
They have borrowed the name of a scheme that was re-launched some months ago by the Government of India to connect all the villages and small towns to the Internet via a fiber network. The scheme called Digital India is expected to be completed over the next 2 years. To confuse users they are using the Digital India brand name.
The first rule of working on the Internet is
1. Never Pay Money to Work Online – Any scheme or training program that charges you money before it gives you work or teaches you to work is a scam. When everything is available on the Internet for free why do you want to pay your hard-earned money to these fraudsters?
2. There is no Easy Money Online – You have to work hard to make money online, when I started working online I just made Rs 3000 in the first month. Have patience and do not fall for such scams. It took me several years to reach a 5 figure online income.