In the digital world, we cannot think of doing any work without the help of technology and internet. Same is the case with businesses, irrespective of its size, capital or operations. They are increasingly turning to AI to derive more value from their software investments. Despite the prevailing economic challenges businesses are continuing to invest in technology to foster their growth, says a recent report.
G2, the largest and most reputable software marketplace worldwide, has released its 2023 Software Buyer Behavior Report, titled The Value-Driven Buyer. The report provides valuable insights and trends based on the responses of over 1,700 B2B software decision makers from around the globe.
The report highlights the significant impact of AI on the software industry. Notably, companies under pressure to deliver results are urging software vendors to not only explain how their offerings can drive value but also demonstrate tangible results within a six-month timeframe.
Trends in Consumer Demand for Software and Technology
The report identifies three prominent trends based on the survey results:
1. Predicted Increase in Software and Technology Spend: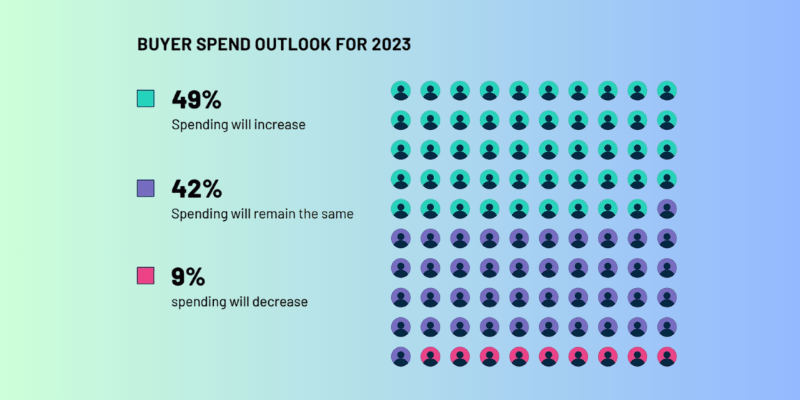 Around 50% of buyers anticipate an increase in their software and technology spending for 2023, while less than 10% expect a decrease.
Among those predicting an increase, more than 75% attribute it to economic uncertainty, compared to 80% among those expecting a decrease.
The outlook for 2024 indicates even greater optimism, with more than 50% projecting an increase and a little above 5% anticipating a decrease.
Similarly, 75% of those expecting an increase cite economic uncertainty as a driving factor, compared to less than 80% among those expecting a decrease.
2. Trust and Priority Given to AI Technology:
More than 80% of respondents consider it important or very important that the software they purchase in the future incorporates AI functionality, while less than 5% consider it unimportant.
More than 75% express trust in the accuracy and reliability of AI-powered solutions, with less than 2% indicating a lack of trust.
3. The importance of security in the purchasing journey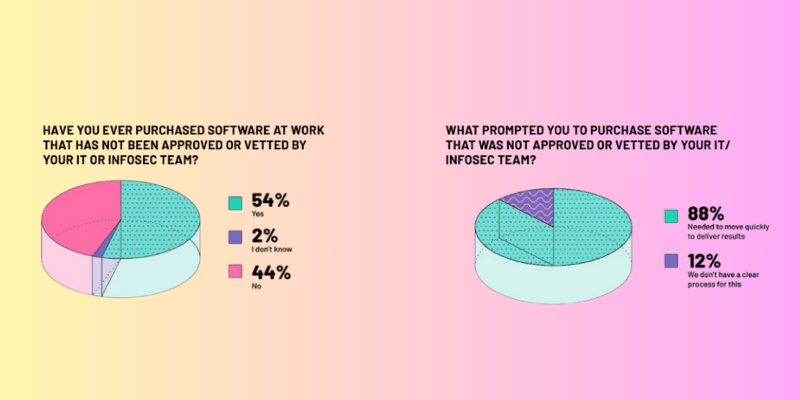 This aspect is often overlooked due to the rush to adopt and implement software quickly in order to achieve fast returns on investment (ROI).
The survey revealed that less than 55% of respondents admitted to buying software for their work without obtaining approval or undergoing security vetting by their IT or InfoSec team.
Among these respondents, more than 85% stated that the reason for their decision was a lack of time, as they needed to move swiftly to deliver results.
The emphasis on speed is evident, as more than half of typical software product contracts have a duration of six months or less. Furthermore, receiving ROI within six months remained the second most important factor considered when buying software this year.
Security incidents and breaches are increasingly influencing software buyers, with 85% of respondents stating that they consider a vendor's history in this regard when evaluating software solutions. This represents an increase from the 82% who considered security incidents in 2022.
While more than 95% of software buyers involve a security stakeholder at some point during the software purchase process, less than 15% do so during implementation, and a concerning 3% never involve a security stakeholder at all.
The report confirmed previous trends, such as the changing role of software vendors as buyers increasingly rely on self-serve channels and trusted sources. Interestingly, software company salespeople were cited as the least influential source in purchasing decisions, with only 1% of respondents considering them influential. This percentage decreased from 3% in 2022.
Industry experts, professional colleagues/network, internal influencers, and online reviews from peers ranked higher as sources of influence. Additionally, more than 65% of respondents stated that software salespeople are generally not involved during the research phase of the purchasing process, showing an increase from 63% in 2022 and 60% in 2021.
Also Read: Is Consumer Services a Good Career Path?
Factors Influencing Consumer Demand for Software
The role of software vendors is evolving as buyers increasingly prefer self-serve channels and reliable sources. Let's examine the key factors that will shape software buyers' behaviour in the coming 12 months.
1. AI viewed as essential for business strategies
The demand for AI-powered solutions has led to a surge in businesses seeking to gain a competitive edge, such as AI functionality in their future software purchases. Moreover, many buyers express a strong trust in the accuracy and reliability of AI-powered solutions, making it a favourable opportunity for businesses to shape their future strategies.
2. Legal teams play larger role in AI software purchases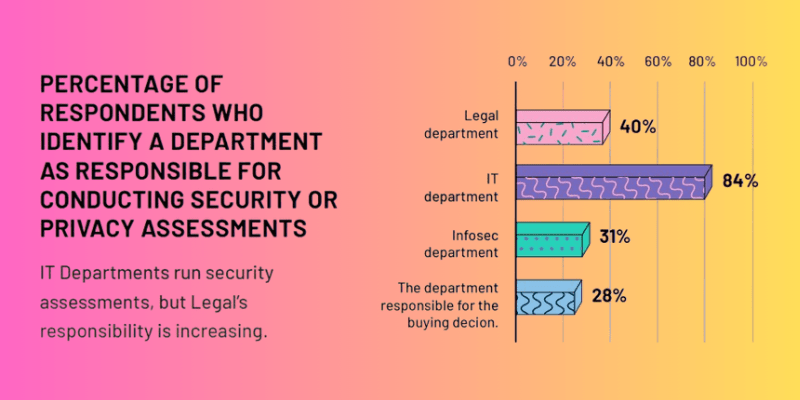 The AI frenzy has resulted in legal teams playing an increasingly significant role in software procurement decisions to safeguard company data and mitigate potential risks associated with AI-powered solutions.
While IT departments are responsible for security and privacy assessments in most cases, the involvement of legal departments has risen significantly, higher in EMEA countries due to stringent digital regulations. This trend is expected to continue growing in 2023 and beyond.
3. Buyers follow processes but prioritize results
Despite having established buying processes for software, most survey participants admit that business pressures can influence their decision-making. This is evident from the fact that a considerable number of buyers from mid-sized and enterprise organizations have resorted to purchasing shadow IT when time is of the essence.
4. Software buyers prioritize value, scalability, and ease
Software buyers prioritize different factors based on the size of their company. Small business buyers place greater emphasis on ease of use and implementation, while medium-sized and enterprise companies prioritize scalability to accommodate their growth, with both groups considering value more important than cost. Given the prevailing economic conditions, buyers thoroughly scrutinize every dollar spent.
5. Seamless collaboration crucial, minimizing complexity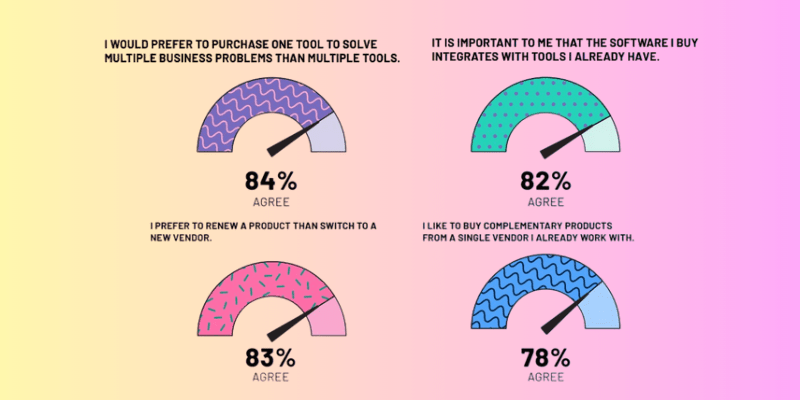 The integration of software with existing solutions is highly valued, surpassing even the cost factor. To avoid unnecessary complexities, buyers prefer working with fewer vendors and utilizing a single comprehensive solution rather than managing multiple tools. While a majority of buyers conduct research and consider new alternatives, most of them review software without exploring new options.
Chris Voce, Vice President of Market Research at G2, expressed optimism about the outlook of global software buyers despite concerns about tech markets and budgets.
In the 2023 Software Buyer Behavior Report, respondents demonstrated a focus on investing in technology that drives efficiency, business value, and innovation.
Despite the prevailing economic challenges businesses are continuing to invest in technology to foster their growth. The report also highlighted the transformative role of AI in reshaping the software landscape.
As buyers seek fast and easy solutions, it becomes crucial for software vendors to strategically consider integration capabilities with other tools, provide education throughout the buyer's journey, and offer efficient training during implementation.
Source: G2 Report