CRISIL MFI Ratings Watch
CRISIL has removed its ratings on nine microfinance institutions (MFIs) from 'Rating Watch with Negative Implications', and has reaffirmed their existing ratings. The outlook on their long-term ratings is 'Stable'. These nine MFIs operate primarily outside Andhra Pradesh (Andhra). CRISIL believes that any further deterioration in the operating and funding environment for the MFIs operating outside Andhra is unlikely. The 'Rating Watch with Negative Implications' continues on the MFIs with a significant presence in Andhra.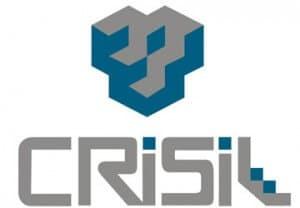 There are several reasons for CRISIL's expectation that the likelihood of any further worsening in the operating environment for MFIs outside Andhra is limited.
First, MFIs outside Andhra have managed to endure the crisis by slowing down disbursements, conserving liquidity, and maintaining healthy collections (of around 97 to 99 percent); CRISIL believes that these trends are sustainable.
Second, these MFIs have been able to raise additional funding from banks and other sources selectively, albeit at much lower levels than before the ordinance. CRISIL-rated MFIs operating outside Andhra have raised funds in excess of Rs.3 billion since the Andhra ordinance.
Third, CRISIL believes that the funding for these MFIs will revive faster once the regulatory environment for the MFI sector becomes clearer. The recommendations of the Malegam committee of the Reserve Bank of India will be an important input towards this.
Fourth, no other state has initiated any steps so far as to introduce state-level legislation similar to the Andhra ordinance.
Finally, the risks of a contagion effect arising from the reduction in loan facilities by a commercial bank have abated. The bank has itself decided not to seek repayment of the loans ahead of their original due dates. Therefore, CRISIL believes that the credit quality of MFIs based outside Andhra is unlikely to weaken further. However, the profitability and business growth plans of these MFIs will be lower than what was envisaged earlier.
List of MFI's removed from Ratings Watch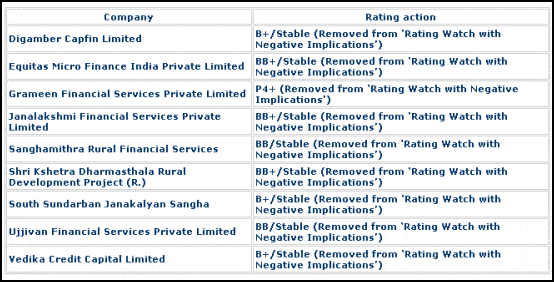 CRISIL's ratings on MFIs with significant operations in Andhra continue to be on 'Rating Watch with Negative Implications' (refer to release, CRISIL places ratings of MFIs on 'Rating Watch with Negative Implications', dated November 22, 2010). Consistently low collection rates in Andhra will impact the asset quality, profitability, and capitalization levels of these MFIs. CRISIL expects its credit costs to increase substantially over the medium term. In addition, funding to MFIs operating in Andhra remains insignificant, which can impact their liquidity position.
CRISIL will continue to monitor the ongoing developments in the sector. A more favorable regulatory framework coupled with a resumption in funding at normal levels could have a positive effect on the ratings. Alternatively, any material deterioration in the regulatory, operating, and funding environment can have an adverse impact on the current ratings.