Managing credit and staying in the good books of the credit bureau is tricky. That is where Credit Clean tool comes in handy by helping you in restoring your credit according to the package that you signed up for. Clean Slate is one of its top packages – maybe the best one, as claimed by the company. Thus, we will look at Credit Saint Clean Slate reviews to determine whether this claim is legit. We will also learn Credit Saint Clean Slate cost and other aspects of the tool.
Credit Saint Clean Slate Reviews: Does it Work?
Mistakes can be made by anyone. Even big companies slip up once in a while. In some cases, your credit data might get registered incorrectly which can hurt your credit score. This is where a company like Credit saint can save you a lot of hassle. They will challenge the mistakes made by Credit Bureaus along with analyzing and tracking your credit score. Let us learn more about them.
What is Credit Saint?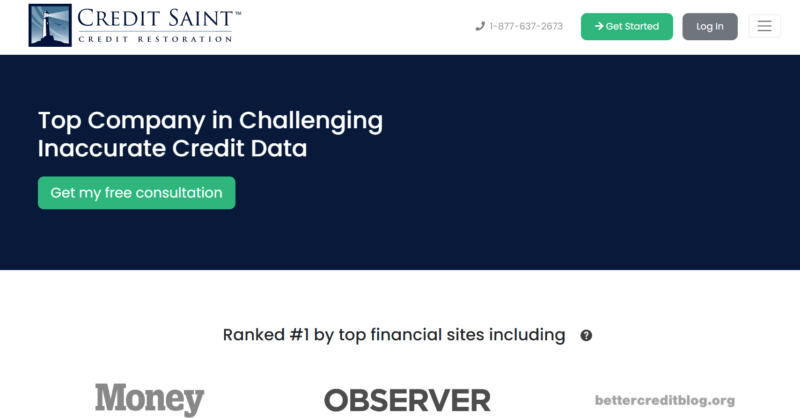 Headquartered in New Jersey Credit Saint is a credit restoration company. Their task is to get wrongly reported credit data corrected and for this work of theirs, they have been reported to be ranked number 1 by a lot of financial sites. The company has also been ranked as number 1 in customer service, credit repair, and overall aspects.
The company does not promise to get your credit score changed or a result but for that, they also offer a 90-day money-back guarantee. Using this tool you can understand your credit score better, the tool will also provide you with full analysis and progress reports and you can also get a free consultation from them.
This tool gathers basic personal information and then without asking for any charge they come up with your credit report. They then go over the reports and look for transactions that might have affected your credit score. They then analyze your positive credit and also suggest ways in which you should deal with bills and credit to make sure your credit score remains good.
Credit Saint Packages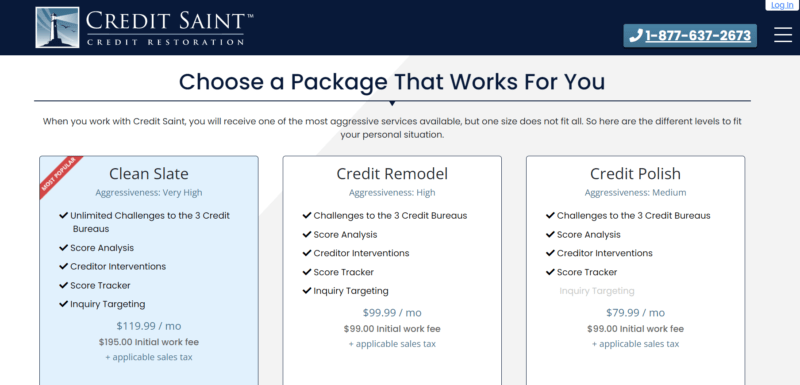 If you have ever got canned food, packed chips, or cold drinks you know the kind of options and variety that you can choose from. Credit Saint has taken a similar kind of approach to these goods as different people might have different kinds of requirements. So while there are not a ton of options there are three different Credit Saint packages that the users can choose from.
Credit Saint Clean Slate: The self-claimed most popular package of Credit Slate is the Clean Slate package which is said to be very high on aggressive. This package allows you to challenge three credit bureaus any number of times. This package also gets you facilities like score analysis, creditor interventions, score tracker, and inquiry targeting.
Credit Saint Credit Remodel: The second or middle package offered by Clean Saint is high on aggressiveness and second in terms of price. This package challenges three credit score bureaus. Other facilities that can be availed under this package are score analysis, creditor interventions, score tracker, and inquiry targeting.
Credit Saint Credit Polish: The last package on offer is of medium aggressiveness. This package is also the cheapest because it challenges 3 credit bureaus and its other facilities only include score analysis, creditor interventions, and score tracker.
Credit Saint Clean Slate Reviews
Since the Clean Slate package is the most aggressive package of Credit Saint and also its most popular one it is worth looking at Credit Saint Clean Slate reviews and other related stuff. However, occasionally there will also be stuff about the other two packages included in some capacity or the other so don't quit just yet if you are in for those.
If you just visited the website of Credit Saint you would see the self-boasting of the website as it claims to have been mentioned on financial sites like Money, Observer, bettercreditblog.com, creditrepairexpert, ConsumerAffairs, Credit Takeoff, simplemoneylyfe, The Credit Review, MoverFocus, CHRON, MYSA, and Transformance USA. Apart from that in 2021 they also received 5 stars and various positive titles from some of these websites.
Now while this is about the company overall that does not mean Clean Slate is not one of the best packages around. The company themselves claim this pack to be their most popular pack and for obvious reasons, it is also their priciest option. However, the popularity and price that it commands have not come to be just like that.
The reason for the price and popularity lies in the facilities made available by this option. While both the other options allow you to challenge 3 credit bureaus this one allows you to do so an unlimited number of times which is not something that other packages can do. And compared to Credit Polish or the cheapest plan the top plan also has an additional feature that its users can use.
You can go on the internet and look for Credit Saint Clean Slate reviews but you won't find them easily and that is because out there people have posted combined company reviews on various platforms.
In these Credit Saint clean slate reviews, you will find the good, the bad, and the normal stuff that people have to say about this platform. However, since Clean Slate is the most premium service offered by the company and also has so many perks to offer we don't see a reason to suggest against it at least for the time being. Let us now go over Credit Saint clean slate cost.
Also Read: Is Credit Karma or Credit Sesame more accurate?
Credit Saint Clean Slate Cost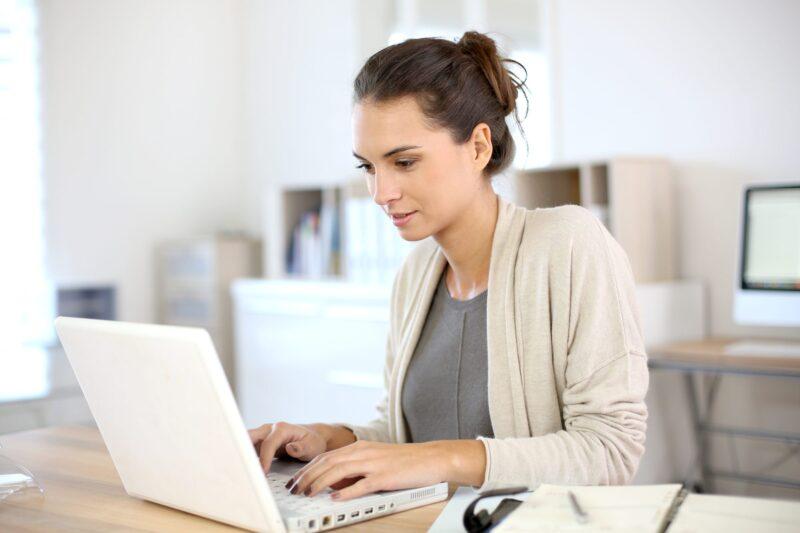 So we have seen that Credit Saint has no less than three packages to offer to the users. However, while there is not much difference in the features or facilities offered by the three on the surface, how much their prices differ from each other is another important question to ask and point to consider.
Credit Saint Clean Slate cost stands at 195 dollars for the first month and after that, you can sign up for this package by paying just 119.99 dollars monthly. On the other hand, the mid-pack which is the Credit Remodel pack costs you 99 dollars the first month and later on you pay 99.99 dollars a month for this plan.
The cheapest plan offered by the company, the Credit Polish plan, is available for 99 dollars in the first month and 79 dollars per month after that. The price of 79 dollars is said to be the lowest in the industry as usually such companies charge no less than 100 dollars a month.
Something that we mentioned to forget in the Credit Saint Clean Slate reviews section is that this package can not only get you the power to challenge 3 credit bureaus an unlimited number of times but also provides facilities like access to the Experian credit tracker.
You also get online access to Credit Saint online with this package and you have a toll-free phone support option as well to help you with any issues that you might be facing. In the table given below, we have mentioned Credit Saint clean slate cost in detail.
| | Credit Polish | Credit Remodel | Clean Slate |
| --- | --- | --- | --- |
| First-time fees | 99 dollars | 99 dollars | 195 dollars |
| Subscription price | 79 dollars | 99.99 dollars | 119.99 dollars |
| Features available | Challenge 3 credit bureaus, score analysis, creditor interventions, and score tracker | Challenge 3 credit bureaus, score analysis, creditor interventions, score tracker, and inquiry targeting | Challenge 3 credit bureaus unlimited times, score analysis, creditor interventions, score tracker, and inquiry targeting |
What is Better Business Bureau?
Founded in 1912, Better Business Bureau is a private non-profit organization that is 501(c)(6) in nature. Their purpose is to advance trust in the marketplace and it is a self-taken mission of theirs.
They are focused on customer protection and industry self-regulation and serve in the US, Canada, and Mexico. They also review companies and give them ratings so that people know where they stand. The company has 2,500 employees and by 2022 July they had claimed to have rated no less than 400k local businesses.
Credit Saint Better Business Bureau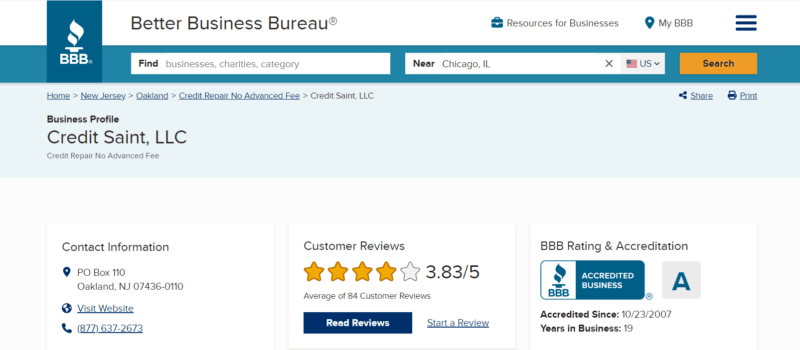 Since Credit Saint is also dealing in services that concern a huge user base it is natural that BBB ratings matter to them. These ratings help people know which company is operating nicely and is following all the protocols that a good company should. BBB ratings do the job of invoking people's trust in a company or business and thus Credit Saint needs to make sure they get good ratings which is exactly what we will now be looking at.
The BBB rating system works just like a school's report card where grades from A to F are given. A is of course a good grade while F is undesirable and not something that anybody wished to see on their report. Credit Saint Better Business Bureau rating is an A and it has been so for the last 10 years.
So if scoring the best possible grade was not enough, Credit Saint went a step ahead and scored phenomenal grades consecutively for a decade. This rating should do no less than instill a great sense of trust and pride in the users of the company while also assuring them that the platform involved is making sure to follow all the steps required to be in good books.
The company started in 2004 which means that in its 18 or 19 years of existence, the company has already had an excellent rating for more than half its lifetime. Also, their prices start at a rate that is considered less than what the market charges for these kinds of services, and you have a 90-day money-back guarantee clause in place while the company also honestly tells you beforehand that their service might not bring in visible changes. All of these qualities make them an even better company.
Credit Saint Dispute Avalanche
It is understandable that a lot of readers might have looked at the subscription price of the Clean Slate package and felt some kind of astonishment. However, as we mentioned above this price didn't come to be just like that.
As we read in the Credit Saint Clean Slate reviews section the package comes with quite a few features and is the most popular pack with the users and that is it commands this kind of price. To justify this price the package offers something that goes by the name Dispute Avalanche.
The package has an Escalated information requests feature and after that you have the Credit Saint Dispute Avalanche feature. This feature can be used by the credit counselors of the company to report all the questionable negative credit items in a user's credit report at once.
You are allowed to challenge judgments, repossessions, bankruptcies, collection items, charge-offs, identity theft items, and late payments. All these items can be reported at once with the Dispute Avalanche feature.
The Clean Slate package is not rated as a very highly aggressive package for nothing. This package allows you to get inaccurately reported items corrected or reported an unlimited number of times as opposed to the 5 and 10 times allowed by the Polish and Remodel packages respectively. Let us now learn about Credit Saint 90 day Guarantee.
Also Read: Best Credit card and Debit card without SSN
Credit Saint 90 Day Guarantee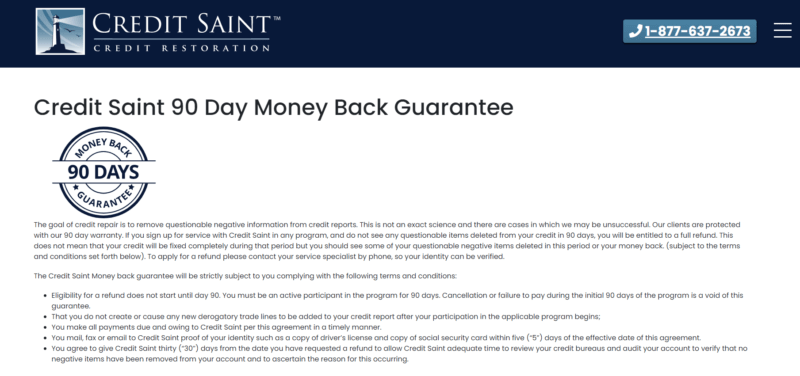 While the great BBB rating of the company should be enough to get you to trust them, some readers might still have some unsolved doubts or issues with believing this company to be number 1 and that is perfectly okay. We just want to say that when a company itself claims that its work may not always provide the desired results.
This invokes a different kind of trust in certain customers and that is also the approach taken by this company as they accept the fact that their service may not provide you with visible results. And so you have something known as Credit Saint 90 day Guarantee provision in place that can come to your rescue.
Credit Saint states that it is its goal to get questionable negative information removed from your credit report and that is exactly what they do. However, there are times when they do everything right but the desired result may not be obtained since this is not something written in stone and that is when the user may feel cheated or dejected.
To make this feeling go away the company offers a 90-day money-back guarantee to all its users. In these 90 days, the user can claim a 100% refund if you see any questionable negative item not being removed from your credit report.
However, you need to follow certain terms and conditions when using Credit Saint, or else the refund may not be valid. Those T&Cs include:
Eligibility does not come with signing up for the program but after 90 days of signing up and using the company services. If you use the service of the company for 90 days and are an active participant who does not cancel or fail to pay for the first 90 days of using the platform only then are you eligible for a refund.
Once you have signed up for the program you are not allowed to create or add any more bad tradelines that may reflect on your credit report. Failing to do so again makes you ineligible from availing of the 90-day money-back guarantee feature.
Any and every payment that needs to be made to Credit Saint company must arrive on time. The app is helping you clean up your credit report which may have a list of late payments. To pay late to a company that helps you clean your report is not a small mistake and may thus again make you ineligible for the 90-day money-back guarantee feature.
When signing up for Credit Saint you are required to submit stuff like your Social Security Number and Driver's License as proof of identity via email, fax, or mail. These need to be released within 5 days and again failing to do so may make you ineligible for the 90-day money-back feature.
Once you have requested a refund you need to give the company 30 days to verify your claim and recheck everything. They check for their shortcomings and the reason why the error occurred.
The reviews on Credit Saint's Clean Slate program reflect a diverse range of opinions and experiences. It is important for individuals to carefully evaluate these reviews and consider their own unique circumstances before making a decision. Ultimately, the effectiveness of Credit Saint's Clean Slate program may vary for each individual.