Do you regret forgetting those late payments if you do, then Cred is the ultimate solution for you, and you even get to enjoy other perks that the app has to offer, then here is our Cred Review for you.
CRED is a credit card repayment app that gives you rewards on timely payments. For this, you don't have to do anything other than downloading the app and registering your details.
CRED Review 2020: Your Credit Card Payment Solution
The CRED App offers various coupons for various categories, such as dining out, food delivery apps, flight bookings, and even shopping. Banks roll out various offers to make you use your credit cards, as they ask you to use a certain amount to receive an annual fee waiver or to pay a particular amount at the petrol pump to receive a fuel surcharge waiver. But for all this, you don't get any rewards or any other benefits. However, with CRED, you get rewards for paying credit card dues via this app.
The CRED App: What is it?
Basically, CRED is a repayment app that allows you to add multiple cards and make payments from within the app. The amount gets credited from your bank account in a few hours.
The app is for anyone who has a good credit score (checked from either Experian or CRIF) and has some history of credit payment. A check is performed when you register on the app.
The app comes with the cred to protect feature. It is an AI (Artificial Intelligence) backed system that tracks every single nuance of a credit card payment journey- starting from due date reminders to spending patterns and other card usage statistics.
What do you earn on CRED App?
Coins: For making credit card payments, you will earn coins equivalent to the bill amount. For example, if you are making a bill payment of INR 20000, then you will get 20,000 coins. These coins keep accumulating every month, which means you can keep collecting coins and redeem them later.
Gems: Gems are a completely different thing in the CRED app. These gems are a kind of currency that is required by some offers. Presently, one earns 10 gems for each referral. Therefore, if your referral signs up on the app, you will receive 10 gems.
What are the other benefits that you get on the CRED app?
Cashback – Get Rs 1,000 cashback for 30 gems
Flo Mattress – Rs. 5,000 off on using 20,000 coins
Flipkart – Rs 500 gift card for 20 gems
UrbanClap – Flat 50% off on man grooming using 25000 coins
iXigo flight bookings – Rs. 1000 off on using 5,000 coins
Swiggy – Free delivery for 3 months on using 5000 coins
Flea Bazaar cafe – Flat 20% off on total bill using 5000 coins
There are a lot of coupons and offers available within the CRED App. Based-on what offers you want, you can go into the category and select the category and see all the offers available in your city.
How to register for CRED App?
To register for this app, all you need to have is a good credit score. Follow this step by step process to register for the CRED App:
Step 1 – Download the Cred App
Step 2 – Register to cred using your phone number
Login to your CRED account using your name and phone number registered with a credit card.
The app will ask you to grant access to your phone, messages to verify the phone number, and SMS. Please grant all the access as it is needed for the app to send you due date reminders.
Now, CRED will process this data and check your eligibility based on your credit history. For this, CRED has partnered up with credit bureaus such as CRIF and Experian.
If your credit score meets the eligibility standard of the CRED app, then you will receive an OTP to proceed further.
However, if your membership is rejected, then wait and improve your credit score and then register again after a few months. It may also happen that you may be using 2-3 numbers for banking, so try to register again with another number.
Step 3: Add your credit cards
After successful registration, all your credit cards will be displayed on the home screen. All you need to do is enter the last 4 digits on each card to verify it.
To check if the card is active or not, CRED will instantly deposit INR 1 to each of your cards. The card will not ask you to enter the CVV or expiry date, so the app is 100% safe. After getting your cards verified, you can earn exclusive rewards and scratch cards on every bill that you pay.
Presently, the CRED app handles Master Card, American Express, Diners Club, and VISA Cards.
Review of CRED App UI and Layout: 
The app's design is minimalistic, intuitive, clean, and user-friendly. All in all, the design is modern and fluid.
The home screen of CRED shows all the details of your credit score with the help of Experian and CRIF.
Click on the 'View Report' button, and the app will open a page where you will find all the information related to your credit scores, such as payment history, credit card utilization, age of credit history, and all the accounts that you have on the platform.
The homepage is designed in a simple manner, with a summary of the number of cards that you have added.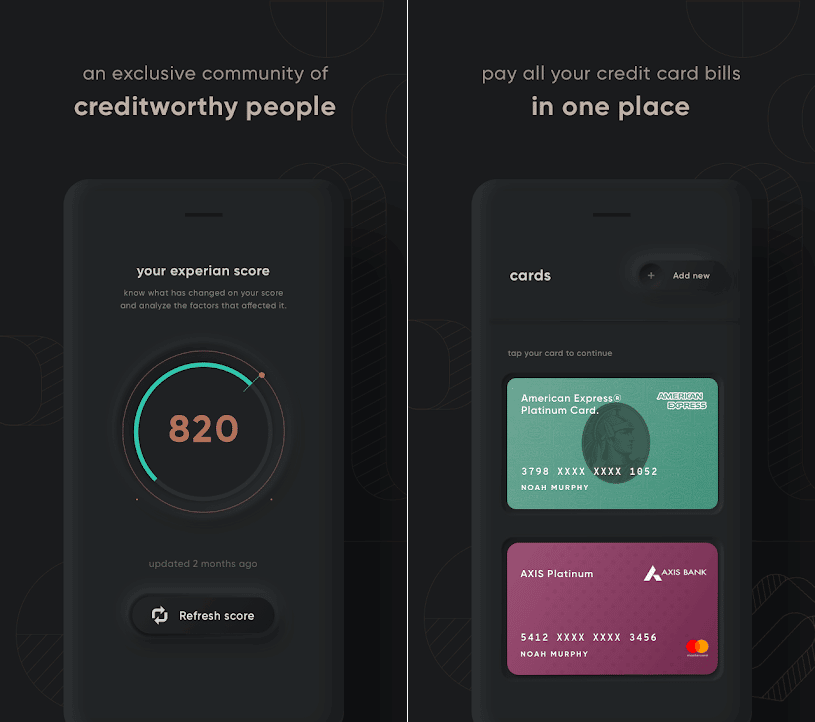 There is also a tab 'News & Updates' that has all the buzz surrounding the app and its founder. Then, on the home screen, you will find the 'View Rewards' option that takes you to a page that contains a summary of the rewards available, details of claimed rewards, and line up of rewards under various categories, such as CRED privileges, CRED Popular, CRED Insanity and CRED Exclusives.
The next tab is 'Cards,' this tab contains all your registered credit cards, with details of the outstanding amount and the option to pay your bills. There is also a 'View Detail's option against each credit card that shows an analysis of your spending patterns across categories like food, shopping, travel, etc. Then 'My Cred' displays the credit score, 'cred coin' summary, and a list of rewards that you have already claimed.
The next tab is the 'Rewards' tab; in this, you will see the list of all the offers that you can redeem with your credit coins balance. You also have the option to filter this by city name.
Finally, the last tab is 'Profile.' It has all the options, such as customer support, FAQ's, T&C, Settings, privacy policy, and security details.
The Benefits of using CRED App:
Let's delve into the main reason behind using this app- rewards, and benefits.
These are the benefits that you get for using the CRED APP:
#1. Cashback on paying bills
#KILLTHEBILL, you may get cashback for every transaction that you make. At times when you make payment of more than INR 1000, you will receive a notification saying that you have earned a scratch card, and you might earn a certain amount that will be credited back in your credit card.
#2. Discount Offers
Discounts are a major benefit of using the app. CRED has partnered with various brands, and it offers you some discount may be a cash discount or percentage discount while spending a specific amount.
For instance, one of the offers is a "20% discount on the next 20 orders from BOX8," which means you are going to enjoy a 20% discount for a long time. However, if you are getting a discount, you need to spend money on these brands.
Moreover, sometimes it may happen that with the help of these offers, you may experience things which you have not done without a discount, so anyway this is a fair deal.
#3. Free Gifts and Benefits
You get to enjoy some truly free rewards by burning some coins or gems. You literally don't have to pay anything for these benefits. This means that you are not spending any money to avail of these benefits.
For instance, you can get a pass for 2 people Bacardi NH7 Weekender event and even lounge pass for burning 2,00,000 coins.
Keep collecting coins and wait for the right offer or reward to arrive, which is beneficial for you.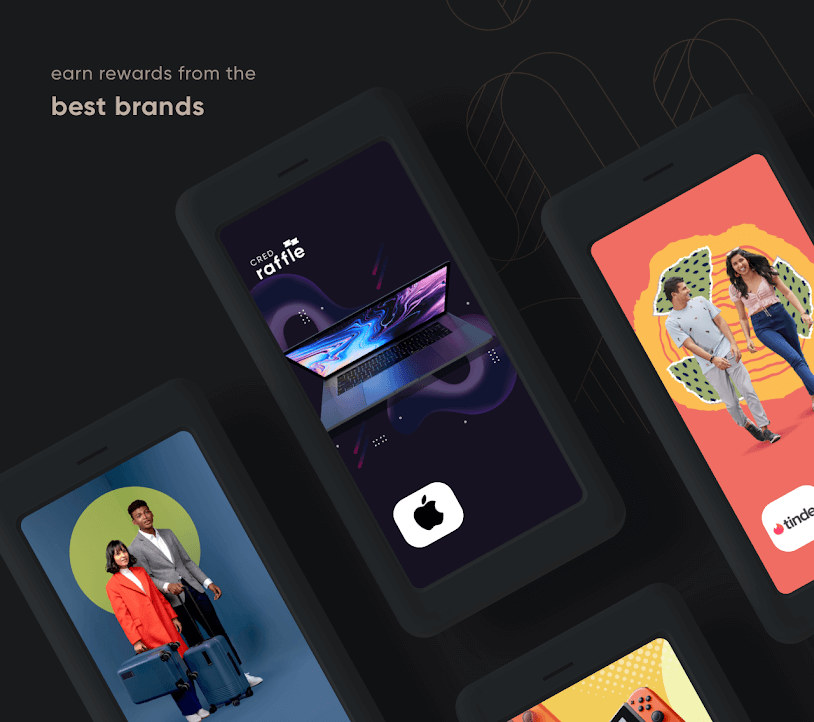 #4. Spending Analysis
One small benefit of the CRED app is that you get some insights on your spending pattern and history of your credit card payments at one single place. This is good for those who have multiple credit cards and want some visibility on how their spending is happening.
#5. Credit Score Tracking
CRED App shows your credit score from time to time to motivate you to make timely payments, and you can also track your credit score over time.
How to make payment in the CRED app?
CRED makes credit card payments very easy, just select your card, click on pay now, enter the amount and then click proceed.
You can make payment via debit card, net banking, NEFT/IMPS, or UPI. However, it may take some time to reflect on your credit card account. After the bill payment is made, you will be rewarded with CRED Coins and Kill Bill Scratch Card.
Is the CRED app safe?
After reading all this, you must be thinking whether this app is safe or not as you are adding your credit cards and authorizing the app with all your financial details.
This app is initiated and launched by Kunal Shah, the person who launched Freecharge, and the startup is heavily funded.
The founder has a credible record so you can easily trust the company. The other factor that makes this app secure and reliable is that it never asks for your card's CVV or expiry date; therefore, you are not sharing any critical information with this app.
Recommended: StockEdge App Review 2020
However, you must know that when you install this app, it will ask for permission to access your SMS, phone, and email. You need to allow all these permissions for the app to remind you about your due dates. But if you deny it, then you won't get any due date reminders, nor will you be able to track your expenses. I hope this review of CRED will help you understand what CRED is all about and you can go ahead and take advantage of CRED.