Rewards and incentives are attractive to all, aren't they? Paying off your credit card bills using CRED is a convenient way to earn CRED rewards. Credit cardholders can directly earn reward points on every payment they make through the CRED App. This is a complete CRED credit card apply blog which will inform you about CRED rewards, CRED credit card apply online process, credit Card bill payment and credit card bill payment offers.
CRED Credit Card Apply Blog: Offers & Benefits
The CRED platform is a cashless payment tool that makes it easier for you to pay for regular, recurring, and occasionally one-time costs. It allows the freedom to take advantage of 45 to 50-day interest-free periods. CRED app has gained popularity in the Indian market because of the features it offers. The app is also famous for its catchy ads which are universally liked.
CRED Rewards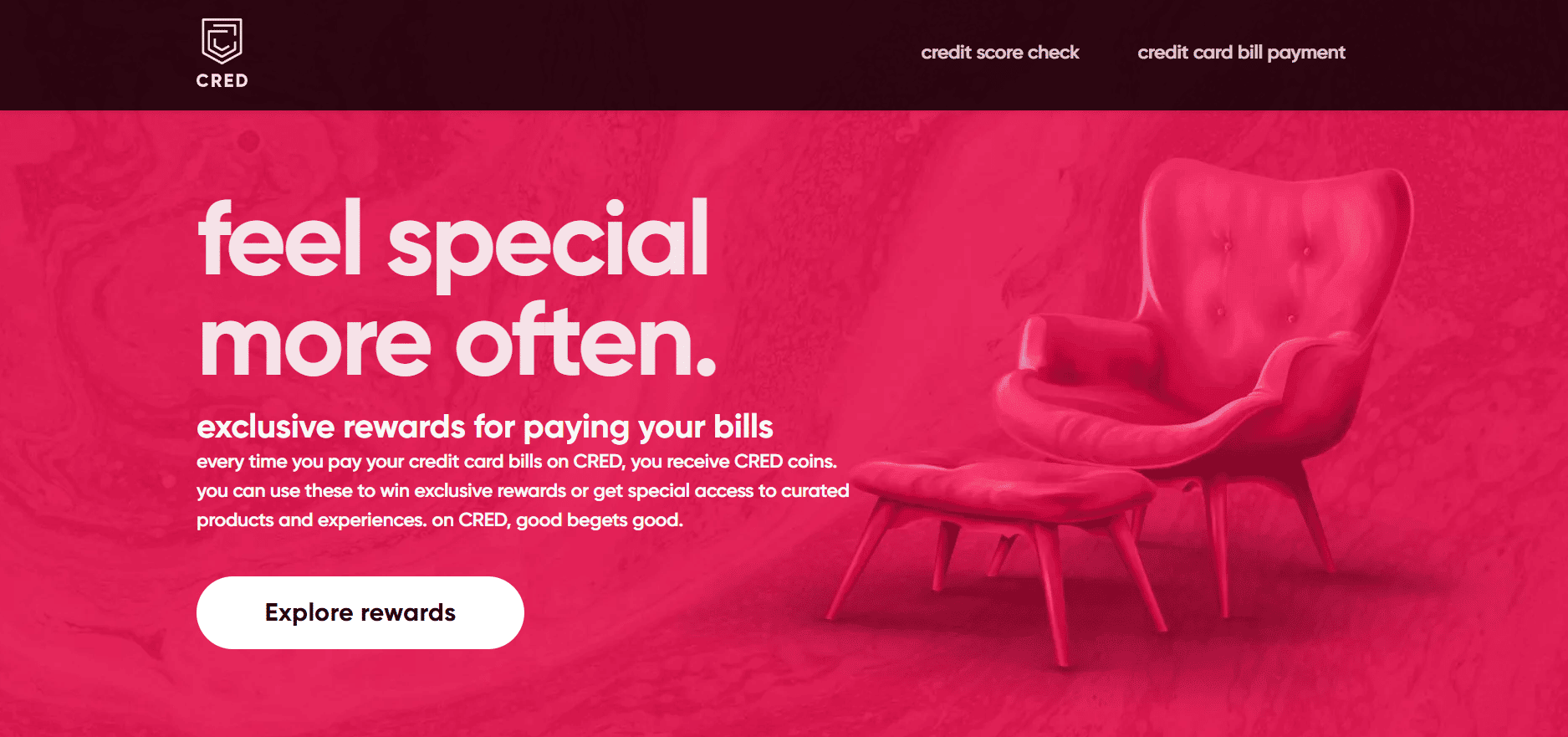 Users of credit cards can make payments using the phone number associated with their cards. This not only increases the security of credit card bill payments but also enables customers to pay using a variety of credit cards that are connected to their phone numbers. You should avoid paying credit card bills after the due date to keep your credit score high.
Credit cards from the majority of the major banks, including MasterCard, Visa, RuPay, American Express, and Diners Club, are accepted by CRED. Credit card verification and credit card payments made through the app are free of charge.
The CRED reward points, often known as CRED coins, can be used to purchase a variety of items via the CRED app. You earn CRED coins with each credit card bill payment made through their app. Referring friends and family members to this app will also earn you CRED coins.
These coins can be exchanged for vouchers for online shopping. Additionally, you may use your coins to pay bills at different offline retailers who have collaborated with CRED by redeeming them for coins. You can redeem your CRED coins across categories, and offers are refreshed often on the app. Let us continue this CRED credit card apply blog and check out its features.
Benefits of using CRED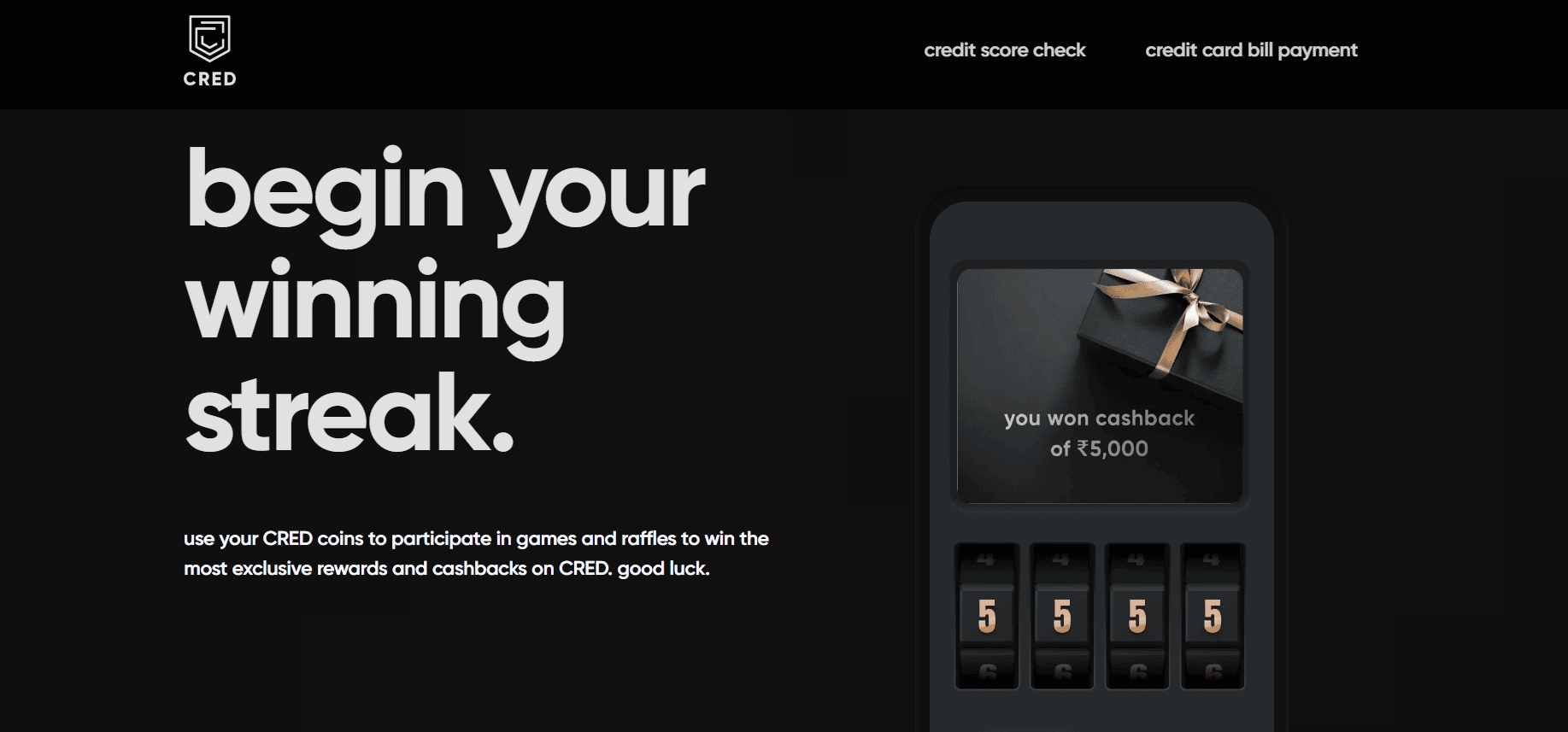 The following are the benefits of using CRED for your credit card services:
For every rupee you spend on your credit card bill payment, you earn guaranteed reward points of Rs 200.
Through the CRED app, credit card payments are completely secure. 256-bit encryption safeguards the payment gateway and prevents any security lapses.
All cards connected to the platform allow you to trace your payment history and maintain tabs on incoming payments.
You may get cashback for paying your bill thanks to features like kill the bill. Users of CRED can receive cashback on credit card bill payments of up to Rs. 1000. The user's savings account receives the cashback sum.
Every time your card bill is created, a reminder will be sent to you to make sure you don't forget or postpone a payment.
CRED Credit Card Apply Online
The next thing in this CRED credit card apply blog is the application process itself. Using credit agencies such as Experian, CIBIL, and Crif, CRED obtains and validates your current credit score. Getting CRED services requires a credit score of at least 750.
If you meet the requirements, the app will link your existing credit cards to your CRED account. The following is a step-wise full registration guide:
1. Using your Android or iOS smartphone, download the app, and register using your mobile number. For example, given below is CRED app in Google Play Store.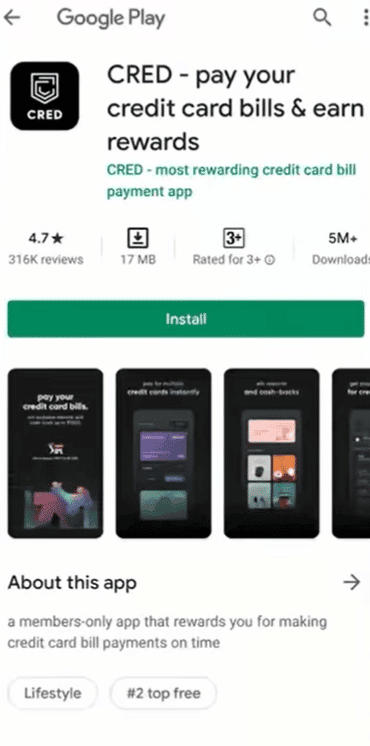 2. The app will check your credit score after you have confirmed your phone number with an OTP and let you know if you qualify for the service.
3. The app will add all credit cards connected to your mobile number once verification is complete. The system allows you to add up to 10 credit cards at once along with the option to add more if necessary.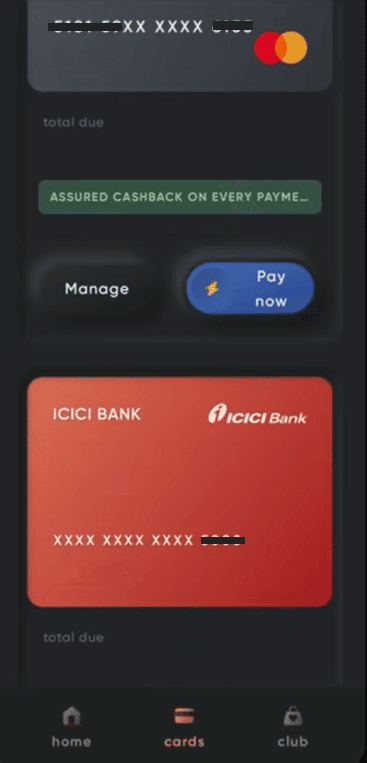 4. By including the masked numbers, you must confirm your card information.
5. By making an Rs. 1 deposit through IMPS or UPI, CRED will instantly verify your card or cards.
6. Once your credit card account has been verified, you can pay your bill and earn reward points up to the amount of the bill you paid.
Credit Card Bill Payment
Netbanking, debit cards, and UPI are all options for paying credit card bills. It is the next thing we are covering in this CRED credit card apply blog. To make a payment on CRED, follow these steps:
1. Access your CRED account by using the app. Select the card or cards whose bill you want to pay under the Cards category.
2. The total cost, the minimum payment, and other information will be shown on the screen. Enter your desired payment amount and click on Pay Now.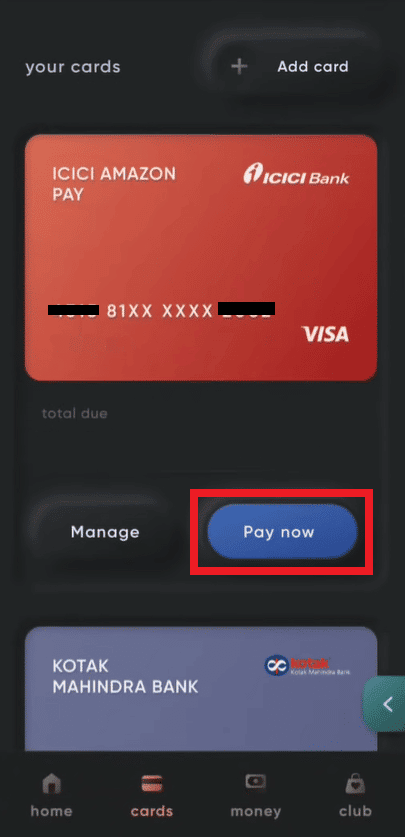 3. Pick your payment method: If you're using UPI, select your preferred bank which has UPI enabled and click on Pay now.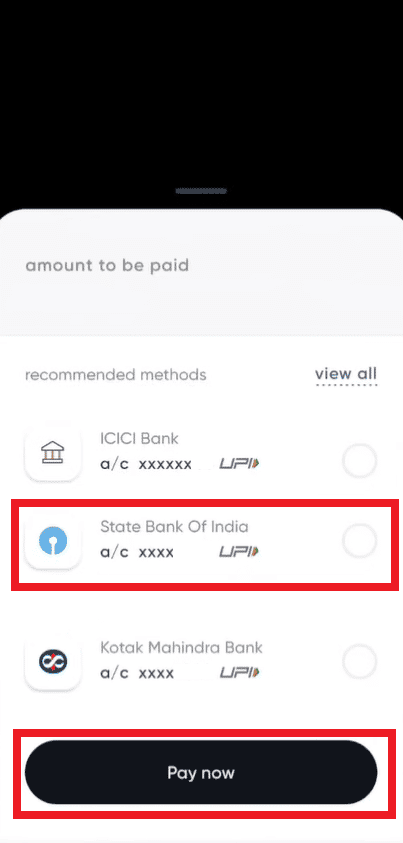 4. Add the card information if you're paying with a debit card. You can authorize the payment once CRED has confirmed the card.
5. Choose your bank from the list if you're paying via net banking. To complete the transaction, you will be sent to your bank's net banking website.
6. You will be given a transaction ID for future use after a successful transaction. The amount paid will also be displayed in the app.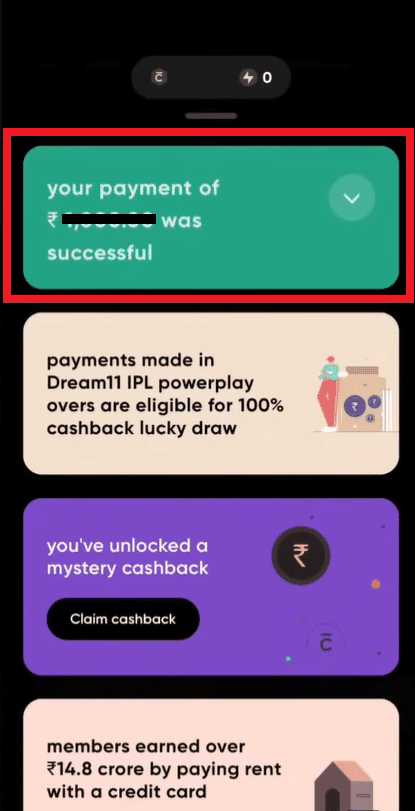 7. Your bank may need up to 2 working days to process the payment, depending on the bank and mode of payment.
Also Read: How to Use CRED Coins to Cash?
Credit Card Bill Payment Offers
In this CRED credit card apply blog, let us now go over some of its bill payment offers. CRED provides its users with plenty of money saving offers. Some of the best ones are mentioned below.
Bookmyshow: Utilize Bookmyshow to get cinema tickets worth Rs. 500 for 30,000 CRED coins.
The Man Company: You get 10,000 CRED coins and a Rs. 1000 coupon. Use it to purchase male grooming products from The Man Company.
Dineout Gourmet Passport: Obtain a 3-month subscription to Dineout Gourmet by paying Rs. 15,000 in CRED coins. You may receive free 1+1 food and beverages at restaurants that collaborate with Dineout by using the Dineout Gourmet Passport.
Ixigo: For 5000 CRED coins, you will receive a coupon worth Rs. 1000. Use it to make Ixigo airline reservations.
Andamen: Get an Rs. 1500 Andamen shopping voucher when you trade in ten thousand creds coins. An upscale men's apparel company in India is called Andamen.
Levi's Voucher: You can get one Rs. 1000 voucher for 1 Lac CRED coins.
The Moja Club: Buy colorfully patterned socks and receive a discount of up to Rs. 500. You can put an end to worn-out, dreary socks for 10,000 CRED coins.
Cult.fit Membership: Stay fit and maintain a healthy lifestyle. Cult.fit Membership is free for 30 days when you have 25,000 CRED coins.
Several famous merchants have partnered with CRED as a result of CRED's innovative approach. Thus, they were able to offer discounts to these merchants on goods and services. As we can see, this innovation makes CRED rewards mind-blowing for customers. We hope this CRED credit card apply blog was able to cover all the essential details about CRED credit card apply online process, credit card bill payment and credit card bill payment offers.