Modern technology has improved our living standards through easy access to cash through credit cards, loans, etc. However, instead of alleviating our problems, it has led to higher financial crisis. Costs on financial services increased in the past year for majority of Americans, as per a new report.
In 2022, Americans spent an additional $40 billion on interest and fees compared to the previous year – an estimated total of $347 billion on fees and interest, representing a 14% increase from 2021. This surge was primarily driven by higher credit card usage and an uptick in the utilization of other credit services, as noted by authors of the report by Financial Health Network.
The total amount of interest and fees generated from revolving balances on general purpose credit cards experienced a significant surge of over 20% in the year 2022. The estimated figure reached a staggering $113.1 billion, representing a substantial increase from the previous year's $93.2 billion.
Shockingly, financially vulnerable families, comprising only 15% of the population, shouldered 28% of this total burden. In stark contrast, financially healthy households only dedicated 1% of their income to such expenses. This disparity highlights the disproportionate impact on low-income individuals and people of color, who often resort to more expensive forms of credit.
The report, which assesses respondents' spending, borrowing, saving, and financial planning, assigns scores to measure their financial health. Individuals with a score below 40 were classified as financially vulnerable, while those scoring between 40 and 79 were labeled as financially coping. Those with a score of 80 or above were deemed financially healthy.
The majority of U.S. households are considered fully banked, meaning they possess a bank account and have not used alternative banking services in the past year. Although the number of households resorting to alternative loans has increased, the percentage of the unbanked population in the United States has reached a new low. It dropped from 5.6% in 2021 to 3.8% in 2022, according to the report. The unbanked segment of the population is disproportionately comprised of people of color and households earning less than $30,000 per year. The report indicated that approximately 80% of unbanked households earned less than $30,000, with 41% being Black and 24% being Latinx.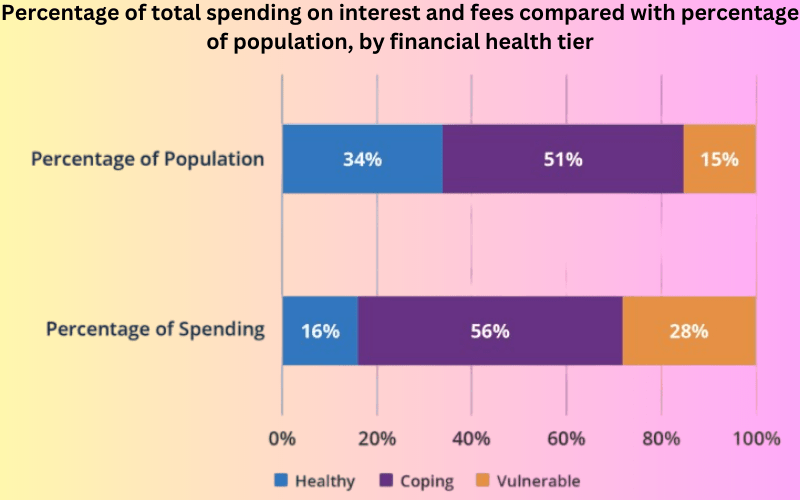 Also Read: Medical Loans and Credit Cards – Boon or Curse?
Reasons for Increase in Costs of Financial Service
One factor contributing to the situation is the challenging economy, which has pushed many low-income individuals towards more expensive sources of credit.
Excessive impact of interest and fees results in additional suffering for families already struggling to make ends meet.
The Federal Reserve's 10 consecutive rounds of rate hikes in 2022 and 2023, aimed at addressing high inflation, have led to an increase in interest rates for personal loans and payday loans.
Payday loans are already known to be more costly than other credit products. This rise in interest rates has contributed to the growth in spending on interest and fees, which is a concerning trend.
Who are the Worst Sufferers?
The report highlighted the worrying increase in Americans' reliance on high-cost, non-bank credit services. It found a significant increase in the use of high-cost alternative forms of credit in 2022, following years of decline. Further, the report emphasized the disparities based on race and financial health status, which is particularly alarming.
Black households, in particular, saw an increase in the utilization of services such as rent-to-own agreements, refund-anticipation checks, title loans, and payday loans. Latinx households also experienced a rise in the use of refund-anticipation checks and title loans. The report revealed that Black and Hispanic households spent 7% and 5% of their incomes, respectively, on interest and fees, compared to 3% for white families.
The authors suggested that one reason for the struggles faced by Black households is the limited options they have for obtaining credit. Previous expert opinions shared that people turn to alternative loans when traditional banking services cannot meet their financial needs due to lengthy approval processes or a high likelihood of loan application rejection.
Costs on financial services increased in the past year for majority of Americans. The Consumer Financial Protection Bureau has put forth a proposal to limit late fees on credit cards to a maximum of $8 per payment, ensuring that these fees do not exceed 25% of the minimum payment. In a broader sense, the Biden administration has expressed its intent to address excessive fees known as junk fees, and has called for increased transparency regarding additional fees and service charges.
Source: Financial Health Network Report