Charles Schwab AMEX Platinum 100k is a prestigious credit card that offers exceptional benefits and rewards. As one of the most sought-after cards in the market, it is designed to cater to the needs of discerning individuals who seek exclusive perks and a superior travel experience. In this article, we will take an in-depth look at the features, advantages, and fees of this renowned credit card.
Charles Schwab AMEX Platinum 100k Review

The financial company Charles Schwab has tied up with American Express for a co-branded card as many companies do in today's day and age. From the host of options available our focus at the moment is on the Charles Schwab AMEX Platinum 100k card. Of their two co-branded cards this is the elite offering which you can only get by meeting certain eligibility requirements.
The basic features of this card are:
You get a good amount of reward points as a welcome bonus.
The annual fee of this card is high, but it can be obtained for free under certain conditions.
Using this card for purchases gets you points that you can then use on travel, shopping, dining, etc. 5× reward points are also available on certain purchases.
You can score annual statement credit with this card.
Certain eligible bookings get you additional credit.
Users can also score statement credits for digital entertainment.
Credit for CLEAR Plus is up for grabs.
Lastly, you get multiple options to pay your dues and you also get monthly Uber credits usable on rides as well as food is up for grabs when you get this card.
How to get Charles Schwab AMEX Platinum Fee waived
There are multiple AMEX Platinum cards and all of them are pricey. This line of cards offers great benefits; however, our focus is on how to get Charles Schwab AMEX Platinum Fee waived. Again, there are multiple ways that we can go about it so keep reading to find out those methods.
Under the Military Lending Act, a personal AMEX Platinum card fee is waived. The same can't be said for a business card. Earlier, the fee was also waived under the Servicemembers' Civil Relief Act but that doesn't happen now.
If you are a non-service member, then you can look for retention offers. These targeted rewards can get retention benefits to a person up for renewing their card.
The Charles Schwab AMEX Platinum 100k card can be obtained for free if you have a lot of money and qualify for annual fee credit.
If you spend 100k dollars using the AMEX Platinum Morgan Stanley card, then you get a 695 dollars engagement bonus.
Getting a free card is one good Charles Schwab AMEX Platinum benefit that you can avail of.
Charles Schwab AMEX Platinum Requirements
If you have 695 dollars to spend on a credit card, then you might already be thinking of getting the Charles Schwab AMEX Platinum card, but it isn't so easy. You don't just need money to get this card you also need to meet other Charles Schwab AMEX Platinum Requirements as well to be able to get this credit card. These requirements are:
You will need to have a Schwab brokerage account or an IRA account with them.
You also need to have a good to excellent credit score to qualify for this card.
So, these are the Charles Schwab AMEX Platinum Requirements you need to meet, however, the eligibility may change. Also, if you don't maintain an eligible Schwab account but hold their card then the company has the right to cancel your card.
Cross-reference: A Quick Guide To Each Version Of The American Express Platinum Card
Charles Schwab Investor Card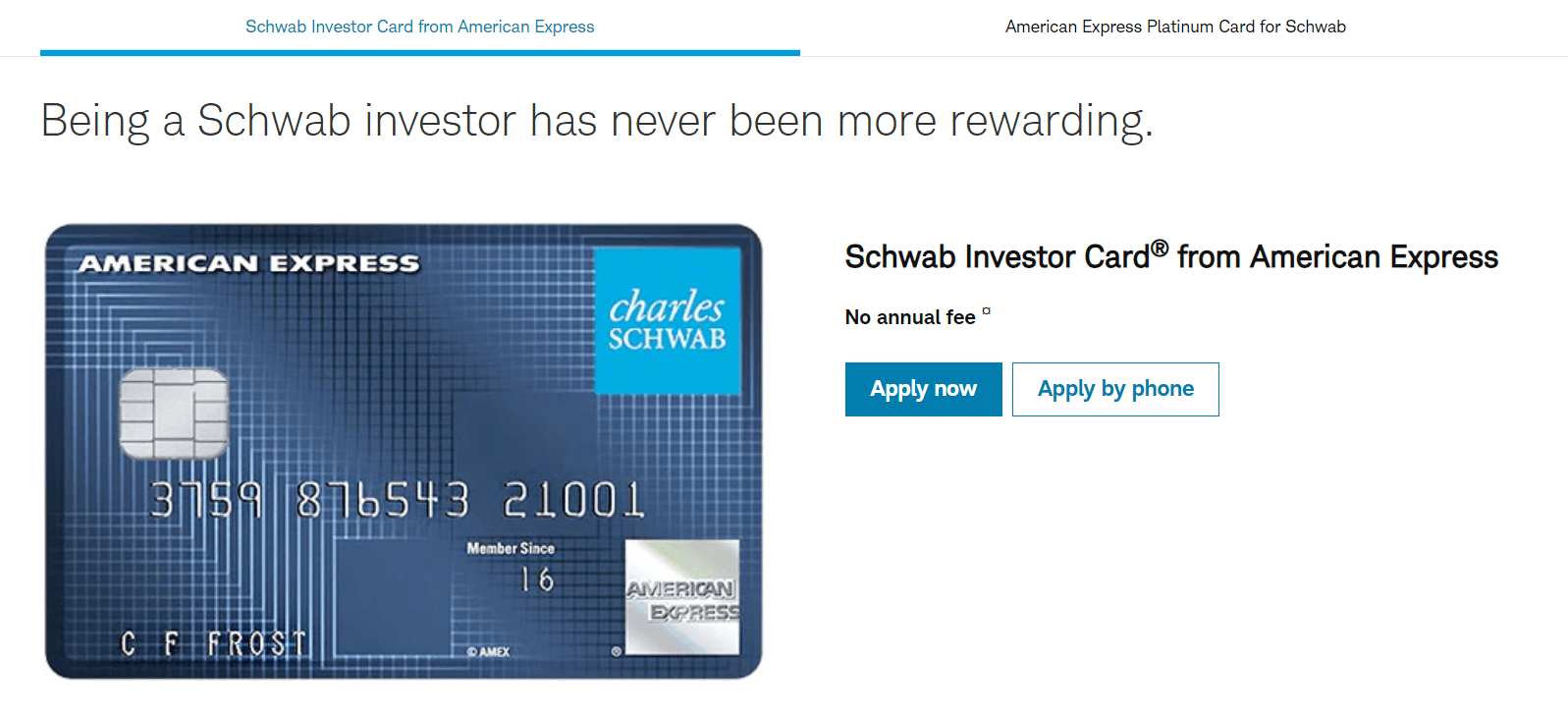 As promised earlier we are here with a review of another Charles Schwab co-branded card which is the Charles Schwab Investor card. This is the lower variant of the co-branded cards as opposed to the high-end card mentioned earlier and so the features of this card may vary majorly. The features of this card are:
The card is available for an annual fee of 0 dollars.
As a welcome bonus, you can score 200 dollars in statement credit on this card if you spend 1,000 dollars using this card in the first three months.
The reward rate of this card is 1.5% on all eligible purchases.
It is a cash-back card.
The credit score requirement to get this card is good or excellent.
The card comes with a 0% introductory APR for six months after that it ranges between 18.99% and 21.99%.
The foreign transaction fee of this card is 2.7%.
The card gets you a membership of ShopRunner, that offers you tons of benefits from there on.
This card credit covers 50,000 dollars in car rental loss and damage insurance.
Drawbacks
Just like Charles Schwab AMEX platinum 100k card this card too comes with some drawbacks and those are:
While there is unlimited 1.5% cash back up for grabs it is nowhere near what many of the rival cards or other cashback cards offer.
Again, you need to have an eligible Schwab account to be eligible for this card or you won't get it.
The only redemption option that you have is depositing your cash back into the linked Schwab account.
Among the two Charles Schwab cards it is a no-brainer that the Charles Schwab investor card comes second. However, the card is not all that bad as it can get you an estimated total of 1,200 plus dollars in cashback in two years. In the first year, you stand to make up to 703 dollars via statement credits and Scwab deposits. And in the second year, you stand a chance to make up to 503 dollars in Scwab deposits.
If you want a free credit card with a decent cash-back rate then you must consider this credit card. However, other cash-back credit cards come for free and offer better benefits if you wish to consider your options.
Charles Schwab AMEX Platinum Benefits
The reason this credit card is being referred to as the Charles Schwab AMEX Platinum 100k card is that earlier the welcome bonus on this card was 100k points. However, currently, this bonus has been pulled down to 80k points. But it is not all bad, there are quite a few benefits that people using this card can avail of.
The card has gotten a strong rating from multiple platforms and is one of the best high-end credit cards available on the market.
The introductory APR on purchases and balance transfers is nil.
The regular APR of the card is between 19.74% and 26.74% which is decent when compared to other cards of the same range.
The card users can score anywhere between 1× and 5× points on qualifying purchases. For every 1 dollar spent on airline tickets, the user gets 5 points if they book directly through American Express Travel. You also get 5 points on every dollar spent on prepaid hotel purchases through American Express Travel. Every other expense gets you 1 point.
The card gets the user airport lounge access.
200 dollars in statement credit await you if your qualifying holdings with Schwab are equal to or greater than 1,000,000 dollars. If the amount is equal to or greater than 250,000 dollars then the credit comes down to 100 dollars.
The card is AMEX branded and they have over 20 airline and hotel partners whose benefits you can get courtesy of this co-branded card.
The points you score with this card have a value of between 0.011 and 0.03 dollars.
The reason why Charles Schwab AMEX Platinum requirements are so high is that this card gets you over 1,000 dollars in spending credits in a year. There is a 200-dollar credit available on hotel bookings and 200 dollars in airline fee credit. A further 300-dollar statement credit is available on Equinox. 189-dollar statement credit on CLEAR Plus membership. Up to 100 dollars in statement credit on Global Entry and TSA Precheck, pro 240 dollars in statement credit on digital entertainment, up to 155 dollars in statement credit on Walmart Plus, and up to 100 dollars in statement credit on Saks Fifth Avenue purchases.
This credit card also includes complimentary Marriott Bonvoy Gold Elite Status and Hilton Honors Gold Status.
Since it is an AMEX card, it comes with car rental loss and damage insurance, trip delay insurance, trip cancellation and interruption insurance, return protection, purchase protection, and extended warranty coverage.
You become eligible to avail of Platinum Concierge services.
Since the card is built for frequent travelers, it charges zero foreign transaction fees.
Cross-reference: Best Ways to Redeem Amex Membership Rewards Points
Drawbacks of Charles Schwab AMEX Platinum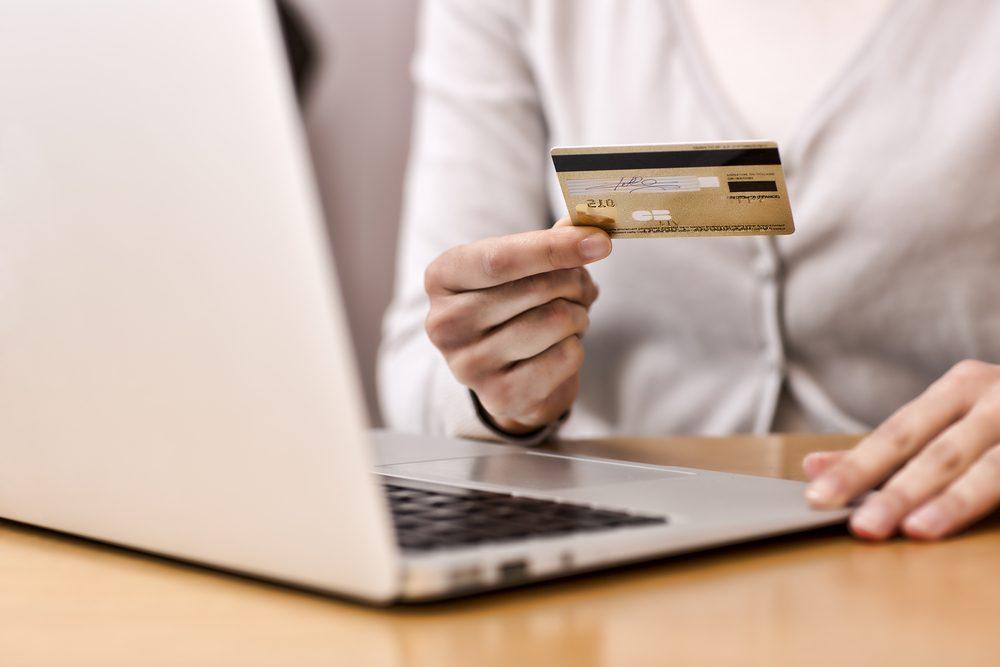 So with so many benefits up for grabs Charles Schwab AMEX Platinum 100k credit card is a good choice of credit card for those with a credit score between 670 and 850. However, you can opt to not get this card and go for its alternatives which might be cheaper and offer more benefits in comparison. The weak points of this credit card are:
The 695 dollar annual fee can be negated but if you don't get that benefit then the card may come across as an expensive option.
Though this card offers a lot of benefits it doesn't do much to make things accessible.
The reward rate is not very good and the bonus categories on which points are available are limited.
Since you need a credit score of at least 670 the card might be hard to get for many.
The eligibility requirements for this card restrict access to a lot of people.
Charles Schwab AMEX Platinum 100k is a credit card that truly lives up to its reputation. With its impressive sign-up bonus, elite travel benefits, and exceptional customer service, it offers a wealth of advantages for those seeking a superior credit card experience.
Whether you're a frequent traveler, a business professional, or simply someone who values exclusive perks, this card delivers on all fronts. However, it's important to consider the annual fee and eligibility requirements before making a decision.