Who Can Form an NGO in India?
Any person competent to contract, be an individual, a body of individuals or an artificial person such as an association of persons, an institution, a limited company, a Hindu undivided family through its Karta, can form an NGO.
NGOs are essentially of charitable or religious nature, and can be constituted by any person without any distinction of caste or creed.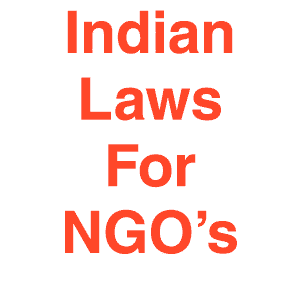 CENTRAL & STATE LAWS FOR NGO'S IN INDIA
1. Indian Trust Act, 1882
2. Charitable & Religious Trusts Act, 1920
3. Wakf Act. 1995
4. Sikh Gurdwara Act, 1925
5. Indian Trustees Act, 1866
6. Religious Endowment Act, 1863
7. Trustees' & Mortgagees' Powers Act, 1866
8. Society Registration Act, 1860
9. Companies Act, 1956, for trusts registered as companies u/s. 25 of
the act
Other Allied Laws for NGO's in India:
1. Transfer of Property Act, 1882.
2. Indian Registration Act, 1908.
3. Income Tax act, 1961.
4. Foreign Contribution (Regulation) Act, 1976.