Inflation has adversely affected the life of common people, disrupting their basic expenditures. A recent survey has highlighted the causes of financial stress among young Canadians, regarding everyday issues such as poor money management, purchasing basic necessities, availing basic amenities and taking help from professionals.
A recent survey conducted by Leger on behalf of FP Canada has revealed that money remains the primary source of stress for Canadians for the sixth consecutive year, particularly for younger Canadians. Almost half of young Canadians aged between 18 and 34 are the most stressed about money, while 46 percent of them have encountered mental health challenges as a result.
However, the survey findings indicate that causes of financial stress are not limited to younger Canadians alone. In fact, 40 percent of over 2,000 Canadians surveyed expressed significant money-related stress and concerns in 2023, representing a two percent increase compared to 2022. On the other hand, Canadians aged 65 and above say they experience relatively lower levels of money-related stress compared to other age groups, with 28 percent reporting financial stress.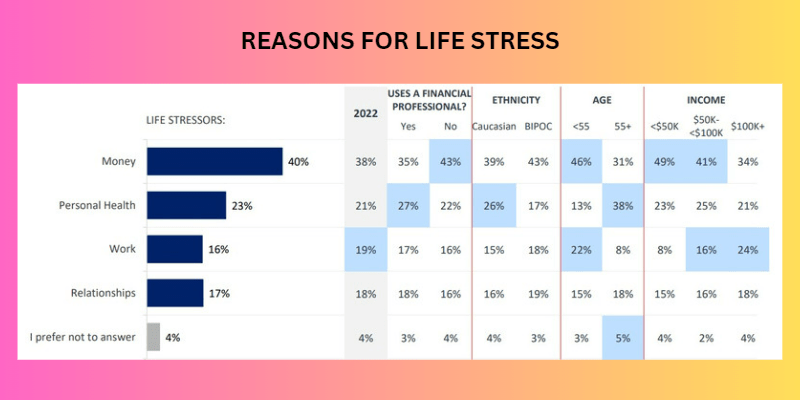 Canadians' financial stress is influenced by multiple factors, including the increasing prices of groceries (affecting 69 percent of respondents), inflationary costs (63 percent), and elevated gas prices (49 percent). The survey highlights the negative impact of financial challenges on the overall well-being of Canadians. FP Canada president & CEO Tashia Batstone stated that "Canadians continue to struggle with their financial picture, and financial stress can have a significant impact not only on financial well-being but also on mental health."
It has been found that 36 percent of Canadians experienced negative impacts due to financial stress, including anxiety, depression, and mental health challenges.

Additionally, nearly half of Canadians (48 percent) have lost sleep due to financial worries, which is a 5 percent increase compared to 2022.

The survey also found that 48 percent of Canadians have less disposable income compared to a year ago, which is a substantial increase from 2022 (39 percent).

35 percent of Canadians reported struggling to save money for retirement, while 32 percent said they were experiencing the same difficulty with saving for a major purchase

.

Among Canadians aged 18-34, the proportion of those struggling to save is even higher, with 50 percent reporting difficulties.
Common causes of financial stress include saving enough for retirement, managing bills, saving for significant expenses, and dealing with debt. To alleviate financial stress, 46 percent of individuals are increasing their savings, 38 percent are paying down debt, and 36 percent have established an emergency savings fund. Regrets associated with poor money management are also prevalent:
Twenty percent of respondents regret not saving more money or initiating savings earlier, expressing a desire for increased and earlier investments.
Only 3 percent of respondents express regret for not seeking advice from a financial professional.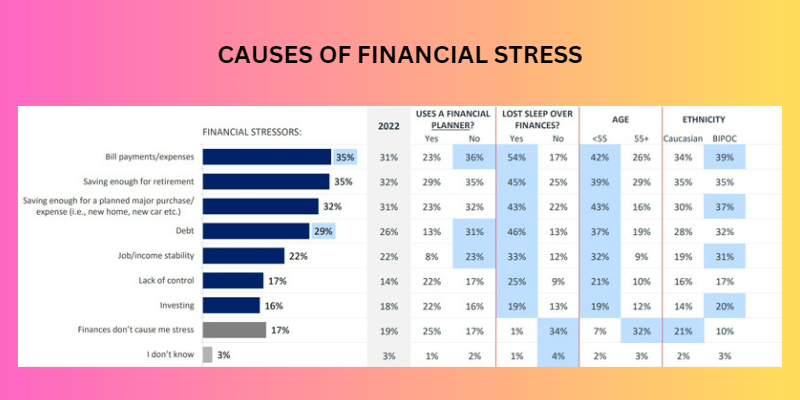 Around 68 percent of individuals have plans to undertake a significant purchase or deal with a substantial expense within the next year. Among them, two out of ten intend to pay off outstanding credit card debt and enjoy an extended vacation, while one in ten aims to contribute to charitable causes or purchase a new car. Additionally, 30 percent have created a budget, 27 percent are developing a financial plan, and 20 percent have sought professional help from financial planner or improved their understanding of expenses.
Also Read: Top 11 Highest Paying Law Jobs in Canada
Importance of Financial Planner
Seeking guidance from a financial professional, particularly a financial planner, can help individuals minimize money-related stress, sleep disturbances, and financial regrets. Although they may still have concerns about retirement savings and investments, they experience less stress regarding debt and expenses. People who consult with a financial professional are more likely to agree that it would reduce the causes of financial stress. Additionally, they are more inclined to have developed a comprehensive financial plan. The difference is 31 percent for retirement savings and 40 percent for major purchases.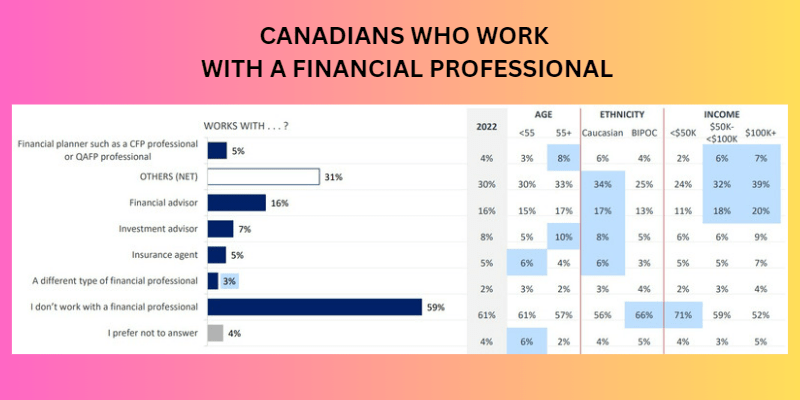 Among those who work with a financial planner, 25 percent claim that financial stress has had no impact on their lives, whereas only 17 percent of those without a financial planner express the same sentiment.

38 percent of individuals who work with a financial planner reported losing sleep over financial concerns, compared to a higher percentage of 49 percent among those who do not seek professional financial guidance.

Individuals with a financial planner are more likely to believe that their disposable income remains stable compared to the previous year. Furthermore, they feel less pressured to keep up financially with their friends and colleagues.
Approximately 36 percent of Canadians engage with a financial professional. Out of this group, only 5 percent work with a financial planner, such as a CFP professional or QAFP professional, while 16 percent work with a financial advisor, and 7 percent work with an investment advisor.
Those who choose not to work with a financial professional often do so because they believe they can manage their finances independently or fail to see the value in hiring one. Others may perceive financial professionals as constantly trying to sell them something or find them untrustworthy, intimidating, and confusing.