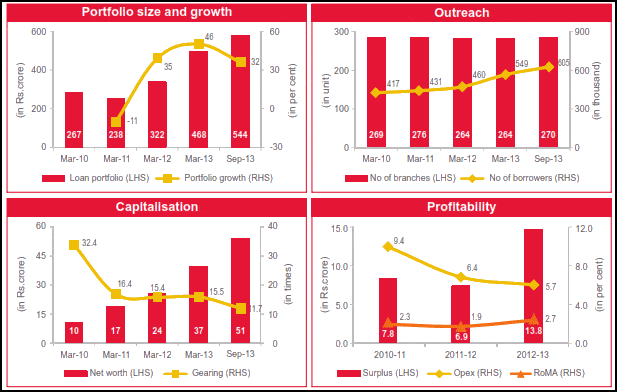 Cashpor Micro Credit (Cashpor) is a not-for-profit company based out of Varanasi, Uttar Pradesh. Set up by Professor David Gibbons, Cashpor provides microfinance services in Uttar Pradesh, Bihar, and Chhattisgarh using the Grameen Bank model of lending. Cashpor adopts a dual lending model: direct lending and lending under the banking correspondence model.
CASHPOR MICROCREDIT
Under the banking correspondence model, Cashpor acts as a sourcing agent for banks; the loans are originated directly in banks books. Cashpor provides a first loss default guarantee on the portfolio sourced by it while receiving a sourcing fee (the difference between the interest paid by the borrower and interest paid to the bank) from such business. The company was operating through a network of 341 branches spread across 31 districts as on December 31, 2013.
Performance on key parameters
The fast-growing MFI has assets under management (AUM) of Rs.544 crore as on September 30, 2013. Has maintained about 40 percent business growth over the past few years except during 2010-11, when the AUM declined by 11 percent
Asset quality is healthy, with 30+ dpd of less than 0.30 percent for the past 4 years despite having operations concentrated in eastern Uttar Pradesh and four districts of Bihar
Resource profile is adequate, marked by relationships with multiple lenders including banks, developmental institutions, social investors, financial institutions, and NBFCs. The diversity in the lender profile provides reasonable flexibility for access to medium-to-long-term funds including subordinate debt. Consequently, borrowing costs are lower than those of peers
As a Section-25 company, options to raise core equity capital are limited. However, has demonstrated the ability to raise Tier-II capital in the form of subordinate capital on a consistent basis
Moderate albeit improving profitability, with improving operating efficiency, and low borrowing and credit costs. The profitability is expected to decline from 2014-15 due to reduction in the margin by 200 bps from November 1, 2013, onwards
CASHPOR MICROCREDIT
Latest financial data and key indicators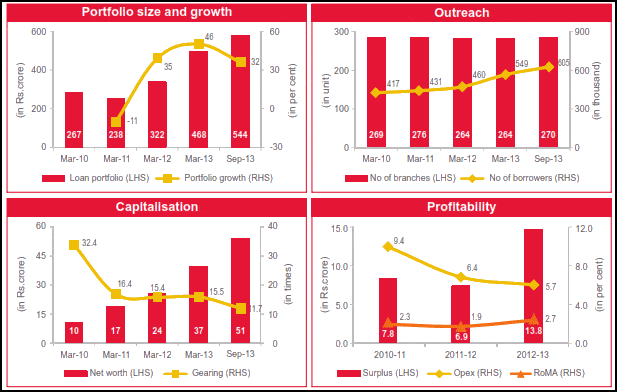 CASHPOR MICROCREDIT JOBS
For the latest jobs in microfinance visit the Cashpor Website.