Capzest, a digital lending platform announced this week that it has raised Rs 1.35 Crore (US$ 200,000) from Lion Ventures. Capzest provides non-collateralized personal and business loans at interest rates starting from 11% per year.
Online Loans Company
Since it's launch early this year, Capzest has quickly emerged as the leader in the online personal loan space. The firm does not lend from its own funds but rather relies on a network of Non-Banking Finance Companies (NBFC's) and Banks to provide personal loans to SME's. Capzest currently has partnerships with Reliance Capital, Essel Finance and others for disbursing loans. It offers loans ranging from Rs 50,000 to Rs 2 Lakh in the case of personal loans and Rs 25 Lakh on-wards for businesses.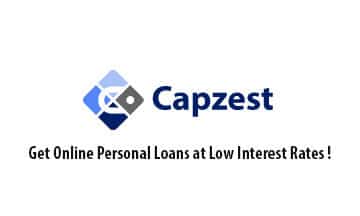 India Online Loans Marketplace
The online loans market in India is growing at a scorching pace and recorded a CAGR of 68% between 2010 and 2014. The online loan space is largely dominated by private sector banks who took the lead in launching their loan products early. HDFC Bank, ICICI Bank, SBI, and Axis Bank are some of the top online lenders. HDFC holds the distinction of being the country's largest lender of online home loans for FY 2014.
P2P Lending and Online loans
Online lending is at a very nascent stage in India, this is mainly because of the low awareness about online loans and lack of systems that help in ascertaining the creditworthiness of prospective clients. While there are many Credit Bureaus, the data provided by them is often outdated and error-prone. In this scenario, it is difficult to assess the true creditworthiness of a borrower.
Peer to Peer Lending is well on its way to becoming a US$ 1 trillion market globally by 2025. The potential in India for online loans is huge and we can expect more companies like Capzest, Loancircle.in, Loanbaba and Faircent to emerge in this space with unique offerings customized for Indian clients.
Apply for your Online Personal Loan at http://capzest.com/