The entire world is going through severe slowdown and economic crisis. As the inflationary pressures on living standards persist, household budgets are increasingly being squeezed. In this situation, Canadians are reducing expenditures to fight debt and inflation says BDO.
According to Nancy Snedden, the National Leader of the BDO Debt Solutions practice, the research conducted in the Fall of 2022 revealed that affordability challenges had reached a critical point. In response, this year they aimed to understand how Canadians are dealing with these pressures and foster a dialogue focused on finding solutions.
According to the survey focusing on affordability and debt in Canada, around 50% individuals have reduced daily expenditures to manage debt. More than 55% of respondents expressed the need to reduce spending on non-essential items in order to lessen the impact of inflation. Additionally, 30% of participants admitted feeling extremely burdened by their debt and uncertain about how to address the situation.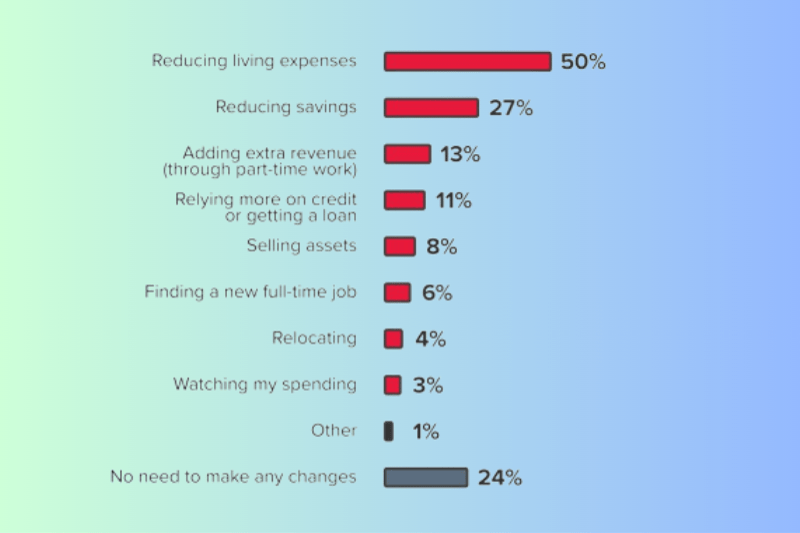 The rising inflation has made tackling debt even more difficult, prompting people to recognize the need for a coordinated approach that combines budgeting, debt management, and, when possible, diversifying their sources of income. The leading strategy for coping with inflation is cutting back on expenses.
The online survey conducted by Léger, which involved over 1,500 Canadians, found that more than 35% of respondents plan to reduce their debt in the coming year by adopting better budgeting habits. Among respondents aged 18-34, this percentage increases to more than 45%. However, a significant majority of lower-income households are not only reducing non-essential expenses (more than 65%) but also cutting back on essential items such as food, clothing, and utilities (around 60%).
To weather the affordability crisis and pay down debt, an increasing number of Canadians are considering the idea of taking on extra work, such as a side hustle for earning passive income.
More than 30% of respondents stated that they would be willing to engage in additional work to achieve greater financial independence, cover essential expenses, and reduce debt. Among Canadians aged 18-34, around 25% have already sought part-time work to cope with inflation and supplement their income.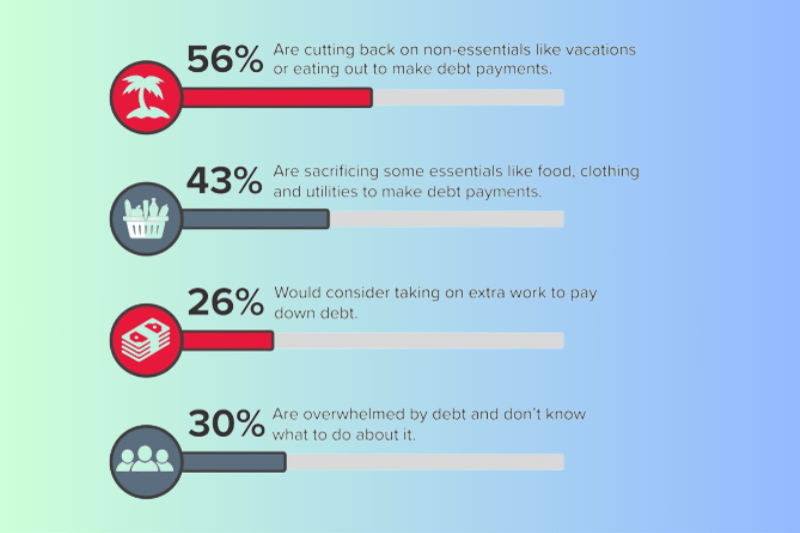 Canadians over the age of 55 have a lower percentage of individuals overwhelmed by debt, standing at 13%. On the other hand, younger Canadians between 18 and 34 years old, as well as residents of Alberta, have higher rates of debt overwhelm, with 45%and 37% respectively.
In a recent analysis, it was revealed that Canada has the highest level of household debt among G7 nations. It was emphasized that mortgages account for three-quarters of household debt in Canada. Moreover, the sharp increase in interest rates has resulted in early warning signs, indicating that more and more consumers are experiencing financial difficulties.
It is surprising to discover that a significant number of Canadians are not familiar with the various strategies available for managing their debts. Nearly 30% of respondents have no knowledge about debt consolidation loans, and another 30% is unaware of debt management plans. Additionally, a striking 51% of participants have no familiarity with consumer proposals, a popular debt reduction approach that doesn't affect one's assets and is more commonly used than bankruptcy.
This lack of awareness regarding debt management strategies is concerning, especially considering the current affordability crisis. Unfortunately, debt remains a sensitive and rarely discussed topic among friends and family. Therefore, it is crucial to encourage individuals to explore their debt relief options.
Canadians are reducing expenditures to fight debt and inflation says BDO. Many households have already made significant cutbacks, and not everyone can take on additional work due to time constraints or capacity limitations.
Engaging with a Licensed Insolvency Trustee is highly recommended as an initial step to explore debt relief possibilities and receive personalized solutions that accommodate all budgets.
Source: BDO Survey