Microfinance has built a significant part of its reputation on the assertion that small loans empower women. The assumption that every human being has entrepreneurship potential, but only lacks access to credit, underlies this "social business" intervention. The joint appeal of entrepreneurship and empowerment has cajoled many funders and donors to invest in microfinance. But critical research has been shedding doubt on the assumptions of empowerment through microfinance entrepreneurship for quite some time. Can or cannot a direct transfer of credit rouse the dormant and innate entrepreneur which lies within every woman?
Lamia Karim's brave new book, "Microfinance and its Discontents- Women in Debt in Bangladesh", delves deep into the social realities within which microfinance operates, in order to answer that question. As an Associate Professor of Cultural Anthropology at the University of Oregon, she performed research among the clientele of the four major microfinance NGOs in Bangladesh (Grameen Bank, Proshika, BRAC, and ASA) first between 1998 and 1999, and following up in 2007.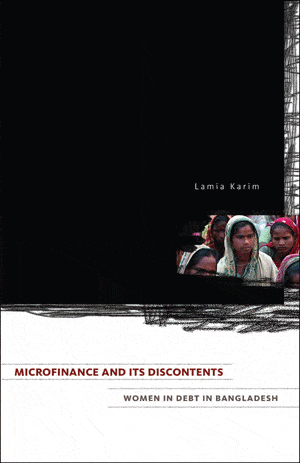 Norms and obligations in rural society are tilted against women, as is demonstrated by a proliferation of ethnographic accounts in Karim's book. Take, for example, the incident of an elderly widow in Bangladesh, who was caught by her nephew on her way back home after taking a fresh loan from Grameen Bank. He pressured her into handing over the money to him because, he said, as his aunt, it was her duty to help him start his business.