There are a lot of crypto investors who save their digital assets either on fiat to crypto exchange or hardware wallet so that they are safe. But, it would not increase your wealth, and isn't multiplying wealth the main reason you invest?
This is where BlockFi comes into the picture as it helps the individuals and companies that invested in Bitcoin or other coins to earn interest on crypto. BlockFi is a crypto lending platform established in 2017; it facilitates you to leverage your crypto and put it into the right usage.
There are various facilities that a BlockFi offers you such as:
Cryptocurrency Exchange
Interest-bearing accounts
Low-interest loans
User-Friendly interface
No Transaction fee on trade
No hidden fee or minimum balance to be maintained
Available globally
Instant Trades
These were some of the quick features to know more about the BlockFi review; first, let us understand in detail what exactly BlockFi is?
BlockFi Review: Is it legit or too risky?
What is BlockFi?

The cryptocurrency industry is always evolving; thus, you need a one-stop shop to store, leverage, and manage it. BlockFi helps you handle your crypto and offers you an alluring interest rate on it. In addition, it is a crypto escort that allows its users to take out USD loans on their cryptocurrencies.
It is a digital asset company that was founded by Flori Marquez and Zac Prince in August 2017. The head office of BlockFi is located in New Jersey, USA. They offer an 8.6% APY on your cryptocurrency holding, just like a bank does with fiat. You would be amazed to know that, as per the reports, various people have invested their money in crypto, and it is more than ever before.
The dominance of Bitcoin is over, and people are investing in numerous other alternative coins such as Dogecoin, Cardano, ATOM, etc. As the demand for new coins is increasing, so is the need for reliable cryptocurrency accounts that can help generate interest for account holders; here is when BlockFi comes in.
BlockFi is best for you if:
You are new to the cryptocurrency world of investment
You are searching for a personal or business account for operating crypto
Wish to earn high interest on your crypto holdings
You want to take a crypto-backed loan as it is pretty easy with BlockFi, plus you get a tax benefit as well
Also Read: How to Mine Cryptocurrency?
Benefits of BlockFi
When you open the BlockFi website, the first thing that you would read is "earn more from your crypto," therefore with them, you can not only earn 8.6% interest in a year but there are various other advantages as well that are mentioned below-
1. Earn interest on your holdings: If you have an interesting account on BlockFi, you can earn around 3-8.6% compound interest on your cryptocurrency holdings. The best part is that with them, there are no covered charges or minimum balance conditions.
The interest rate varies because it depends on the currency type and its fluctuations with market values. The interest is added daily to your account, and the good part is that you can choose the currency as well in which you want the interest to be paid.
2. Borrow against your portfolio: When you read the BlockFi reviews, this is the first thing that you might come across. Various people like this feature that they do not have to sell their cryptocurrency when they require cash. Instead, they can borrow funds in USD against the crypto assets at a very less interest rate.
Another benefit of doing this is that you do not have to report capital gains; this means you could save money on tax as well.
3. Rewards credit card: BlockFi is the first company that launched a Bitcoins reward credit card and a visa card on which you can earn a cashback of 1.5% on every Bitcoin you buy. The rewards you earn will be directly added to your BlockFi interest account, and this will be the additional interest for you.
4. Automatic Trading: If you have repositories in your BlockFi interest account, you can also set up recurring trades to evade any slips. This was you can automatically purchase cryptocurrency monthly, weekly, or daily as per your choice. It would help your account grow in value and earn interest even if you do not spend much time trading.
5. Complete control over your account: Once you signup and verify your identity and submit the cryptocurrency on BlockFi, after that, you are given complete control over your account where there are no hidden fees or minimum balances.
6. Manage your account from anywhere: The best part is that with the help of their mobile app, you can access and trade your account from anywhere in the world.
7. Maximum Security: Just like the traditional banking institutions, BlockFi also ensures the full security of your account. They use two-factor Authentication, identity verification, and various other security measures to safeguard your account and manage your crypto safely.
8. Deposit and Withdrawal with ease: The best part about BlockFi is that you can easily fund your account using your crypto wallet on your phone or bank account for quick and reliable transferring of funds.
These were some of the benefits of BlockFi; now, let us understand how to signup with them.
How do I open an account?
It is very straightforward to signup for a BlockFi account. If you are above 18 years, then you can also open a BlockFi Interest Account (BIA). In addition, you can open your account without any stipulations with BlockFi; earlier, they barred users from New York, Connecticut, Washington, and the European Union. But, now they have allowed users from most parts of the world.
Here are the steps to open an account with them:
Step 1- You need to visit the BlockFi website to open an account or download the BlockFi mobile app for iOS or Android.
Step 2- Now, you need to enter your personal information and upload your documents. Some of the information required would be your name, email address, password, and a reference code (if someone referred you). You also need to upload a photo of an identification document. Once you put in all the details, accept all the terms and conditions.
Step 3- Verify your information through the KYC/AML process by providing proof of identity.
Step 4- Now, go to the deposit tab and choose deposit funds into your account through bank transfer, cryptocurrency, or stable coin transfer. Deposit $100 or more to claim your referral bonus.
Step 5- As soon as you deposit the money, the interest also begins. Remember that you can also use it as collateral for getting a loan or trade for other approved cryptocurrencies and stable coins.
Once your account is set up, you get complete control over BlockFi's numerous financial features and tools.
Also Read: 17 Best Cryptocurrency to Mine
BlockFi Products and Services
Initially, when BlockFi was launched, it was called a bitcoin savings account platform. There was no option to put Bitcoins into savings or earn interest on holdings. The only option was to either spend it, keep it, and the remaining would stay in your account.
BlockFi changed the concept, and with its BlockFi Interest Account (BIA) system, users could borrow bitcoin and even earn interest on the holdings.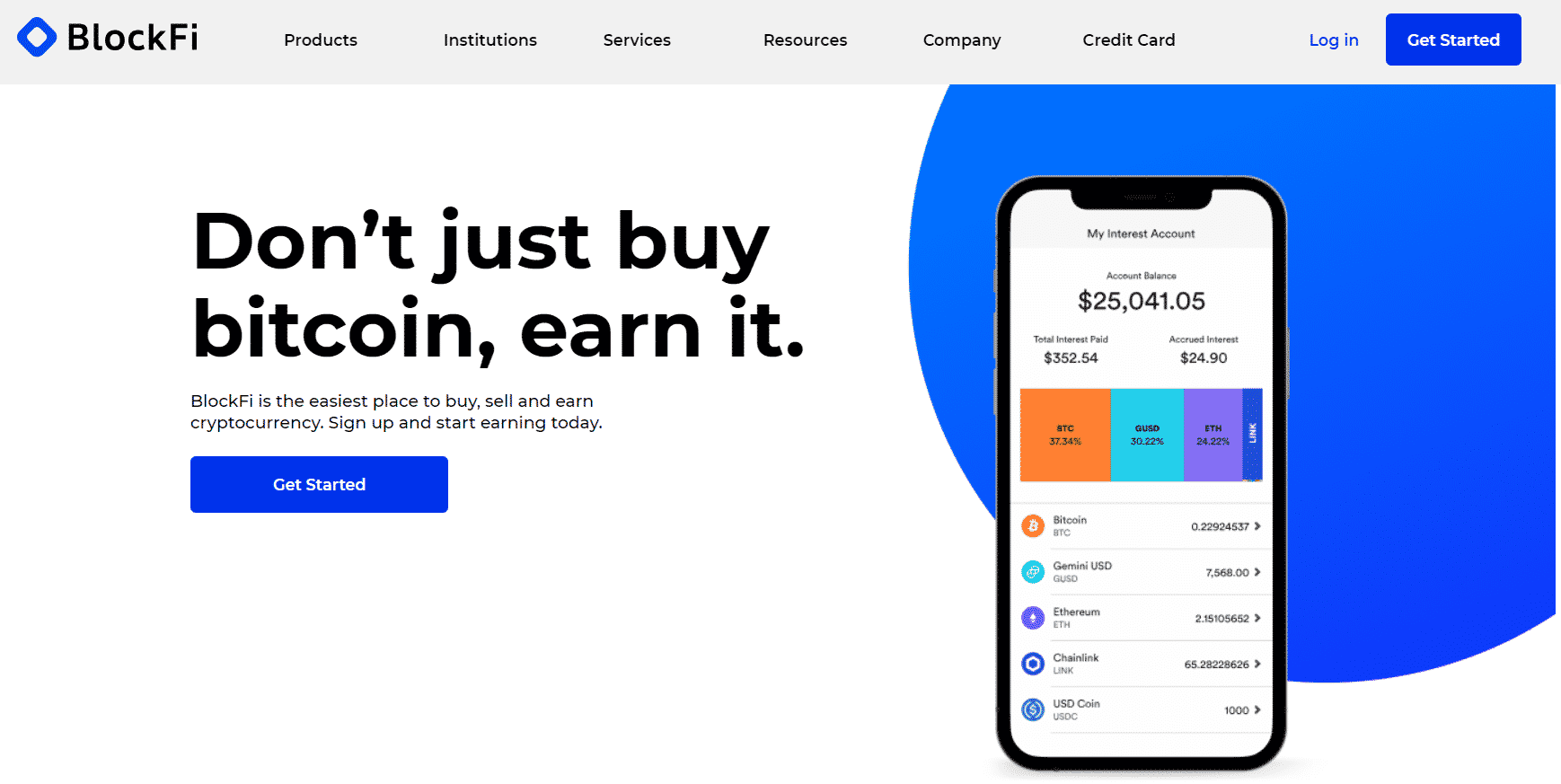 1. BlockFi Interest Account (BIA)
This is the interest-bearing account; here, you can invest in BTC, ETH, LTC, USDC, GUSD, and PAX. With the help of BIA, users can transfer and deposit their cryptocurrency investment to earn interest. It works like your traditional savings account only. On BlockFi, the users are paid regularly for the deposits done, generating a persistent stream of income from their accounts.
All you need to do is signup for the account; fund your account with cryptocurrency, stable coins, or USD, and that is it, you will start earning interest the day you fund your account. The best part is that there is no minimum balance required to maintain your account.
Interest rates:
BTC Tier 1: 5.00% (for amounts of 0 to 1.0)
BTC Tier 2: 2.00% (for amounts of 1.00001 to 20.0)
BTC Tier 3: 0.50% (for amounts over 20.0)
ETH Tier 1: 4.50% (for amounts of 0 to 100.0)
ETH Tier 2: 2.00% (for amounts of 100.00001 to 1000.0)
ETH Tier 3: 0.50% (for amounts over 1000.0)
LTC: 5.50%
PAXG: 4.00%
LINK: 4.50%
USDT: 9.30%
GUSD: 8.60%
PAX: 8.60%
USDC: 8.60%
BUSD: 8.60%
If you do not have any coins mentioned above, you can also deposit USD in your BIA account and get them converted into Stablecoins. You get the interest monthly on most of the crypto coins. Remember that you are restricted to withdraw only one crypto and one Stablecoin per month. After one transaction, there is a cost for every Withdrawal.
On BIA, you also have the option to set up a business or corporate account as well. It works almost the same as the individual BIA; the major difference is that it requires more documentation and a longer verification process.
Also Read: How to Make Money with Bitcoin
How often is the interest paid?
This is the first question that comes to every customer's mind while opening an account. The answer is pretty much what you want to hear as the day you deposit the funds into BIA, the interest accrues immediately and gets paid at the beginning of every calendar month. The interest they pay is joined with the opening deposit that enables the account holder to earn combined interest.
The nice thing is that you can also decide to get paid in a different cryptocurrency than the asset kept within a crypto savings account.
2. Borrow Funds against crypto assets
With BlockFi, you don't have to worry about anything, as you can also borrow USD against the coins. The interest rates are pretty low, around 4.5% APR while withdrawing USD. The minimum loan amount is $5000, and the loan to value (LTV) ratio is 50%; this means that 50% of your coins would be required to be put as security.
For example, If 1 BTC is worth $50,000, you need to put up 2 BTC as security to borrow USD 60,000 from BlockFi. Taking a loan from BlockFi is very easy as you get the loan the same business day when BlockFi receives your collateral in your bank account.
You can immediately access your loan amount and pay off the loan as you like; this means that within 12 months, you can pay whenever you want as there are no prepayment penalties or fees. Another perk of crypto-backed loans is that you can get cash from your crypto investment without having to sell and trigger your taxes.
Coins that can be used as collateral are Bitcoin, Ether, and Litecoin. The loan duration is for one year. You should keep in mind one other important thing while taking a loan; you know that the cryptocurrency market is ever-changing. Hence, if the LTV reaches 70%, BlockFi will send you a notification, and you will have to bring the LTV back to 50% by depositing more funds.
Thus, with the help of crypto assets, you can leverage your crypto holdings to obtain fiat currencies and utilize them for other purposes like broadening your investment, clearing off debts and expenses, or commencing a brand-new business.
Process of applying for a crypto loan:
You need to visit the website and create an account at BlockFi.
After that, click on the tab 'New Loan' right at the top navigational bar.
Now, select the collateral asset, enter the loan amount that you require, and calculate the offer.
Enter the collateral amount, LVR, interest rate, and click on 'Proceed.'
Check your loan offer carefully, and after that, sign the loan agreement.
Once this is done that deposit the funds into BlockFi's secure storage wallet
Your part is done. You will instantly receive the loan in USD to your bank account or stable coin to your crypto wallet address.
Give interest-only payments monthly employing USD, BTC, ETH, or LTC.
You can either pay the entire principal amount when the period ends or refinance at the present interest rate.
3. Trading
BlockFi also supports purchasing and selling big cryptocurrencies and stable coins by using your BlockFi account at competitive prices. It has its own trading exchange where users can open an account. Here you can also switch between the cryptocurrencies pairs. The good thing is that you can still receive compound interest while crypto trading assets.
As soon as you do the exchange, you will start earning the interest. There are various benefits of trading through BlockFi, such as you can do quick transactions, high interest rates, and immediate interest accrual. Only BTC, ETH, LTC, and PAXG can be bought or sold along with stable coins like USDC, USDT, GUSD, and PAX.
Trading is pretty easy and quick to set up. First, what you need is to signup for a trading account and buy cryptocurrencies or stable coins. Once this is done, you start trading, and you can also track your coins through their app.
How to signup for a BlockFi trading account? 
Here are a few steps that can help you signup quickly and easily:
Go to the BlockFi website and open an account.
Once you put in the details, do the email verification and log in to your account.
Once logged in, add funds to the account using the dashboard
After that, click on the 'Trade' button, placed at the top navigation panel
Now, choose the crypto asset in which you want to trade
Inset the amount that you wish to buy
Check the order details once again to avert any mistake
Hit enter on 'Submit Trade' to finalize the transaction
Also Read: How to Cash Out Bitcoin Easily
4. Institutional Services
BlockFi is a platform specifically made for people who seek to make secure and safe streams of income from their crypto. It strives to bridge the gap between cryptocurrency and institutional finance. The major benefit for institutions is that they get secure crypto trading with BlockFi, plus they can borrow or lend crypto, earn a return on holdings, and much more.
As of now, crypto-based businesses, investment funds, and market makers work with BlockFi for loans, storage, and getting reliable means of revenue supported by crypto. Institutions can get various benefits similar to traditional banking with BlockFi, such as executing, margining, shorting, and reporting.
Some of the big players that support BlockFi are Valar, Susquehanna, Morgan Creek Capital Management, Akuna Capital, HashKey Digital Asset Group, and CMT Digital.
5. BlockFi Mobile App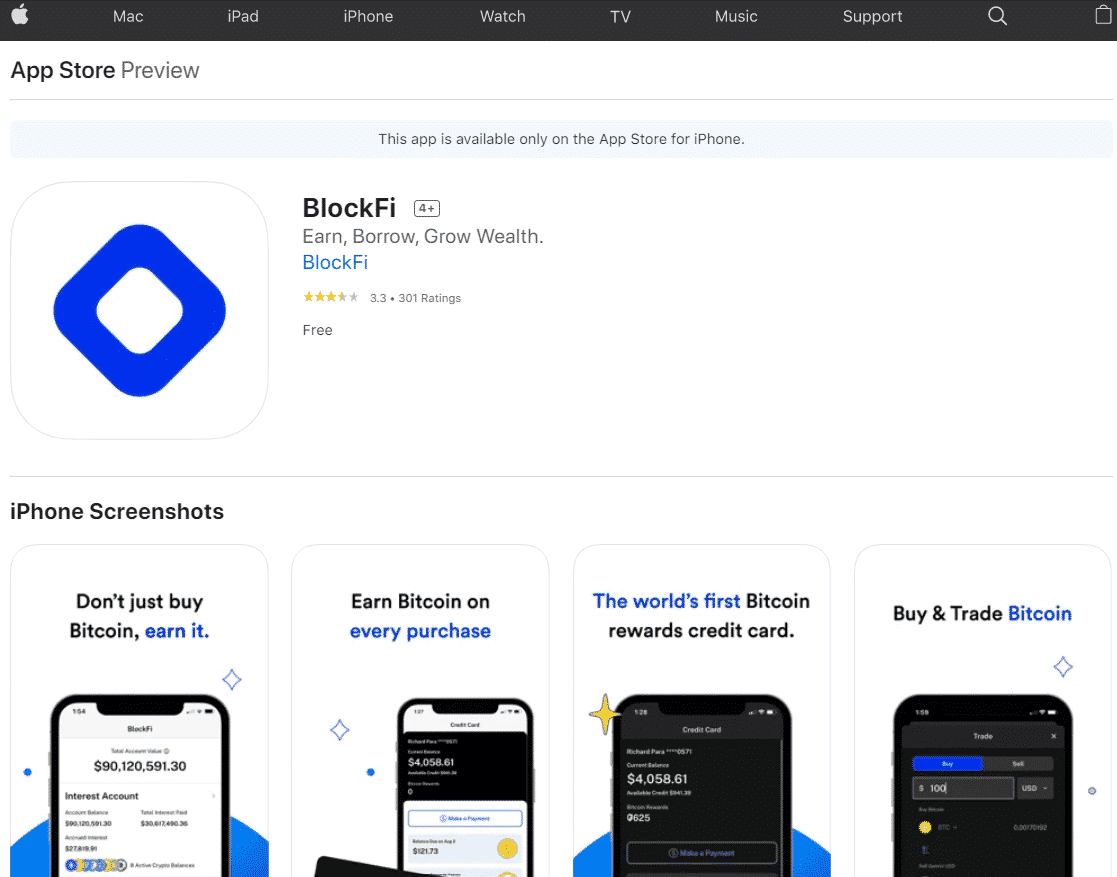 This is yet another thing that people love, and you would read in BlockFi reviews as well that how user-friendly their app is. Their app is available for both iOS and Android phones. BlockFi app helps you manage your account easily, such as checking balance, trading. Borrowing and lending money and earn interest.
Here are some of its features in detail:
Sign up and begin earning- Just download the app on your mobile phone and signup with BlockFi. If you already have an account, you can put your existing details, and if you are a new user, you can sign up and create a new account by filling in a few details. Once you deposit the money in your account, the interest will start from that very point.
Earn up to 8.6% APY- As mentioned above with the holdings, you can earn 8.6% as the benefits are the same for desktop and mobile users. You get 8.6% APY on stable coins and 6% APY on bitcoin holdings.
Manage everything- BlockFi app helps you manage everything about your accounts, such as all your transactions, interest earned, balance, loan amount, and much more.
Also Read: 18 Best Online Part-Time Jobs For Students
6. Buy USD stable coins using Wire Deposit
They have launched a new feature that facilitates their users to send cash deposits using wire transfer. You would have to transmit USD to buy stable coins directly on the platform to start a BIA for doing this. This feature makes it pretty simple for amateurs who have never purchased crypto before.
All you need to do is signup with BlockFi, deposit USD using wire transfer, and get 8.6% interest in BIA. USD deposits get automatically get exchanges into GUSD, and you can easily convert that into Ethereum, Bitcoin, USDC, and Litecoin.
For buying USD stable coins with BlockFi, you can follow the below steps-
First, log in to your existing BlockFi account.
Once you open the account, in the top navigation bar, you would see the 'Deposit' tab; click on it
From the options, choose 'USD (wire transfer)' as your deposit currency.
Remember that you need to select 'Wire' as your payment method
Put your details and send your wire to BlockFi
This was about the product and services of BlockFi, now comes another significant part that is their fee and other charges.
Pricing and Withdrawal fees
BlockFi charges a fee for withdrawing currency from your account. The best part about them is that there are no covered charges as it reveals all the fees upfront. They provide you the benefit of making one free crypto and stable coin withdrawal every month, plus there is no minimum balance amount for earning interest with BlockFi. You can make money on your BlockFi account despite if you have 1 or 100000 ETH in your account.
There is also an origination fee and interest on the crypto-backed loans (if any). They do not charge you any fee for buying or selling cryptocurrency or stable coins within your account. If the money is in your account, you can exchange it between coins without giving any charge.
| | |
| --- | --- |
| SERVICE/ITEM | BLOCKFI COST |
| 1st monthly crypto withdrawal | Free |
| 1st monthly stable coin withdrawal | Free |
| Bitcoin | 0.00075 BTC |
| Ethereum | 0.02 ETH |
| LINK | 0.10 LINK |
| Litecoin | 0.0025 LTC |
| Stablecoins | USD 10.00 |
| PAX Gold | 0.015 PAX |
Loan Rates and fee 
| | | |
| --- | --- | --- |
| LOAN-TO-VALUE | INTEREST RATE | ORIGINATION FEE |
| 50% | 9.75% | 2% |
| 35% | 7.9% | 2% |
| 20% | 4.5% | 2% |
Although, it has a withdrawal minimum of 0.003 BTC and 0.056 ETH. If you do withdrawals for balances less than these values, it could take around 30 days to process.
Also Read: 25 Best Craigslist Alternatives For Selling Your Stuff
Security
It is paramount to understand and know about the security of your crypto and assets before you trust any platform. BlockFi has its primary custodian, Gemini, which store and manages the customer funds. It is regulated by the New York Department of Financial Services.
It is a licensed depository trust and first crypto exchange globally and custodian that has attained SOC Type 2 examination security compliance for safeguarding customer's data and funds.
As per their website, Gemini holds the BlockFi funds, and they use a cold wallet solution with multi-layer encryption and store 95% of their funds in it and the remaining 5% in the hot wallet. It has obtained a FIPS 140-3 level 3 rating and uses two-factor Authentication.
They use a multi and digital signature scheme for eliminating single points of failure and enhance flexibility against the loss or compromise of a private crypto key.
They also offer commercial crime insurance and employ several protocols for protecting their client's assent. You would be glad to know that BlockFi says that they store their client's funds first compared to their employees in losses.
These are a few security measures that they take to protect and safeguard your funds-
Two-Factor Authentication (2FA) for login and withdrawals
Whitelisting to restrict withdrawal activity to entitled addresses only
Hardware Security Keys and WebAuthn for account safety
Encryption to secure passwords, personal information, and other sensitive information
BlockFi Bonus Offer
They offer great deals from time to time, and their offers are really exciting and money-saving. The offer that was running lately-
The new users who register on BlockFi would be entitled to get up to $250 Bitcoin to make qualifying deposits within the first 30 days of opening the account.
Customer Service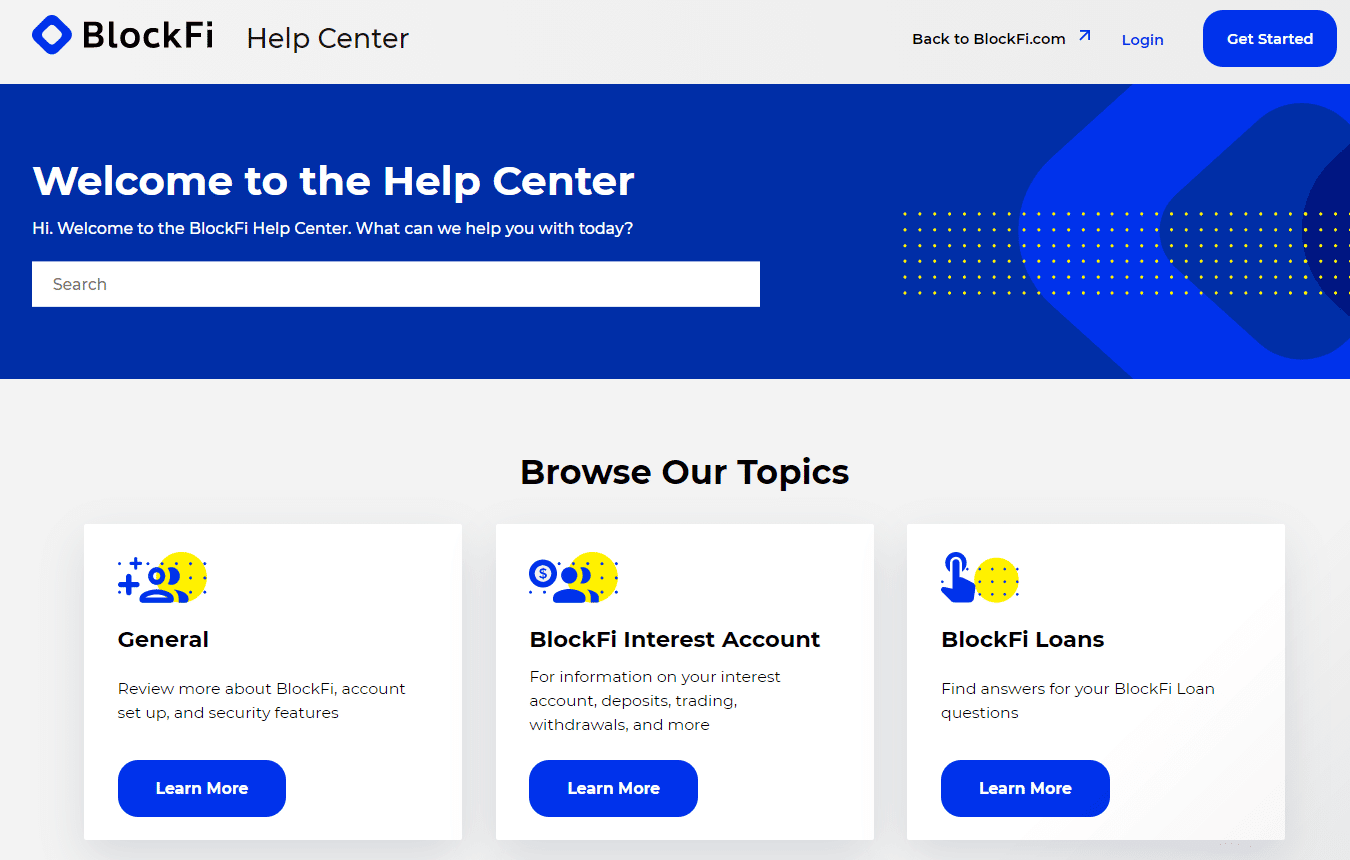 They have global customer support and a help feature on their website for new users who seek answers for troubleshooting issues. You can contact BlockFi at +1 646 779 9688, or you can also write to them at support@blockfi.com.
They also have a separate help section on their website where you can get assistance on loans, BIA, and general queries. There are how-to-guides as well where you will get help on how to open an account, apply for a loan, etc.
The major section on the help page comprises of-
General– Here, you can get information about BlockFi, account setting, security, and much more
BlockFi Interest Account– This provides you insight on setting up an interesting account, trading on it, and withdrawals.
BlockFi Loans– This possesses information on how to acquire a loan, deposit funds, repayment process, and backed currency
BlockFi Rewards Bitcoin Credit Card– How to register for it, the benefits from it, and new features
How does BlockFi make money?
After getting information on everything about BlockFi, the next thing that comes to mind is how do they make money? This is something that is not even mentioned in the BlockFi reviews or FAQs. But, it is paramount for you to know their business structure as well.
They earn money by borrowing capital at a specific price and then lend it to the users at a higher rate. They have a spread business, and they work basically with the institutional counter-parties to provide them liquidity.
The borrowers comprise traders and investors that search for computer-assisted trading opportunities in a disintegrated marketplace. Their plan is to acquire crypto to close mispricing gaps within exchanges or dispersed markets. Margin traders will obtain to fuel their trading policies. Plus, over-the-counter market makers and other businesses require an inventory of crypto to offer their customers liquidity.
Also Read: How to Earn Free Bitcoins Daily without Investment
Is BlockFi safe? Is your money safe on BlockFi?
You must be thinking that whether your money is safe with BlockFi or not? Well, it is safe, but you cannot compare it with the safety of depositing it in a bank. Its custodian Gemini is not insured by SIPC or FDIC. But, you can rely on BlockFi as it is one of the few U.S.-based crypto exchanges that operate within U.S. federal and state regulations.
They take all the required measures to protect your funds and are also backed by reputable investors. Some of the measures that they take are:
1. Keeping the majority of funds in cold storage (i.e., offline)
2. Lends diligently by giving loans at 50% collateral
3. Keeps all the reserves with the third party like Gemini, Coinbase and BitGo
4. They enable you to opt into allowing listing; it is self-service security that bans withdrawals or limits them to certain addresses. The major benefit of this feature is that it averts theft from your account.
Hence, after doing research, it was stated that they pass the safety test.
BlockFi Referral Incentives
You can also earn from BlockFi by referring it to your friends or family members. If they apply your referral code, you can earn a commission on their transactions as well. For example, if the person you refer deposits $100 or more in their BIA, you and your connection both can earn $10 in BTC.
Remember that the deposit should be done until the interest payment date if you wish to enjoy the benefits. There are only three steps that are required to take for referring:
The first thing you need to do is open your BlockFi account and go to your dashboard.
You will see an option of "Refer a Friend" on the top right corner; click on it
After that, you will need to share the URL with the connection to whom you want to refer BlockFI.
Once you complete five referrals, you would earn $20 for every referral, and your connection would get $10.
BlockFi Affiliate Partner Program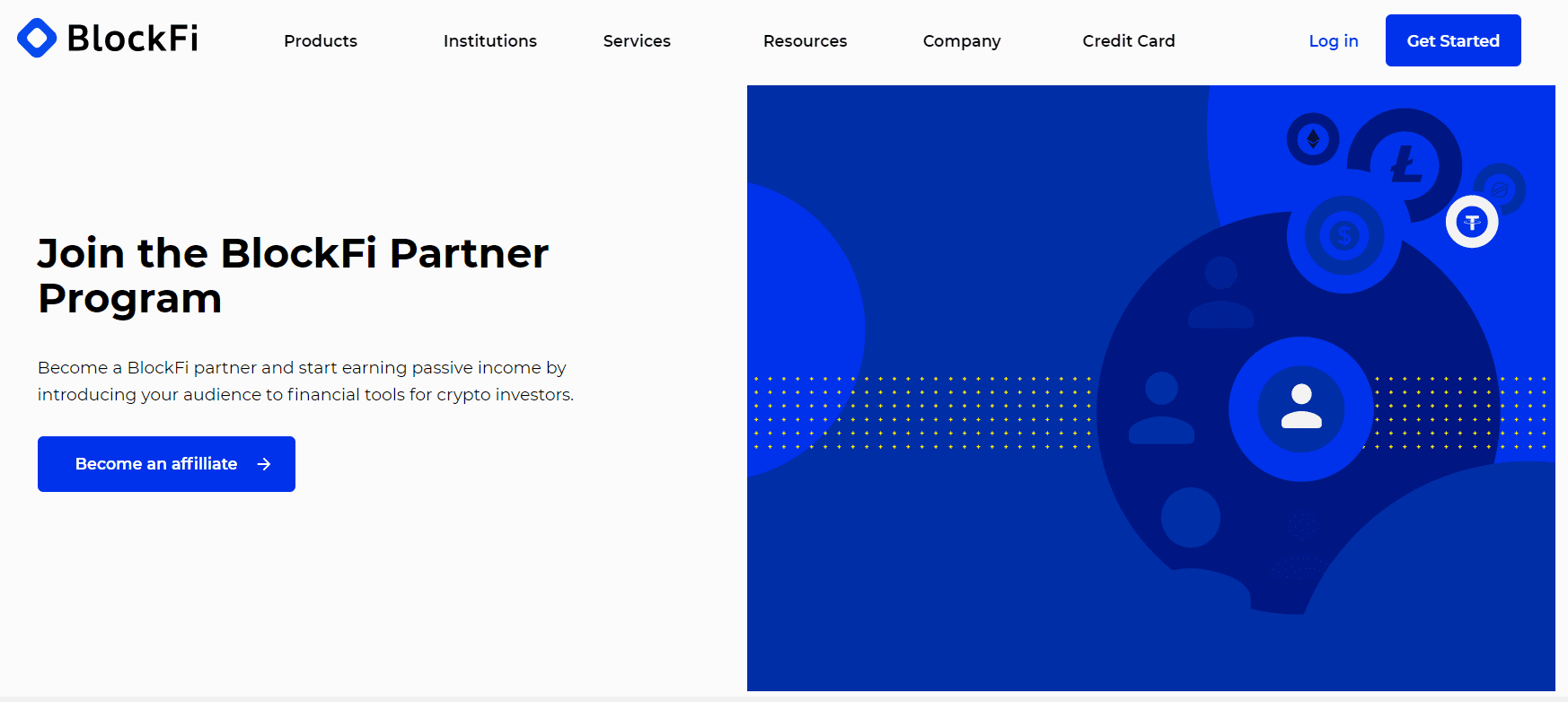 If you wish to earn passive income, you can also join their affiliate partner program. All you need to do is recommend and make familiar with the financial tools of BlockFi to your audience. You will get training and will also be connected to a partner manager for proper assistance on it.
In your dashboard, you will be able to see all the marketing and promotional resources, plus you can also track your earnings and performance as well on it. The cookie window will be of 30 days. They pay .5% for all the deposits that your network invests in.
Also, there is a commission of up to $1000 in commission for each referral. Their payment is done via PayPal or straight away in your bank account. The best part is that there is no restriction on the number of referrals, which means that the earning potential is unlimited.
Who's Behind BlockFi?
Their leadership team has decades of experience in the financial services and banking world. CEO and Founder Zac Prince lead BlockFi. They claim to take a traditional approach to position themselves favorably for sustainable long-term growth and expansion.
Prior to launching BlockFi, Prince has already started with two successful ventures, which are Admeld that is now acquired by Google, and Sociomatic taken by DunnHumby. He also has a lot of experience in finance, the banking sector, and numerous tech companies.
Flori Marquez is the co-Founder & V.P. of operations; she has years of experience in handling alternative lending products. Flori has also helped build and manage a $125MM portfolio for Bond Street that Goldman Sachs now procures; she was the Head of Portfolio Management.
Rene Van Kesteren was the Chief Risk Officer; he has contributed more than 15 years at BAML as a Managing Director of ML Professional Clearing Prime Brokerage. He also operated as an equity derivatives trader in Caxton's Strategic Quantitative Investment Division. Rene created the equity structured lending platform that comprises risk and regulatory compliance frameworks.
Other important members of the BlockFi team include Mahesh Paolini-Subramanya (Chief Technology Officer), David Spack (Chief Compliance Officer), Tony Lauro (Chief Financial Officer), and Adam Healy (Chief Security Officer).
Also Read: 50+ Best Part-Time Jobs You Can Do Without Leaving the House
What could be improved?
With many benefits come a few opportunities where BlockFi can improvise and offer even better services. Let us know about some of the areas of opportunities of BlockFi:
1. Fixed free withdrawals: With BlockFi, you can only make one free Withdrawal per month for both crypto and stable coin. After that, you would be liable to pay a fee, and that charge would depend on the type of currency you are trading in.
2. Custodial Accounts: Although worldwide, there is no limitation on the age for buying cryptocurrency, just like BlockFi, various exchanges need users to be either 18 or above. This makes it difficult for teenagers to take advantage of the potential benefits of cryptocurrency investments.
There are six currencies and four stable coins that BlockFi supports; here is the list:
Cryptocurrency
Bitcoin (BTC)
Ethereum (ETH)
Paxos Standard (PAX)
LINK (LINK)
Litecoin (LTC)
PAX Gold (PAXG)
Stablecoins
USD Coin (USDC)
Tether (USD)
Binance USD (BUSD)
Gemini dollar (GUSD)
BlockFi Crypto FAQ
Q1) Does BlockFi own or mine cryptocurrency?
A1) As of now, the answer to this question is no. They just offer products and services to customers based on the crypto they own.
Q2) Who can apply for a BIA?
A2) For becoming eligible for the interest payment, the user must first deposit and hold the crypto with BlockFi for custody. After that, they get the interest paid at the beginning of every month that accrues the next day after the deposit.
Q3) How much money has BlockFi raised?
A3) They have raised a total amount of $508.7 M, which makes the value of this very new company $3 billion. They have grown 10X in just one year, and it seems that they will soon make the revenue of $100M by next year.
BlockFi is designed in such a way that even a new investor can start making money holding and trade crypto.
Product Type
Cryptocurrency savings accounts, loans, and trading
Min Deposit
$0
Min Balance Requirements
None
Interest Rate On Deposits

BTC Tier 1: 5.00% (for amounts of 0 to 1.0)
BTC Tier 2: 2.00% (for amounts of 1.00001 to 20.0)
BTC Tier 3: 0.50% (for amounts over 20.0)
ETH Tier 1: 4.50% (for amounts of 0 to 100.0)
ETH Tier 2: 2.00% (for amounts of 100.00001 to 1000.0)
ETH Tier 3: 0.50% (for amounts over 1000.0)
LINK: 4.50%
LTC: 5.50%
PAX: 4.00%
USDT: 9.30%
USDC: 8.60%
GUSD: 8.60%
BUSD: 8.60%
PAX: 8.60%

Maintenance Fees
None
Deposit Fees
$10 minimum fee for incoming wires
Withdrawal Fees

BTC — 100 per 7-day Period @ 0.0025 BTC (works out to ~$30)
ETC — 5K per 7-day Period @ 0.0015 ETH
LTC — 10K per 7-day Period @ 0.0025 LTC
Stablecoins — 1M per 7-day Period @ 0.25 USD

All BIA account holders can make one free Withdrawal per month.

Withdrawal Limits
$5,000 per wire Withdrawal
Withdrawal Minimums
ACH Integration
Yes, will connect with any bank that uses Plaid (about 9,600 U.S. banks)
Transfer Speed
1-5 business days
Insurance
Digital asset insurance provided by Gemini protecting against the loss of cryptocurrency-related security breaches, fraudulent transfers, or employee theft.
Security

Majority of assets kept in cold storage
All "hot wallet" storage servers have a security rating of FIPS 140-2 Level 3 or higher.
SOC 2 Type 1 security compliant

Mobile App Availability
iOS and Android
Customer Service Phone Number
1-646-779–9688
Customer Service Email
support@blockfi.com
Promotions
Up to $250