The Big Cash is one of the most well-known and exponentially growing gaming companies in India. The best part is that it is a 100% legal platform, which means you can trust and use it without any doubt. Over 2 million users have downloaded the Big Cash game app to date, and the number is increasing every day.
Thus, if you are a pro at playing games like fantasy cricket, rummy, solitaire, etc., you can make easy money online. You can also earn a good amount of money through their referral program as well as they pay Rs.20 for every successful referral. This is an amazing platform if you want to earn money sitting at home without doing much effort. Keep reading to know more about the Big Cash app download.
What is the Big Cash App?
On this gaming platform, you can make money by just playing games. This is an Indian company that belongs to Witwzeal Technologies Pvt. Ltd. Big Cash App is a member of the All India Gaming Federation (AIGF); it is the top-most industry body for online skill games in India.
There are more than 15 games available on it to choose from, such as Cricket, Fruit Chop, Bulb Smash, Basketball, ice blaster, and many more. With Big Cash, you can play games, enter tournaments, and win real cash daily. Big Cash apk is reliable because it's extremely well-known among students, and there have been complaints about its legality or late payments. You can also withdraw money instantly with the Big Cash game app.
Some more information about the Big Cash App
| | |
| --- | --- |
| App Name | Big Cash Apk |
| File Size | 32 MB |
| Price | Free |
| Android version | 5.0+ |
| Latest version | v7.7 |
| Developer | Freekainfo |
 Features of Big Cash Apk
A lot of people like this app because it renders numerous features that you might not find on any other gaming platform. So before getting into the Big Cash apk download, let us have a look at some of the significant features of Big Cash:
1. Safe: One of the most highlighting parts is that it is 100% safe and secure. Every transaction done on the Big Cash app is safe, as so far, there has been no instance of any fraud or scam.
 2. Multiple fantasy sports games: Users have numerous fantasy games options to choose from, such as cricket, football, basketball, etc. You can choose any game as per your interest and skills.
 3. Customer-centric: This is app is created in such a way that it ensures that every customer is satisfied.
 4. Easy-to-use: The interface of the Big Cash app is very easy to use; even beginners will not have any issues using it. They have made it quite simple as all the games they offer are previewed on their home screen, which means you will see the games as soon as you open the app. So you can select any game and start playing, isn't that pretty quick.
 5. Numerous games in one place: This is one of the significant reasons this app is so popular. Here you can find all types of games in different categories like soccer, poker, ice blaster, and many more.
 6. Referral contest: They also have an exciting referral program where you can earn money by just referring this app to your friends or family members. On every successful referral and first deposit by your referral, you get Rs.20, plus you also get 25% of your friend's winning.
 Some more worth knowing features are:
SignUp Bonus ₹50
Fully reliable
Refer bonus up to ₹1000 (when a user registers from Facebook and verifies their number)
Free to download
Join Bonus 4 Life
Well-organized Apk
Refer Bonus 2 Life
Quick services
Instantly Redeem Faculty
No ads
Minimum Redeem Amount ₹100/-
No Need To Verify KYC
Also Read: 42 Games That Pay Real Money
How to download and install the Big Cash app?
Downloading and using this app is very quick and straightforward. Here are the steps that you need to follow:
Download: The first thing you need to do is get the latest version of the Big Cash app download, search for the app, click on the download button and wait till the download is complete.
Enable Unknown sources: Prior to the installation process, you need to go to the settings on your phone, click on security, and you will see an option called 'Unknown Sources' to activate it.
Install the app: Once this is done, now open downloads, click on the Big Cash apk, and select install. The system will ask for permission; click on install. Once the installation is complete, you will see the apk icon on the home screen of your smartphone.
Start using it: Open the app. If you log in with your Facebook account, you will get Rs.50 joining bonus. Now it will ask for your Paytm number; enter your number and click on proceed. They will send you an OTP for verification; verify it by entering the OTP. You can spin the lucky wheel every day and win exciting prizes.
Games to play on Big Cash APK download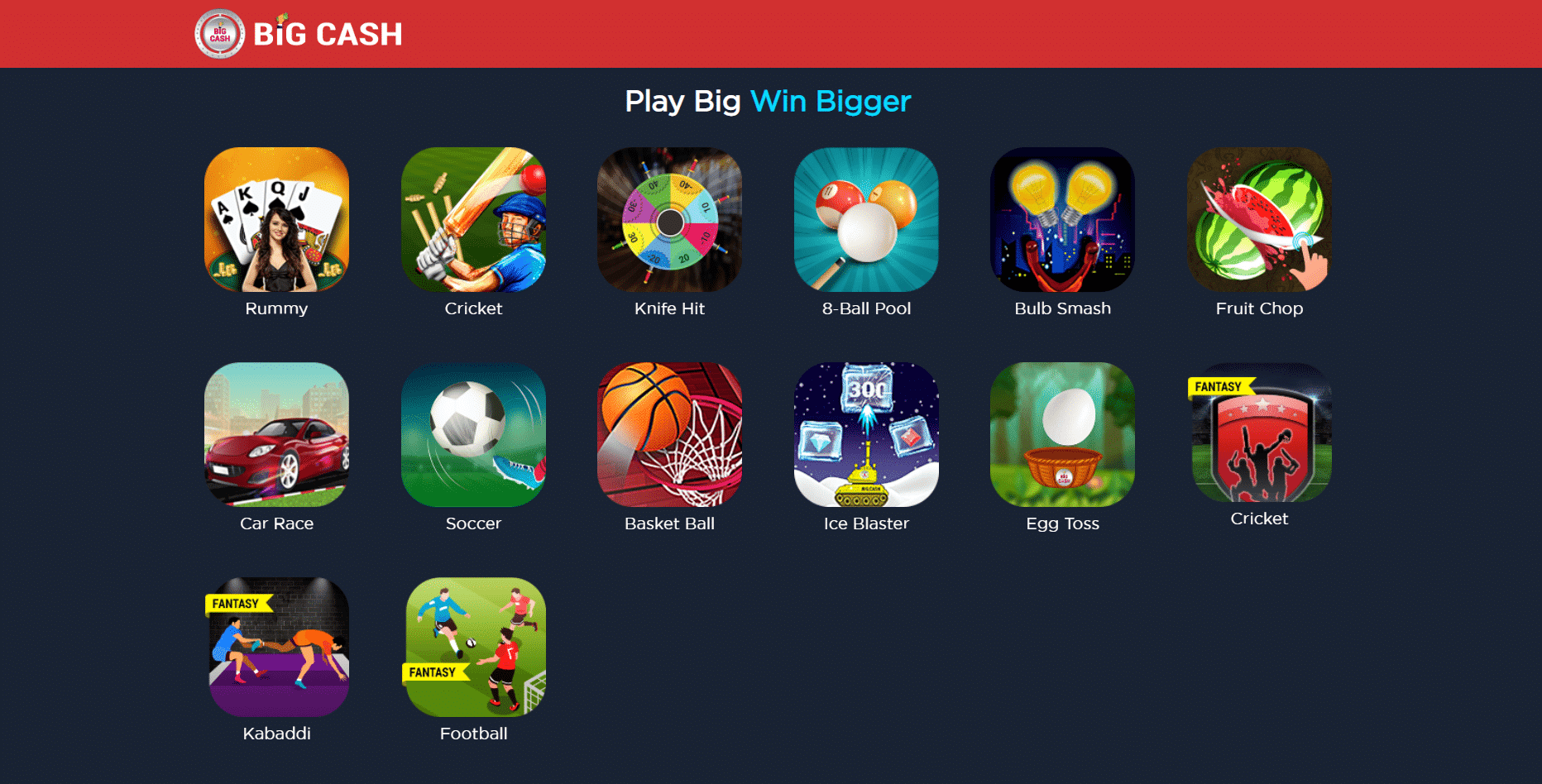 Here is the list of some of the games that you can play on this wonderful platform:
Fruit Chop
Pieces of Fruit
Car Race
Lake
Pool
Soccer
Football
Lightbulb Robbery
Bulb Smash
Watch & Win
Spin to Earn
Fruit Slash
Big Cash app referral program
Let us know about the Big Cash game referral program with the help of which you can earn some extra money by just referring it to your friends:
The first thing you require to do is open the Big Cash app and click on the Menu button.
There you will see an option, 'Invite and Earn,' select this tab and share your referral link on social media platforms. The more people download from your link, the more you will be able to earn.
They pay Rs. 20 on your referral first-ever deposit. Furthermore, you will also get 25% of revenue sharing on every winning game of your friend.
Rs. 500 is the maximum amount of revenue sharing. Your referral will get Rs.11 if they install the app. It is essential to verify the Facebook account of the user. Users who add cash of ₹100 or more will get another Rs.5.
Also Read: 30 Best Refer and Earn Apps in India
Terms & Conditions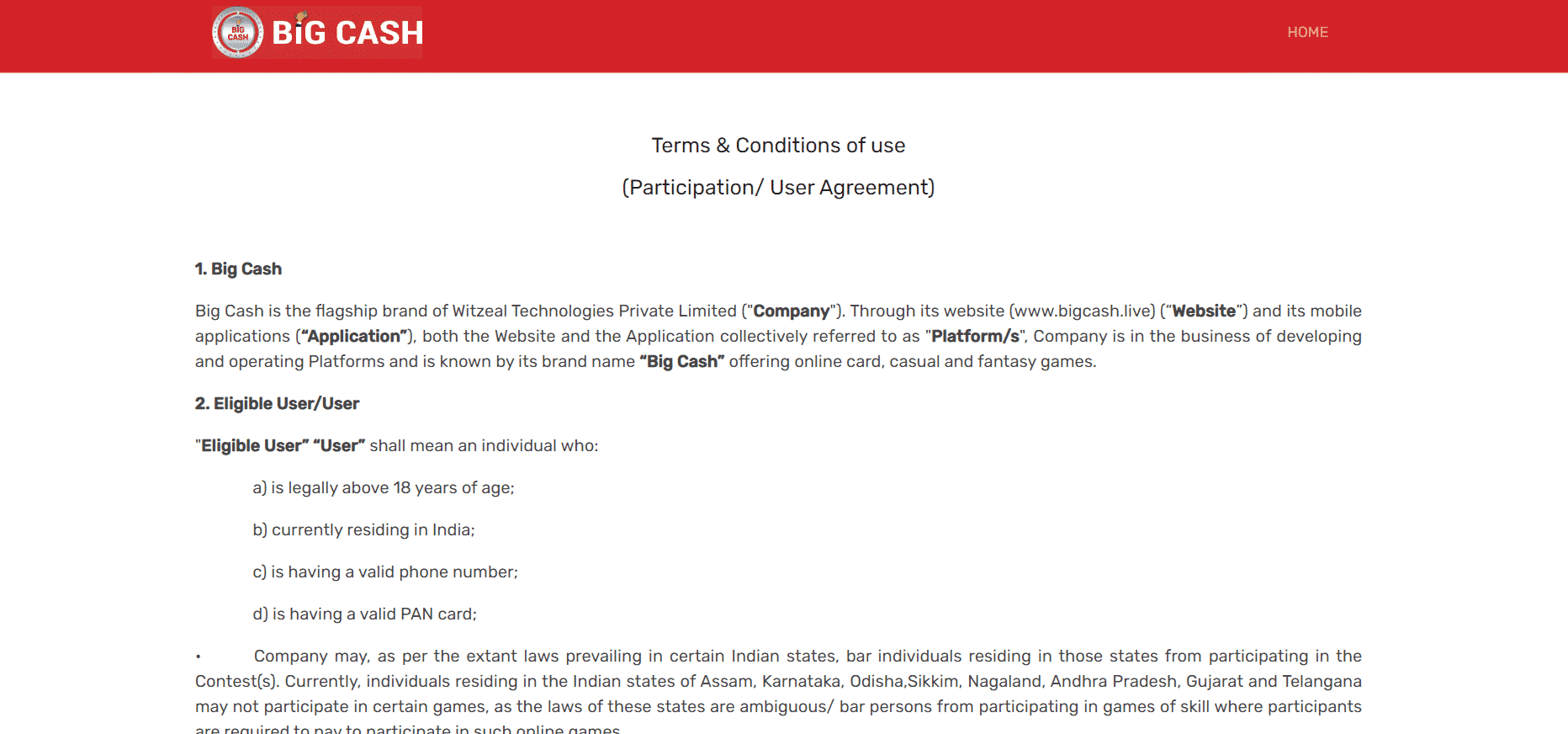 These are a few terms and conditions that you need to keep in mind:
Cash adds should be of a minimum of Rs.20.
Cashback is not offered to people who have multiple accounts.
There are numerous ways to add cash to your account instantly, such as Paytm, bank accounts, UPI, credit & debit cards, and other wallets.
You can add as much money as you want to your user account for playing cash games.
Big Cash might set a few restrictions for adding monthly cash to your account, with conditions like undertakings, indemnities, waivers, and verifications that they think as appropriate at their sole discretion.
How to add money to the Big Cash application?
Once you have utilized the signup bonus, you will need to add money for playing games. Do not worry about doing any transaction on Big Cash Apk, as they use a trusted payment gateway. Here is how you can add cash after the Big Cash apk download:
Step 1: Open the app and go to the "Add cash" tab.
Step 2: Now, all you need to do is quote the amount that you want to add; remember the minimum amount that you need to add is Rs.20
Step 3: You can add money from multiple sources such as Paytm, Netbanking, PhonePe, Google Pay, Let Late, or UPI.
Step 4: Once you add money, you can participate in any game or contest that you wish to take.
Also Read: 30 Best Paytm Cash Earning Games
 How to withdraw Big Cash money?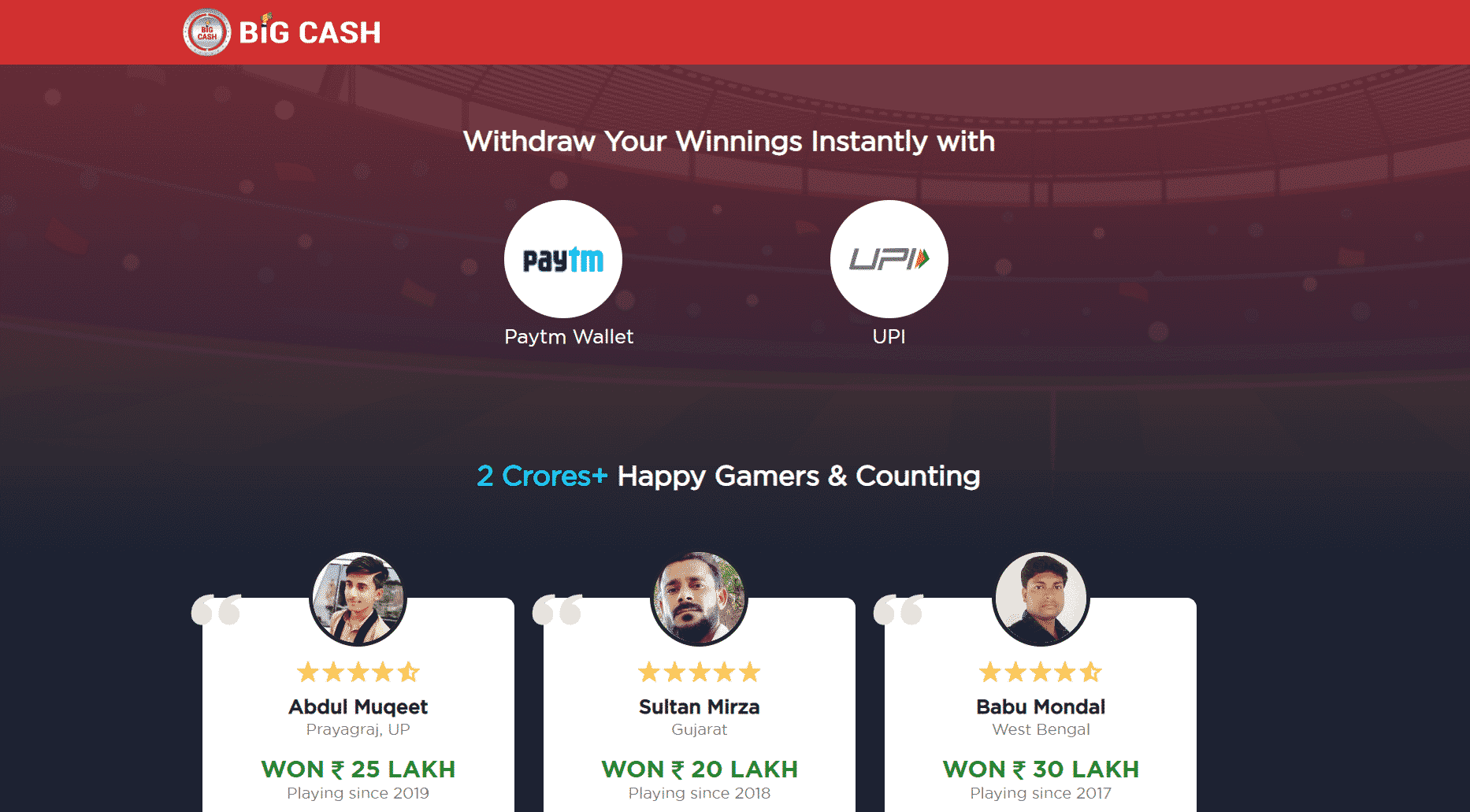 Once you win a lot of money, you might want to withdraw it, don't worry; the process is hassle-free and can be done within seconds. You can withdraw the amount to Paytm or in your bank account. Here is how you can do it:
Open the app and click on the menu option.
There will be various options; you need to select and click on 'Redeem.'
Insert the amount that you wish to withdraw from Paytm or Bank transfer.
Put your Paytm number or UPI id.
Click on Redeem again, and the amount will be instantly credited to your account.
The minimum withdrawal amount is Rs.50; this means that you will be able to withdraw the amount only when you have at least Rs.50 in your account.
It is essential for you to know that they cut a 9% withdrawal fee.
How to play games on the Big Cash app?
Once you download the app and add money, all you will be excited about is playing games on it and earning a good amount of money from it. But, you must be thinking that how to begin playing games after the Big Cash app download. Here is how to begin:
First, you need to open the app; as soon as the app opens, there will be numerous games previewed on the app's home page.
Now, you need to choose the right match. You should always select the game in which you think you are an expert or maybe the one you like the most. As it is a paid tournament, you should think wisely about the game that you want to play as a wrong decision can lead to a loss of money.
After selecting the game, you will have to choose the right tournament. You can select to play a practice match or opt for the paid tournament as per your expertise. When you select the tournament, you should always check and compare the entry fee and the winning prize.
The reason behind it is that there are games in which the entry fee is high, and the winning prize is less or vice versa. Therefore, ensure that you select the best and most profitable tournament.
You should know that the rules vary from game to game. Thus, read the rules and time limit carefully before starting the Big Cash game so that you can beat your opponents within the given time limit.
Guide to earning more money from Big Cash Pro
The first thing you need to keep in mind for earning more money is to play all the contests and games.
The next important thing is opening the app every day and making a spin to earn exciting gifts.
Do use its refer and earn program for increasing your income.
Also Read: How to Earn Free Paytm Cash Online
Pros of the Big Cash app
There are various benefits of this wonderful app, want to know about them, below is the list of some of the major ones:
One of the biggest benefits is that it is an old and trustworthy platform.
The refer amount is pretty high compared to the other gaming apps in the market.
Big Cask Apk is amongst the leading apps for earning cash by playing games.
There are numerous game options to choose from.
Big Cash App download offers you instant Paytm withdrawals, which means you will not have to wait for the money to be credited to your account.
Cons of the Big Cash app
Along with benefits come along disadvantages as well. Therefore, here are some of the drawbacks of this app as well:
The signup bonus is pretty less; they just pay Rs.10.
If you are not good at playing, you can lose a lot of money on this app, so be careful.
Big Cash Mod APK Download
Numerous websites and, in fact, various YouTube channels as well offer Big Cash APK download for mods. There is a lot of mod Apk's that are not legit, and they can harm your system or device immensely; therefore, you should not spend time searching for such mods Apk's. Instead, play the game genuinely and earn a good amount of money.
How to download Big Cash for PC?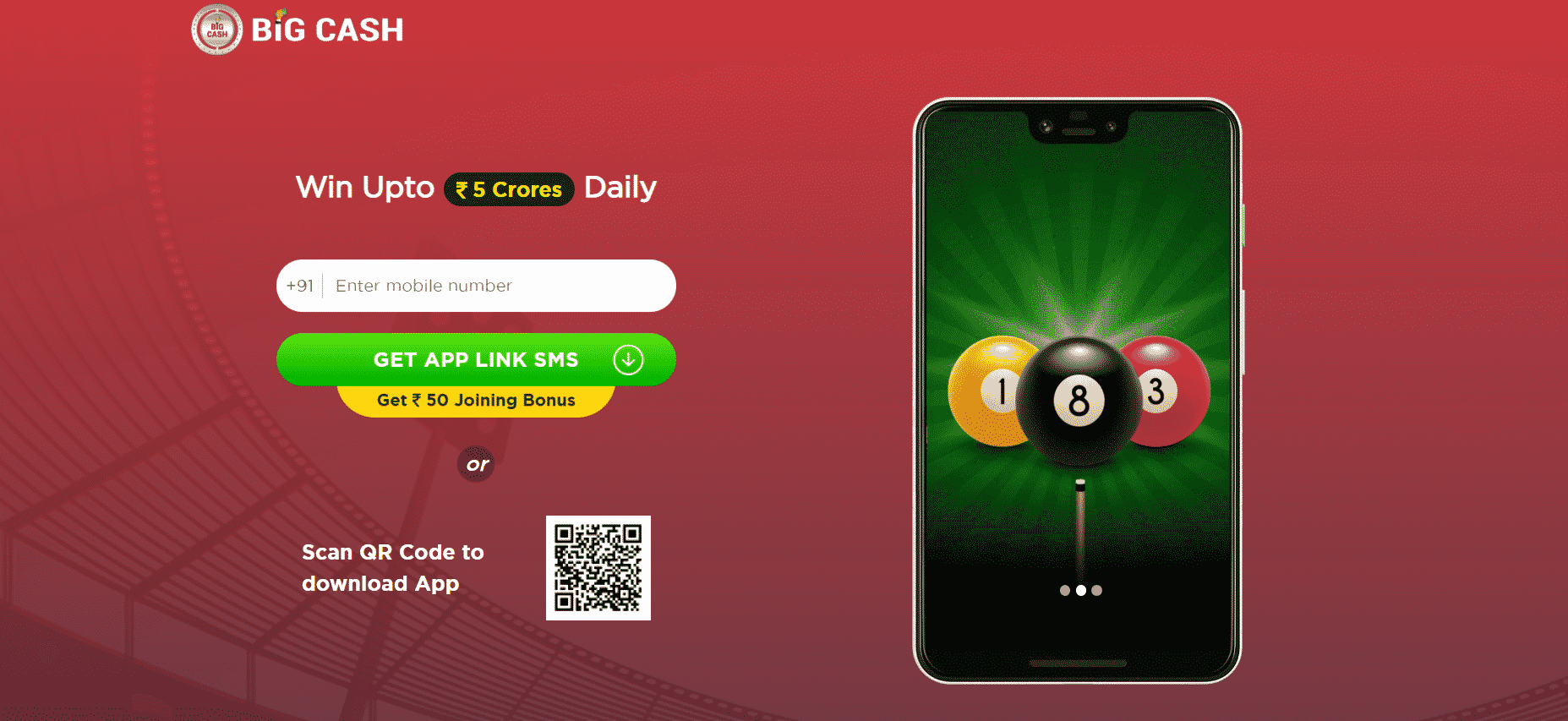 If you wish to use Big Cash on your PC, then don't worry; you can do that. All you require is an emulator to use any Android app on a PC. Once you install the emulator, download the latest version of the Big Cash app of APK from their official website.
Now, import the APK to the emulator and, after that, install APK in the emulator. Once this is done, you can register the app, and you are ready to use the app. You can use it in a similar way as you use it on your smartphone.
Big Cash Apk benefits
Here are some of the benefits of the Big Cash Apk download:
You get Rs.10 signup bonus
Referrals earn you a fee of Rs20
You can redeem the money instantly using PayTM
Win up to $20,000 (New Contest)
Earn up to Rs.100 and 5 coins for referring others
No KYC requirement
The minimum payout is Rs.50
Easy to use interface
Also Read: 16 Best Ludo Earning Apps to Win Money
FAQs
Q1. Is the Big Cash app legit?
You can be sure that it is a 100% legit app. There is various fake Paytm cash earning apps that are fake but don't worry about Big Cash, their payment is timely, plus so far, there have never been any scams or fraud done through them.
Q2. Can we use multiple accounts from the same device?
It is an important question; you should know that you cannot use multiple accounts from one device as they might ban your account.
Q3. How can I contact Big Cash customer care?
There might be times when you have an issue using the platform or have some queries. If you experience any trouble, you can contact them at support@witzeal.com.
Q4. How can I delete my Big Cash account?
If you wish to delete your Big Cash app download account, you can do that in just a few steps. All you need to do is open your registered email with Big Cash and compose a new mail. In the subject of the mail, write something like Close My Account, Delete My Account, Request To Close My Account, etc., anything that you feel apt for closing or deleting the account.
Mention the reason why you want to delete your account in the mail and send it to support@witzeal.com. They will contact you, and after having a quick conversation with you, they will close the account.
Q5. Is it a paid app?
The good news is that this is a 100% free app; you need not pay any amount for downloading it. You just need to add money for playing.
Big Cash apk download can earn you money if you want to earn it easily sitting at home by just playing games. If you are also a game lover, download this app and play interesting games; plus, you can also make money by referring it to your friends. Overall, it is an amazing platform to earn money with amazing features, and the best part is that it has an easy-to-use interface. The games they offer are simple and fun to play.
So, what are you waiting for? Download the Big Cash app and start earning money.